The difference among types of curry is as vast as the differences among types of sandwiches. Consider it an Asian sauce category. Common in India, Thailand, Malaysia, China, South Africa, Japan, and everywhere else that borrows their recipes, curry is made so many ways in so many places, even the same kind of curry can depend on the cook's tastes and ingredient availability. There are some general rules, though, most of which can be broken.
Two major categories of curry are Indian and Thai, so they'll be our focus, but they're hardly the only examples worth delving into.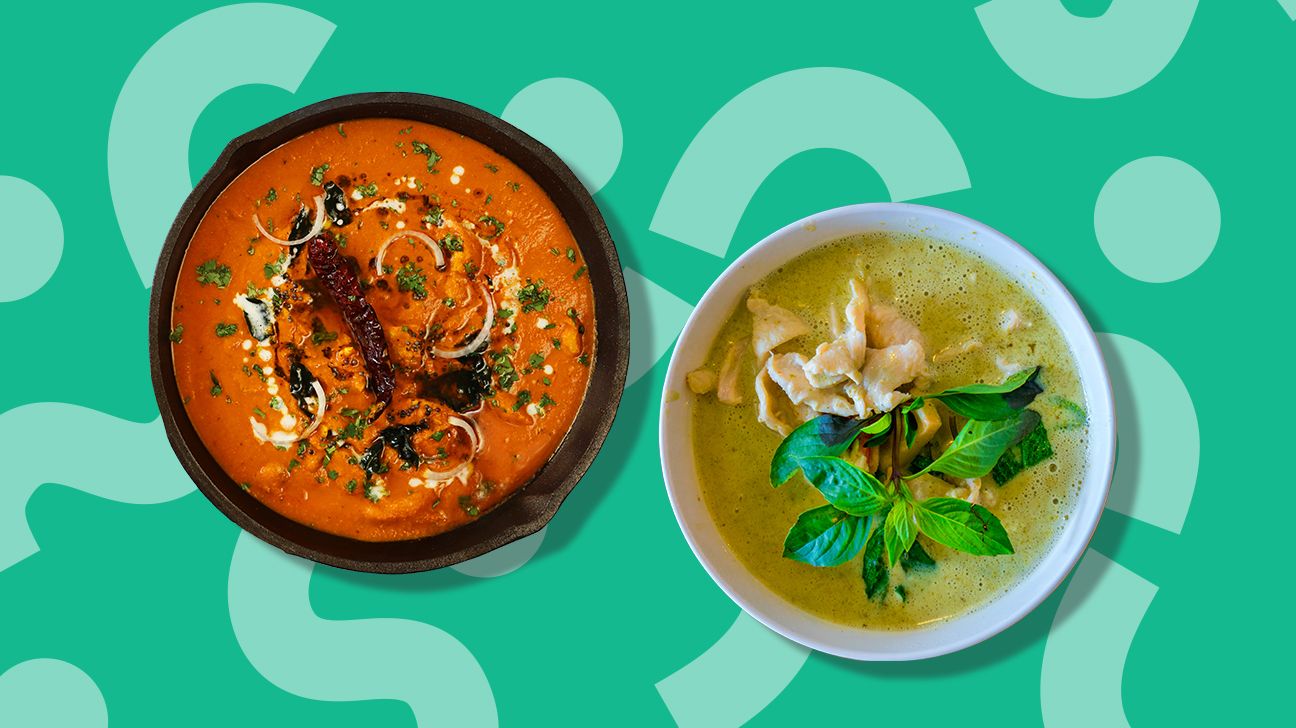 Considered a British fusion of Indian recipes, Indian curry typically incorporates a mix of toasted spices ground into a powder, called a masala. You can find cinnamon, cardamom, and fenugreek in there, which Thai curries usually don't have. The curries are water- or broth-based, sometimes thickened with yogurt or sour cream.
Jalfrezi, korma, and vindaloo are but a few types of Indian curry; the ever-popular tikka masala also fits within the category.
Thai curries often call for a wet curry paste and use coconut milk or coconut cream. You'll see herbs and spices like lemongrass, galangal, and kaffir lime leaves.
Curries flavor meat, poultry, seafood, vegetables, tofu, and legumes. Indian curry dishes often use legumes such as chickpeas and lentils, called dhal. A few main kind of curries are: green, red, yellow, masaman, and panang. Of course, there are so many more. Green curry can pack the hottest spice to it and yellow the least, but again, that's not always true.
Green curry paste (kreung gaeng keo wahn) is a blend of fresh green chilies, shallots, lemongrass, white pepper, coriander root, garlic, kaffir lime rind, shrimp paste, and salt. Sweet basil leaves, round green eggplant, and kaffir lime leaves add to the overall lovely green hue in the final curry dish. Try our our Cauliflower Green Curry recipe or our Thai Green Curry Chicken Thighs recipe.
Red curry paste can be made with dried long red chilies, cilantro root, coriander, cumin, garlic, shallots, kaffir lime rind, white peppercorn, lemongrass, shrimp paste, sea salt and galangal. The basic ingredients in our simple red curry paste are dried red chili peppers, whole cloves of garlic, sea salt, fresh lemon grass, fresh turmeric for color, and shrimp paste.
Yellow curry paste is a mellow sweet-spicy paste blend based on turmeric and curry powder pounded together with coriander, cumin, lemongrass, galangal, shrimp paste, dried red chilies, sea salt, ginger, garlic and shallots.
Sour curry paste is the simplest of the curry pastes and usually forms a water-based curry with fish or pork. It is made up of just five ingredients: dried red chilies, cloves, white pepper, shallots, turmeric, and shrimp paste. Sour curry is especially popular combined with fish. The sour element comes from the addition of sour tamarind, sour pineapple, or other sour tropical fruits.
Panang is the basis for a richer, sweeter and drier curry. Using less coconut milk than red or green curry, Panang curry is topped with thick coconut cream and usually served on a plate. Panang curry paste can include dried red long chilies, shallots, garlic, galangal, lemongrass, kaffir lime rind, coriander root, white pepper, salt and shrimp paste. Peanuts are also sometimes added, which isn't traditional in Thailand and is more of a Western influence. It's most often prepared with beef in Thailand, where they like it fiery hot.
Masaman curry is Persian-influenced and originates in southern Thailand on the border with Malaysia, where many Muslims live, so it's often prepared with lamb or beef as the Islamic religion forbids pork. Masaman curry paste combines dried red chilies, cloves, white pepper, shallots, garlic, galangal, lemongrass, shrimp paste, coriander, cumin, and salt. The dish itself includes peanuts and cinnamon, white cardamom, and nutmeg, uncommon for Thai curry. It's thick and stew-like with a mild, slightly sweet taste.
An Anglicized adaptation of Indian curry powder came to Japan in the 1800s, and today Japanese curry is immensely popular. It's milder and sweeter and often served over crispy katsu cutlets (but the thick gravy also shows up in stew-like dishes with potatoes, carrots, onions, and beef or chicken).
It comes in a few spice levels, but otherwise there's not a lot of variation. Be sure to serve with plenty of rice for sopping up all that sauce.
And that still only covers some of the wide world of curry—you'll also find delicious curries everywhere from Trinidad and Jamaica to Indonesia and Afghanistan.