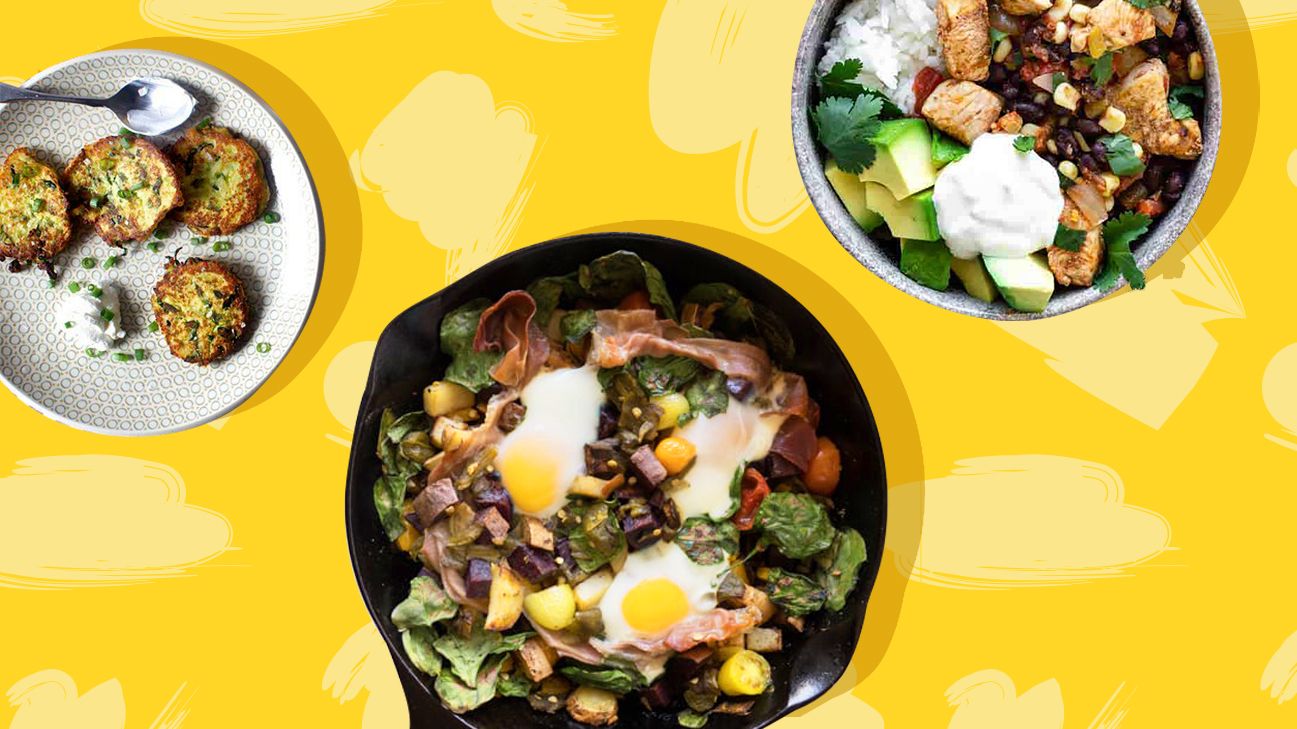 If you're a by-the-recipe kind of cook, coming up with ways to use the leftover odds and ends that always seem to be lurking in the crisper drawers and the back of your fridge can be a challenge.
What can you do with a quarter of a carrot, not-enough-kale-for-a-salad, one sausage, two strips of bacon, a potato that's starting to sprout, and/or half a package of mini pepperoni?
Don't worry — we've got you covered.
Every recipe on this list is versatile and flexible, perfect for using up — or adapting to use — whatever leftovers are currently hanging out in your kitchen. And not just one thing, either. These recipes are bursting with so many simple ingredients that you shouldn't need more than one (OK, maybe two) to get your fridge ready to be filled up again.
Decluttering your kitchen never tasted so good!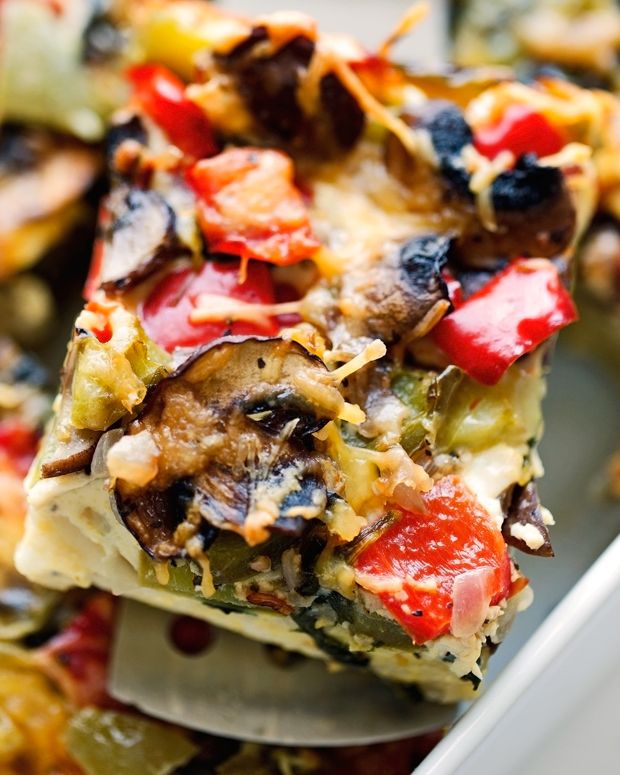 The recipe creator describes this dish as "A super simple veggie loaded breakfast casserole that's easily customizable!" — and we couldn't agree more. You can use whatever veggies you've got on hand, but this recipe is even more versatile than that: It can handle pretty much any other proteins or cheeses your fridge can throw at it.
One of the ingredients in this genius dish is literally "cold leftover mashed potatoes." It also makes use of that excess kale you've got lying around and those scallions you're still growing in a cup of water on your windowsill.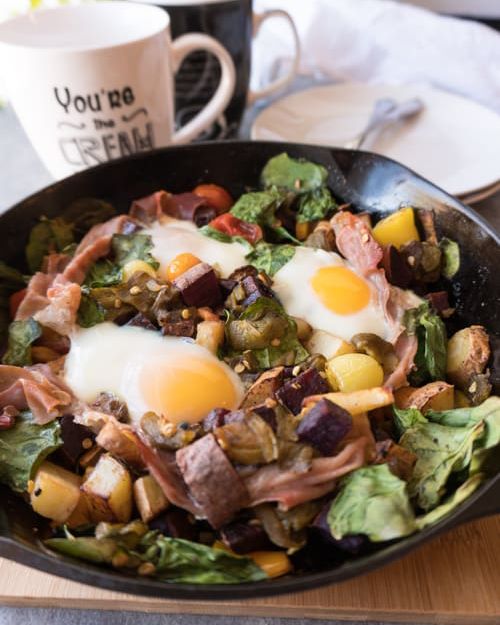 Sweet potatoes, bell peppers, prosciutto, and leftover salsa? What more could you want in a breakfast skillet? This one is topped with eggs and baked in the oven, so it's deliciously hands-off too.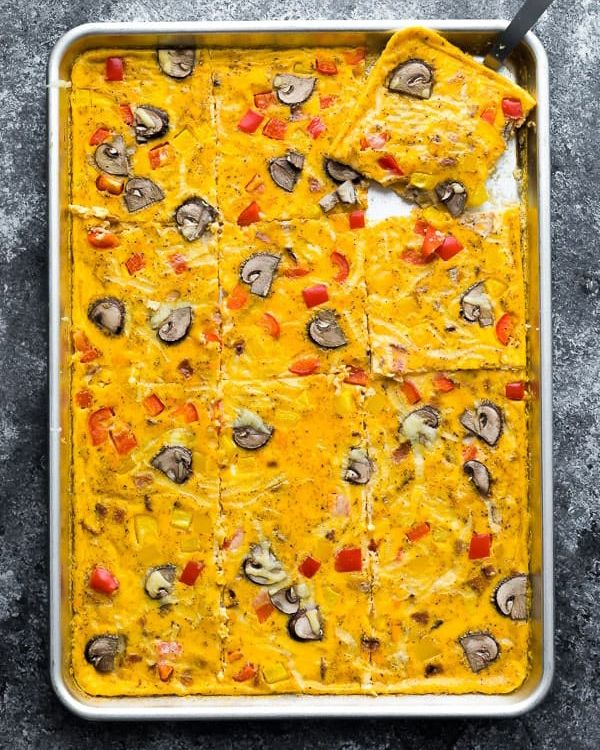 This is basically a giant frittata baked in a sheet pan. You can use whatever veggies, proteins, and cheeses you want. Slice it into squares and refrigerate it for up to 4 days or freeze it for up to 3 months. Turning leftovers into more leftovers? YES, PLEASE.
You almost don't even need a recipe for this one, but it's worth checking out because the recipe creator has lots of great tips for getting the ratio of eggs to veg just right.
This pizza pasta salad is the perfect way to use up any pepperoni, olives, and tomatoes left over from pizza night. There's a dressing you can make yourself, but the recipe notes that you can just use Italian dressing if that's more your speed.
This Southwest chicken and rice bowl does triple clean-out duty, using ingredients from the fridge, freezer, and pantry. It uses a small amount of sour cream (or Greek yogurt) as an "essential topping" along with avocado and lime juice.
Don't have chicken? This will also work with leftover carnitas or thinly sliced stir-fry steak. Can't find a can of diced green chiles? Use a fresh poblano, serrano, or red bell pepper instead.
Fried rice is one of the best ways to transform day-old rice into something new and exciting, and this vegetable fried rice from Spice the Plate definitely delivers. It's a great way to breathe new life into leftover veggies and rice. For a breakfast-y spin, consider adding bacon or ham and grated grated potatoes.
It's a bread and pasta salad! What more could you want? This dish originated in Tuscany, Italy, but totally deserves a spot in your kitchen too.
You'll toss the day-old bread with vinaigrette to rehydrate it without making it soggy. And while this recipe calls for only cherry tomatoes and bell pepper, you really can add whatever additional veggies or proteins you want to the mix.
"Don't you hate it when those lifestyle guru-types tell you about the meals they threw together from their leftovers, which just happen to be in tip-top shape, chromatically balanced, and Instagram-perfect?" asks Deb at Smitten Kitchen before delivering a recipe that knows exactly what it is (a zhuzhed-up collection of leftovers) and isn't afraid to bring its best self to the table anyway.
It doesn't have to be St. Patrick's Day for you to make this sausage and cabbage skillet dinner. Sometimes the only occasion you need is looking into the fridge and asking, "What the heck can I do with a cabbage, potatoes, and some sausage?"
If the name alone doesn't sell you on this stew, wait until we tell you it's a hearty slow-cooker soup made with sausage, beef, mushrooms, and carrots. We also like this stew because it uses two canned soups, which you can stash in your pantry so you're ready to make it when you have the right combination of excess veggies on hand.
We love this unconventional approach to wonton soup as a way to use up leftovers. It calls for 2 cups of frozen stir-fry mixed veggies, but you can sub in whatever veggies you've got at home. Snow peas, carrots, broccoli, bok choy, peppers, and baby corn would all be right at home in this cozy soup.
This recipe has everything: chicken and rice and broccoli and cheese and ranch seasoning mix and sour cream and mayo and 6 to 8 cloves of garlic. We like this dish because sour cream is one of those things you always end up with an odd amount of after using and because it cooks up in one skillet for minimal dishes when you're done eating.
Rebecca Eisenberg is the freelance food editor at Greatist. She's the voice behind the food blog The Practical Kitchen and recently earned her Certificate in Pastry Arts from Cambridge School of Culinary Arts (Class of January 2021). She lives in Boston with her husband and two cats.