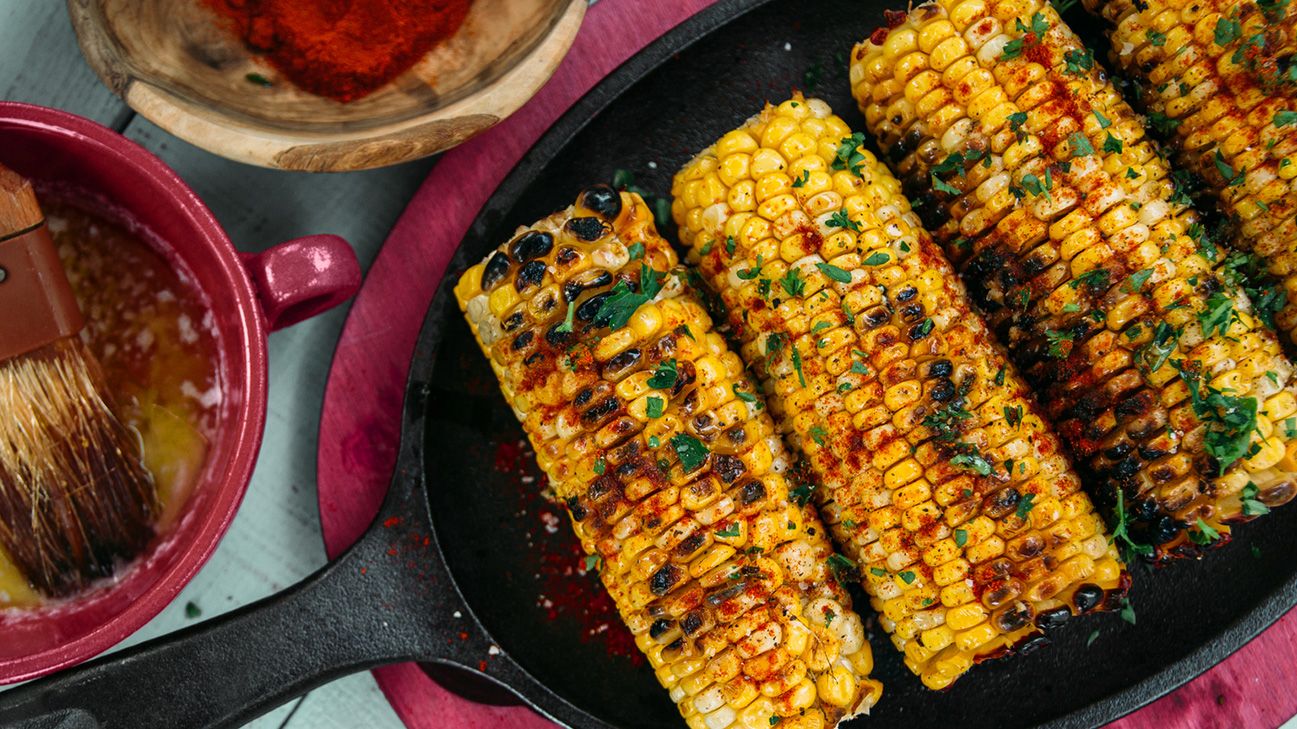 Summer corn is so sweet and tender you can easily (and safely!) eat it raw — but when you want to cook your cobs, just boiling can get boring. This year, when produce is at its peak, try grilling your corn on the cob for a little smoky, extra-summery flavor.
There are a few ways to do it, all of them easy, but of the two most common methods (husk-on or husk-off), one is superior. So fire up the grill! We're showing you how to do it right.
Lots of people swear by grilling corn in the husk — and we get it. The husk acts as a natural barrier to protect the delicate kernels while they cook, and effectively steams the corn while still imparting a faint hint of smoke.
Plus, cooking corn before shucking it actually makes removing all the pesky strands of silk easier. (And the peeled-back husks can make a nice natural handle.)
If you opt for this method, just first trim off any tangled, discolored silk at the top of the ears. Then place them on the grate of a gas or charcoal grill over direct medium to high heat. Let them cook for 15-20 minutes, turning occasionally.
Cool the ears enough to handle and strip off the blackened husk and silk. Then (optional but a major flavor enhancer) roll your corn in butter and seasonings and enjoy.
Tasty as in-husk grilled corn may be, if you're a fan of charred bits and more pronounced smoky flavor, you may find this option a little lacking. The point is, after all, to grill the corn itself (not its outer container). That's why we like the following method even more.
For those who want more char, shucking the corn first is the only way to go.
You don't need to stress about peeling off every last clingy filament of silk, since it'll mostly burn off anyway, and you don't need to season the corn first, although you can if you like. Just slick it with a bit of oil or melted butter and sprinkle with salt and pepper.
Stripped-bare corn cobs can be placed on the grate directly over medium to high heat too. Turn them periodically to get relatively even char on all sides, and they should be done in 10 minutes. If you didn't season them first, roll them in butter and spices hot off the grill, and bite into a perfectly juicy taste of summer.
You could grill your corn in the husk, then peel it back and put the ears on again for another few minutes to pick up some smoke and color, but that's complicating matters without much result.
You've shucked, you've oiled, you've grilled — now what?
Simply add some metal-pronged holders to each end and eat! (Even better if your holders are shaped like something goofy and fun, like a sombreros and boots combo.)
Grilled corn on the cob is, of course, also a great partner to any protein, from burgers to grilled shellfish, and fellow cylindrical summer icons, hot dogs.
When it comes to seasoning, if you want to branch out from plain old butter and salt, try these toppings:
Elote seasoning
Garlic powder
Parmesan cheese
Seasoned salt
Chopped fresh parsley
Everything bagel seasoning
And if you don't like gnawing on the cobs themselves, you can shave the kernels off to use in corn salads, salsa, pasta, pizza, soups, and any other dishes that could use pops of sweet, smoky flavor.
De-kernel your cobs in a bowl, as shown below, or use a Bundt pan to steady the ear and collect the kernels, as seen in our summer produce hacks. You can also grill extra ears, cut off the kernels, and freeze them for later use — after all, summer won't last forever.
Nuts for corn? Check out the grilled recipes below for inspiration.
By now, you've probably tried the delicious phenomenon that is Mexican street corn (aka elote). But if you've never tried making it on your own, this recipe is an easy intro. It calls for grilling your corn in the husk, but for a nice blackening on the kernels, shuck it first.
Get the recipe for grilled corn with cayenne, lime, and cotija.
While you're putting some shrimp on the barbie for tacos, might as well slap some corn cobs on there too. It'll up the flavor ante on this south-of-the-border one-dish meal. With an ice-cold Modelo in your hand as you grill, you'll be Insta-ready as the ultimate picture of summer.
Get the recipe for grilled shrimp tacos with avocado-corn salsa.
Just because you grill your corn sans husk doesn't mean you have to throw the outer leaves away. Use them to keep meaty halibut steaks moist and intact on the grill! Then top them with the charred corn itself in the form of lime-spritzed salsa (which is also great in tacos, rice, burritos, enchiladas, and, well, pretty much anything else).
Get our corn husk-wrapped grilled halibut with charred corn salsa recipe.
Sweet grilled corn kernels, bright tomatoes, and creamy avocado make an ultimate summer salad, and you can toss in any fresh herbs you have on hand. Arugula adds a nice peppery note to contrast the sweet and acidic flavors.
Get the grilled corn salad with tomato and avocado recipe.
Ready for corn overload? This unusual recipe is for true corn-ophiles. It features the summer veggie in three (yes, three) distinctive forms: cobs, popped kernels, and a buttery sauce made from leftover cornbread crumbles. Don't be surprised at the oohs and ahhs when you show up to the potluck with this show-stopping side.
Get the recipe for grilled corn with cornbread puree and popcorn.