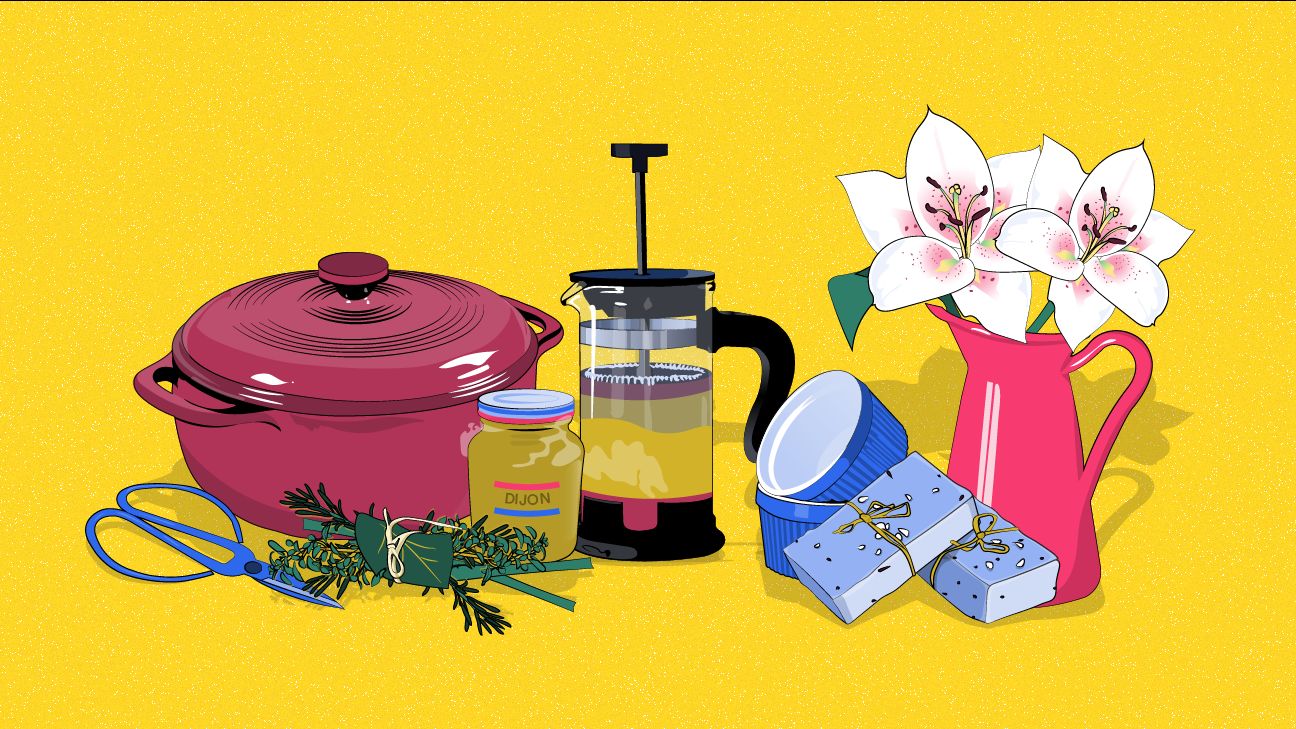 We include products we think are useful for our readers. If you buy through links on this page, we may earn a small commission. Here's our process.
Greatist only shows you brands and products that we stand behind.
Our team thoroughly researches and evaluates the recommendations we make on our site. To establish that the product manufacturers addressed safety and efficacy standards, we:
Evaluate ingredients and composition: Do they have the potential to cause harm?
Fact-check all health claims: Do they align with the current body of scientific evidence?
Assess the brand: Does it operate with integrity and adhere to industry best practices?
We do the research so you can find trusted products for your health and wellness.
The French are known for their appreciation of good food, from boeuf bourguignon recipes passed on for generations to the simplicity of fresh herbs.
C'est vrai, we're big fans! But for those of us who want to try our hand at French cooking, it can be a tad intimidating at first. After all, the French literally invented Michelin, and Le Creuset pots can ring up at $400.
So, can a mere mortal experiment with French cooking on a budget and on less-than-Jacques-Pépin skills? Oui, bien sur!
The beauty of French cooking is ultimately in its mix of tradition and simple details (herbs, butter, wine). You can absolutely hone your craft without investing a ton of money, and the same goes for setting up the quintessential French kitchen. The key is mixing perennial pieces with pops of bright color and requisite appliances that won't break the bank.
Here's your ultimate guide for putting together the Parisian kitchen of your dreams and cooking French food like an almost-pro — from affordable cookware and gadgets to en vogue decor to complete the aesthetic and go-to ingredients and recipes from the region.
If you're committed to channeling your inner Julia Child, stock up on these can't-live-without French cuisine tools and essentials.
Enameled Dutch oven
A cast-iron Dutch oven is a necessity for making casseroles, braised chicken, stews, you name it. The iconic Le Creuset may be the gold standard, but it comes with a very hefty price tag. Luckily, there are much more affordable enameled options out there that will do the job just as well.
Look out for these signs of a good quality Dutch oven:
a tight-fitting lid
a bottom that's at least 8 inches wide
wide, comfortable handles (It'll get heavy when it's full!)
no chips in the enamel
a metal knob that can withstand heat
Budget pick:
Fromage board
A French dinner party traditionally ends with a cheese board (right after your main course but before dessert).
A well-executed spread — complete with a variety of cheeses (hard, soft, blue, goat) and accoutrements (nuts, jams, pickled veggies) — will have your guests raising a glass of burgundy to your easy sophistication. Presentation matters, so invest in a handsome-looking fromage board for serving.
Budget pick:
Ramekins
What are ramekins, you ask? They're little baking dishes used to make single-serve soufflés and other dishes (6 to 8 ounces). They double as handy serving vessels for things like olives, nuts, and vinaigrettes (2 to 4 ounces).
Ramekins are traditionally white and made of thick porcelain that can withstand extremely high oven temperatures without cracking. You'll definitely want to buy a set of at least six (because one creme brulee is never enough).
Budget pick:
Chef's knife (a good one)
A "real" chef's knife (6 to 14 inches long) is a French kitchen mainstay and worth the investment. A good one is super sharp and versatile, perfect for carving meat, mincing herbs and vegetables, and everything in between. It should also be lightweight and comfortable to grip and should have a pointed tip.
Budget pick:
Hand blender
Some French recipes require a blender's assistance. Full-size, high powered blenders can be pricey (sometimes up to $400) and aren't always necessary. A hand blender (aka immersion blender) is a convenient and more budget-friendly option that will get most battre et mixer tasks done (and is way easier to clean).
Budget pick:
These kitchen gadgets aren't musts, but they're helpful to have on hand, whether for your morning coffee or dinner prep.
Herb shears
A true French chef loves fresh ingredients and, again, never overlooks the details. Herb shears look like regular scissors, but their sharp blades are designed to finely snip and strip delicate fresh herbs with precision. Because let's face it: Garnishing steak tartare with butchered-and-bruised parsley leaves would be le crime.
Budget pick:
French press
Funnily enough, there's debate about whether the origin of the French press is actually French or Italian. Either way, no one can argue with this: French press coffee tastes better than regular ol' drip brew because the grounds are steeped for a richer flavor.
Plus, it doesn't require a gargantuan coffee machine taking up half your countertop (which is just so, well, American).
Budget pick:
Egg topper
The French take pride in even the simplest dishes, like the soft-boiled egg, as well as their attention to detail. A Clack egg opener neatly and easily slices off the top of the shell. That way, you don't have to sloppily crack it open on the counter and you can serve your silky, perfectly cooked œuf à la coque.
Budget pick:
Tart pan
From gorgeous berry tarts to savory quiches, a tart pan makes the job easy. Features to look for: heavy-gauge tinned steel to allow for even baking (a perfect tart necessity!) and a classic fluted edge for the pretty factor. It also has a removable bottom, which is very helpful for getting the tart out of the pan without destroying the crust.
Budget pick:
Mortar and pestle
This kitchen tool allows you to crush and blend herbs and spices, releasing their natural oils and enhancing flavors. It's ideal for making staple recipes like persillade (essentially a French chimichurri made with fresh parsley, garlic, herbs, oil, and vinegar) and vadouvan (the French version of sun-dried Indian curry spice blend with added shallots and garlic).
Budget pick:
Many classic French recipes call for these spices, herbs, and blends (some of which you probably already have in your cabinet):
Common herbs. Many French recipes call for easy-to-find (and grow!) herbs like parsley, chives, tarragon, thyme, fennel, and marjoram.
Herbes de Provence. This fragrant blend of dried herbs can be used to season almost anything, including fish, chicken, stews, and Provençal sauce.
Fines herbes. A classic mixture of chopped fresh herbs, including parsley, chives, tarragon, and chervil, used to add extra flavor to delicate French dishes.
Bouquet garni. Adorably nicknamed "the broth posey," this bundle of parsley, thyme sprigs, and a bay leaf is added to soups, casseroles, and stews for extra flavor.
Fleur de sel. This high quality, delicate salt is a must for finishing off everything from quiches to salted caramels.
Dijon mustard. Whether you're whipping up beef Wellington or salmon en croûte, authentic Burgundian mustard is a crucial ingredient.
Just as irresistible as French noms is a space that oozes quintessential French style. You can spruce up your kitchen with some wallet-friendly add-ons so it exudes those cool cafe vibes.
Perfect wine glasses
The French love their wine. If you're sipping a red, a white, and a Champagne, this traditionally means you're drinking from three different glasses to heighten the wines' flavors and aromas. But honestly, a 12-piece glass set isn't financially savvy or necessary. European kitchens are often tiny with limited storage space anyway, so it's also perfectly French to choose a nice set of all-purpose wine glasses.
Budget pick:
Fresh flowers in a pitcher
The setting of a French country kitchen isn't complete without an arrangement of fresh flowers picked up from the farmers market. A porcelain pitcher filled with a bunch of tulips will look très belle on your counter.
Budget pick:
Linen tea towels
A French kitchen perfectly marries simplicity with a few elements of charm. Linen tea towels give your space playful pops of color, and they're multifunctional — perfect for drying dishes, tidying up, or keeping fresh scones warm.
Budget pick:
Artisanal soap
Traditional French soap is crafted with natural ingredients, moisturizing shea butter, and very few impurities so that it lasts longer. It feels luxurious on your hands, and you can choose from plenty of aromatic scents and colors that will trick you into thinking you're in the South of France.
Budget pick:
Wooden spoons
Lightweight and utilitarian beechwood spoons are ideal for stirring (and tasting!) sauces without scratching your nonstick pans. Plus, they're inexpensive and look delightfully rustic displayed in a large jar on your counter.
Budget pick:
Let's pop a bottle of bordeaux and get cookin'! These traditional recipes will please the meat and fish eaters plus the veggie lovers (and those with a sweet tooth!). Bon appétit!