Everyone loves a great bar. In this case, we're talking about the kind you can pack as a perfectly portable meal or snack (though we love bars with alcoholic drinks, too).
Whether you need a breakfast you can eat while commuting, a post-workout snack to hold you until dinner, or a scrumptious yet healthy(ish) dessert, bars are fantastic, any time and for any mood you're in.
And they're beyond easy to make. Can you stir and use a food processor? Then you can make your own bars.
Many of the ones below are more like formulas than set-in-stone recipes, so don't be afraid to swap in different nuts, seeds, and fruit to create your own twists. You'll come up with tasty flavors that you'll never find in a wrapper.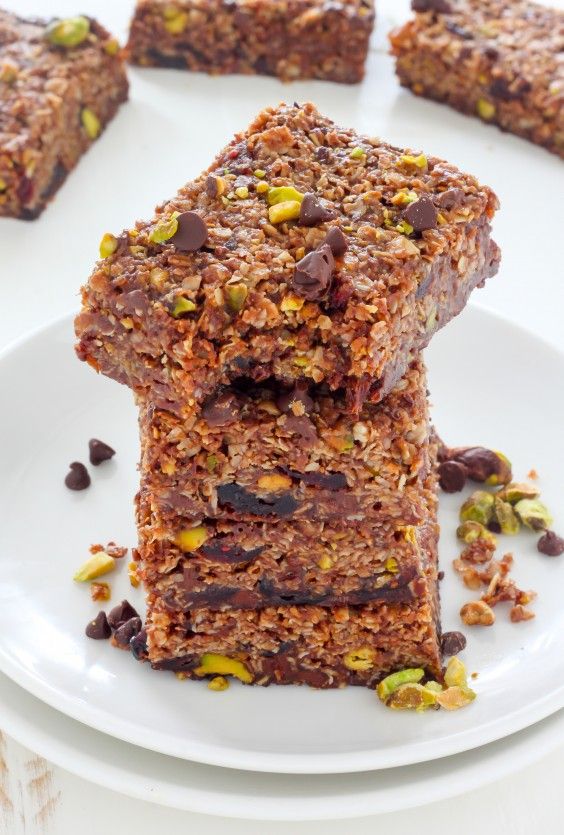 Natural beauty of this bar aside, the chocolate and pistachios come together for an awesome salty/sweet combo.
We usually think of Nutella as a dessert food, but these guys are packed with nuts, oats, and coconut oil which makes them a great snack for any time of day.
These bars are loaded with all kinds of good stuff, yet it all comes together in a delicious mix of flavors and textures.
Almonds add protein and crunch, cranberries and raisins bring the sweet and chewy, and chocolate chips make it a party. Toasting the oats may seem unnecessary, but it pumps up their flavor and makes them a little crispy.
Seeds aren't just for the birds, and these not-too-sweet bars prove it.
Raw almonds along with chia and flaxseed, make them crunchy and provide some omega-3s. Nut butter and quinoa add staying power, so you'll feel full until your next meal.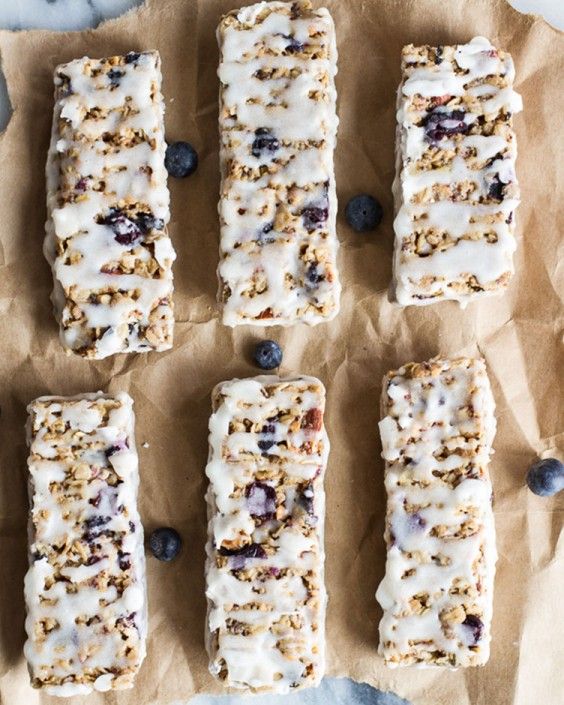 Breakfast just got so much better. Take everything you love about your favorite Greek yogurt and pack it into this bar for a perfect portable meal.
Unlike packaged bars with Greek yogurt, which actually use a sugary powder and contain no yogurt, these are topped with the real thing. Mix up the fruit each time you make them to keep your taste buds entertained.
For anyone with nut allergies, this recipe is a total win. The oats pack in tons of fiber, raspberries boast a serious zing, and coconut oil adds a subtle tropical note.
Ready in only three steps, the only labor you have to put in is stirring. Doesn't get easier than that. Now if only the bowl cleaned itself.
Remember your favorite Chewy bars as a kid? Think of these as your even better grown-up version — and one you can customize.
Use whatever nuts, fruit, and nut butter suit your fancy, and have fun. After all, when it comes to those foods, you really can't go wrong.
Get all the goodness of your fave sandwich in this plant based bar that's almost as easy to make.
Peanut butter and almonds will pack a protein punch to give you energy that'll last through a workout, while cranberries and dates naturally take the place of cane sugar-filled jelly. Delicious!
With a combo of chia seeds, flaxseed, hempseed, coconut flakes, pumpkin seeds, dates, cacao nibs, and walnuts, this recipe has tons of nutritional benefits.
You can shape the mixture into bars or into little cupcakes topped with raw chocolate (yum!), as this blogger suggests.
This no-bake recipe combines eight easy ingredients in a food processor. Some of our favorite additions (goji berries and cacao nibs) are featured here, and the end result is a colorful, nutritious treat.
There's nothing seedy about these energy bars — except maybe the ingredient list. Quinoa plus flaxseed, sunflower, chia, pumpkin seeds provide protein for lasting energy.
Some finely shredded hard cheese of your choice will give this the salty boost your taste buds are looking for, and a bit of garlic powder makes them taste like a healthy version of your favorite breadsticks.
No chopping or baking required here!
Apricots, dates, white chocolate chips, chia seeds, and a few other ingredients are blended in the food processor, transferred to a pan, and put in the freezer to set. The apricots lend so much natural sweetness, you may not even want to add agave.
Whoever said the slow cooker was just for chili was wrong. This recipe takes just 10 minutes to prepare and combines almond butter, eggs, quinoa, chia seeds, dried apples, and maple syrup.
Just throw all the ingredients into the slow cooker at night and wake up to the best morning ever — not to mention a house that smells like dessert.
Vegans and omnivores alike will love this recipe. Pumpkin pie can be an everyday thing thanks to these. Cashews have a subtle flavor, so the pumpkin really shines.
These bars are great for those days when you're in a not-totally-chewy yet not-totally-crunchy mood, since the seeds on top add just enough texture.
Trust us, these taste as amazing as they look. The bright pink layer is filled with raspberries (hello, vitamin C) and coconut, which is praised for its good fats.Babu AS, et al. (2014). Virgin coconut oil and its potential cardioprotective effects. DOI: 10.3810/pgm.2014.11.2835
The chocolate base also features coconut, as well as almonds, cashews, and peanut butter — that's enough of an energy boost that you don't even need the maca powder.
All it takes is a food processor and half an hour in the freezer, and you've got a scrumptious treat.
These gluten-free, seven-ingredient bars don't disappoint! Like all of these homemade recipes, you can cut them up into different sizes depending on your hunger level, which is a nice alternative to the store-bought ones.
This version calls for peanut butter, but feel free to swap in your favorite nut butter (or Nutella, if you're feeling the brunch vibes).
These bars are like a portable fruit cobbler or crumble. A jam-like filling is layered between buttery crusts made with flour and oats.
We think adding nut butter would only make this even more delicious (and slightly reminiscent of PB&J). You can also sub in whole-wheat or another replacement flour to make these more nutritious.
It doesn't get much easier than these bars, made with just two ingredients: dried apple rings and dried apricots.
Purée in a food processor, place on a baking pan, and roll out to your desired thickness. The best part? You can cut and serve these immediately, no cooling or baking necessary.
Sweet, salty, and chocolaty is the answer to all your snacking dilemmas.
These treats are naturally sweetened with dates, and using both almonds and almond butter makes them super nutty. A quick whirl in the food processor, and you're done. Easy to make and clean up!
The name says it all: three ingredients.
You'll be happily surprised at how tasty and versatile these are. Pick a nut or seed, add a dried fruit (or a few), and combine with dates in a food processor. Then you just have to chill and cut into bars.
Chocolate + cherry + almond is one of our favorite combos, and these bars don't disappoint. The date base makes the bars soft, while nuts add a satisfying crunch.
Pro tip: If you have extra time, try soaking the dates in water for an hour before you start so that they'll blend up better in the food processor.
These are too pretty to eat, yet too delicious not to. Matcha is making waves everywhere, and now you can even add it to your bars.
The ground green tea from Japan is known for ultra-high antioxidant levels and cognitive-enhancing effects,Dietz C, et al. (2017). An intervention study on the effect of matcha tea, in drink and snack bar formats, on mood and cognitive performance. DOI: 10.1016/j.foodres.2017.05.002 and the caffeine may help keep you going in the afternoon. Topped with chocolate, this snack is so much better than a mocha latte.
These are incredibly easy — only six ingredients — and filled with a rich peanut butter flavor. They make a great post-workout snack or breakfast on mornings when you don't even have time to heat up instant oatmeal.
These bars pack in nutrient-rich ingredients like hemp protein, dates, chia seeds, and cacao powder for a healthy twist on the chocolate protein bar.
This recipe uses a food processor, so you can pulse the ingredients to whatever crunchiness level you like. Topped with pumpkin seeds, these make for a great photo op too. #LivingMyBestLife
Protein powder isn't reserved for post-workout smoothies. These bars combine vegan protein powder with crunchy almonds for a huge protein payoff — almost 13 grams per bar.
Sweetened with maple syrup and optional dairy-free chocolate chips, these taste like dessert and are good for you.
With four varieties of seeds, two different berries, and some crisped rice, these bars pack a lot of flavor into a small package.
They come together the same way as traditional Rice Krispies Treats, but with peanut butter rather than marshmallows — a much better choice for protein bars (as much as we love marshmallows).
With both cocoa powder and cacao nibs, this recipe is perfect for all the chocoholics out there (we're raising our hands).
The only other ingredients are vegan protein powder, nuts, shredded coconut, oats, vanilla extract, and salt, so you won't have to worry about added sugars.
If you're not in the mood to stand over your oven while waiting for banana bread to bake, you're in luck. This option gives you all the sweet, comfort food goodness of the bread packed into a smaller, healthier square.
Plus, unlike bread, they're foolproof. You can't burn something you don't bake, right? That's a win in our book.
A lot of bars rely heavily on raisins or flavored raisins as the fruit, so our taste buds cheered when we found these. Blueberries are rich in anthocyanins, heart-healthy antioxidants.Wallace TC, et al. (2016). Systematic review of anthocyanins and markers of cardiovascular disease. DOI: 10.3390/nu8010032 A touch of cinnamon and cardamom takes these to the next level.
We love big chunks of fruit in our nut bars, and here you can use whatever dried fruit you want to break up the full flavors of almond and sunflower seeds.
Coconut flakes add such a tropical twist that we want to try these using dried pineapple next time. Piña colada bar? Yes, please!
Paleo enthusiasts don't shun dried fruit, but they try not to overdo it. So this fruit-free bar is all nuts, seeds, dark chocolate, and agave. That adds up to a lot of fiber, protein, and good fats to keep you full for hours.
But how does it taste? We give it a perfect 10.
Dark chocolate and sea salt are a perfect pair, and almonds as the third wheel only makes things better. While these bars may look complicated, all you have to do is chop and stir to make them.
Pro tip: If you have the time, roast the nuts first — it enhances the flavor like whoa.
A packaged orange-flavored bar would most likely have "natural flavors" in it and no orange. Instead, these use orange zest — and loads of it — along with cashews, almonds, and pecans to bring the crunch. Ginger adds a nice, spicy hint.
Ever notice how pricy store-brought bars are? We're talking $1 at the cheapest, $4 if it needs to be refrigerated, and everywhere in between. If you're going through one or more a day, that can add up fast.
High cost aside, pre-packaged bars may also contain loads of refined sugar to whet your appetite and have you reaching back for more. Especially energy bars, which have the coarse taste of protein powder or whey to cover up.
Instead, try a homemade variety. Not only are these bars cheaper to make, you can get sweetness from fruits and other natural sources, and customize them any way you like. The combinations are endless — just like your creativity.