Chicken salad? Again? Don't run screaming just yet. These are wild.
9 chicken salad recipes to try out
If you have leftover roasted chicken hanging around or you've picked up a rotisserie chicken from the store, chicken salad is probably in your immediate future. But don't settle for the same old, same old. These non-boring chicken salad recipes go way beyond the basic mayo-and-celery formula.
Some of them even stretch the definition of what you probably picture when you think of chicken salad. For those not looking for a chicken-based soul quest, there are plenty of mayo-bound versions with more interesting mix-ins and bolder flavors than you may be used to.
And they're all delicious.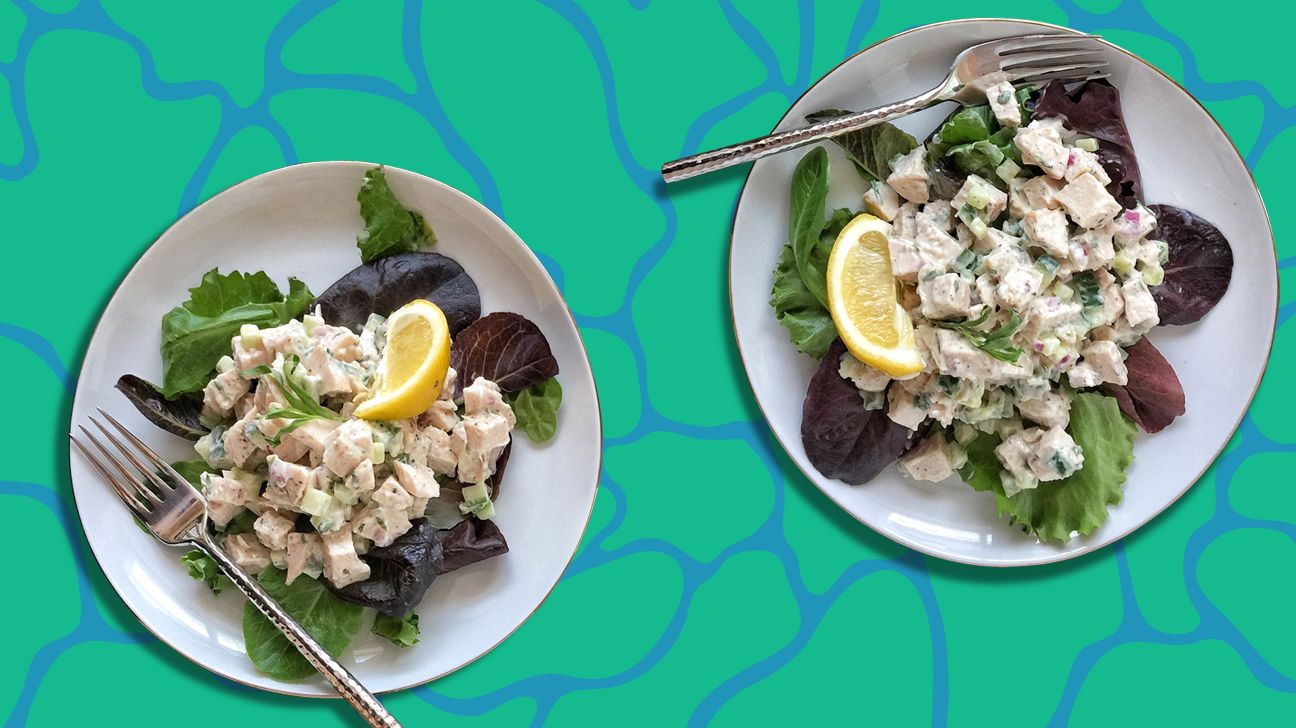 This dairy-free chicken salad is perfect for a picnic since there's nothing in it that can spoil. Use leftover roasted chicken or store-bought rotisserie chicken and don't be scared of adding the chile paste — it makes the dressing spicy but not lip-burning.
Here's what you'll need.
For the dressing:
For the salad:
Get our Chinese-y chicken salad recipe.
In a similar vein, this mayo-free chicken salad is dynamite (largely thanks to Sichuan peppercorns and chili oil).
Ginger, garlic, scallions, and soy sauce also figure in, and it's served over crunchy cucumbers for an incredibly refreshing dish that will cool you down — but might also make you sweat. It's confusing and delicious.
For the salad:
For the dressing:
Bring on the margaritas to pair with this one. This chicken salad includes jalapeños, cilantro, and lime juice for a Mexican flair.
Try it stuffed into avocados for a gluten-free treat.
You'll need:
Get our Mexican chicken salad recipe.
You know it, you love it: It's basically like nachos in salad form. Fresh tomatoes and corn elevate this way above other Mexican-style salads.
And best of all, there's not one but two dressings: a cumin-lime vinaigrette with a kicky secret ingredient, and a spicy jalapeño sour cream.
For the chicken:
For the cumin dressing:
For the sour cream dressing:
For the salad:
Get our chicken taco salad recipe.
Curry powder is only the beginning of this flavor-packed chicken salad. The warm, savory spices are simultaneously complemented and contrasted by crisp diced Granny Smith apples, tender dried currants and raisins, and fruity mango chutney.
Toasted almonds add nutty notes and even more crunch to this dynamic dish.
You'll need:
1 quart chicken stock
2 whole chicken breasts, bone-in and split
1/2 cup almonds, toasted and roughly chopped
2 tablespoons vegetable oil
1 tablespoon curry
1 cup mayonnaise
1/3 cup mango chutney
1 Granny Smith apple, cored and cut into 1/2-inch dice
1/4 cup currants
1/4 cup golden raisins
2 celery stalks, thinly sliced
Get our curry chicken salad recipe.
Mayo haters and picnickers, take note.
This technically-still-a-chicken-salad features fresh greens tossed with cucumber, scallions, savoy cabbage, and shredded rotisserie chicken in a piquant tahini dressing.
You'll need:
about 6 cups salad greens, such as baby kale or red leaf lettuce, chopped
2 cups shredded savoy cabbage
2 cups shredded rotisserie chicken
1/3 cup Tahini Dressing, plus more for passing
1/2 English cucumber, halved lengthwise and sliced
1/2 cup sliced scallions
Get our chicken and greens salad with tahini recipe. (You'll get our Tahini Dressing recipe too.)
Enjoy the most elegant chicken salad you've ever tasted with this French-inspired version. Fresh tarragon provides a distinctive (but not overpowering) anise flavor, and tart apples and red onions add crunch.
You'll need:
2 bone-in chicken breasts
2 whole chicken legs
2 tablespoons olive oil
Kosher salt
Freshly ground black pepper
1/4 cup small-dice red onion
2 tablespoons Champagne vinegar
1 cup small-dice tart apple, such as Braeburn, Granny Smith, or Gravenstein
2/3 cup small-dice celery (from about 2 stalks)
2/3 cup mayonnaise
3 tablespoons finely chopped fresh tarragon leaves
Get our tarragon chicken salad recipe.
Salad? OK, sure. Now try it in a sandwich. See — that's how it's done. (Don't worry, salad — we love you. Really.)
With almonds and cherries, this is closer to a Bakewell tart than a chicken salad. Plus, sticking these ingredients on top of a beautiful sourdough or a crusty loaf is always welcome.
You'll need:
1 bone-in chicken breast (about 1 pound)
1 whole chicken leg (thigh and drumstick, about 12 ounces)
1 tablespoon olive oil
Kosher salt
Freshly ground black pepper
1/2 cup mayonnaise
1 tablespoon Dried Cherry Mustard or Whole-Grain Dijon Mustard (see recipe note)
1/3 cup roasted, salted almonds, coarsely chopped
1/4 cup dried cherries, coarsely chopped
1/2 cup small-dice celery (from 1 stalk)
2 tablespoons finely chopped shallot (from 1/2 a small shallot)
1 teaspoon finely chopped fresh thyme
4–6 kaiser rolls or sandwich-size slices of focaccia or ciabatta bread (optional)
Bibb, Boston, or iceberg lettuce (optional)
Get our chicken salad sandwich recipe.
This is probably the farthest you can get from whatever image pops into your head at the words "chicken salad" — but it's delicious. With bacon, ranch dressing, and fried chicken, how could it not be?
You'll need:
1 1/2 pounds chicken breast, trimmed
2 cups buttermilk
3 cups gluten-free flour
1/2 gallon vegetable oil
1 cup julienned carrots
6 cups mixed field greens
1/2 cup diced tomatoes
8 ounces ranch dressing
1 cup chopped cooked bacon
1/2 cup finely chopped scallions
1 ounce chili powder
Salt and pepper to taste