Brisket is an obvious choice for Passover. But you can (and should) make our favorite brisket recipes any time, and they range from old-school braises to slow cooker BBQ.
7 amazing brisket recipes
For best results, go low and slow with this cut of beef. But make yours even better. Set tradition aside, at least in the details, and infuse your brisket with some not-so-classic flavor.
Brisket used to be an inexpensive cut of beef, which was part of its appeal, but climbing meat prices mean that's no longer necessarily true. Still, it tastes as good as ever — the tough meat becomes tender after hours and hours in the oven or slow cooker. And it's easy to love — just like Grandma. (Awww.)
Here are seven amazing recipes, plus some general tips on nailing brisket and what you'll need to get started.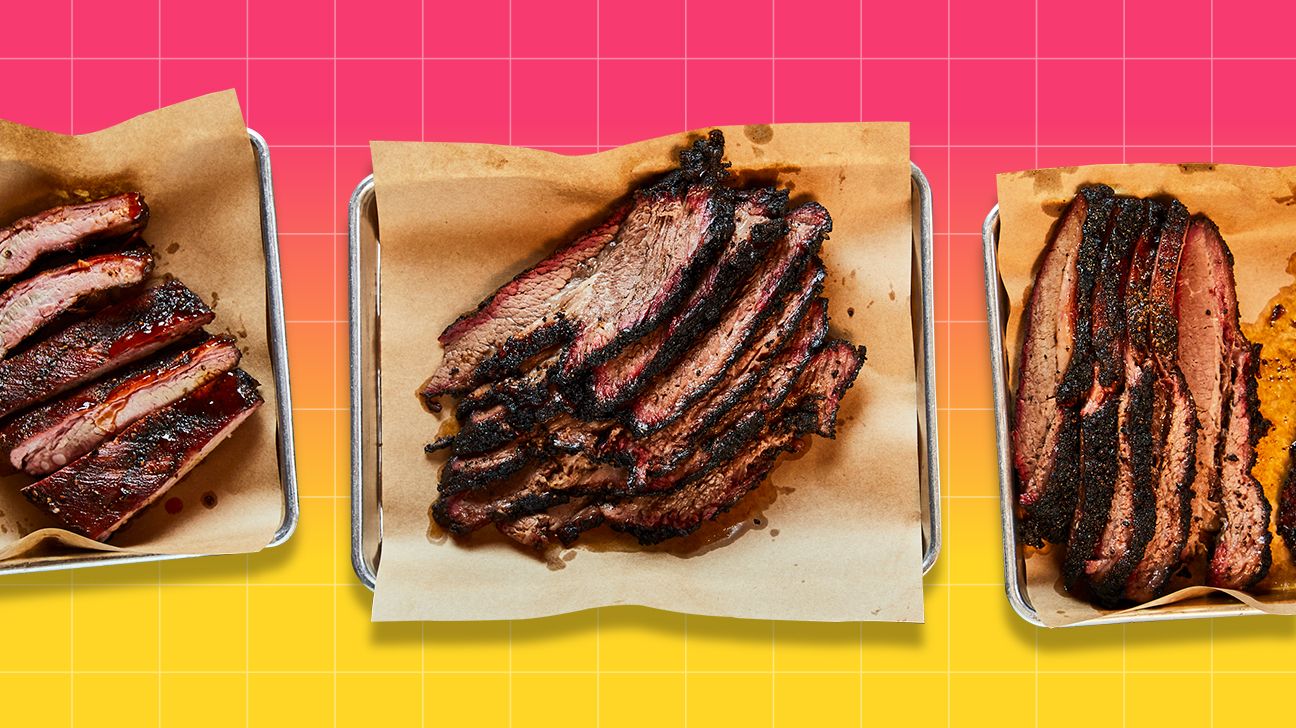 Whether you want to use up leftovers from a holiday gathering or have a casual dinner party, here are a few brisket recipes to try:
Ginger, garlic, scallions, and chu hou paste (made with soybeans, sesame, and garlic) transform this cut of meat into a dish that will be new to anyone not accustomed to Chinese-style brisket.
The daikon radish is more traditional for this classic Chinese dish, but you can use turnips instead. You'll need at least 4 hours and the following ingredients to make this brisket:
1 beef brisket (4–5 pounds), trimmed of fat and cut into 2-inch pieces
2 tablespoons vegetable oil
10 slices fresh, unpeeled ginger (about 1/4 inch thick)
8 medium garlic cloves, smashed
1/4 cup chu hou paste
2 cups low sodium chicken broth
2 cups water, plus more for blanching the brisket
3 star anise pods
2 teaspoons granulated sugar
1 teaspoon kosher salt, plus more as needed
2 pounds turnips or daikon radish
1 bunch scallions
steamed white rice or cooked rice noodles, for serving
Get our Chinese brisket and turnip stew recipe.
Hungarian paprika adds a smoky-sweet essence to this slow-cooked brisket, also flavored with garlic, caramelized onions, tomatoes, brown sugar, rosemary, and bay leaf.
You do most of the work the day before and refrigerate it overnight. You'll need:
2 tablespoons kosher salt
1 tablespoon Hungarian paprika
2 teaspoons garlic powder
1 teaspoon freshly ground black pepper
1 beef brisket (4–5 pounds), cut in half widthwise
2 tablespoons olive oil
2 medium yellow onions, diced to medium size
12 medium garlic cloves, crushed and peeled
6 tablespoons packed light brown sugar
2 tablespoons tomato paste
1 can whole tomatoes, liquid and cores discarded, tomatoes hand-broken into large chunks
2 (6-inch) branches fresh rosemary
1 bay leaf
1/4 cup apple cider vinegar
2 cups water
Get our spice and herb oven-braised brisket recipe.
This fork-tender meat is meant to be shredded, piled high between bread slices, and savored by hand. It's a classic barbecue dish that you make in your slow cooker over the course of 10 hours or longer.
It may not be quite the same as a smoked BBQ brisket, but no one will complain.
Here's what you'll need.
For the barbecue sauce:
1 1/2 cups ketchup
1/2 cup packed dark brown sugar
1/2 cup water
1/4 cup finely chopped yellow onion
3 tablespoons apple cider vinegar
3 tablespoons Worcestershire sauce
2 chipotle chiles in adobo sauce, finely chopped
1 teaspoon garlic powder
3/4 teaspoon freshly ground black pepper
For the brisket:
1/4 cup paprika
1 tablespoon chili powder
1 tablespoon ground cumin
1 tablespoon packed dark brown sugar
1 tablespoon kosher salt, plus more as needed
1 teaspoon cayenne pepper
1 teaspoon garlic powder
1 teaspoon freshly ground black pepper, plus more as needed
1 (5-pound) beef brisket
Get our easy slow cooker BBQ beef brisket recipe.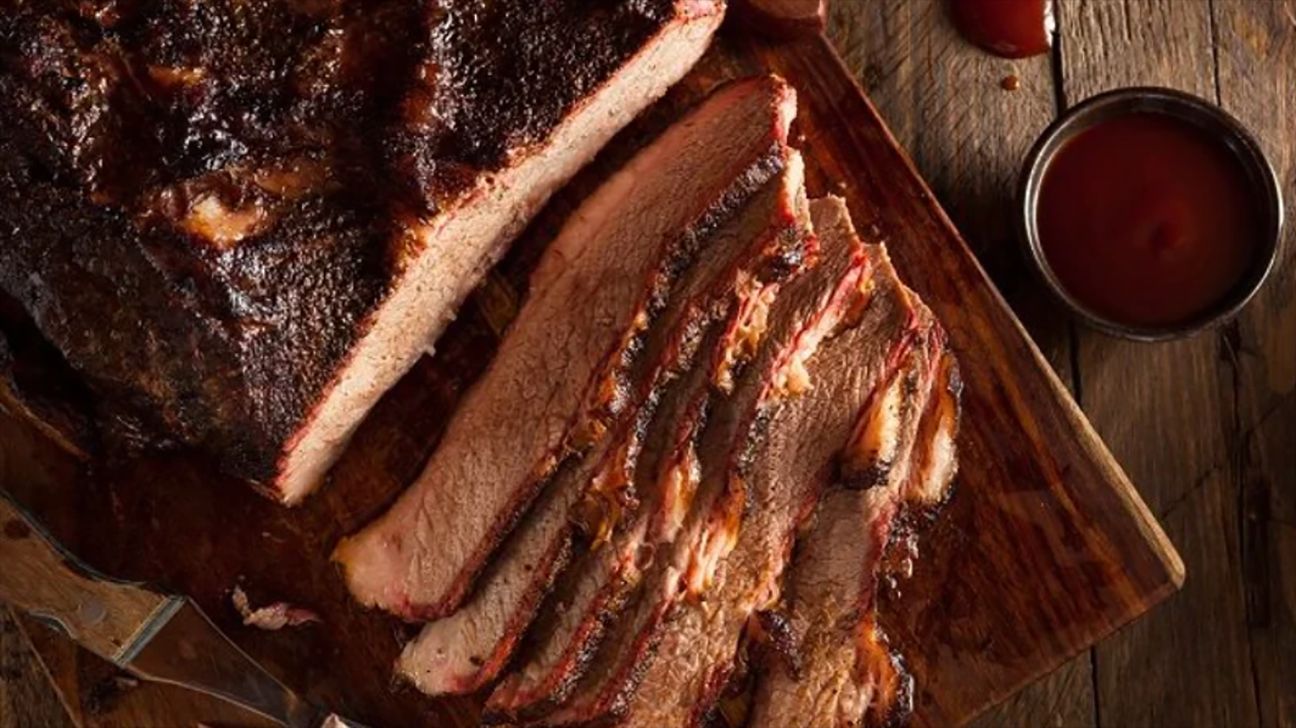 This is less a recipe and more a series of game-changing tips. If you do want to put in the time and effort to achieve smoked BBQ perfection, learn to make your brisket like the professionals with a tutorial from our pitmaster Burt Bakman.
See how to smoke the best BBQ brisket of your life.
OK, we're including one bubbe-inspired recipe. Irma Zigas passed along the recipe she taught her grandson Caleb, in which "California" means quick-cooking with packaged spices.
The recipe includes Jane's Krazy Mixed-Up Salt or Lawry's Seasoned Salt, red wine, Hungarian paprika, creamed horseradish, and cranberry sauce.
You'll need:
1 beef brisket (5–6 pounds)
Jane's Krazy Mixed-Up Salt
1/2 white onion, coarsely chopped
Hungarian paprika
1 packet onion soup mix
1 (16-ounce) can jellied cranberry sauce
1 (6-ounce) can tomato paste
1 cup red wine (optional)
horseradish cream, for garnish
Get our Grandma Irma's "California" brisket recipe.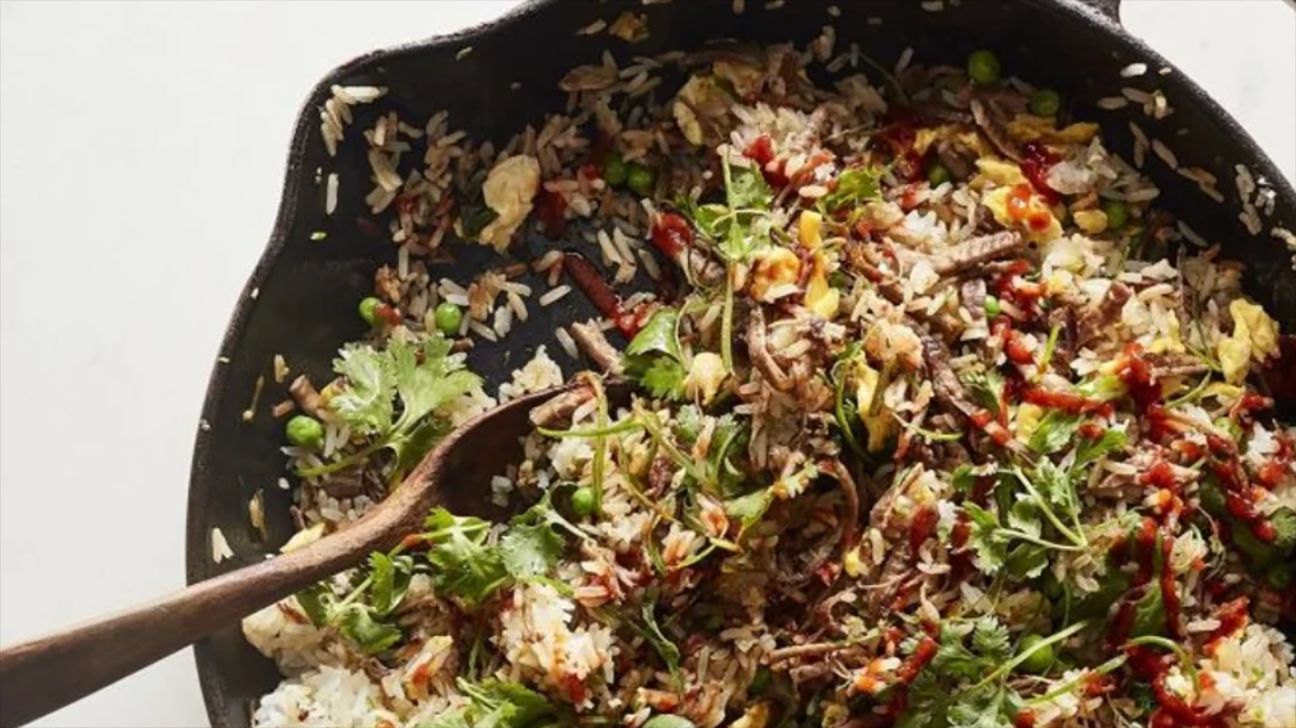 This one is perfect for the next day or the day after when you simply cannot force down another bite of brisket as it is.
Give it new life as fried rice, sauteed with zippy flavors like ginger, soy, and scallion and fresh veggies like snow peas or broccoli. The fat and juices from the brisket will melt as you fry it, creating a gorgeous sauce when mixed with the Asian-inspired flavors.
You'll need:
1 cup jasmine rice
3 teaspoons canola oil, divided
2 large eggs, lightly beaten
kosher salt
5 scallions, white and green parts separated and cut crosswise into 1/2-inch lengths
3 tablespoons finely chopped fresh ginger, peeled from a 3-inch knob
2 garlic cloves, finely chopped
3/4 pound cooked brisket (about 3 cups shredded)
1/2 cup frozen peas, thawed
1/4 cup finely chopped cilantro stems
1/4 cup coarsely chopped cilantro leaves, for serving
2 tablespoons soy sauce
1/4 teaspoon freshly ground black pepper
sriracha hot sauce, for serving
1 lime, cut into wedges, for serving
Get Gail Simmons' brisket fried rice recipe.
While we're at it, how about a recipe for brisket's tangy cousin, pastrami? This one involves time and planning — you'll be coating the brisket in a mixture of spices, sugar, and salt and leaving it to cure in the refrigerator for a week.
A roasting rack is probably best for this one, so leave the Dutch oven in the cupboard.
You'll need:
1/3 cup Diamond Crystal kosher salt (about 1 3/4 ounces)
2 tablespoons coriander seeds, toasted and finely ground
2 tablespoons whole black peppercorns, toasted and finely ground
2 tablespoons packed dark brown sugar
1 tablespoon ground ginger
1 teaspoon curing salt
1 teaspoon garlic powder
1 beef brisket (4–5 pounds)
Plus, for the smoking and steaming, you'll have to get your hands on:
2 (18-inch by 4 1/2-foot) sheets heavy-duty aluminum foil, plus more for steaming
4 cups (about 9 ounces) applewood or hickory smoking chips
10 cups water
Get our oven-smoked pastrami recipe.
Here are three methods for making brisket that make all the difference.
1. Brown, then braise
First, make sure to brown your beef brisket to get that nice, slightly crispy outer coating. Then, the long low-heat cooking begins to render fat from the all-important fat cap and break down connective tissue for a tender brisket.
2. Use a Dutch oven
It's best to use a Dutch oven or any other vessel that allows you to brown the brisket on the stovetop and then cook it in the oven. Not every recipe requires this, though, so check what you need.
3. Hang on to the juices
When your brisket is finished, don't forget all those glorious juices you'll have hanging around. Serve them with the beef in a gravy boat or use them to make a decadent sauce or gravy using wine, broth, butter, and/or flour.
Before you get started, here are a few things you might find handy to have around when making a perfect brisket:
beef broth
brown sugar
a good dry rub
a slicing knife
a big cutting board
aluminum foil
hungry friends
Time to make bubbe proud!