We include products we think are useful for our readers. If you buy through links on this page, we may earn a small commission Here's our process.
Greatist only shows you brands and products that we stand behind.
Our team thoroughly researches and evaluates the recommendations we make on our site. To establish that the product manufacturers addressed safety and efficacy standards, we:
Evaluate ingredients and composition: Do they have the potential to cause harm?
Fact-check all health claims: Do they align with the current body of scientific evidence?
Assess the brand: Does it operate with integrity and adhere to industry best practices?
We do the research so you can find trusted products for your health and wellness.
Say you're at the stove cooking away and you need a spoon to stir your ingredients. You grab a long metal one from the drawer, stir what's in the pot and set the spoon down on the stove, near the heat. A couple of minutes later, you see that you need to stir again and grab the spoon you used before.
But this time, you burn your hand because the metal spoon is now hot. This is what you might call finding out the hard way that you chose the wrong cooking utensil.
If you find the whole multiple cooking utensil situation confusing, you're certainly not alone. Do you really need a metal spatula and a silicone one? Why are there so many cooking spoons made of different materials?
If you've ever had these same questions, here's a breakdown of the different types of cooking utensils, how they're used, and the types of cookware to best use them with.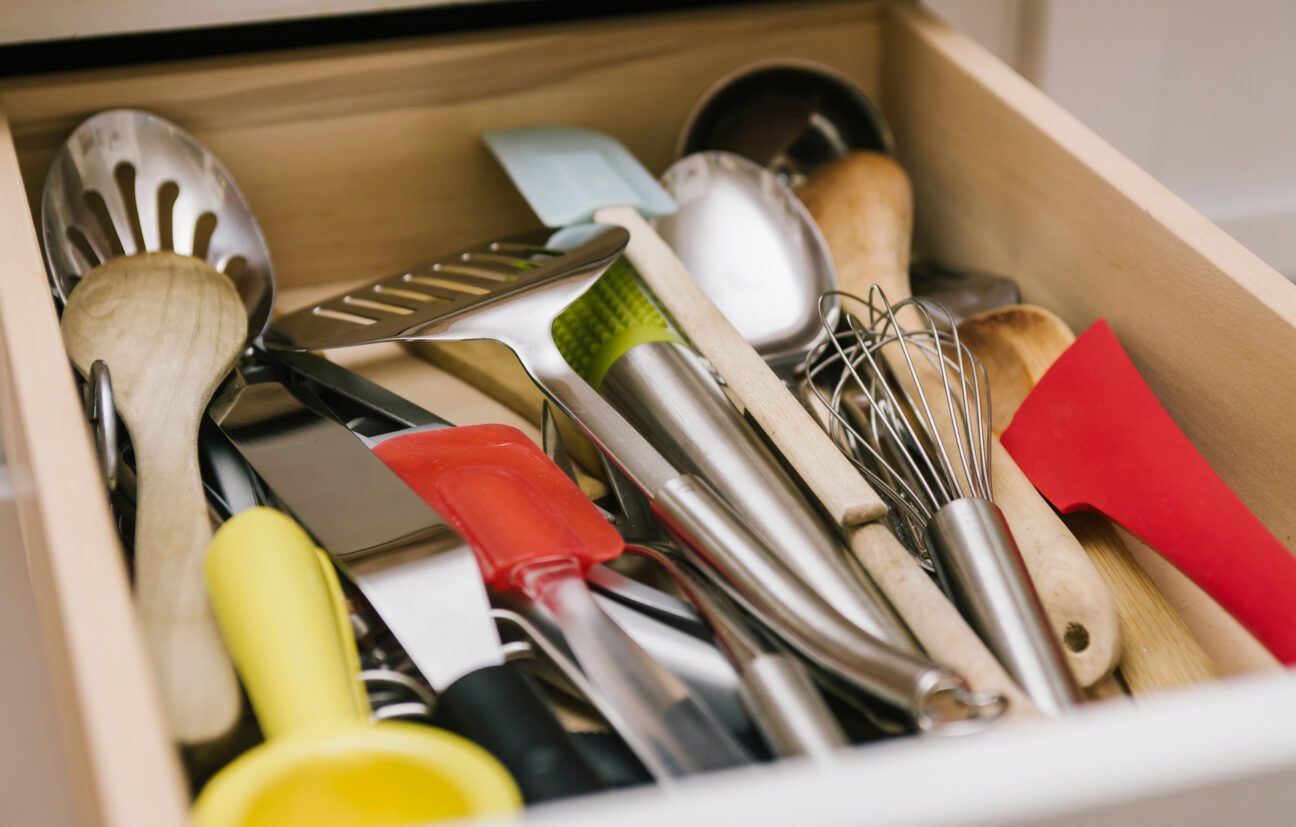 | | | | | |
| --- | --- | --- | --- | --- |
| Utensil | Type | Can be used on any cookware, including nonstick, glass, and porcelain | Can be used on uncoated metal and cast-iron cookware | Best used on nonstick cookware only |
| spoon | wooden | ✔ | | |
| spoon | metal | | ✔ | |
| spoon | silicone | ✔ | | |
| spatula | metal | | ✔ | |
| spatula | plastic | | | ✔ |
| spatula | silicone | ✔ | | |
Cooking spoons come in many shapes, sizes, and materials, and it's important to know which one to use so you don't damage your cookware.
Wooden spoons
Use with: anything, including nonstick, glass, and porcelain cookware
Spoons made from wood are arguably the most popular and versatile of kitchen spoons. They're typically made from hard, lightweight materials like beech, maple, walnut, or oak, and you can find them at any cooking store.
Why are wooden spoons so great? First off, they don't get hot to the touch like metal spoons might, even when you're cooking at high temperatures. Further, wood is a soft enough material that you can use them to stir or scrape nonstick finishes, glass, or porcelain. Wooden spoons also won't react to acidic ingredients like aluminum would.
The bottom line is that you absolutely need a wooden spoon in your kitchen, as it can be useful on all types of cookware and dishes. The apparent flaw of wooden spoons is that they shouldn't be put in the dishwasher, as they can crack from the high heat.
Our wooden spoon recommendation: Eddington Italian Olive Wood Cooking Spoon
This Italian-made wooden spoon is crafted from olive wood, which means it's light and durable. It's a great option to use on nonstick cookware and it will stay cool around stovetop heat.
Metal spoons
Use with: uncoated metal and cast-iron cookware
While not as versatile as their wooden counterparts, metal spoons are stronger and easier to clean. They also do a better job of scraping old, crusted food off of cookware. Many people also prefer metal spoons when serving, thanks to their sturdy nature.
However, metal spoons can scratch delicate surfaces, so you don't want to use them on nonstick or glass pans. Instead, use them when cooking on uncoated metal or cast-iron pans, and make sure to rest the utensil well away from the heating element — otherwise, the metal may heat up and burn you.
Our metal spoon recommendation: OXO Good Grips Brushed Stainless Steel Spoon
This dishwasher-safe stainless steel spoon comes with a nonslip grip, which is ideal for stirring and serving.
Silicone spoons
Use with: anything, including nonstick, glass, and porcelain cookware
More and more people are bringing silicone kitchen utensils into their homes, and it's easy to see why! Food-grade silicone is heat and stain-resistant, noncorrosive, and nonreactive, as well as gentle on delicate surfaces. This makes silicone spoons safe to use on all sorts of cookware, and you can usually wash these utensils in the dishwasher, too.
The issue with silicone is that low quality options are made with fillers that may compromise the material's performance and longevity. To see if silicone contains fillers, many people recommend twisting or pinching the material — if white shows through, it's made with filler.
Our silicone spoon recommendation: Sur La Table Silicone Ultimate Spoon
You won't find filler in this high quality spoon that's dishwasher-safe and heat-resistant up to 446°F (230°C).
Slotted spoons
Use with: anything, including nonstick, glass, and porcelain cookware
In addition to all the different spoon materials, there are also spoons with slots or holes (also called perforations). These spoons are typically used to remove solid food from liquid, as the holes let the liquid drain out. For instance, you might use a slotted spoon to remove onion rings from frying oil or vegetables from gravy.
You'll want to take the pros and cons of each material into consideration when choosing a slotted spoon.
Our slotted spoon recommendation: Black Silicone Slotted Spoon with Acacia Handle
This one pairs a black silicone spoon head with a sturdy wooden handle. Scoop up your food easily without transferring any unwanted liquid.
Here's a real question: Why are there so many very different kitchen tools that are all called spatulas? Silicone scrapers, metal flippers, and icing spreaders — all spatulas!
Metal spatulas
Use with: uncoated metal and cast-iron cookware
Flippers — or the type of spatula you use when flipping burgers — are usually made of metal. This makes them strong and allows them to have a thin edge, and you can find both solid and slotted designs.
These utensils are best for flipping and lifting large, flat items like burgers, pancakes, and even sugar cookies, and most come with wooden or rubber handles to minimize heat transfer.
Our metal spatula recommendation: OXO Good Grips Stainless Steel Turner
The extra broad, perforated head makes flipping food easy and clean. And the soft, nonslip grip helps you feel in control. You'll flip out over this slick spatula.
Plastic spatulas
There are plastic flippers available, as well, but they can melt or warp if exposed to high heat — so it's generally better to stick with metal ones. Plastic spatulas are really only beneficial if you're cooking on a nonstick surface.
Our plastic spatula recommendation: Norpro Nylon Nonstick Spatula
This high heat resistant, nonslip spatula is your best bet when flipping and folding on nonstick surfaces.
Silicone spatulas
Use with: anything, including nonstick, glass, and porcelain cookware
Then there are silicone spatulas, which are also referred to (perhaps more accurately) as scrapers. These tools aren't going to be useful when it comes to flipping burgers, but they're ideal when you need to scrape (every last drop of) brownie batter out of a bowl.
The rubbery head of these spatulas forms a seal with the side of your bowl or pan, helping to ensure all the food gets scraped out. They're also handy for folding together baking ingredients. The material is suitable for all finishes, from sturdy cast iron to vintage mixing bowls.
Our silicon spatula recommendation: Wilton Easy Flex Silicone Spatula Set
You won't have to sacrifice a drop of batter thanks to this super durable and versatile spatula trio.
Icing spatulas
Finally, there are icing spatulas, sometimes called offset spatulas. These are really only necessary for frequent bakers who want a more precise way to spread icing and are available in metal, silicone, and plastic versions.
If you're just making a birthday cake once a year, you can use a regular knife instead.
Our icing spatula recommendation: Wilton Icing Spatula, 13-Inch
Want to achieve cake boss status? This 13-inch, dishwasher-safe, ergonomically handled beauty of an icing spatula will surely do the trick.
There are plenty of other kitchen utensils you might have hanging around, and here are a few more instances when material is important.
Metal vs. silicone whisks
Whisks come in a variety of styles and sizes, but you'll generally either find them made from metal or silicone. Silicone whisks are just metal whisks with a silicone coating, and while they're gentler on nonstick finishes, they're typically not as effective at tasks like beating egg whites.
Our whisk recommendation: OXO Good Grips 11-Inch Better Balloon Whisk
Get that perfect whisk and a great arm workout with this 11-inch sturdy utensil.
Anything made from copper
If you have copper accents in your kitchen, you might want matching copper utensils. While undeniably prettier, copper utensils have the same pros and cons as stainless steel ones. The only real difference is you shouldn't put them in the dishwasher, as copper can tarnish.
All in all, cooking utensils are versatile and reliable enough to get most cooking jobs done. However, there are some things to know about the different materials in order to prolong their usefulness and keep unwanted burns away.
You're going to be generally in the clear when using wooden or silicon utensils. But be careful when going for the metal or plastic options, unless they come with sturdy, nonslip handles that won't absorb heat.