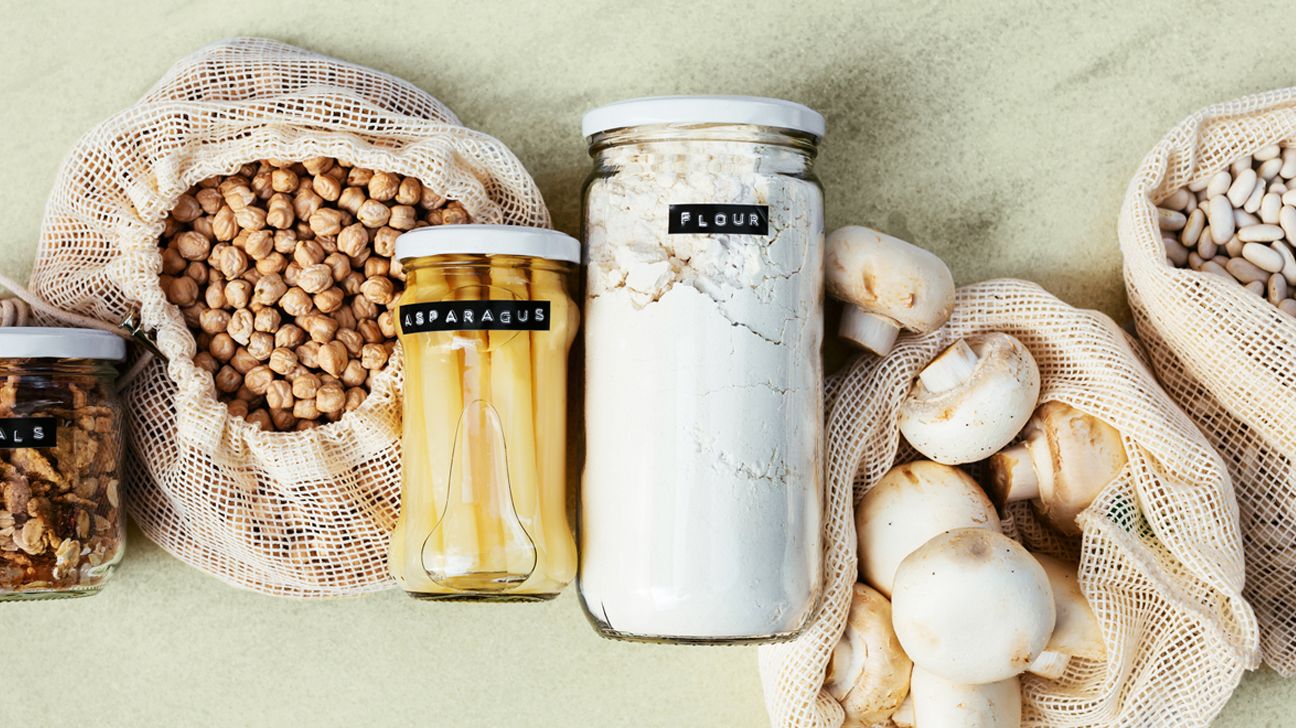 Zero waste isn't all or nothing. In fact, it's a gradual process of learning — or, rather, unlearning — how to clean, meal-plan, shop for groceries, and stock your kitchen.
We've rounded up 25 steps toward making your kitchen more sustainable. Pick one or two to get started, and you just might discover that adopting these low waste habits is easier than you think.
1. Plan ahead
According to the USDA, Americans throw out 30 to 40 percent of the food supply annually. You can help eliminate waste by meal-planning and skipping spontaneous purchases at the market.
Make a plan to cook what you buy throughout the week, prioritizing expiration dates and produce that may spoil. (Keeping the fridge clean and organized will prevent something from going bad while it's buried.)
2. Go for bulk
Whenever possible, shop from bulk refill bins. You can fill reusable cloth bags and empty the contents into glass jars at home. (You can buy replacement lids and rings here.)
You can often find staples like grains, beans, pasta, oatmeal, granola, nuts, and dried fruit in bulk, as well as spices, loose teas, and coffee beans. Some markets also offer peanut butter, olive oil, honey, agave, and more.
3. Think twice about packaged food
If you can't shop in bulk, opt for foods that are minimally packaged. According to the Natural Resources Defense Council, the world produces some 300 million tons of plastic annually. Half of that is estimated to be single-use plastics.
4. Just make it
If you can't buy an item in bulk or package-free, consider whether you can make it yourself. Rather than buy cookies packaged in cardboard or plastic, can you make your own? Make a large batch of cookie dough, roll it and wrap it in parchment paper, and use it for on-demand cookies.
You can also make things like pancake mix pretty easily. Fill a container and keep it in the pantry for whenever you feel like a pancake breakfast. If you have a bread starter in your fridge, use it to make pizza dough.
5. Meet the butcher
Meat, chicken, and fish at the market often come prepackaged in plastic or foam. If your market has a butcher, buy meat from the counter, which will come wrapped in less packaging. You can toss the paper into a compost bin.
You can also bring your own container. Just ask to have it weighed first, and the tare weight will be deducted from the price.
6. Don't bag it
You can skip the plastic produce bags at the grocery store or farmers market too. Just toss the items in your cart and wash them when you get home. If you're shopping at the farmers market, bring a reusable tote or basket.
7. Do the prep work
Taking the time to properly store and prep fruits and vegetables once you get home has two benefits. One, they last longer. And two, they're easier to use, making it more likely that they won't go to waste.
Store vegetables in airtight reusable silicone bags or glass storage containers. Wash and (if necessary) cut berries and store them in an airtight container. Remember to keep onions, garlic, and potatoes in the pantry.
8. Say no to the spork
When ordering takeout, try to prioritize restaurants that use compostable takeout containers and paper bags (or, if you can, skip the bag altogether). Pass on the single-use napkins and utensils.
9. Be your own milkman
Buy milk, coffee creamer, and whipping cream in glass bottles. You'll pay a deposit up front, usually anywhere from $1 to $2. The store will reimburse you when you return the bottle or credit it toward your next bottle.
10. Join the club
If you drink wine regularly, consider joining a wine club that reuses or refills wine bottles. For beer, breweries will often refill growlers. Many natural foods stores also offer kombucha refills.
11. Go for the glass
For food storage, choose glass over plastic. Glass lasts longer, and you can find secondhand jars and other containers to store soups, beans, and rice. Instead of plastic wrap, try reusable wax covers or fabric bowl covers. We also love these reusable bouquet totes.
12. Get thrifty
When you're shopping for kitchen items, consider whether a gadget is necessary or whether you can do without it. Before buying new glassware, dishes, pots, or flatware, consider checking a thrift store, a flea market, an antique shop, Etsy, or eBay.
Sanitize glass jars in your dishwasher or by boiling them in water for 10 minutes. You can buy new lids and rings for jars here.
13. Meet the new brown bag
For school or work lunches, use stainless steel containers, bamboo flatware, a stainless steel water bottle, and (for the grown-ups) a reusable coffee mug. Throw in a cloth napkin and a stainless steel straw too. Remind kids to bring home their scraps for composting if schools don't offer it.
14. Make compostable coffee
Coffee pods often can't be composted or recycled, so make coffee the old-fashioned way. A coffee press doesn't require a filter. You can collect the coffee grounds in a container for your garden or put them into the compost bin. Loose tea can be composted too.
15. Scrub, guilt-free
It's easy to make your own abrasive cleaner. Use plain baking soda — you can sprinkle it from an old salt shaker. You can also fill a 16-ounce mason jar with baking soda and add a few drops of essential oil. Just shake before use.
16. Streamline your cleaners
To make an all-purpose cleaner, simply combine vinegar and water (about 1/4 cup of vinegar for every cup of water) and, optionally, add a few drops of essential oil.
Or you can pour a mixture of water and vinegar into a large jar filled with lavender or rosemary. Let it sit overnight, and then pour through cheesecloth into a bottle. (Vinegar is not recommended for use on natural stone. For these surfaces, a mild soap-and-water mixture will do.)
Note: These solutions will clean surfaces, but they won't disinfect.
17. Just add water
For dishes, we love Dr. Bronner's Sal Suds. It's plant-based and biodegradable, and while a single bottle may not look like it can go very far, it's concentrated and can be easily diluted for dozens of purposes. Here's a dilution cheat sheet.
18. Go natural
Skip disposable sponges. Try wool sponges, which can be composted. Wood scrub brushes work well on pans and can be composted as well.
19. Clean up better
The EPA reports that in 2018, paper and cardboard accounted for the largest portion of municipal waste. Eliminating paper towels can help reduce that waste, so consider cloth towels.
You can make rags out of old T-shirts. You can also buy towels secondhand at the thrift store. Place a bucket under your sink or in the laundry room for wet rags and wash them weekly.
20. Make a swap
Likewise, cloth napkins can often be reused a couple of times between washings. (Plus, we think they look much prettier on the table!) Toss them in with your bathroom towels once a week. You can find some of our favorites here, here, and here.
21. Mop better
Replace single-use mop pads with reusable microfiber mop pads. They're incredibly durable and will last years.
22. Don't buy it, grow it
Even with a minimal outdoor space, herbs are incredibly easy to grow. You can start them from seeds in a terra-cotta pot for a couple of dollars. If you grow more than you can use fresh, cut the excess for an herbal bouquet or dry, chop, and store them. We love this recipe for herb salt.
23. Make spa water
You can make flavored water at home with fruits, herbs, and vegetables. Fill a carafe halfway with sliced cucumber, citrus (oranges, lemons, limes, grapefruit), and herbs like mint and basil. Fill with water and place in the fridge. Drink within 1 to 2 days.
24. Keep food scraps
Save vegetable scraps (think onion, celery, carrots) in a wide-mouth glass mason jar and freeze or refrigerate for later use in soup stocks.
You can even regrow scallions. Make sure they're about 3 inches long with the roots intact. Place them in a small cup of water near a window, and new shoots will sprout in a few days.
25. DIY your compost
When possible, compost any scraps you can't use. If your city doesn't offer food scrap composting, consider a worm bin. You can buy a premade worm bin or DIY one. These special composting worms will turn coffee grounds, eggshells, avocado skins, and stale bread into compost and compost tea (a liquid version of compost) for garden beds and houseplants.
Chantal Lamers is the home editor at Greatist, covering everything from design to DIY to zero-waste topics. Find her tips on homesteading (and chicken wrangling) in the suburbs on Instagram.