We include products we think are useful for our readers. If you buy through links on this page, we may earn a small commission. Here's our process.
Greatist only shows you brands and products that we stand behind.
Our team thoroughly researches and evaluates the recommendations we make on our site. To establish that the product manufacturers addressed safety and efficacy standards, we:
Evaluate ingredients and composition: Do they have the potential to cause harm?
Fact-check all health claims: Do they align with the current body of scientific evidence?
Assess the brand: Does it operate with integrity and adhere to industry best practices?
We do the research so you can find trusted products for your health and wellness.
Men's skin care is nowhere near as time-consuming as you think — but it is worth thinking about. Just a few switch-ups to your daily regimen can have you glowing and feeling your best.
And to help you get started on your mission to a clearer complexion and smoother skin, we've rounded up everything men need to know for keeping that skin on point.
We understand not everyone identifies as either a man or a woman. But for the purpose of this article, when we say skin care for men, we mean people assigned male at birth.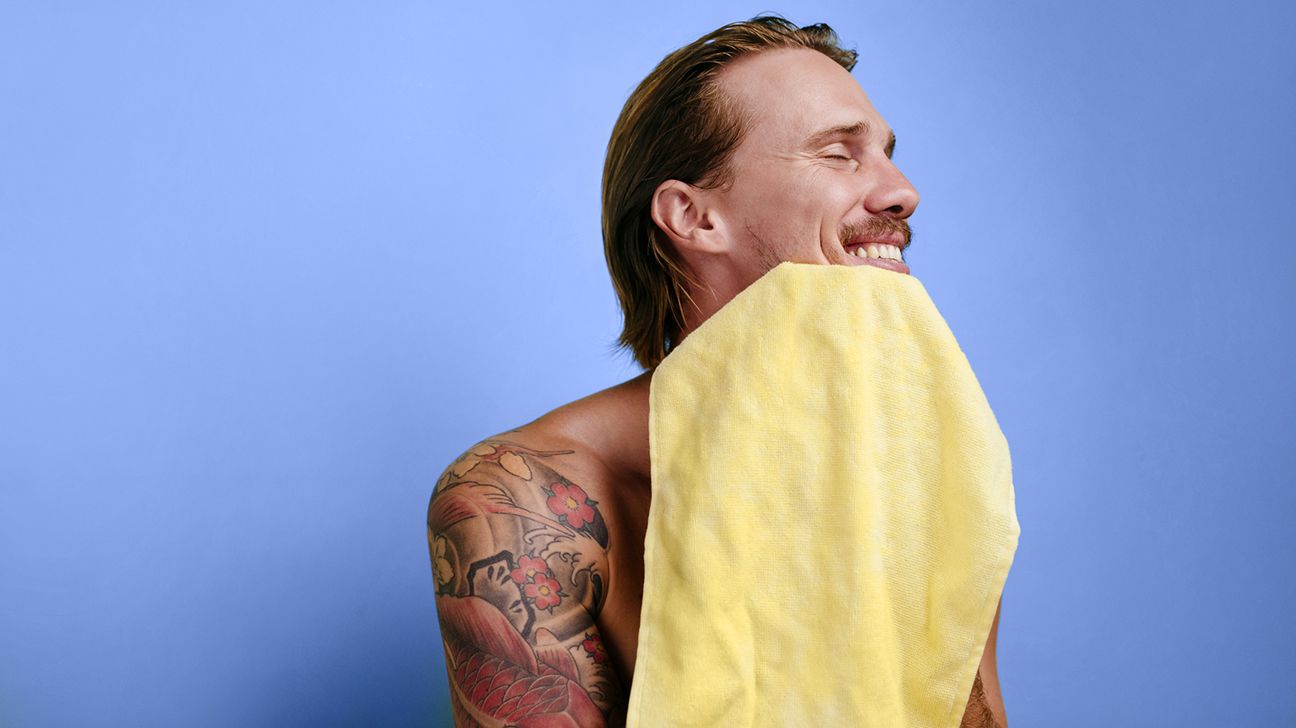 The key to picking the best products for your skin type is — wait for it — knowing your skin type. There's a ridiculously easy way to ID it, known as the tissue test, says David E. Bank, MD, a board certified dermatologist and Assistant Clinical Professor of Dermatology at Columbia Presbyterian Medical Center.
How to work out your skin type
Here's how to smash out a tissue test (no, not that, grow up):
Wash your face with a mild cleanser like Cetaphil.
Pat your skin dry.
Wait 5 minutes.
Hold a facial tissue to your face for a few minutes.
Observe the results.
If the tissue is bone dry, your skin is probably on the dry-to-sensitive side, Bank says. The presence of oil on the tissue suggests (surprise!) oily skin.
You might wind up with a tissue that's a little moist. This means you're somewhere in between — a skin type known as combination.
Don't panic! There's no "wrong" skin type to have. Knowing your type means that you can pick a cleanser and other products accordingly.
Your skin type may well be the same as your girlfriend's or sister's, but it's still not the best idea to grab her bottle of face wash and cleanse away.
What's the difference between male and female skin?
Turns out, the difference between men's and women's skin care goes beyond masculine packaging. "Men tend to have more oil glands in their skin and just tougher skin in general," says Elizabeth Tanzi, MD, a board certified dermatologist based in Washington, D.C.
The science brains behind men's skin care lines formulate their products specifically to work with the extra oiliness and toughness, says Chris Salgardo, president of Kiehl's USA and author of "MANMADE: The Essential Skin Care & Grooming Reference For Every Man."
So make a special shopping visit and build your own arsenal of skin care products. Don't just rummage around in the bottom of a cupboard or borrow products from the nearest female. Using an ex-girlfriend's expired moisturizer doesn't count as revenge.
Most dermatologists recommend washing your face twice a day.
While that might seem like a lot, Bank says men in their 20s need it the most. Their skin tends to be slightly oilier. Washing your face in the morning and at night helps keep your skin at its peak.
But washing twice a day makes me really dry
If you find that cleansing twice daily leaves you dry, it's fine to just splash your face with water in the morning. Another old-school method to try: washing with bar soap.
Rather than use any old kind (as many varieties can dry out your skin), Bank recommends Cetaphil Gentle Cleansing Antibacterial Bar Soap, which is available for purchase online. The bar's formulation combines the mildness of a pH-balanced cleanser with antibacterial ingredients that may help you keep breakouts in check.
Bank suggests that OG teen acne savior benzoyl peroxide is especially suitable for oily and acne-prone skin. This compound can unclog pores, kill zit-causing bacteria, and exfoliate dead skin cells.
Any product should do the trick. Just make sure whatever you choose has benzoyl peroxide high on the list of ingredients.
Even if you choose the same acne-treating product you used way back in school, don't literally use the same tube. As tempting as it may be to hold onto a pot or tube until it's finished, make sure you replace it at least every 2 years.
Products become less and less effective over time, Tanzi says. Benzoyl peroxide not working for you? Jessica Weiser, MD, a dermatologist at New York Dermatology Group, recommends a skin care product with sulfur, like Mario Badescu Drying Lotion, which is available for purchase online.
This is because it has antibacterial properties, can reduce redness, and may soothe the skin's surface.
Ever notice that the skin on your jawline always has its act together? That's because shaving is a great exfoliant, which is crucial to keeping your skin healthy and acne-free, Salgardo says.
To help the rest of your face get in on the action, exfoliate 2 to 3 times a week.
Which type of exfoliator should you choose?
Tanzi recommends the following products, both of which are available online:
How to apply exfoliator
To apply an exfoliator before shaving, Bank recommends the following:
Rub on the cream.
Rinse off the exfoliator.
Then, shave to clear off any dead skin cells that could cause an uneven shave, ingrown hairs, or chance of cutting yourself.
If you're trying to keep your skin care regimen as limited as possible, Tanzi says to instead choose a glycolic face wash that lightly exfoliates as you cleanse, like Jack Black Deep Dive Glycolic Facial Cleanser, which is available for people online.
Just make sure you use it before shaving, or just at night. You might feel a sting if you use it after your shave.
After you shave and before you moisturize, apply an alcohol-free aftershave with vitamin C, like Anthony After Shave Balm, which is available for purchase online.
It's not totally necessary, but a helpful extra step. Bank explains that it's anti-inflammatory and may work in conjunction with your sunblock to quench harmful free radical molecules.
Prone to redness? Bank recommends trying an aftershave that contains niacinamide, like The Art of Shaving Ocean Kelp After Shave Lotion, which can help tone down red skin and irritation. (It's also available for purchase online.)
A note on shaving technique
The most common men's skin-care errors usually involve shaving mishaps, Weiser notes.
It's best to avoid leaving razors in a moist shower environment where bacteria and fungi thrive and cause skin infections. So keep it in your medicine cabinet, and change the blade frequently to reduce your risk of skin issues.
What if you don't shave?
You're not alone: Salgardo says the trend in facial hair has grown exponentially. with around 45 percent of men in the U.S. having some kind of facial hair.
Though not necessary, he recommends a hydrating beard oil, such as Jack Black Beard Oil. This can keep your face shrubbery soft, touchable, and well-groomed. It may also have a soothing effect on the skin underneath your beard.
If you want to look your best, apply immediately after cleansing. Just watch out for products with coconut oil, which is waxier and can lead to acne, Weisner says.
The case for wearing sunscreen (yep, even in the winter) is pretty much irrefutable at this point. If you need some extra convincing, Salgardo compares your face to your car dashboard. If you expose it to sunlight every day, after a while, it will get dull, fade, and crack. No one wants that to happen to their face.
Try applying a moisturizer with SPF every morning to hydrate and protect your skin. It may seem like an extra step, but it's a necessary tool for reducing your risk of skin cancer.
Can you undo previous skin damage?
If you really want to go for it, Bank says a retinoid at night is the gold standard, helping to:
Look for a prescription or over-the-counter kind. Just make sure retinol is in the top four ingredients listed.
Finally, Salgardo says an eye cream can give noticeable results in about 3 weeks if you need that semi-instant gratification boost. They recommend Kiehl's Creamy Eye Treatment with Avocado, which is available for purchase online.
But overall, keep on keepin' on. Your skin will thank you, both sooner and later.