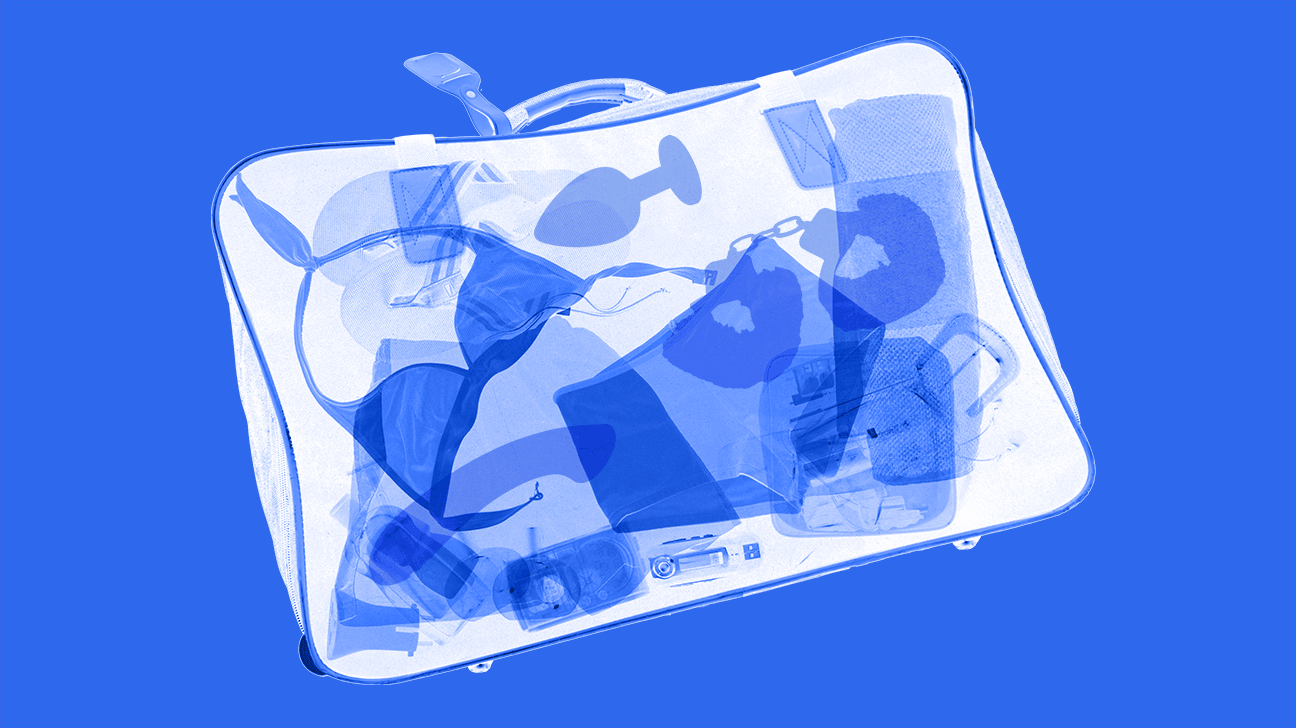 We include products we think are useful for our readers. If you buy through links on this page, we may earn a small commission. Here's our process.
Greatist only shows you brands and products that we stand behind.
Our team thoroughly researches and evaluates the recommendations we make on our site. To establish that the product manufacturers addressed safety and efficacy standards, we:
Evaluate ingredients and composition: Do they have the potential to cause harm?
Fact-check all health claims: Do they align with the current body of scientific evidence?
Assess the brand: Does it operate with integrity and adhere to industry best practices?
We do the research so you can find trusted products for your health and wellness.
Under any other circumstances a uniform clad authority figure unzipping my sex toy sack with a smirk would be enough to make me get down on one — okay two — knees. In fact, I'd just had 4 glorious days visiting my Butch Sailor Dream Girl where a similar scene played out again, and again, and again…
Unfortunately, this was not that.
This, my friends, was taking place in public, where my ~intimate items~ had just set off security. And the authority figure? TSA agent. Yeah, c-r-i-n-g-e.
Lesson learned: Pinwheels are not security-kosher.
To save you (and myself!) from this future embarrassment, I called up TSA representative Lisa Farbstein. Turns out the less lethal-looking sex toys are allowed.
She get's it on the record that you're allowed to travel in the air with (most) sex toys. "You can either check them in your bag or put them in your carry-on," she says.
Here, Farbstein and sex toy experts share their tips for flying with you fave travel companion. Follow these guidelines and (*Kendrick Lemar voice*) TSA won't kill your vibe.
Even if you're Marie Kondo, your pack job isn't jostle-proof. There's always a chance your vibe's "ON" button gets knocked by some rolled up tube socks or a toothbrush.
"Nothing will draw unwanted attention to you or your sex toy like it vibrating in your bag," says Denny Alexander, head of marketing at We-Vibe. If you have a battery-operated toy, remove the batteries before take off and avoid this vibe-tastrophy, he advises.
Another option: Let the charge on a rechargeable toy run alll the way out before you pack it (fun!).
However Stuart Nugent, LELO's brand manager, has a different take: "I'm team travel lock because that will help keep the vibrator charged when you're not using it, so you're not disappointed when you next reach for it." Good point.
If dead batteries are a buzzkill, then Le Wand Point may be your pick. This computer mouse-shaped device has a travel lock feature so you can get to business in the hotel after a red-eye.
In case there was any confusion: lube = liquid. And liquid, when lugged in a carry-on, must be kept in a container that's less than 3.4 ounces.
If your fave lube comes a big ass bottle, go ahead and squirt some into a leak-proof(!) travel bottle. (Or purchase some Sliquid lube which comes in a 2-ounce bottle).
Farbstein reminds us that TSA says it must be stashed away in a small baggie with your face wash and four bottles of dry shampoo. But that's in your best interest, anyway: who wants lube leaking onto their lingerie or clothes?
Nowadays most sex toys come with a some sort of storage pouch — and putting your toy in it for travel can make it easier for the TSA agent to find if the alarm sounds.
You might even consider stashing them in a clear bag, says Alexander. "That way if a TSA screeners opened your bag, they'll be able to see what set off the alarm without putting their hands all over it," he says. "Much more hygienic!" *Fair.*
Pinwheels cost five bucks, so replacing that babe was no big. But other BDSM toys are more costly.
"But Daddy bought it for me!" and "It's meant for the hot kind of pain!" aren't convincing arguments for bringing a ~questionable~ apparatus onto a plane, so do your homework.
The TSA spells out which toys are and are not allowed in checked and carry-on bags on their "What Can I Bring" page.
"Dildos" and "handcuffs," for instance, are allowed. But "batons" and "whips" and other BDSM gear that could be categorized as weapons, are not.
| | |
| --- | --- |
| Carry-on | Check-in |
| vibrators | baton |
| dildos | whips |
| butt plugs | pinwheels |
| handcuffs | |
Know that sex toys *aren't* allowed into every country.
For instance, Nugent says, "nowhere in the Middle East will allow you to bring in anything that's identifiable as a sex toy."
While he says you might be okay with something like a LELO Smart Wand (which might get away with looking like a back massager), you'll probably be out of luck with anything more anatomical like a packer or dildo.
There is no official site that lists which countries, so do your research ahead of time and check the customs website of the country you're travelling to, suggests Alexander.
If you're super nervous about getting caught, you can put them in your checked luggage so you won't have to make eye contact with the person looking through your stuff. But where's the fun in that?
"It's perfectly legal to transport sex toys through airports everywhere in the Western world and security is trained not to bat an eyelid," says Nugent. "So carry your sex toys with you and own it."
He shares: "Once, I was coming through Shenzhen airport in China and was stopped. They opened my suitcase and inside was a number of dildos and vibrators, and 24k solid gold butt plugs. 'Yantou,' I said, which is Mandarin for 'butt plugs.' They quietly closed my suitcase and waved me through."
That's how you own it, folks!
Sorry, but no O's allowed while flying from point A to point B. Becoming a card-carrying member of the Mile High Club may sound like a fun idea but remember that public sex is illegal.
Besides, you never know if another passenger has actual handcuffs they can use on you, should you get caught in the act…
Gabrielle Kassel (she/her) is a queer sex educator and wellness journalist who is committed to helping people feel the best they can in their bodies. In addition to Healthline, her work has appeared in publications such as Shape, Cosmopolitan, Well+Good, Health, Self, Women's Health, Greatist, and more! In her free time, Gabrielle can be found coaching CrossFit, reviewing pleasure products, hiking with her border collie, or recording episodes of the podcast she co-hosts called Bad In Bed. Follow her on Instagram @Gabriellekassel.