In case you haven't heard — the country just voted in the 2020 presidential election. With the unprecedented nature of this year, it's fitting that this election season has also been pretty freakin' bonkers.
If you were able to plan your vote and successfully participate in democracy, take a deep breath — you completed your civic duty. That's not a small thing, as there was plenty of uncertainty involved due to the pandemic and other factors. Even though it can be hard and even anxiety-inducing, participation in the process will ultimately improve it.
With that in mind, the editors at Greatist got together to share glimpses of what our individual voting experiences were like this year. We shared our voting methods of choice, where we voted from, and reflected on what it means to participate in what feels like a really pivotal time.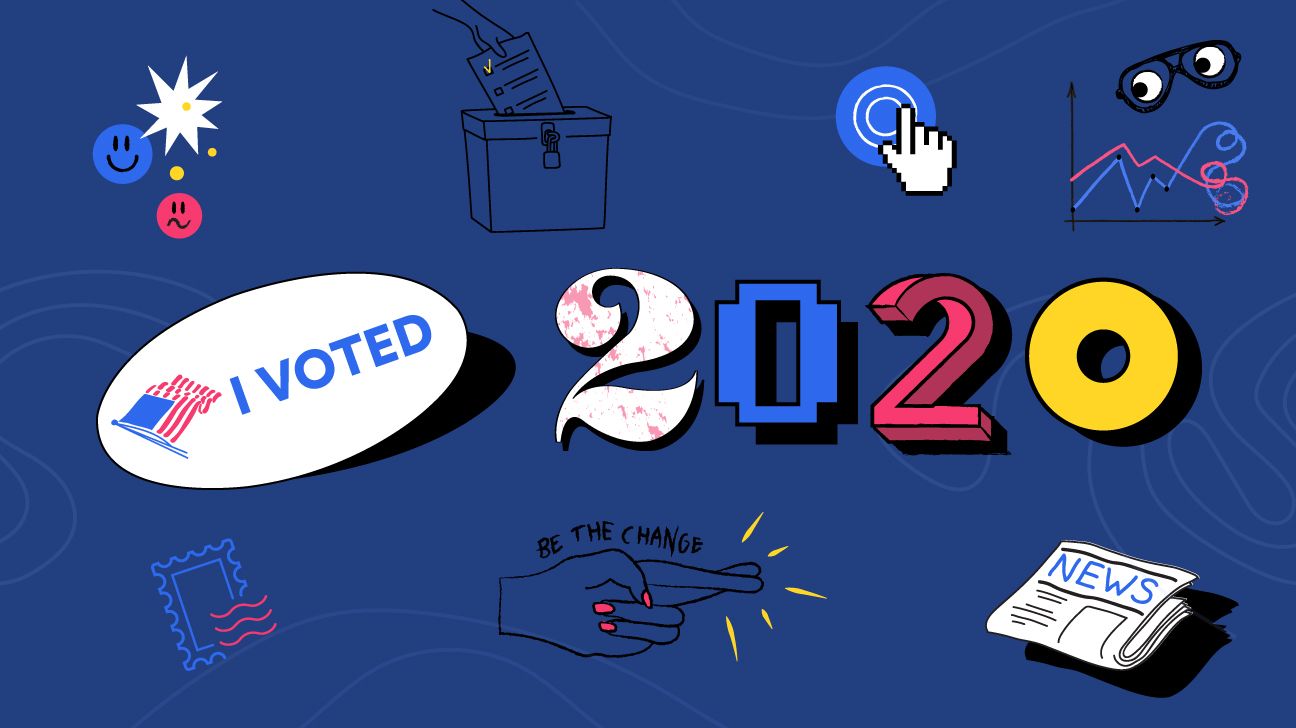 Not all of us are morning people, but voting early and in-person just felt right. Still, the quickness of getting it done didn't easily fend off the nerves of the wait after.
DeVonne Goode, Lifestyle Editor
Location: North Carolina
Voted: Early in-person
"With 2020 obviously being a little… different, I made sure to plan my vote as much as possible. After going back and forth between mail-in voting and early in-person voting, I settled on the latter. I just felt more comfortable being there and seeing my ballot physically processed.
"It was a brand-new polling place for me since I'd moved twice in the past 4 years, including out-of-state. I approached the waiting line — mask on and air pods in — expecting a long wait. But to my pleasant surprise, the line moved along relatively quickly.
"The poll workers were friendly and helpful, and there were plenty of clear directions posted to make sure everyone was informed and safe. Once I entered the building, I was out again in no longer than 7 to 10 minutes. Overall, my entire experience, from leaving home to coming back, lasted less than an hour.
"I was a little nervous about how everything would go since I'd heard the stories of the hours-long early voting lines. And I can't tell you how many times I checked (quadruple checked?) my voter registration status over the past month. But I'm really grateful for a simple and smooth experience overall. I'm even more grateful for the opportunity to vote, period. I felt a weight lifted immediately after submitting my ballot — one that I hadn't fully realized I had been carrying.
"And no matter how this year ends, I'm glad I was able to safely participate in democracy and have my voice heard."
Amanda Page, Senior Editor
Location: Northern Virginia (Greater Washington D.C.)
Voted: Early in-person
"I live 8-miles from Washington, D.C., AKA 'The Swamp,' so my life sometimes feels like a never-ending election season.
"That said, my voting experience was glorious. (Particularly in comparison to 2016, when I was overseas and had to origami an 'official' envelope in order for my ballot to count). I enjoyed a sunny stroll through town to the voting precinct to find nobody in line. An abundance of spry retirees helped to verify my registration, disinfect my hands, and stand by as the machine processed my ballot.
"My one hangup was the wording of the local ballot initiatives. Voting shouldn't evoke the water jug riddle from Die Hard with a Vengeance. I did my research ahead of time, but still found myself suspiciously scanning the legalese for nefarious subtext. Don't be a hero. When in doubt, leave it blank. Then give the instructions another read (or three) to make sure everything on the ballot is kosher before sliding it into the machine.
"That was it, easy peasy. Now it's just time to kick my heels up and agonize until the dust settles."
Rita Mauceri, Editor in Chief
Location: Los Angeles, CA
Voted: Early in-person
"I voted on Halloween, which seemed oddly appropriate given the year 2020 has been — a giant, talking candy corn welcomed me to the polls!
"Both my polling place and a drop box were easy walking distance from my house, but I chose to vote in-person because I love the process of showing up, seeing other people voting, and feeling a sense of community.
"At my polling place, there were no lines and an abundance of volunteers, so it was way smoother than I had imagined. I was in and out in about 6 minutes. The new voting machines are amazing — sort of like if Apple designed a voting iPad. I was a bit apprehensive at first and relieved when I had a chance to review all my answers before printing and casting my ballot.
"After voting, I felt a sense of relief and joy… at a time when joy feels hard to come by. But to be fair, I also knew I wouldn't have to deal with voter harassment or suppression given where I live.
"I don't live in a swing state, so it can be easy to feel powerless when it comes to the outcome of the presidential election. But I believe every vote (and every voter) has power on a local, state, and national level."
The absentee vote by mail route was definitely a popular safety option for our team this year. Here's how it went for us.
Ashley Sepanski, Demand/Marketing Editor
Location: Columbus, OH
Voted: Absentee by mail
"I decided fairly early this year that I didn't want to be anywhere near long lines on Election Day, so I went the mail-in route.
"What I liked: I got to have my computer handy to research candidates and double-check my picks. I also had the privilege of doing everything from the comfort of my home.
"What I didn't like: I obviously didn't have the help of a volunteer, so I was pretty nervous about making a mistake and having my ballot rejected. Completing Ohio ballots are kind of like a mix between filing taxes, completing a college application, and taking the SAT test. In other words, there are a lot of rules involved.
"All that considered, I channeled my best penmanship, and 20 minutes later, had a completed ballot ready to be sent.
"Then came the waiting. I mailed my ballot on October 7, the day after I received it. Ohio lets you track your absentee ballot, which is awesome. The stress came while checking my ballot status every day for 11 days. When I got the confirmation, the sigh of relief was sweet."
Adam Felman, Updates Editor
Location: UK (but with a Texan wife who had to organise a ballot from overseas)
Voted: Absentee by mail
"So, naturally, I don't really have a say in who runs the U.S., by virtue of not being from there and never having lived there. However, having married an American and working with an entirely American team at Greatist, I've never had higher stakes in a foreign election.
"When my wife's absentee ballot arrived, she called on me to be a separate pair of eyes, as she was second-guessing everything. She had to practice her signature for about an hour to make sure it matched the one Harris County, TX has on file with her driving license.
"The number of ID forms, separate packages, and security envelopes was wild. All in all, it took my wife (who works in international shipping and logistics by trade) 90 minutes to complete.
"Participating in American democracy while living outside the U.S. lends to honing your focus, but the process is by no means easy. So, it would appear that giving yourself enough time and leeway, even in advance of Election Day, is the takeaway here. It's always going to take longer than you think."
Carley Millhone, Demand Editor
Location: Oklahoma (resident of Ohio)
Voted: Absentee by mail
"I've spent a good chunk of the pandemic in a travel trailer in Oklahoma. Convenient for some fresh air and hiking in the Wichitas… not so convenient for voting. Since I'm nowhere near my home and designated polling place in Ohio, I naturally planned ahead to vote absentee this year.
"Voting absentee wasn't completely foreign to me like seeing a rattlesnake and waking up to 50+ mph winds shaking my mobile home. I remember voting absentee back in college, but for the last few elections, I've always been an early voter. No crowds. No stress. It's just the way to go.
"I'm a planner and love a good research sesh. So, every time I vote (absentee or not) I make a plan of attack. I print the sample ballot out and spend a night with my computer reading over my choices.
"When it came to absentee voting this year, I was a nervous wreck with all the mail-in voting fraud controversy. I actually did end up receiving my absentee ballot about a week late due to overwhelming requests. But that was a minor holdup and my anxieties were relieved. Heck, I could even track my application and ballot online (major points, Ohio!).
"With my choices made and correct postage included, I mailed my ballot off and made my vote count."
Christal Yuen, Senior Editor
Location: Seattle, WA
Voted: Absentee by mail
"Growing up in Hong Kong, my education around how politics worked in the United States was minimal. It took me a 'minute' (re: 18 more years) to realize how much more proactive I needed to be.
"I recently moved from San Fransisco to Seattle, WA for mental health reasons and had planned to vote here. But when I began researching my new voting choices, I got really anxious and unsettled due to not being familiar with many of them. Feeling like an uninformed voter really messes with your confidence.
"So, I ultimately decided to vote via an absentee ballot for San Francisco District 4. With a little help from the SF League of Pissed Off Voters, I knew what my opinions and desires (for most of the propositions) were.
"I received my absentee ballot the week after requesting it and walked a few blocks to get it mailed off the same day. I got text updates about where my ballot was, which gave me confidence that it would be received and processed on time.
"The simultaneous stress and ease of the voting experience served as an important reminder that the process is as long as it is important. Despite a lot of simplified messaging, there are a lot of steps between what goes on the ballot and the results they drive. Being informed and involved with the entire process is critical for strengthening our communities.
"If I'm still here in Seattle 4 years from now, I hope I'll be able to vote for propositions with full confidence about what they actually stand for."
Ginger Wojcik, Assistant Discover Editor
Location: San Francisco, CA
Voted: Absentee by mail
"Per my usual, I let my ballot sit around for a week or two, overwhelmed by the research I knew would be ahead of me. I've voted absentee in every election in my life except one because I like having time to research and talk to friends ahead of time. But this year feels a lot weightier.
"Endorsements are extremely influential in how I vote. Luckily, I found a news site, CalMatters, that gave a 1-minute explainer for each of the propositions (California had 13 this year). That, combined with Sierra Club endorsements, helped me fill out most of my ballot.
"That being said, I didn't feel sure of all my answers, and that feeling is pretty disempowering — or maybe more disappointing — like I didn't work hard enough to understand all the candidates' platforms.
"Still, I didn't want to take any extra time holding onto my ballot longer than I had already. Getting antsy, I put it in the mail around October 16. I then learned from some better-informed friends that I'd voted incorrectly on a couple of props that I simply didn't understand well enough to make an informed decision.
"So, the moral of the story is taking your time doesn't mean much if your time isn't used wisely. Also, have some well-informed friends at all times."
Using a ballot drop box provides the comfort of making your choices at home and the assuredness that your ballot will get to where it should go. Here are our two cents.
Jill Campbell, Copy Editor
Location: Massachusetts
Voted: Ballot drop box
"Before I'd had a chance to mail my ballot for the general election, my city installed a ballot drop box. While I have complete faith in the USPS, the drop box felt a tiiiny bit more secure and wasn't much farther away than the post office.
"I walked over and dropped my ballot, and it showed up as 'accepted' in the tracking system the next day. Easy-peasy. The only downside: no 'I voted!' sticker.
"Even though Massachusetts isn't a battleground state, I'm grateful that our officials seem to want to make voting simple and accessible. To increase my involvement in the weeks leading up to the election, I volunteered to write letters to people in swing states who might need encouragement to vote.
"Here's a bit of what I wrote:
I vote in every election because voting is an opportunity to stand up for what we believe in and show we care about what's happening in our country. This election is incredibly important, and every vote matters, including yours and mine.
"It's true: Every. Vote. Matters. You matter!"
Catherine Clark, Updates Editor
Location: Chicago, Illinois
Voted: Ballot drop box
"When it came time to make my voting plan, I had two goals: safety for myself and others and SPEED.
"I felt my best bet was a mail-in ballot requested on the first day they were available. When it eventually arrived, I filled it out fast and triple checked every field and signature.
"I decided to take it directly to a ballot drop box at a polling place where a long early voting line had formed. I stood at the back of the line, a little unsure about what to do. Thankfully, a line monitor spotted my ballot and led me to a drop box inside.
"I don't live in a battleground state, so my vote doesn't feel quite as weighty as it might otherwise. But sliding that envelope into the box and eventually getting an acceptance email felt like a breath of fresh air for the first time in a long time.
"I hope more folks voted for the first time and felt that same rush of hope and pride. I hope they're feeling that their voice matters."