It's freezing outside, you're wrapped up in your warmest sweater with a cup of hot cocoa, but something's missing… if only you had a cozy fireplace.
But your landlord probably wouldn't be too happy with you ripping out a wall. And how much do those things cost anyway? Ugh, that idea's out of the picture then. Ah well, there's always the Netflix fireplace.
Can I still build a faux fireplace if I rent?
Absolutely!
Faux fireplaces are a perfect way to add a little warmth and coziness in your home.
Best of all, they can be made freestanding and easily movable to avoid any clashes with your landlord on move-out day.
Wait, what? You could build your own faux fireplace? And impress your friends with your DIY skills? Here's the full log (groan) on how to get cozier than Bernie Sanders' hands in mittens without losing your deposit.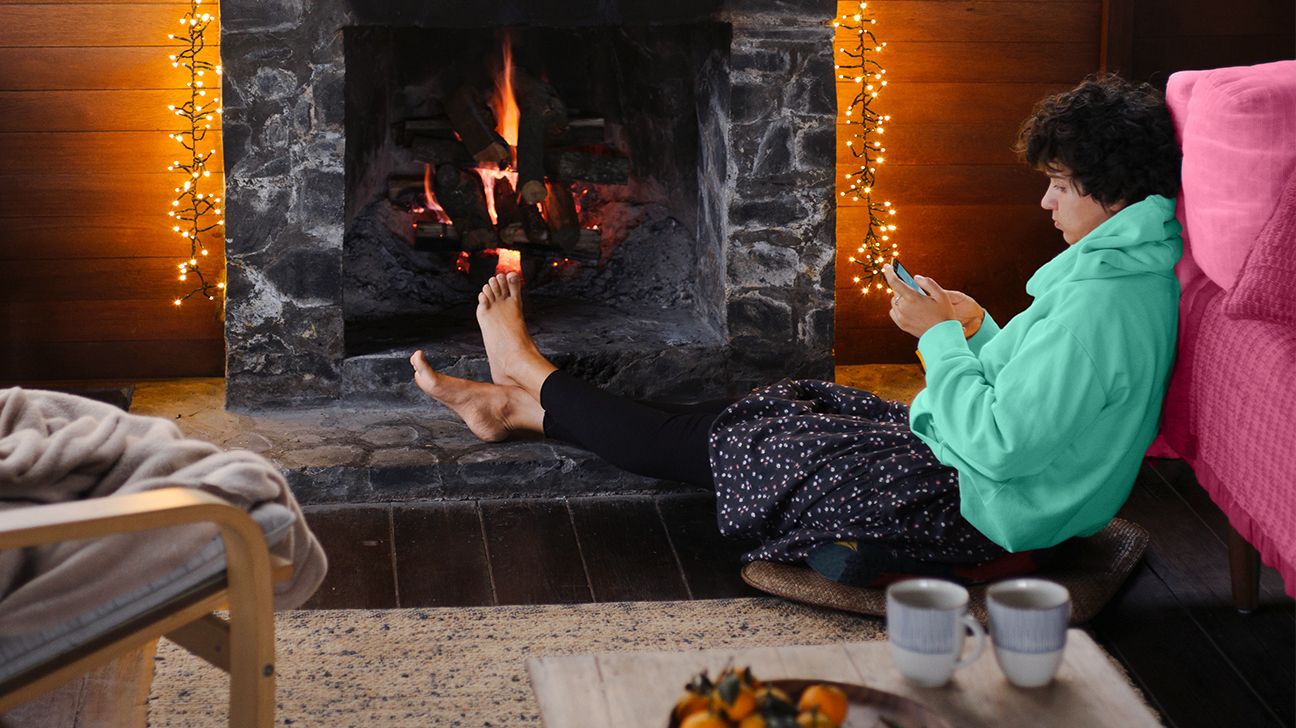 There are a ton of options for building your own faux fireplace. Some have built-in electric stoves that look and feel like the real deal. Others serve as quirky freestanding mantels that zhuzh up your living space.
The only real limit is your creativity.
Faux fireplaces that produce heat
If you're looking for the real deal — a fireplace that actually heats up your home — then a freestanding electric fire or stove could be just the ticket. It's more expensive than a fixture that's solely decorative. But it will also look and feel authentic.
If you live in an area where the power typically goes out during a few seasonal storms each year, keep in mind that these electric fireplaces might not the best option if you're depending on it for warmth.
Many of these are available as "suites" that include the mantle and surrounding fixture as part of the package.
But you can also build your own. Check out this example for some inspo. You can make them look like they belong in an authentic log cabin or completely bonkers.
Looking to swag up your living space during winter? Here's the 411 on how to make your own festive wreath.
Freestanding faux fireplaces that look the part
You might be worried that your fireplace is going to stand out like a sore thumb. Here are a few tips for making it look legit:
Place that bad boy in the middle of the wall and add shelves or cabinets either side to create a symmetrical look.
Hang a piece of artwork or large mirror above.
Decorate the mantle with pictures, flowers, knickknacks, or candles.
Create a cozy reading nook by pulling up your favorite chair.
Decorating can help you stay happy during lockdown.
Tools you'll need for the job
If you're going to dive into the world of DIY woodcrafting, you'll need to buy (or borrow) the right tools for the job:
pencil
stapler
sturdy gloves (speaking of sore thumbs)
And if the concept of building your own things scares you shitless, get a buddy to help. Make it a fun exercise, rather than a mission.
Don't forget to put down a sheet or tarp to make that cleanup less daunting afterward.
Removable built-in fireplaces
You're probably reading this thinking "How the hell am I supposed to build my own fireplace?" But it's actually simpler than you might think.
Whether you're using an electric stove for heat, or just want to make your living space more homey with a mantel, you can build a DIY fireplace with just a few materials.
If the mood strikes, you can simply use a few big-ass battery operated candles.
You can use medium-density fiberboard (MDF to its pals) for creating the basic enclosure. This will create the illusion of being set in the wall. You can even use a drywall compound to create a faux brick firebox.
Once you have the required MDF sizes for the enclosure, head to your local DIY store to get the wood cut exactly to size. This will ensure all your panels have smooth cuts and fit together perfectly.
You could do this yourself. But if you don't already own a compound miter saw, it will be both cheaper and easier to have a pro take care of it.
If you want to go the extra mile, you can build a faux chimney recess for added 🙀 factor. Build it freestanding if you can't fix it to the wall, or if you want the option of moving it around the room.
And if your place is super tiny, fear not — we've got plenty of tips on making the most of your limited living space.
It can be super frustrating trying to decorate as a renter. You can't fix anything to the walls, and you're always worried about breaking stuff. Plus you have to pretend that you don't have a dog. It sucks.
That's why these smart tiles are such a cool idea. They look just like the real thing, but without all of the hassle.
Instead of fixing tiles with messy adhesives, just peel-and-stick these smart tiles onto your enclosure for the easiest tiling job ever.
You can even stick these to an additional DIY hearth to make it look like a real fireplace without ruining your floor.
It's no secret that traditional wood burning stoves aren't great for the environment. In the UK, wood burning at home is now the leading cause of particle pollution. There's a world outside your living room, and we all need to look after it.
(What's super sustainable and looks a million bucks? House plants. Get some of those too.)
Inhaling fine smoke particles can also mess with your health. According to the Environmental Protection Agency (EPA), fine particles from smoke can trigger a number of adverse health effects, including:
burning eyes
bronchitis
asthma attacks
stroke
irregular heart rhythms
heart failure
If you are going to buy a wood burning stove or fireplace, look for EPA label. This will ensure that the product you are buying meets emission requirements.
Finally, if your lifestyle permits it, consider switching out your old wood burning appliance for a newer one with an EPA label. You could also install an electric stove or fireplace.
Fire alternatives to actual fire
So, if there's no smoke without fire, how do you make your fireplace a fireplace?
An electric fire might not always be an option depending on where your outlets are. But that doesn't mean you have to miss out on the cozy vibes. There are loads of creative ways to make the space look amazing.
Stylish logs can draw attention and there are loads of different types to choose from.
Fairy lights or candles can provide gentle warm light or color. Go for scented candles to add even more ambience for those cuddly winter evenings.
A wicker basket filled with cute knickknacks can create a really homey vibe.
Mirrors can open up the room and create a sense of space.
Recycled wooden planks can give you that shabby-chic, country farmhouse look (plus, they're recycled — what's not to love?)
Filling the inside up with old books will give you a funky vintage feel and make you look hella smart.
Give it your own personal touch. You know what you like better than any home inspo blog. If you love that rustic look, here's how to get your bedroom looking all cabiny.
Faux fireplaces are super versatile and can help enhance your living space on the cheap. With so many options for building freestanding units, you can add a personal touch to your home without ruining the walls or floor.
You don't have to be a DIY wiz either. The process is super simple and you can have an awesome-looking fireplace in no time at all.
If you need to add an extra layer of coziness to your home, it could be just what you're looking for.