We include products we think are useful for our readers. If you buy through links on this page, we may earn a small commission Here's our process.
Greatist only shows you brands and products that we stand behind.
Our team thoroughly researches and evaluates the recommendations we make on our site. To establish that the product manufacturers addressed safety and efficacy standards, we:
Evaluate ingredients and composition: Do they have the potential to cause harm?
Fact-check all health claims: Do they align with the current body of scientific evidence?
Assess the brand: Does it operate with integrity and adhere to industry best practices?
We do the research so you can find trusted products for your health and wellness.
Few body parts seem to betray your secret late-night escapades like dark circles under your eyes. But the dreaded raccoon effect isn't necessarily attributed to a lack of shut-eye.
Even if you're catching enough ZZZ's to rival "Sleeping Beauty," you may still have dark under-eye circles. Luckily, there are plenty of ways to treat these unwanted facial features once you figure out what the issue is.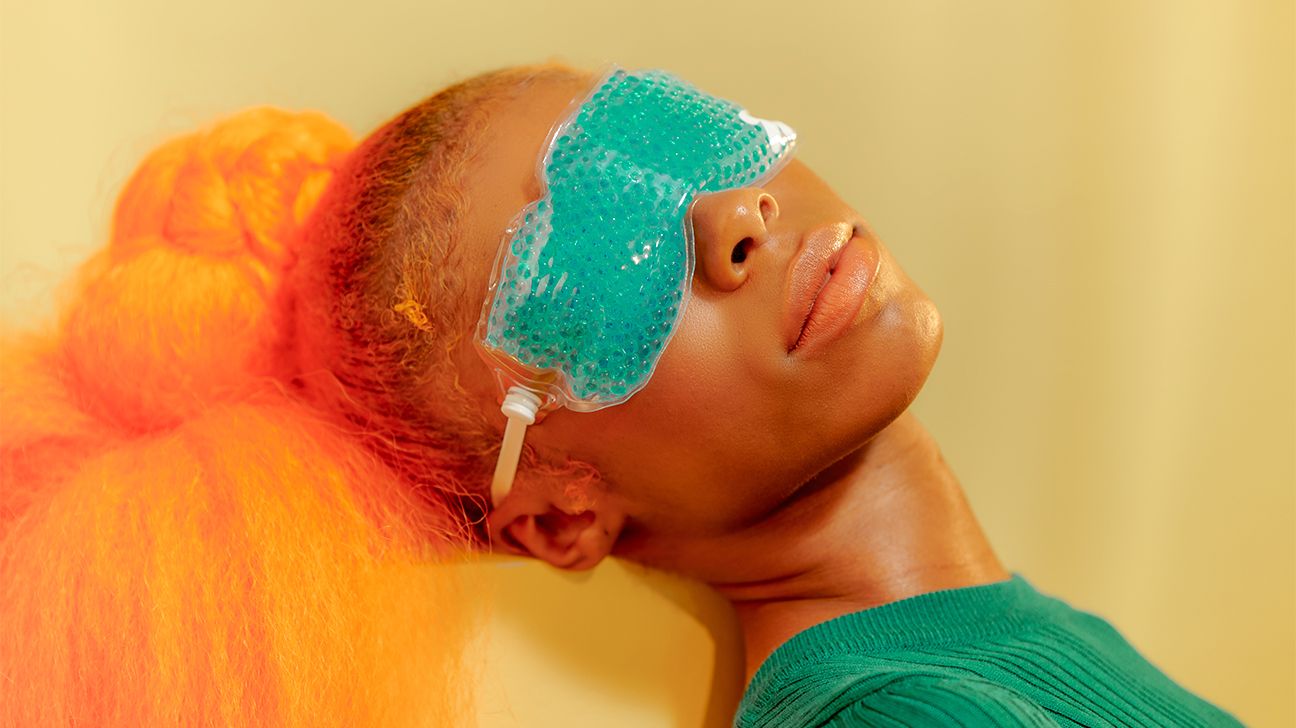 Did you ever look in the mirror wondering why your skin under your eyes was darker than the rest of your face? Chances are you didn't get a black eye from your pillow… you just experienced dark under-eye circles.
Dark circles may even bulge out a bit like you have "bags" under your eyes. They can show up as dark brown or have a pink or purple hue.
"Dark circles under the eyes is a discoloration or darkening due to pigment deposition, shadowing, or skin or anatomical changes," says Dr. Caren Campbell, a San Francisco-based board certified dermatologist.
"Genetics also play a role, with darker skin types more predisposed to dark under-eye circles."
While dark circles under your eyes may be annoying, there's usually nothing to be concerned about from a medical standpoint. Campbell says that in the majority of cases, it's merely a cosmetic issue.
One study showed three key factors contributing to dark circles: hyperpigmentation, extra or overactive capillaries, and thinner skin under your eyes. There's a genetic component as well. In another study, family history was the most significant risk factor.
"Dark circles around the eyes are less about sleep and more about the normal aging process of the face," says Campbell. "Enlargement of the bone around the eye creates a shadow beneath the eye. And thinning skin exposes more blood vessels beneath the skin."
Tiredness
Studies haven't proven whether a lack of sleep actually contributes to dark circles under your eyes, but Dr. Jessica Wright, a board certified general surgeon who owns and operates the Austin-based medical spa Rejuvenate Austin, hasn't ruled it out entirely.
"Lack of sleep can make the dark circles more prominent by enlarging the blood vessels under the thin skin," she says. "Getting adequate sleep can help with this particular aspect of causes for dark circles, but has no bearing on pigment from genetic causes."
Volume loss
Behold, the power of strategically placed fat. "You have fat pads under the skin, which fit together like puzzle pieces," says Campbell. "With age, these puzzle pieces pull apart, causing areas of shadows or darkness."
A research review also showed that there's a fat pad under each eye, which, as it shrinks, creates a hollow that doesn't reflect light, causing darkening.
Allergies
As if allergies weren't annoying enough, Wright says they can make the blood vessels more prominent or dilated in the area, making dark circles worse. "The most common complaint with allergies is swelling, but dark circles can worsen as well," she says.
"While taking allergy meds can help with the swelling, it only helps the darkness if allergies are the main culprit. I would not recommend that patients take allergy medicine without allergy symptoms."
Iron deficiency
If you're low on iron, dark circles may be the first sign. "When you are iron-deficient, you may not be oxygenating your tissues efficiently," explains Wright.
"The first place this can show is in the thin tissue around the eyes. The area can appear dark or dusky. Maximizing your nutritional profiles will do wonders for this area and your skin as a whole."
Alcohol
While the sleep lost from a late night of partying may not be to blame for dark circles, the alcohol you consumed is another story. "Alcohol causes dehydration, and your skin will hold less water, making vasculature under that already-thin area more noticeable," warns Wright.
"Heavier alcohol consumption leads to increased aging through a buildup of toxins, chronic dehydration, and increased blood sugar."
Smoking
Smoking causes a host of issues, including damage to your skin. "Smoking makes you metabolize your collagen and elastin faster, which is why smokers look older than their stated age," says Wright.
"Thinning skin that has lost its collagen shows more of the underlying structures, and those dark blue veins cast a dusky shadow on the whole area."
If you're ready to bid adieu to dark circles, it helps to figure out the culprit first and go from there. "One way to distinguish the cause is to look at the color of skin," says Campbell.
"Light or dark brown is more likely related to pigmentation issues. Try skin lighteners, peels, and eczema creams first. Blue, pink, or purple indicates increased blood vessels or thinner skin where you see vessels. Lasers and fillers can help. A multi-modal approach will offer the most benefit."
Cold compresses
It's always wise to start with the least-invasive options first. So, begin with a cold compress. "A cold compress helps shrink blood vessels under the skin," says Wright. She recommends holding it there for 5 minutes or so. (Cucumber slices will also work.)
Tea bags
This trick is as old as time. The caffeine in tea constricts blood vessels and makes them less prominent — just be sure to avoid herbal tea or any variety that doesn't have caffeine.
Skin brighteners
Skin brighteners work by interrupting melanin production. Wright says the safest options are vitamin C, arbutin, kojic acid and other plant-based extracts. "I think anyone who has dark circles resulting from melanin should consider a brightener," she says.
"Compliance is key, though. In order to get the best results, you need to use them daily."
Platelet-rich plasma therapy
Platelet-rich plasma (PRP) therapy uses your body's own blood to stimulate collagen and rejuvenate your under-eye area. "Your blood is drawn and spun down in a special tube to activate the platelets, so they release growth hormones that stimulate regeneration of tissue," says Campbell.
"This is the perfect option, especially in darker skin types where volume loss is less of an issue."
But it does require some patience. PRP requires a series of treatments, so the results may take 4 to 6 months to kick-in.
Laser therapy
If blood vessels or extra pigment is the issue, lasers may help. "Lasers can increase the collagen and elastin in the area," says Wright. "They can also reduce melanin, so they are a win for the right skin type. Typically, lasers are best for lighter skin tones."
Fillers
"Filler is the number-one procedure in my office for dark circles," says Campbell, noting the effects last about a year. She only uses Restylane, and says that bruising, swelling and tenderness are common for up to 2 weeks after the procedure.
Just make sure you only see a board certified dermatologist or plastic surgeon for this procedure. It is possible to accidentally inject fillers into a blood vessel that supplies the back of the eye, which can result in permanent blindness.
The good news is that dark circles under your eyes aren't typically a cause for concern (other than cosmetic concerns). They may appear for many reasons, like genetics, aging, lifestyle choices, allergies, and nutrient deficiencies. Knowing the cause of yours can help you find treatment.
Simple treatment options like topical skin brighteners and cold compresses may do the trick, but you could need laser therapy or fillers to achieve a noticeable difference.