We include products we think are useful for our readers. If you buy through links on this page, we may earn a small commission Here's our process.
Greatist only shows you brands and products that we stand behind.
Our team thoroughly researches and evaluates the recommendations we make on our site. To establish that the product manufacturers addressed safety and efficacy standards, we:
Evaluate ingredients and composition: Do they have the potential to cause harm?
Fact-check all health claims: Do they align with the current body of scientific evidence?
Assess the brand: Does it operate with integrity and adhere to industry best practices?
We do the research so you can find trusted products for your health and wellness.
Tea isn't just for soothing self-care sessions. Certain teas can also make a bomb remedy for coughs, sore throats, and sleep issues.
This might make ya think 🤔 : Can tea also help with those annoying seasonal allergies?
You bet. Teas that might help relieve common allergy symptoms include:
nettle tea
ginger tea
lemon peel tea
peppermint tea
licorice root tea
green tea (Benifuuki Japanese)
turmeric tea
yerba mate
tulsi tea
butterbur tea
rooibos tea
But before you get steeping, here's what science has to say about these herbal elixirs for allergies.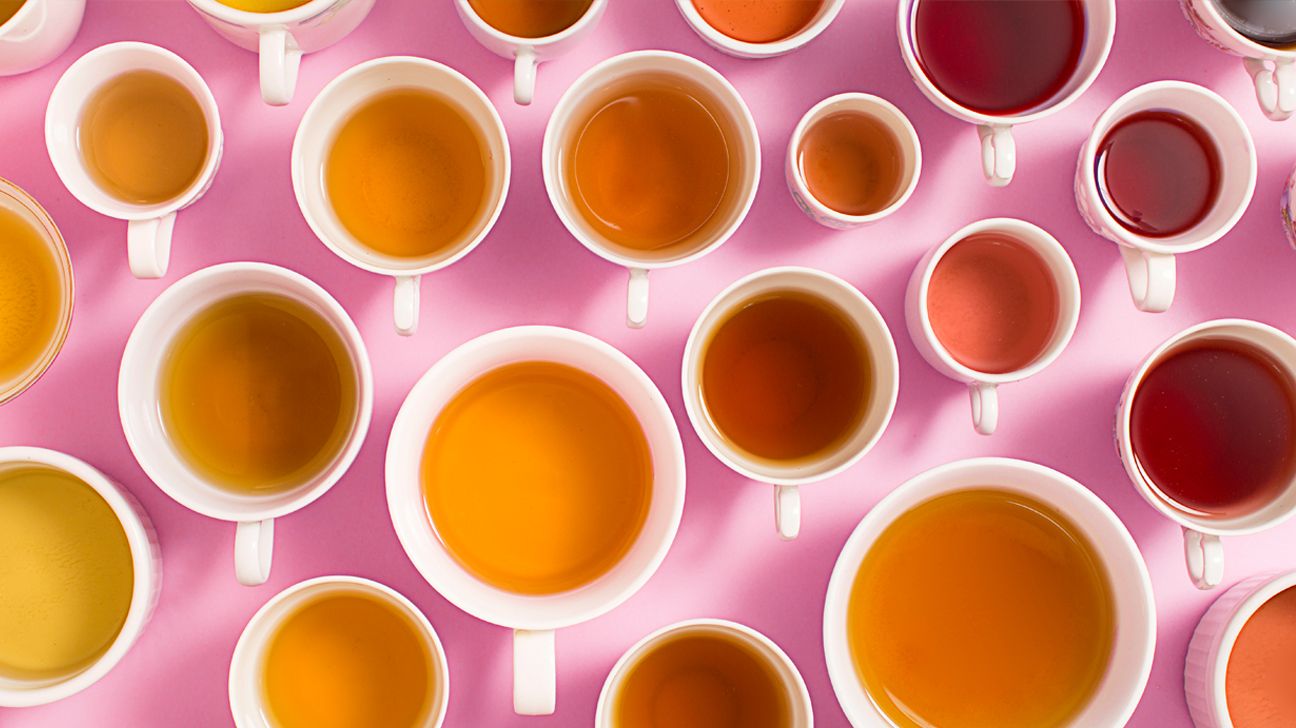 Some teas contain herbs that may fight inflammation and help your immune system, which in turn could alleviate some allergy symptoms.
Seasonal allergies — aka allergic rhinitis or hay fever — usually pop up in the spring, summer, and early fall. Basically, allergies are part of your body's immune response to pollen, grass, or other common environmental allergens.
This leads to inflammatory signals that bring on bouts of allergy symptoms like these:
sneezing
stuffy or runny nose
fatigue
itchy, red, watery eyes
Know before you steep: Fresh or dried herbs are best for optimum allergy relief. But if there's simply no time for that, make sure you're grabbing only unbleached tea bags.
And always make sure to run herbal teas by your doc if you're taking medication or have a health condition.
1. Nettle tea
Stinging nettle is a perennial flowering plant that sprouts up in North America, Europe, and Asia. This common plant can actually be eaten (yum), but it's also used in herbal and traditional folk medicine.
One 2018 review looked at nettle's effect on the receptors and enzymes involved in allergic reactions. Studies found evidence that suggests it's a helpful remedy for common hay fever symptoms.
How to make it: The American Botanical Council recommends steeping 2 to 3 teaspoons of dried nettle leaves in about 1 pint of boiling water for 10 to 15 minutes.
Hot tip: One 2016 study recommends steeping nettle tea for 10 minutes in 122 to 140°F (50 to 60°C) water, stating it's the best way to preserve the herb's vitamin C content.
Stock up: Try Tealyra Pure Nettle Leaf Tea.
2. Ginger tea
Ginger tea is often praised as a natural remedy for nausea, but it might also help your temperamental nose.
A 2010 study found that natural ingredients like ginger can be made into a tea to lessen allergy and sinusitis symptoms.
How to make it: Cut 4 to 6 thin slices of peeled, raw ginger (if you want it stronger, add more). Fill a medium pot with 2 cups of water. Plop the ginger slices in the water and let 'em boil gently for 10 to 20 minutes (the longer you boil, the stronger and spicier the tea will be).
Hot tip: Add juice from half a lime or lemon (dealer's choice) and some honey or agave nectar liven things up.
Stock up: Try Traditional Medicinals Organic Ginger Herbal Tea.
3. Lemon peel tea
Lemons are already full of the powerhouse vitamin C, but you can also use just the peel for a potent tea. While there's no research on the tea itself, we have limited information about the fruit.
A 2010 study found that the peels of citrus fruits such as grapefruit, lemon, lime, and orange contain high levels of antioxidant compounds. A super small 2009 study also found that lemon juice was helpful in treating allergic rhinitis.
How to make it: Grab a fresh lemon and carefully peel off half the rind. Plop the rind into a mug and add 2 cups of boiling water. Let it steep for about 5 minutes. You can also use dried lemon peel, steeping it for the same amount of time.
Hot tip: Some folks prefer to drink this with sugar, lemon juice, and fresh mint.
Stock up: Try Frontier Co-op Lemon Peel Granules.
4. Peppermint tea
This tea is cooling, which makes it a go-to for sore throats. But some research on peppermint essential oil suggests that peppermint may also be helpful for stuffy noses.
A 2006 review also found that peppermint tea has antimicrobial and antioxidant properties.
It's also not a bad choice for freshening any sinus breath!
Stock up: Try Twinings of London Pure Peppermint Herbal Tea.
5. Licorice root tea
No, this isn't your fave candy — licorice root is an herb derived from the licorice plant (Glycyrrhiza glabra). Licorice candy usually doesn't even contain the herb (💫 the more you know).
Research from 2011 suggests this herb may help reduce inflammation (like the kind that makes swelling happen, thanks to your seasonal allergies). It also kills off certain fungi, bacteria, and viruses.
And while more human studies are definitely needed, a 2018 study on mice found that licorice reduced the frequency of cough by up to 78 percent.
Stock up: Try Traditional Medicinals Organic Licorice Root Tea.
6. Green tea (Benifuuki Japanese)
This cultivated type of Japanese green tea contains high levels of methylated catechins and epigallocatechin gallate (EGCG), both of which are known for their anti-allergic effects.
A 2013 study found that Benifuuki green tea was particularly handy for reducing symptoms of allergic reaction to cedar pollen.
Stock up: Try Shizuoka Benifuki Green Tea for Hay Fever.
7. Turmeric tea
Turmeric is a famous anti-inflammatory badass. Curcumin, its active ingredient, has a ton of antioxidant, anti-inflammatory, antiviral, and antibacterial properties that can help with immune function.
Drinking up these anti-inflammatory benefits via turmeric tea may help reduce irritation and swelling triggered by allergic rhinitis.
While we need more studies on how the herb affects allergies in humans, a 2008 study showed that turmeric reduced allergic reactions in mice.
How to make it: Add 1 to 2 teaspoons of ground turmeric to 2 cups of boiling water. Let it simmer for about 10 minutes, and then strain into a cup.
Hot tip: Add a dash of black pepper to help your body better absorb all those turmeric benefits.
Stock up: Try Organic Turmeric Ginger Tea Bags.
8. Yerba mate
Yerba mate, a South American plant with a caffeine kick, contains saponins, a natural compound with anti-inflammatory properties.
It also offers small amounts of vitamin C, vitamin E, selenium, and zinc. All these nutrients have antioxidant properties that may help boost your immune system and encourage overall better health, according to some research.
However, researchers have yet to study the direct influences of yerba mate on the human immune system and allergies.
Stock up: Try Organic Yerba Mate Loose Leaf Tea.
9. Tulsi tea
Tulsi, aka holy basil, is an adaptogenic herb. Research suggests it has antimicrobial properties and may help protect your body from stress.
Additional research from 2016 suggests that tulsi helps reduce stress by blocking the release of the hormone cortisol.
The herb may also help boost your energy, which we know can be super necessary when you're battling brutal allergy symptoms.
Stock up: Try Organic India Tulsi Original Herbal Tea.
10. Butterbur tea
Butterbur is a plant that pops up in marshy areas and is a popular remedy for nasal symptoms.
A 2013 study that looked at herbal treatments for allergic rhinitis in Turkey found that butterbur tea was as helpful as the antihistamine fexofenadine (aka Allegra) for allergy symptom relief.
A 2006 study also found that butterbur could stifle allergic reactions in rats. And in a 2001 study on humans, participants who took butterbur tablets for 1 week saw improvement in their allergy symptoms.
Stock up… if you can: Unfortunately, butterbur tea is practically impossible to find. If you can find it at a specialty tea shop, you're in luck!
11. Rooibos tea
Rooibos herbal tea is made from a shrub in South Africa that has a reddish hue when steeped. The herb contains loads of antioxidants, including aspalathin and quercetin.
Studies on rooibos tea have been small. Some research suggests it can temporarily increase your antioxidant levels, while other studies suggest that your body doesn't absorb the antioxidants very well.
As far as specific allergy relief goes, we don't have any solid info. But rooibos still makes a tasty, caffeine-free tea.
Stock up: Try My Red Tea Rooibos Tea.
Sometimes a participant in a clinical trial receives an ineffective medication still sees improvement. This is called the placebo effect. It happens because they believe the fake medication (usually a sugar pill) has had a positive effect on their health condition.
It's possible to experience this same effect when drinking tea for allergies. You might attribute allergy relief to your fave tea since a hot cup of tea is irresistibly soothing and relaxing AF.
But that's still a pretty good reason to drink up in our book.
Some herbal teas have science on their side when it comes to seasonal allergy relief, while some have only theoretical science to back them up for now.
It's always a good idea to run any herbal tea by your doctor before trying it. They can let you know how much to drink and whether there's a chance it could mess with any meds or health conditions you have.