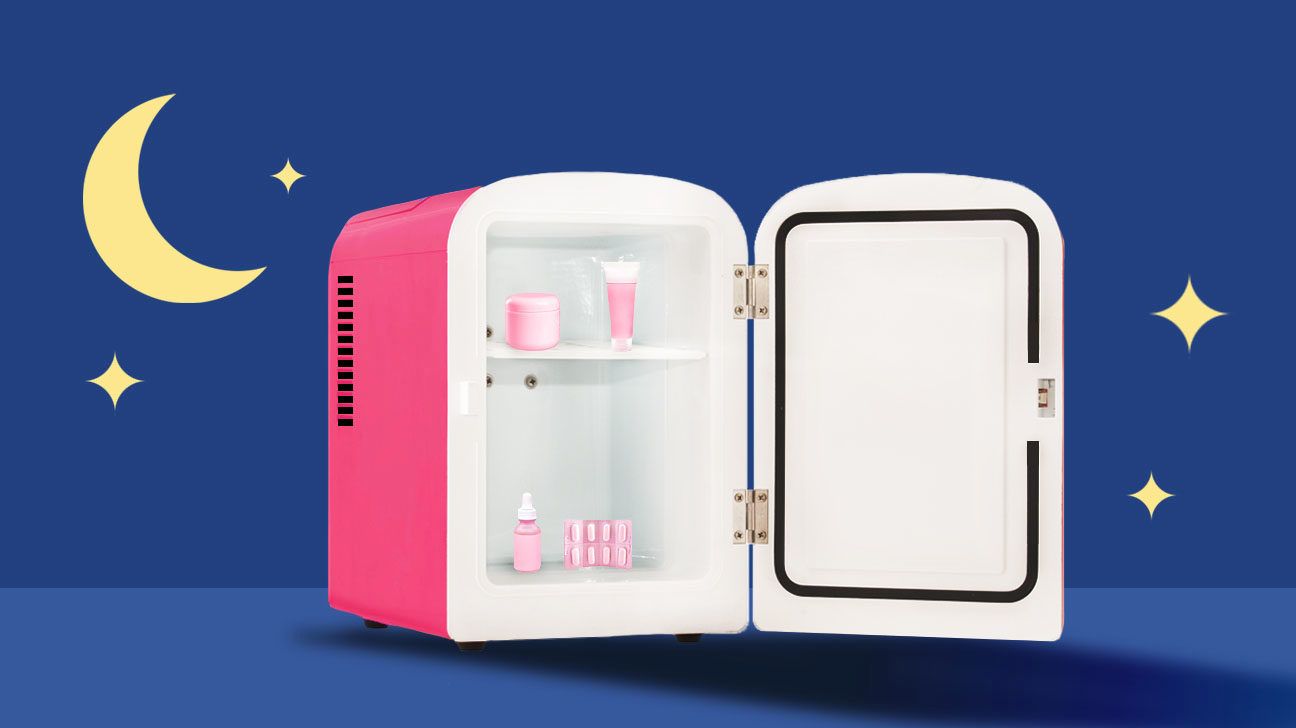 We include products we think are useful for our readers. If you buy through links on this page, we may earn a small commission Here's our process.
Greatist only shows you brands and products that we stand behind.
Our team thoroughly researches and evaluates the recommendations we make on our site. To establish that the product manufacturers addressed safety and efficacy standards, we:
Evaluate ingredients and composition: Do they have the potential to cause harm?
Fact-check all health claims: Do they align with the current body of scientific evidence?
Assess the brand: Does it operate with integrity and adhere to industry best practices?
We do the research so you can find trusted products for your health and wellness.
We've all heard of the makeup fridge. The cute, pigmy fridges that fit on your dresser or under your nightstand, and keep your beloved retinols, vitamin C serums, and organic face masks protected from the harsh light of day. But what about your medication?
It's just as important (see: more important) to keep your medicine at the proper temperature as it is your skin care favorites.
To make sure your medication stays as effective and stable as possible for as long as possible, consider letting them bunk up in your kitchen fridge, or getting them a little home of their own. Worried about cost? Most of the 4 liter fridges cost less than your favorite face serum.
But no matter how you do it, make sure your medicine is kept in a cool, dry space.
Do you ever come home from a long day and just need to take a long, hot shower? You know, the kind where you let the hot water cascade down your face for 20 minutes while you stare into space, steam filling the air, turning your bathroom into a mini-sauna?
That's why we don't store medicine in the medicine cabinet. In fact it's often times the worst place to put medicine. Heat and humidity are not your medicine's friends. They cause components of medications to break down and change, damaging the effects of your medicine.
According to pharmaceutical manufacturers, most medications should be kept no higher than 77°F, while thermo-sensitive medications should ideally be kept between 36°F to 46°F.
If you require thermo-sensitive medications such as insulin or growth hormones, you already know how crucial it is to keep them safely stored and refrigerated.
Poorly stored medications can be life-threatening for people with diabetes or other conditions who depend on their medicine's efficacy on a daily basis.
However, with summer at its peak (July was the hottest month on record!), and global warming hinting at toastier days to come, it's important to remember that all medications need to be protected from heat.
Keeping your meds at "room temperature" only works if the room doesn't become 90°F.
Mais non! If you have a chronic disease like diabetes and rely on thermo-sensitive medicine, you've already been refrigerating your meds. But having that extra bit of control over where your medicine is and the temperature at which it's being preserved can make a huge difference in your life.
Remember, this rings true at home, and work. Trust us, you don't want your insulin or hormones in the office fridge next to Karen's leftover tuna casserole and Henry's leaky Tupperware.
What if you work late on a Friday and the office janitor accidentally throws your seizure medicine out with whatever was left in the fridge? And when your mother comes over and starts cleaning out your kitchen to "be helpful" again, you want to make sure she can't accidentally knock over a bottle of something your life depends on and send it splattering to the ground.
Having a small, separate, or portable refrigerator just for your medicine eliminates the risks associated with sharing one with other people. This cutie even has a dry-erase door.
Thermo-sensitive medications:
insulin
growth hormones
seizure medications
nitroglycerin
Common medications:
allergy medications
aspirin
birth control pills
thyroid pills
other hormone-containing medicines as they're often protein-based (proteins "cook" in heat)
Heat can effectively render any medication useless without your knowledge.
If heat has accidentally compromised the strength of your allergy medication, you might sneeze excessively for a few days until you realize your meds aren't working.
Granted, that might seem to not have any real long-term consequences… unless you've left your birth control pills in a hot car over time and you go on taking them like normal. Chances are slim but it still could be a reason you find yourself in the .3 percent.
And sometimes, the side effects of consuming common medications that have broken down can be dangerous.
The New York Times published an article by Walecia Konrad called, Mistakes in Storage May Alter Medication, in which she consulted with Skye McKennon, a clinical assistant professor at the University of Washington School of Pharmacy about the dangers of using overheated medications.
According to McKennon:
Decayed antibiotics can cause stomach or kidney damage.
Compromised Aspirin can cause severe stomach pain.
Hydrocortisone cream can separate and become useless in the heat.
Any type of diagnostic strip, like those used to test blood sugar levels, pregnancy, or ovulation will become unreliable if exposed to moisture, as the moisture may stick to the strips which can dilute the test liquid and give potentially false readings.
If you don't yet own a mini fridge, consider buying one. Really, there are many to choose from and some are quite affordable.
If a standard mini fridge is still too big, there are even smaller, portable fridges meant specifically for medication, like Lifeina Box ($220), which is perfect for insulin or other fragile medications. Popular skin care fridge brands, like Cooluli ($50), keep temps around 46°F to 50°F.
On the go? Look into companies like MedActiv ($44.95) that sell gel packs to keep your medicine cool for up to 24 hours.
Medicine, like skin care, needs to be stored properly to maintain its efficacy. Whether you have a chronic illness that requires daily medication or you're on the pill, keeping your medicine at the appropriate temperature will ensure its stability and longevity.
Jordan Nadler is a professional writer and editor, primarily focused on culture, travel, and wellness. Visit her on Twitter or Instagram.