We include products we think are useful for our readers. If you buy through links on this page, we may earn a small commission. Here's our process.
Greatist only shows you brands and products that we stand behind.
Our team thoroughly researches and evaluates the recommendations we make on our site. To establish that the product manufacturers addressed safety and efficacy standards, we:
Evaluate ingredients and composition: Do they have the potential to cause harm?
Fact-check all health claims: Do they align with the current body of scientific evidence?
Assess the brand: Does it operate with integrity and adhere to industry best practices?
We do the research so you can find trusted products for your health and wellness.
Wanna keep an eye on your BP at home but don't know where to start? We've got you covered.
At-home healthcare things are so hot right now. Don't believe us?
Take a look at exhibit A (AKA a list of ways to monitor your health at home):
The list goes on and on.
Monitoring blood pressure (BP) at home isn't new and trendy like the at-home testing kits we just listed, but those with high blood pressure (also called hypertension) or on the verge of high blood pressure may wonder if it's worth plopping one of these monitors on your nightstand.
If you're shopping for a monitor for the first time, you may wonder how you'll know if yours is accurate enough to take its results seriously.
Let's get into it. We cover all you need to know and show you some strong choices you may want to add to your cart.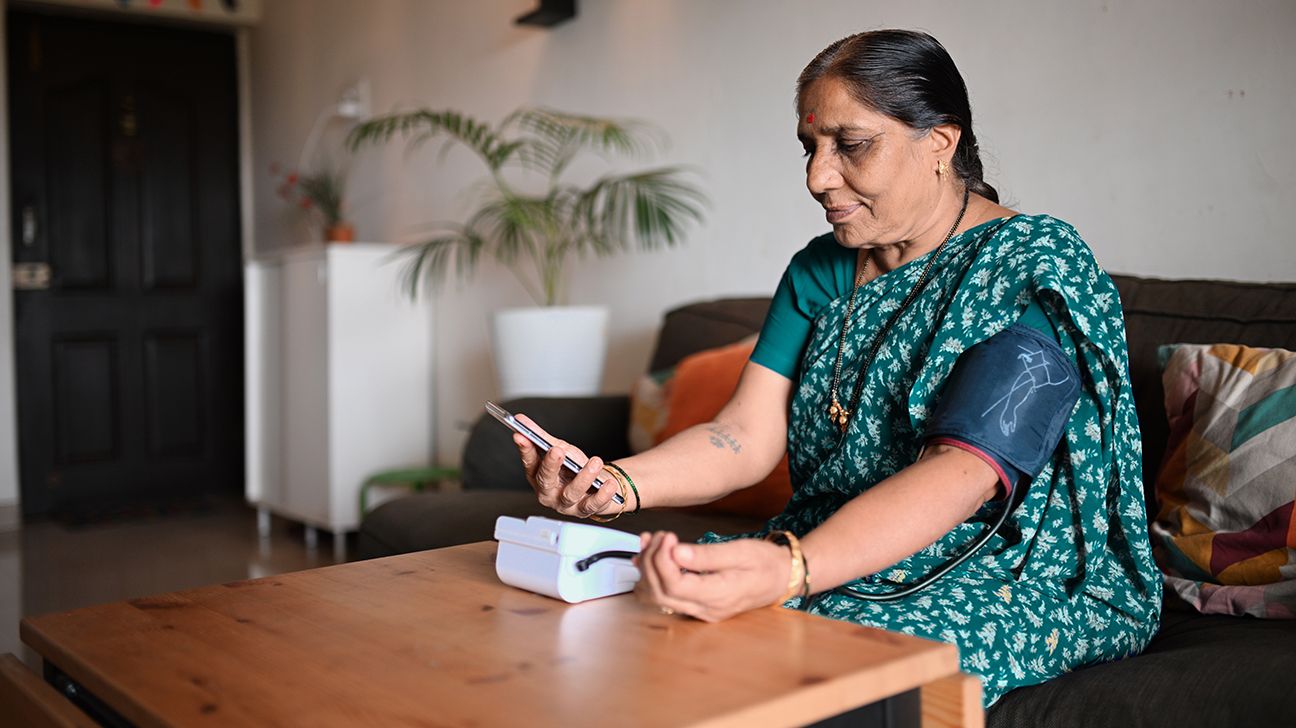 While the type, price, and aesthetic of these machines will vary, these are all essentially little detectors with a screen to read your results and a cuff that goes around your arm or wrist to measure your BP. Though some are wireless, the cuff usually connects to the machine via a springy wire.
Some monitors will give you real old-school vibes, while others are more high-tech and compatible with Bluetooth, an accompanying app to keep track of your readings over time, and a carrying case to keep it handy wherever you go.
Though you don't have to take it with you if you'd rather not — you can keep these devices at home and test yourself at your leisure. Plus, if you opt for a machine without an app or Bluetooth, you can still track your readings by journaling to keep on top of it. Some machines also store up to 120 readings.
The point here is you don't have to wait for an appointment with your healthcare professional before checking your blood pressure (though it's important to keep any existing appointments on the books for consistent health checks).
The most important thing is choosing a machine that's easy to use and doesn't give you hella unnecessary or confusing data when you use it. Accuracy, comfort, and ease of use are the name of the game, so you use it consistently and trust it.
Not all monitors are created equally. Plus, even with the best monitors, blood pressure readings can be thrown off pretty easily by little things like not having the cuff fastened correctly, too much movement, the list goes on.
This doesn't mean you should throw in the towel on having your own home monitor, though.
A 2020 study examining the accuracy of self-monitoring versus monitoring in a professional setting found that the failure rate was similar.
Notably, the study points out that healthcare professionals can feel good about the accuracy of their patients' monitors if the devices are validated for accuracy and are less than four years old.
Pro tip: Take your machine with you to your next healthcare visit. Your provider can check it out and make sure that it's not only a good fit for you but is also working properly by testing it against their BP monitor.
The key is not to change your medications or healthy lifestyle choices solely based on at-home readings from your blood pressure monitor. Those changes can be safely made with guidance from your healthcare provider.
If you have high blood pressure as we speak, or you've flirted with high blood pressure before, you may find that an at-home monitor is a good idea.
Plenty of peeps may find these monitors offer some peace of mind and help track BP over time.
Anyone who is testing out a new-to-them BP medication may want to see how well it's working.
Blood pressure monitors are also handy for checking if you're in crisis mode and need to know if it's time to hop on the road for medical care, STAT.
Don't forget about the preggo peeps out there who want to make sure they keep their chances of pregnancy-induced hypertension at bay.
Blood pressure score
According to The American Heart Association and American College of Cardiology, BP in adults is split into five groups or levels.
Before we get into those levels, here's a quick breakdown of the lingo you'll need to know:
mm Hg. This means millimeters of mercury.
Systolic. This is the top number you'll see on your reading. This number reflects the BP quantity in your arteries as your heart beats.
Diastolic. You guessed it, this is the bottom number. This one measures pressure in the arteries during rest periods between your heartbeats.
Now that you know the terms, look at this chart to see what to consider when you read your results.
Less than 120/80 mm Hg. This reading is normal and healthy; no worries at this range. Whatever heart-health habits you're up to in your life right now (e.g. healthy diet and regular cardio exercise), keep 'em up.
120-129 systolic and less than 80 mm Hg diastolic. This range is considered 'elevated.' It should be thought of as a sign that it's time to start working on lowering your BP. Before things increase, this is an excellent time to chat with your healthcare provider.
130 to 139 systolic or 80 to 89 mm Hg diastolic. This level is straight-up high blood pressure, also called 'hypertension stage 1.' This range is when your health care professional may toss around the idea of BP medication, but this will depend on your personal history and other risk factors. It's def a good time to start a plan with your doctor about lifestyle changes that may also help get you in a lower range.
140/90 mm Hg or higher. Medication is typically the protocol at this high range, as it's considered 'hypertension stage 2' and needs careful treatment and monitoring. Of course, positive diet and lifestyle changes also are encouraged at this stage to tackle your BP from multiple directions.
180/120 mm Hg. This range is emergency mode. But before you rush off to the emergency room, The American Heart Association says to give your monitor about five minutes and test again. If it gives you the same high reading, get to a medical professional quickly. This range is considered a crisis and needs attention right away.
You have a few categories to consider before narrowing down the best picks for you, and we include some of those options below (don't worry, we did careful vetting first).
Digital monitors
Digital options typically use a cuff that goes around your arm in the traditional way you're used to at the doctor's office. Some of these will automatically inflate with a push of a button, while other more standard options use a ball you squeeze for inflation.
Pro tip: Make sure you hold still while using this type of monitor for your best shot at accuracy.
See our picks for the best digital options here:
Wrist monitors
Some people have bulging biceps that a cuff just can't fit around. These folks may need a wrist monitor. Plus, some people find that a wrist monitor is just more comfortable and easy to travel with, biceps or not.
Here are a few that may make sense for you:
Smart monitors
If you'd like a high-tech option for tracking your BP, we've got it below:
It may be worth investing in an at-home blood pressure monitor. These can help you track your blood pressure at home or on the go and signal if it's time to call 911. Your best bet for accuracy is to take your monitor with you to your next doctor visit, so your healthcare provider can take a look to see that it's accurate and safe for use at home. Please don't skip any appointments just because you've bought one of these machines!