We include products we think are useful for our readers. If you buy through links on this page, we may earn a small commission Here's our process.
Greatist only shows you brands and products that we stand behind.
Our team thoroughly researches and evaluates the recommendations we make on our site. To establish that the product manufacturers addressed safety and efficacy standards, we:
Evaluate ingredients and composition: Do they have the potential to cause harm?
Fact-check all health claims: Do they align with the current body of scientific evidence?
Assess the brand: Does it operate with integrity and adhere to industry best practices?
We do the research so you can find trusted products for your health and wellness.
Long gone are the days of smoking any old weed you could get your hands on and hoping for the best.
Today, cannabis (aka the grownup name for weed, marijuana, or pot) has become an ultra-curated industry, with countless strains to suit nearly every desired effect — whether you want to feel energized and euphoric, ultra mellowed out, or somewhere in between.
Enter: high-CBD, low-THC cannabis strains.
These strains have been bred to contain a higher percentage of cannabidiol (CBD) than tetrahydrocannabinol (THC).
Harle-Tsu
Suzy Q
Charlotte's Web
Ringo's Gift
Remedy
Cherry Wine
ACDC
Elektra
Sour Space Candy
Lifter
Harlequin
Sour Tsunami
CBD Critical Mass
Pennywise
Cannatonic
THC is the main psychotropic compound in cannabis that gets you high and alters your mental state (and sometimes makes you paranoid), while CBD is the main nonintoxicating compound in cannabis with relaxing properties and a variety of mind-body health benefits.
So a high-CBD, low-THC cannabis strain may be ideal for someone who's looking to keep a clear head, while getting some much needed relief from anxiety, stress, pain, seizures, inflammation, and more.
Here are some specific high-CBD, low-THC strains to look for at your local dispensary.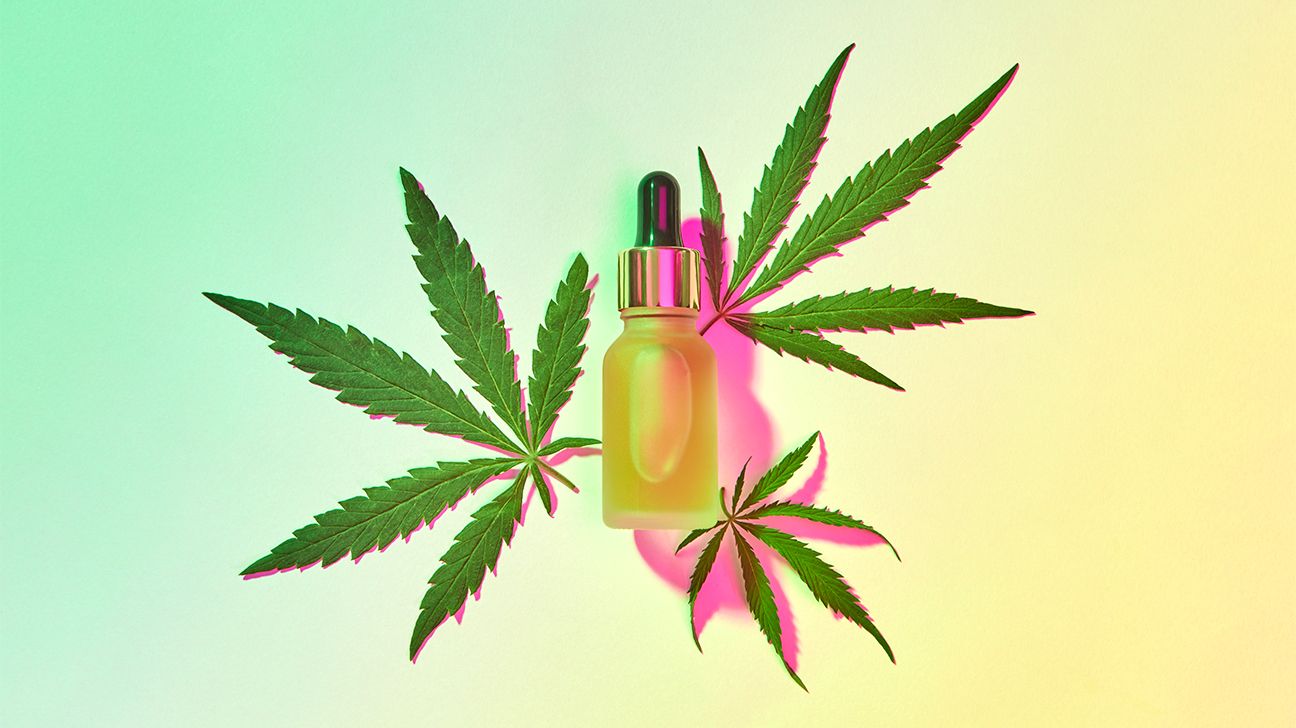 Before you dive in here, keep in mind: Chatting up knowledgeable dispensary staff is probably your best bet for finding the ideal strain of cannabis for your specific needs (some actually have doctors on site). But going in with some knowledge of what you're looking for is a good idea.
We did some digging to find high-CBD strains you might enjoy if you're not looking to get blazed out of your mind. Just remember, cannabis strains aren't an exact science, and they may affect people differently.
Most of the characteristics and effects mentioned below are not based on research, but on user experience and reviews.
1. Harle-Tsu
A cross between Harlequin and Sour Tsunami (both of which are also on this list), the Harle-Tsu cannabis strain is *generally* 20–24 percent CBD, 1 percent THC, and has a CBD:THC ratio of 20:1. But this can vary depending on the grower and the season.
So there's basically no chance of getting high from this stuff! With its ultra high CBD content, it's often used to reduce chronic pain and inflammation. Like many of these strains, it also aids in relaxation and many users liken its effects to a "focused, happy calm."
Harle-Tsu has earthy notes, along with pepper and pine, and a subtly sweet taste.
2. Suzy Q
Suzy Q features around 10 percent CBD and less than 1 percent THC, with a pleasant piney taste. It's been described as relaxing and uplifting and may help relieve chronic pain, nausea, arthritis, muscle spasms, and anxiety without the intoxicating effects of THC.
One user even claims it wiped out her 2-day headache in less than 10 minutes. We'll puff to that!
3. Charlotte's Web
Another ultra-popular high-CBD strain, Charlotte's Web contains about 13 percent CBD, less than 1 percent THC, and a CBD:THC ratio of 30:1. This strain was actually bred specifically for the Stanley Brothers of Colorado who use it in their Charlotte's Web health and wellness products (CBD gummies, oils, capsules, etc).
This strain is calming and thought to be particularly well suited for managing seizures, chronic pain, and muscle spasms. It got its name after a young girl named Charlotte Figi was able to manage her seizures with the help of Charlotte's Web capsules.
While you can find Charlotte's Web in a range of flavors, its natural flavor is said to be sweet, delicate, and citrusy.
4. Ringo's Gift
This high-CBD strain is about 11–15 percent CBD, 1 percent THC, and has an average CBD:THC ratio of 13:1 — but strains as high as 24:1 can be found.
It typically provides a soothing feeling of relaxation that begins in the head and spreads throughout the body, but does not have a sedative or "couch lock" effect (where you basically melt into the couch and can't get up).
Users claim it helps with anxiety, PTSD, migraines, pain relief, sleep, and more. Ringo's Gift has notes of pine, citrus, mint, and spice.
5. Remedy
Remedy clocks in at about 13 percent CBD and less than 1 percent THC. It's a very high-CBD strain with little psychoactive effects that delivers mellow relaxation.
It's also a strain that may be particularly useful for chronic pain — one user on Leafly with severe joint and bone pain reported "great pain relief without the head high!" Remedy is also said to help with anxiety, sleep, and more.
Remedy has sweet, floral notes that some find similar to a cup of herbal tea.
6. Cherry Wine
Calling all foodies and wine snobs! The Cherry Wine cannabis strain actually has aromas of sweet cherry and hints of cheese and black pepper. It ranges from 15–25 percent CBD with less than 1 percent THC, and many users mention its mood-elevating properties.
One user says, "I have anxiety and depression, and this strain culled the demons," while another said, "If you suffer from anxiety, chronic pain, inflammation, or depression then this strain will lend a decent helping hand in calming the nerves."
7. ACDC
Don't worry, ACDC will not leave you… thunderstruck (saw that one coming, didn't you? Instead, this strain — which averages around 14 percent CBD, 1 percent THC, and has a CBD:THC ratio of 20:1 — has basically no intoxicating effects and may help alleviate pain, anxiety, epilepsy, and more, while leaving you with a clear head.
Users describe it as relaxing and uplifting and it's said to be a bit earthy, with notes of citrus.
8. Elektra
Elektra gets big props for its great smell — it gives off a sweet aroma with notes of red wine, citrus, chocolate. YUM. Even better, it is around 15 percent relaxing CBD with less than 1 percent THC, and gets praise for helping with sleep, relaxation, and even social anxiety.
9. Sour Space Candy
Gotta love this one for the name alone! Sour Space Candy has an average of 15 percent CBD and just 1 percent THC. One user says, "It clears out my thoughts, improves my focus, gives me a nice uplift and at the same time relaxes my body," while several others praise its relaxing and sleep-promoting properties.
10. Lifter
Lifter contains around 18 percent CBD and less than 1 percent THC. Leafly describes its buds as having "a funky cheese aroma with a hint of fuel." Which is super weird, but the stuff seems to work.
Reported benefits include feeling uplifted, happy, and relaxed but simultaneously focused. Users have reported it's great for pain relief, too.
11. Harlequin
Harlequin typically clocks in around 8 percent CBD, 7 percent THC, and has a CBD:THC ratio of 5:2. It's often used to help manage pain and anxiety without making you drowsy, and provides an alert, clear-headed state with mild euphoria. Many users consider it an uplifting, energizing, happy weed.
Harlequin's scent and flavor profile can range from woody and musky to sweet and mango-like.
12. Sour Tsunami
Sour Tsunami was one of the first high-CBD strains bred, and it remains quite popular. Typically, it has 12 percent CBD, 10 percent THC, and has a CBD:THC ratio of around 3:1.
It's thought to be a strain that's effective for treating pain and inflammation, but that does not cause the cerebral buzz associated with high THC.
Sour Tsunami's scent is reminiscent of diesel with sweet undertones.
13. CBD Critical Mass
Not to be confused with regular Critical Mass (which is a high-THC strain), CBD Critical Mass is about 9 percent CBD, 6 percent THC, and has a 3:2 ratio of CBD:THC — so it can be a good choice if you're looking for an ever so subtle buzz or sense of euphoria, along with the therapeutic and relaxing properties of CBD.
One user wrote, "every time I smoke it it's perfect," and that " it feels like I imagine the weed that Gandalf is smoking in Lord of the Rings would feel." Honestly, we have no idea what that means, but it sounds amazing!
14. Pennywise
Pennywise is the highest THC strain on this list, but still considered a high-CBD strain. It has a CBD:THC ratio of 1:1, with 8 percet of each of these compounds.
What does that mean? Pennywise delivers a subtle sense of euphoria and mental clarity, but the psychotropic effects of THC are mellowed by the CBD. It's also been described as uplifting, and may help with stress, anxiety, and conditions like PTSD.
15. Cannatonic
Don't worry, this strain certainly won't leave you catatonic. It's 10 percent CBD, 5 percent THC, with a CBD:THC ratio of 2:1, which provides a mellow high that's both uplifting and relaxing.
Cannatonic is considered a premier medical strain, and it's been used to treat migraines, chronic pain, anxiety, and more. As one user describes it, cannatonic delivers "very nice, broad body buzz," and after about 10 minutes, "all pain melts away, physical, emotional, and mental."
Cannatonic has an aroma and flavor that's described as earthy, sweet, and mildly citrusy.
While research has not been done on all the high-CBD, low-THC cannabis strains mentioned above, a growing body of research is emerging on the impressive health benefits of CBD.
While much of the research is preliminary, some studies suggest that CBD (and most likely high-CBD strains of cannabis by default) may help with the following medical conditions:
pain + inflammation associated with arthritis
nerve pain + pain associated with serious conditions like MS
seizures
anxiety disorders (generalized anxiety, social anxiety, panic disorder, PTSD, etc.)
Although it's not totally clear, CBD is thought to have an uplifting affect on mood, anxiety levels, and sleep by influencing serotonin receptors, and having a balancing or regulatory effect on GABA (an inhibitory neurotransmitter involved in relaxation) and glutamate (an excitatory neurotransmitter).
While high-CBD, low-THC strains are typically very well tolerated, you'll still want to keep these tips in mind:
Buy your high-CBD, low-THC strains from a reputable dispensary — and make sure it's legal in your state first.
Only purchase products that have third-party testing and a certificate of analysis (COA).
Start low and slow by picking one of the strains above with the lowest quantities of psychotropic THC — numbers 1–10 on the list above contain 1 percent or less, so they're a great place to start!
Keep in mind, smoking of any variety is still bad for your lungs, so you can always ask if certain high-CBD, low-THC strains of cannabis are available as oils, tinctures, vape pens, etc.
Don't smoke cannabis when you're pregnant or breastfeeding, and if you want to use a CBD product, talk with your doc first.
High-CBD, low-THC cannabis strains can be a great option if you're in need of relaxation, but want to skip out on the mind-altering effects of THC.
There are a variety of ultra low-CBD options available (and even more that we didn't list), so do a little additional research of your own and see what looks best for your specific needs. Chat up the experts at your local dispensary, too. Some actually have a doctor on site!
Whether you have anxiety, deal with insomnia, have achy joints or muscles, or simply want to unwind after a long day, there's probably a high-CBD, low-THC cannabis strain with your name on it.