We include products we think are useful for our readers. If you buy through links on this page, we may earn a small commission. Here's our process.
Greatist only shows you brands and products that we stand behind.
Our team thoroughly researches and evaluates the recommendations we make on our site. To establish that the product manufacturers addressed safety and efficacy standards, we:
Evaluate ingredients and composition: Do they have the potential to cause harm?
Fact-check all health claims: Do they align with the current body of scientific evidence?
Assess the brand: Does it operate with integrity and adhere to industry best practices?
We do the research so you can find trusted products for your health and wellness.
After the pencil-thin look that dominated 90s trends, you can't not notice: big brows have been a serious *thing* for a while. And while latter years seemed to favor more groomed styles, we're now reaching the wilder version of the #BigBrow trend.
(And no, it's not just because no one can make it to their waxing appointment during quarantine.)
While unattainable beauty standards don't help anyone, this fad might have an upside — many are embracing their natural brows, no matter how thick. (Shout out to kween Sophia Hadjipanteli for keeping it real.)
Whether your eyebrows grow like weeds or are pencil-thin, it goes without saying that brows of all shapes and sizes are beautiful. But if you want to ride the bushy brow train, by all means, buckle up and we'll show you how.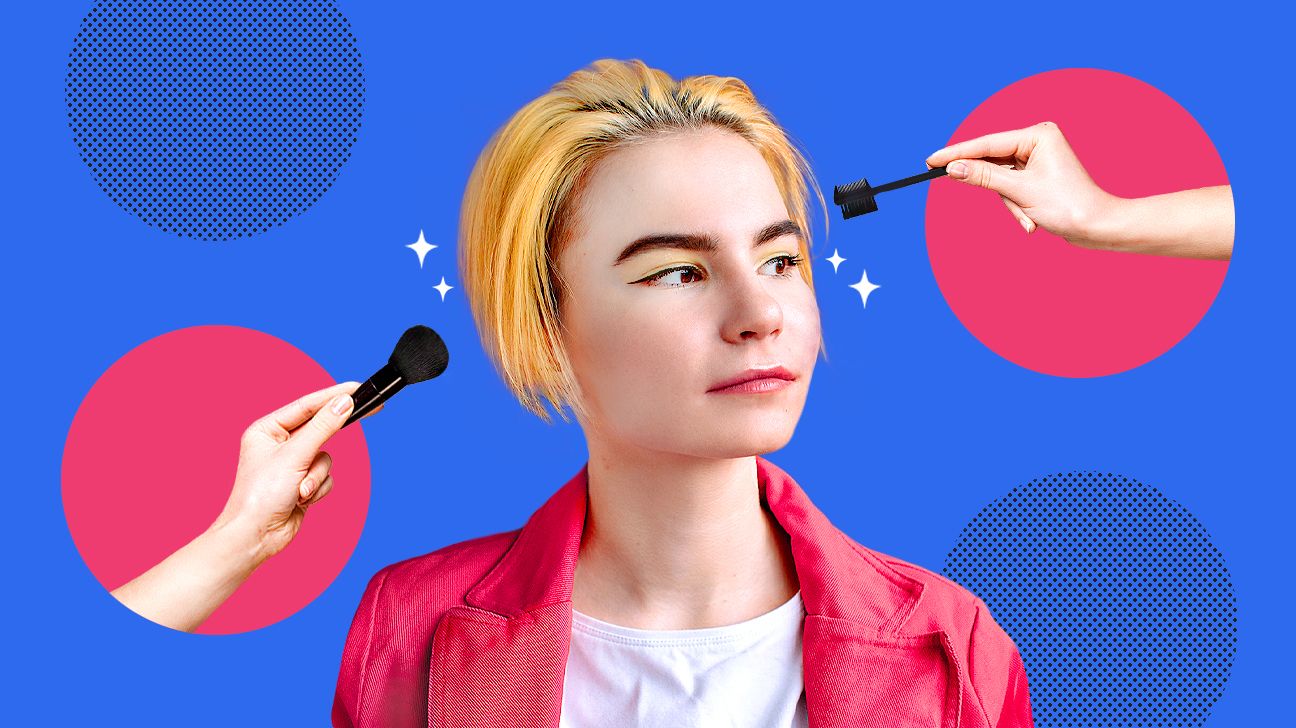 Otherwise, keep rocking what you got. (Plus, psst, trends don't last: experts predict that thin eyebrows will creep back into vogue in no time.)
Whether you have naturally big brows or want to give yours a little boost, there are fun ways to try out this unruly-chic look.
Brows aren't just about aesthetics: they keep moisture out and reduce light exposure for our eyes. And if the raised eyebrows you give a textbook #mansplainer are any indication, they also help us communicate our emotions.
So, one possible theory for the #BushyBrow craze? The more expansive your brows, the bolder your expressions appear. Make yours bushy, and next time you frown at that person not wearing a mask, maybe they'll get the picture.
Brows also frame the eyes and have a big impact on the overall appearance of the face.
In one 2015 study, researchers found that the position of the brows impacted the perceived shape of the eyes. Specifically, they found that higher brows make eyes appear larger and low ones make eyes appear smaller — which yeah, is no secret to brow technicians and makeup artists.
Still, there's a lot to be said about the way your brows can alter your overall appearance. If you're looking for a mini makeover without doing anything invasive, the brows are the perfect starting place.
From drawn-on '20s brows a la Greta Garbo (that Rihanna rocked an iteration of for Vogue just last year) it seems like the beauty community will never tire of ways to shake up this feature. For a style update, why not?
Grow them out, pluck them, add some powder — whatever you do, you can always get your shape back to its natural state. But for now, we'll show you how to dip your toes into the big, wild and bold.
If you're looking to add volume, silkiness, or just a little extra oomph to your brows, here are a few ideas to help your brows look their bushiest and best.
Biotin
Also known as vitamin H, biotin is a water-soluble vitamin that improves the health of keratin proteins in your bod which make up your hair, skin and nails.
While the science isn't totally there, some research suggests the supplements help with hair growth. In a 2015 study, women with thinning hair experienced a significant amount of hair growth and a decrease in shedding after taking an oral marine supplement containing biotin twice a day for 90 days.
To boost brow growth, consider picking up a biotin supplement at your local drugstore and taking it as instructed.
You can also up your levels by eating biotin-rich foods like egg yolks, nuts, legumes, whole grains, bananas, cauliflower, and mushrooms.
Keratin
Keratin is extracted from the feathers, wool and horns of various animals and used as an ingredient in hair serums, shampoos and supplements to boost hair health. While the research on its effectiveness isn't quite there, those who use it often report increased silkiness and improved hair growth.
Many vitamins labeled for hair, skin and nails contain both biotin and keratin.
Coconut oil
This silky stuff seems like the secret ingredient in every other beauty recipe out there, and better brows are no exception. While there's no proof that coconut oil actually works to boost hair growth, it will help deep condition, which can help protect against breakage and make brows appear more voluminous.
Warm it up on your hands, rub it on your brows, and you're good to go. When applied with an eyebrow brush, you can also use the oil to help style them as you'd like.
Pro tip: Brush upward to get the slightly unkempt lewk everyone's after RN.
Tea tree oil
Tea tree oil helps build a moisturizing barrier that supports healthy hair. While there's no evidence that it will give you brows like Brooke Shields, it can definitely make each strand healthier and happier.
Try it out by applying a few drops to each brow before bedtime.
Castor oil
One peruse through YouTube will show you that castor oil is all the rage for hair and brow growth.
Some evidence suggests that ricinoleic acid, a chemical compound that makes up nearly 90 percent of castor oil, may treat hair loss. One 2015 study found that ricinoleic acid seemed to have helped people grow their hair back by suppressing the protein prostaglandin D2 (PGD2).
The jury's still out on whether it actually works. There are plenty of testimonials that suggest one way or the other, and not enough research to know for sure. If nothing else, it will def deep-condition them and help protect against breakage.
Try it out for yourself by swabbing castor oil on with a mascara wand or Q-tip once or twice a day.
Thanks in part to the big brow revolution, there are a number of OTC and prescription brow serums on the market. For the biggest impact, look for products that contain the following ingredients:
Peptides
Peptides are proteins made of amino acids. When applied to the brows, they stimulate follicle growth. In a 2016 study, researchers found that two specific peptides helped men with male pattern baldness regrow their locks.
Pro tip: Peptides may irritate sensitive skin, so always do a small patch test first to see how yours responds.
Biotin
Commonly taken in pill form for hair growth, biotin also works when applied topically to the brows. Biotin helps promote hair strength and may lead to increased growth.
Keratin 3
Many eyebrow serums contain the hair-strengthening protein keratin. When combined with peptides and biotin, keratin can pack a major punch for your brows.
B vitamins
B vitamins help condition, moisturize and strengthen the brows. It's not a powerhouse ingredient like peptides, but it's a nice bonus to spot when product hunting.
Penciling in brows has been a thing for a long time, but it's only recently that gels, powders, and pencils of all kinds have really taken off. These days, the sheer number of brow-enhancing cosmetics out there's enough to make your head spin.
If you want to bulk up your brows with makeup, here are some options to consider:
Pencils
Pencils add definition to your arches and fill in any gaps. For a natural effect, start with the sparsest areas of your brow and make short, feather-like strokes. Avoid pressing down too hard unless you prefer the drawn-on look. (We're looking at you, No Doubt-era Gwen.)
Powders
Powders are a quick way to fill in larger gaps. No need to make dainty lines — you can just use an angled brush to lightly pat it on to make certain areas look fuller. You can't add sharp definition to your brows like you can with a pencil, but a powder will definitely help you attain a fuller look.
Gels
Gels and pomades are the ultimate secret to the bushy brow look. They add drama and definition while also making them appear thicker and more voluminous.
They often come in tubes with mini mascara-like wands. When you sweep the wand across your brows, you can brush upward to get a Kaia Gerber-inspired look. Whether you choose a tinted variety or a more subtle clear formula, gels will srsly make your brows pop.
Microblading has been a popular semi-permanent cosmetic treatment for several years now. Essentially a temporary tattoo (it'll last you between 18 and 30 months), an esthetician uses a needle device to add pigment to the eyebrow area that resemble real hairs.
It takes a couple hours and typically costs between $250 to over $1,000. Due to the risk of infection, always shop around to a trained professional you can trust. Hygiene standards and proper skills are key to the best outcome.
Heads up: The FDA doesn't regulate the color additives used in microblading pigments, which means you might not know exactly what's going into your skin.
If you're committed to the practice, make sure your esthetician has good reviews, client photos, and accreditation from either the American Association of Micropigmentation or the Society of Permanent Cosmetic Professionals (SPCP).
Now that you know the ropes, we've rounded up a few of the best products on the market for bushy brows.
Best biotin supplement
Olly Ultra Hair Vitamins
These supplements are slightly pricier than others on the market, but they contain a particularly powerful blend of ingredients. In addition to biotin, they have keratin, silicon, copper, and folic acid — all of which will help your brows become their healthiest.
Best growth serum
Rapidbrow Eyebrow Enhancing Serum
From the creators of the much-raved about Rapidlash eyelash serum comes this brow-focused counterpart. It contains polypeptides, amino acids, vitamins, and keratin to boost brow health and stimulate growth. It also has apple fruit cell extract and sweet almond extract to condition and add shine.
Simply swipe it on your brows once a day. Most users report results within 60 days.
Buy Rapidbrow Eyebrow Enhancing Serum.
Best brow pencil
FENTY BEAUTY Brow MVP Ultra Fine Brow Pencil & Styler
With 14 shades to choose from, Brow MVP makes it easy to find a shade that actually matches your brows. The tip's perfect for creating fine strokes, and it's extremely blendable for those areas you'd like to fill in a little more. Plus, Riri made it, so it must be good, right?
Buy FENTY BEAUTY Brow MVP Ultra Fine Brow Pencil.
Best brow gel
Glossier Boy Brow
If you haven't heard about this cult favorite before, you haven't paid attention to what's new in brow news for… at least 3 years. (But hey, no judgement.)
Inspired by hair pomade, with every stroke, the wax-based formula moisturizes, tints, and thickens. If you want what they call instantly "fluffy," feathered brows, this is the ticket.
YouTube makeup tutorials have seriously upped everyone's glow-up game worldwide. If you want to learn how to do bushy brows at home, it's a lot easier to watch someone else's skilled hands pull it off first. Here are a few pros in action:
1. Natural Bushy Brow Tutorial by Jessica Vu
2. Natural Bushy Eyebrows by Desi Perkins
3. How to: Top Eyebrow Styles and Tips by Hollie-Mae Powell
4. Fluffy Bushy Brow Tutorial by Serena Sok
5. How to: Natural Brows by Amy Serrano
First of all, don't sweat it: your brows look gorge as they are, whether thin or thick.
If you want to make them bushier, though, there are a variety of cosmetics, serums, and treatments that'll do the trick.
Brow gels, growth serums, and biotin supplements in particular may add some oomph.
While microblading can make the brows appear denser and larger, it's very costly and comes with a risk of complications. Always do your research and visit a licensed esthetician if you plan to have the procedure.