When it comes to healthy eating, nutritious foods are key. And sometimes you just need a little snack to get you through that afternoon slump at work without breaking the calorie bank.
The next time hunger creeps up when it's least convenient (like an hour before a dinner reservation), turn to this list for a tiny but mighty bite that will sate the hunger beast inside.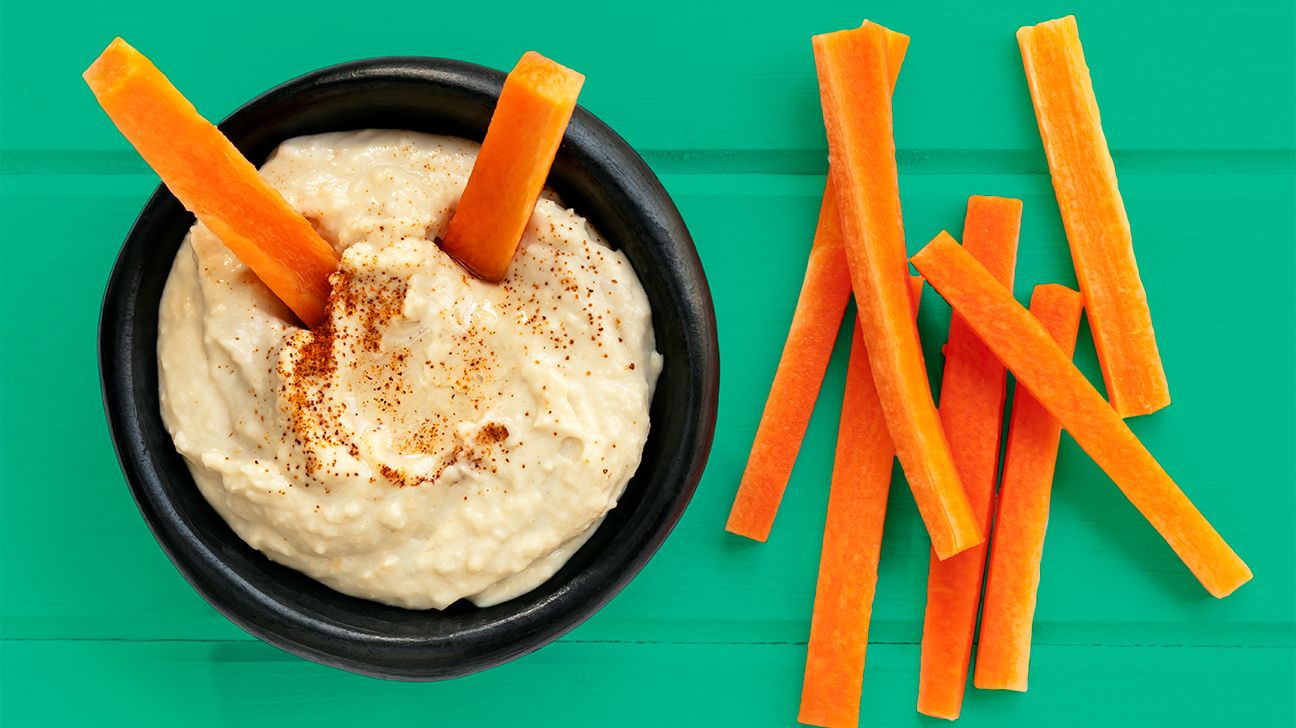 1. Pumpkin yogurt
Don't be ashamed of your pumpkin spice game. You can have pumpkin flavor year-round. The canned variety is always available. Pumpkin increases this snack's fiber content and flavor profile with minimal added fat and calories.
Combine 1/4 cup pumpkin purée with 1/2 cup nonfat plain Greek yogurt. Sweeten with a pinch of stevia, 1/4 teaspoon vanilla extract, and a sprinkle of pumpkin pie spice blend (or cinnamon).
2. DIY chunky applesauce
Dice up half a tennis-ball-size apple and add it to 1/2 cup unsweetened applesauce. (So much apple!) You'll get the spoonability of applesauce, but with an added fresh crunch.
Sprinkle with some cinnamon for an extra flavor kick.
3. Jicama and honey mustard dip
Hicka-what? Jicama (pronounced hic-kuh-muh) is a root veggie that touts 6 grams of fiber per cup. Peel and slice 1 1/2 cups and dip into a mixture of 1 tablespoon Greek yogurt, 1 tablespoon mustard, and 1 teaspoon honey.
4. Apples and cheese
Pair a Mini Babybel Light cheese wheel with half a baseball-size sliced apple. The cheese has 6 grams of protein and 10 percent of the daily value of calcium.
5. Kettle corn
Toss 1 teaspoon cinnamon and 1 teaspoon stevia with 2 cups freshly popped popcorn. Try shaking it all up in a paper bag or a container with a lid on it for even topping distribution.
Not a fan of stevia? Swap it for 1 teaspoon honey plus 1 teaspoon water microwaved for 10 seconds to thin it out.
6. Watermelon salad
Here's a way to use up some of that gargantuan watermelon you tossed in your grocery cart this week. Top 1 cup raw spinach with 1 tablespoon balsamic vinegar and 3/4 cup diced watermelon.
Watermelon is uber-hydrating, and spinach has a ton of vitamin K (which helps blood clot properly when you get cutVitamin K fact sheet for health professionals. (2020). ods.od.nih.gov/factsheets/vitaminK-HealthProfessional) and vitamin A (which is good for your eyes).Vitamin A fact sheet for health professionals. (2020).https://ods.od.nih.gov/factsheets/Vitamina-HealthProfessional/#h7
7. Baked apple
Baked applescan get all dressed up and filled with oats, nuts, and other tasty stuff.
But for a simple, less filling version, core a tennis-ball-size apple, dust it with cinnamon, and bake at 350°F (176°C) for 20 minutes (or until tender, but not mushy).
8. Frozen grapes
Grapes make a great snack fresh or frozen, but if you opt for keeping them chilly, they last way longer. Nosh on 1 cup (about 28 grapes) for about 100 calories.
Feeling fancy? Use grapes as fruity ice cubes in a tall glass of water to stay hydrated while snacking.
9. English muffin and fruit butter
Toast half of a whole-wheat English muffin. Top with 2 teaspoons pumpkin butter or apple butter. Choosing these spreads over conventional jams can save about 20 calories per serving.
10. Dark chocolate
Let's be honest, this snack doesn't need any pairings to make it taste better. Enjoy 3 squares or 5 dark chocolate kisses for a 100-calorie nibble of something subtly sweet.
Bonus: A bit of flavonoid-rich dark chocolate can help regulate levels of the hormone cortisol to keep stress at bay.Tsang C, et al. (2019). Effect of polyphenol-rich dark chocolate on salivary cortisol and mood in adults. DOI: 10.3390/antiox8060149
11. Egg whites and toast
Avocado toast reigns supreme as a healthy breakfast, but it's creamy avo spread packs more calories than you may be looking for in a snack.
When you're after something lighter, try one slice of whole-wheat toast topped with 2 scrambled egg whites. Sprinkle with a dash of pepper and paprika.
And if you want to amp up the nutrients for a few more calories, go for the whole egg, yolk and all. It's packed with good stuff.
12. Red pepper and goat cheese
Slice up one medium red pepper and enjoy with 2 tablespoons chèvre (aka soft goat cheese). Goat cheese is not only tangy and flavorful — it has about one-third fewer calories and one-third the fat of some cow's milk cheeses.
13. Carrots and hummus
This one's a classic for a reason: It's easy, tasty, and contains protein and fiber. Chow down on 10 baby carrots with 2 tablespoons of hummus for ultimate snacking convenience. Jazz it up with fresh herbs like dill or parsley.
14. Baby corn and soy sauce
For a super quick snack, dip 20 baby corns — the dippable, mini cobs, not corn kernels — into low sodium soy sauce (or coconut aminos, if you have a soy allergy). Baby corn is high in folate, a B vitamin that helps produce and maintain new cells.Folate fact sheet for health professionals. (2020). ods.od.nih.gov/factsheets/Folate-HealthProfessional
15. Open-faced turkey sammie
Can a sandwich be a snack? It can when it's nice and light, like this one. Toast one slice of whole-wheat bread and spread with 1 teaspoon honey mustard. Top with two slices of deli turkey and dig in.
16. Avocado rice cake
We found a way to lighten up avo toast! Top a rice cake (we like the unsalted brown rice variety) with a quarter of an avocado, mashed or sliced. Sprinkle with cracked black pepper and paprika.
Avocados are a good source of monounsaturated fat (the kind that can help decrease the risk of heart disease).Zong G, et al. (2018). Monounsaturated fats from plant and animal sources in relation to risk of coronary heart disease among US men and women. DOI: 10.1093/ajcn/nqx004
17. Hard-boiled egg whites and mustard
For a protein boost (about 13 grams), boil 4 eggs for 12 to 15 minutes. Let them cool, de-shell, slice in half, and remove the yolks with a spoon. Sprinkle the remaining whites with pepper and dip in 1 tablespoon mustard.
Pro tip: If you add 1 teaspoon baking soda to the water, the eggs will be a cinch to peel.
18. Mexican potato
There's always the option to bake a potato, but for a quick snack version, turn to the microwave.
Pierce a medium potato (about the size of a computer mouse) a few times with a fork. Microwave on high for about 5 minutes, or until soft (you should be able to slice through it without any resistance).
Top half of the potato with 1 tablespoon salsa and 1 tablespoon plain Greek yogurt (a great stand-in for sour cream). Save the other half in the fridge for the next time you're in need of a quick snack or easy side.
19. White bean salad
White beans like cannellini provide plenty of dietary fiber, protein, and iron.
Combine 1/3 cup of the creamy little guys with 1 tablespoon sliced scallions, a squeeze of lemon juice, and 1/4 cup diced tomatoes. Instant salad!
20. Chili-lime shrimp
Shrimp are an amazing source of a nutrient you might not think of too often (but need plenty of for boosting immunity): selenium.Avery JC, et al. (2018). Selenium, Selenoproteins, and Immunity. DOI: 10.3390/nu10091203
Toss 10 large boiled shrimp in 1 tablespoon lime juice. Sprinkle with 1/2 teaspoon chili powder. Here's the kicker: This little snack has over 10 grams of protein.
21. 14 almonds
Almonds are a satisfying snack all by their crunchy little selves. Added bonus: They're among the most nutritionally dense nuts (which means they have high concentrations of nutrients per calorie).Almonds. (n.d.). hsph.harvard.edu/nutritionsource/food-features/almonds
At about 7 calories per nut, about 14 of them should tide you over until dinner. Pair almonds with spices like cinnamon for an extra treat.
22. Rice cake and almond butter
Speaking of almonds doing some heavy lifting… try topping one of those rice cakes with 2 teaspoons of almond butter. While it's not nearly as popular as peanut butter, almond butter is a better choice when it comes to fiber, iron, and vitamin E.
23. Pistachios
These little guys are the biggest bang for your calorie buck. Pistachios rank higher in protein and lower in saturated fat compared to most other nuts.
They might also help you maintain a healthy weight. One study found that women who ate a pistachio snack every morning made healthier choices throughout the day (and didn't gain any extra weight).Fantino M, et al. (2020). Daily consumption of pistachios over 12 weeks improves dietary profile without increasing body weight in healthy women: A randomized controlled intervention. DOI: 10.1016/j.appet.2019.104483
24. Cheesy popcorn
Toss 1 tablespoon grated Parmesan cheese and a dash of cayenne pepper with 2 cups of freshly popped popcorn. Choose a low fat, low sodium pre-packaged variety or pop kernels in a small paper bag in the microwave.
Grated parm can have a lot of salt, but 1 tablespoon has only 2 percent of the daily value, and only 20 calories for a whole lot of added flavor.
25. Cottage cheese and cantaloupe
Top 1/2 cup of low fat cottage cheese with 1/2 cup of diced cantaloupe. That humble 1/2 cup of melon delivers major doses of vitamins A and C — two nutrients that may help promote clear skin.
26. Cukes and cream cheese
Cut one medium cucumber into long strips. Combine 2 tablespoons diced roasted red pepper, 2 tablespoons low fat cream cheese, and 1/4 teaspoon cracked pepper. Spread the cream cheese mixture onto the strips and crunch away.
Cucumbers are made up of mostly water, which makes them a hydrating, low calorie dipper.
27. Broccoli and tzatziki sauce
Yes, there is a use for tzatziki besides slathering it on falafel or gyros. Its creamy coolness pairs perfectly with fresh broccoli's crunchy bite.
Whip up your own quick Greek-inspired sauce by combining 2 tablespoons plain nonfat Greek yogurt, 1 teaspoon lemon juice, and 1 tablespoon minced cucumber. Dip 6 broccoli florets into the sauce.
The healthy bonus here: Broccoli (and other cruciferous veggies) has been linked to the prevention of some cancers.Broccoli and cruciferous vegetables: Reduce overall cancer risk. (2019). aicr.org/cancer-prevention/food-facts/broccoli-cruciferous-vegetables
28. Strawberries and goat cheese
Pair 10 large strawberries with 1 tablespoon soft goat cheese. This serving of strawberries is a delicious way to get over 100 percent of the daily value of vitamin C.
29. Protein shake
Shake up 1 scoop vanilla whey protein with 1 cup unsweetened almond milk (or milk of your choice — dairy has extra protein).
This shake's perfect for post-workout snacking as whey protein has been shown to improve recovery after strenuous exercise.West DWD, et al. (2017). Whey protein supplementation enhances whole body protein metabolism and performance recovery after resistance exercise: A double-blind crossover study. DOI: 10.3390/nu9070735
We're also big fans of turning this into dessert or adding frozen fruit for smoothie vibes.
Whether you don't want to spoil your dinner or you just need a little nibble to get you through until lunch, 100-calorie snacks can stand in the hunger gap.
Reach for any of these mini-noshes for a healthy burst of energy.