We include products we think are useful for our readers. If you buy through links on this page, we may earn a small commission. Here's our process.
Greatist only shows you brands and products that we stand behind.
Our team thoroughly researches and evaluates the recommendations we make on our site. To establish that the product manufacturers addressed safety and efficacy standards, we:
Evaluate ingredients and composition: Do they have the potential to cause harm?
Fact-check all health claims: Do they align with the current body of scientific evidence?
Assess the brand: Does it operate with integrity and adhere to industry best practices?
We do the research so you can find trusted products for your health and wellness.
Your bathroom gets a lot of action. One minute it's tidy, the next it's a mess — so it's probably not your favorite room in the house to clean.
But we're of the mind that when kept neat, this personal space can actually be an oasis — a place to disconnect and recharge while you shower, soak in the bath, or stand in front of the mirror for your daily pep talk.
So instead of letting your anxiety about cleaning this well-visited space build up until you have to do a serious, time-consuming deep clean, we suggest staying ahead of the grime and clutter with little weekly or daily cleaning habits like the ones below.
Here, we've rounded up the cleverest cleaning hacks for each part of your bathroom — plus how often you should do each one.
Here are a few of the bathroom cleaning secrets we're excited to let you in on:
Drip-dry the toilet brush over the bowl.
Use black tea to cut through grime on glass shower walls.
Magic-Erase grout in the shower.
Polish faucets with lemon juice.
Get to hard-to-reach spots with a chopstick.
Shine faucets with cooking spray.
Unclog the drain with Tums.
Scrub the tub with grapefruit and salt.
Make a diy air freshener out of rice and essential oils.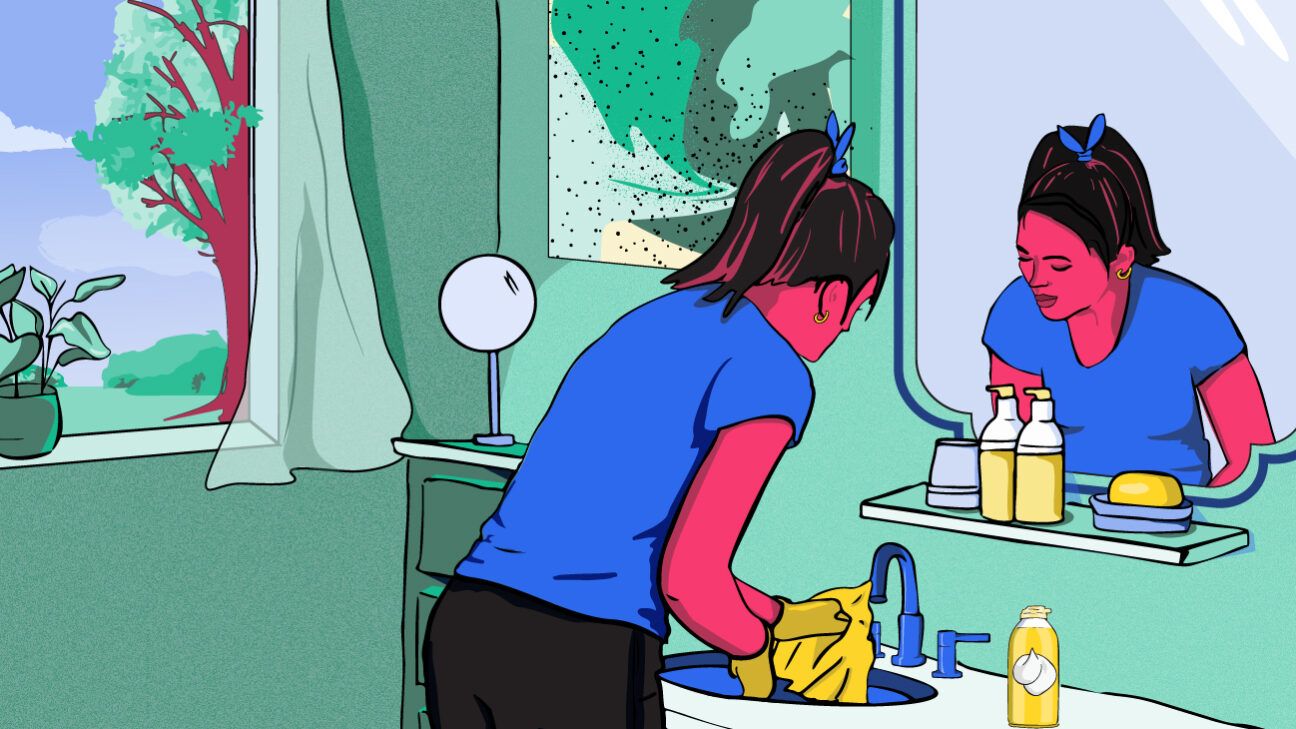 Even though your toilet is one of the germiest places in your house, you don't actually need pricey products to make it gleam. Here's what we mean.
Clean the bowl with baking soda and vinegar
Frequency: Once a week
This hack is great for those trying to switch to natural cleaning products. Combine 1 part baking soda and 1 part white vinegar. Pour the mixture in and around the bowl, using your toilet brush to push it up under the rim. Let it sit for 15 minutes, and then scrub and rinse clean.
If you build this into your weekly routine, you'll stay ahead of the buildup and won't need to intervene with harsh products.
Drip-dry the toilet brush
Frequency: After every use
You know how, over time, that little puddle of disgusting water accumulates at the bottom of your toilet brush holder? Avoid this ick factor by letting your toilet brush drip dry after you use it.
An easy way to do this is to close the toilet seat and lid onto the handle of the brush so the brush part is hanging over the bowl.
Sprinkle baking soda into the bowl
Frequency: Daily
Cleaning with baking soda is so effective because baking soda is abrasive. This means you can also use it cut down on toilet bowl cleanings. Simply sprinkle a dash of it into the bowl daily.
Bonus tip: Find a cute salt or pepper shaker to fill with baking soda and leave it within reach of your loo.
Your shower should be a Zen place. It's where you wash away the day, not to mention where you sing your best. Luckily, there are easy ways to keep it spick-and-span.
Clean glass shower walls with black tea
Frequency: Once a week
Glass showers exude luxury, but they're also notorious for pesky lime deposits. Luckily, you probably have something in your pantry that can beat the grime: black tea!
Using two or three tea bags, make hot tea in a bowl. Let it cool enough so that you can dip a microfiber towel into it. Then watch in awe as it cuts right through the film.
Wipe down shower walls with a squeegee
Frequency: Every time you shower
Wiping down shower walls with a squeegee after each shower is a common practice in Scandinavian countries, where the water is rich in calcium and leaves a white residue. It takes just a few seconds and will drastically cut down on how often you have to scrub the lime from your shower walls.
Spray shower walls with vinegar
Frequency: Every time you shower
Is there anything vinegar can't fix? We think not. If you want to work through grime in your shower, keep a mixture of 1 part vinegar and 1 part water in a spray bottle in the bathroom. Spritz the walls generously after each shower, and you'll soon notice a mega difference.
Scrub grout with baking soda
Frequency: Whenever you notice buildup
If you have grout between tiles or in other nooks and crannies in your shower that are tricky to scrub, baking soda may be the answer. To start, wet your shower and sprinkle all the problematic areas with baking soda. Let it sit for 10 minutes, and then scrub with an old toothbrush.
Wash a mildewy shower curtain with baking soda and vinegar
Frequency: Once every 2 weeks
Fess up: When was the last time you washed your shower curtain? If you can't remember, here's your gentle reminder to add it to your next load of laundry.
To eliminate the mildew, add 1/2 cup of baking soda to your laundry detergent. Run the machine on its hottest cycle, and then add 1/2 cup of white vinegar right before the rinse cycle starts.
Clean gunky showerheads with vinegar
Frequency: Once a month
Another item in your shower that you likely don't clean enough is your showerhead. We're all guilty of neglecting it, but it does need occasional attention.
To give the showerhead a thorough clean, remove it and place it in a bowl full of white vinegar. If it's super gunked-up, add some baking soda. If your showerhead doesn't detach, fill a plastic bag with the same mixture and secure it with a rubber band. Either way, let it soak for an hour, and then rinse.
Magic-Erase grout in the shower
Frequency: Whenever you see lime deposits build up
For quick spot cleans and buildup removal, a Magic Eraser is a miracle worker. Because a Magic Eraser is activated by water, it's handy to keep one in the shower to use when you're finished.
Thanks to stray hairs, leftover toothpaste, and makeup residue, sinks get dirty fast. Keep them clean with these methods.
Get rid of deposits on a porcelain or ceramic sink with vinegar
Frequency: Whenever you notice deposits
First things first: If you have a porcelain or ceramic sink, scrub away any dirt with soap, water, and a sponge. Then, line your sink with paper towels soaked in white vinegar and let them sit for 30 minutes before rinsing.
Polish faucets with lemon juice
Frequency: Once a week
There's no trick to it: Just cut a lemon in half and rub it over all the chrome parts of your sink (and your shower!). Rinse it off, and then buff with a towel. Magic!
Clean faucets with baking soda and a toothbrush
Frequency: Once a week, or whenever buildup appears
For faucets that need a deeper clean, sprinkle baking soda on the chrome. Then, wet an old toothbrush and scrub it clean. Rinse when you're done.
Get to hard-to-reach spots with a chopstick
Frequency: Once a week
For those hard-to-reach spots in your sink, you may need an even smaller tool. Consider wrapping a cloth around the tip of a chopstick to get into even the tiniest areas. If there's tons of gunk, sprinkle the area being cleaned with water and baking soda first for an extra-deep clean.
Shine faucets with cooking spray
Frequency: Once a week
Cooking spray does more than grease your grill or frying pan — it can also shine those faucets to look brand new. It's easy: Spritz, then wipe down with a rag.
From soothing sore muscles to catching up on me-time to diving into a book, baths are a time to recover. To ensure your tub time is spa-like, keep it sparkly with these tricks.
Unclog the drain with Tums
Frequency: As needed
Clogged drain got you down? Tums to the rescue! Drop four tablets and 1/2 cup of white vinegar down the drain. Leave it for 10 minutes before pouring boiling water over top.
Note: This probably won't work on clogs involving hair — you'll likely need a snake for that task.
Scrub the tub with grapefruit and salt
Frequency: Once every 2 weeks
Truth be told, you can use any type of citrus fruit to clean your tub, but grapefruit is ideal since it'll cover more surface area.
To start, splash water all over your tub and the walls surrounding it. Cut the grapefruit in half and sprinkle each half with coarse sea salt. Then, scrub every inch before rinsing.
Clean the tub with cooking spray
Frequency: Whenever you see lime deposits start to build up
Fun fact: Oil cuts through lime deposits! Pull out that cooking spray again and give your tub a good spray. Rinse with very hot water.
Giving the mirrors and windows in your bathroom some weekly love can make all the difference — especially if you or someone you live with brushes their teeth vigorously!
Coat mirrors with shaving cream so they won't fog up
Frequency: Once every 2 weeks (or after every each mirror cleaning)
Apply a thin layer over the entire mirror, and then wipe off with a cloth. This will keep your mirror from becoming cloudy for 2 weeks or until you wash it off with glass cleaner.
Clean windows with vinegar and rubbing alcohol
Frequency: Once a week
To keep the windows transparent and sparkly, combine 2 parts white vinegar and 1 part rubbing alcohol and use a microfiber cloth to clean the glass with this mixture. For the best results, clean at a time when direct sunlight isn't hitting the glass, so you can better look out for streaks.
Yes, your bathroom trash can needs a little TLC from time to time — or every time you take out the trash! Here are some hacks.
Cut down on trash odor
Frequency: Whenever you take out the trash
When you remove the plastic trash bag, rinse the can with warm water, and then sprinkle baking soda on the bottom. This will help prevent an unwanted stench.
Use Command hooks to hold bags in place
Frequency: Only once!
Is there anything more annoying than a trash bag that falls into the bin, creating a big mess? To the rescue are 3M Command hooks that ensure the bag stays in place.
Deodorize with cotton balls and essential oils
Frequency: Whenever you take out the trash
Choose your favorite essential oil and drip 10 drops onto 3 cotton balls. Then, place them in the bottom of your trash can. Repeat this each time you take out the trash.
To go the extra mile, these mind-blowing tricks will really upgrade your bathroom experience. Challenge yourself to try one per month!
Make a rice and essential oil deodorizer
Frequency: Once a month
Did you know that rice naturally absorbs smells and soaks up moisture in the air? To help prevent mildew and odors, add 2 cups of rice and 10 drops of an essential oil to a wide-mouthed mason jar. Cover the jar with thin fabric or cheesecloth and place it in your bathroom.
Use crushed aspirin in place of baking soda
Frequency: As needed
Out of baking soda? No prob. Simply crush some aspirin and combine it with water to create an abrasive paste.
Turn an old toothbrush into a specialized tool
Frequency: As needed
To get extra crafty, you can take that cheap toothbrush and melt it into any shape you need to reach small areas of your bathroom. Just boil it, and then — while wearing protective gloves! — bend it into the shape you need.
Reuse old sponges
Frequency: As needed
Rather than throw away an old kitchen sponge, repurpose it for cleaning the bathroom. This is a small way to cut back on waste and save money. Just cut off one corner, so you don't get it confused with a new sponge!