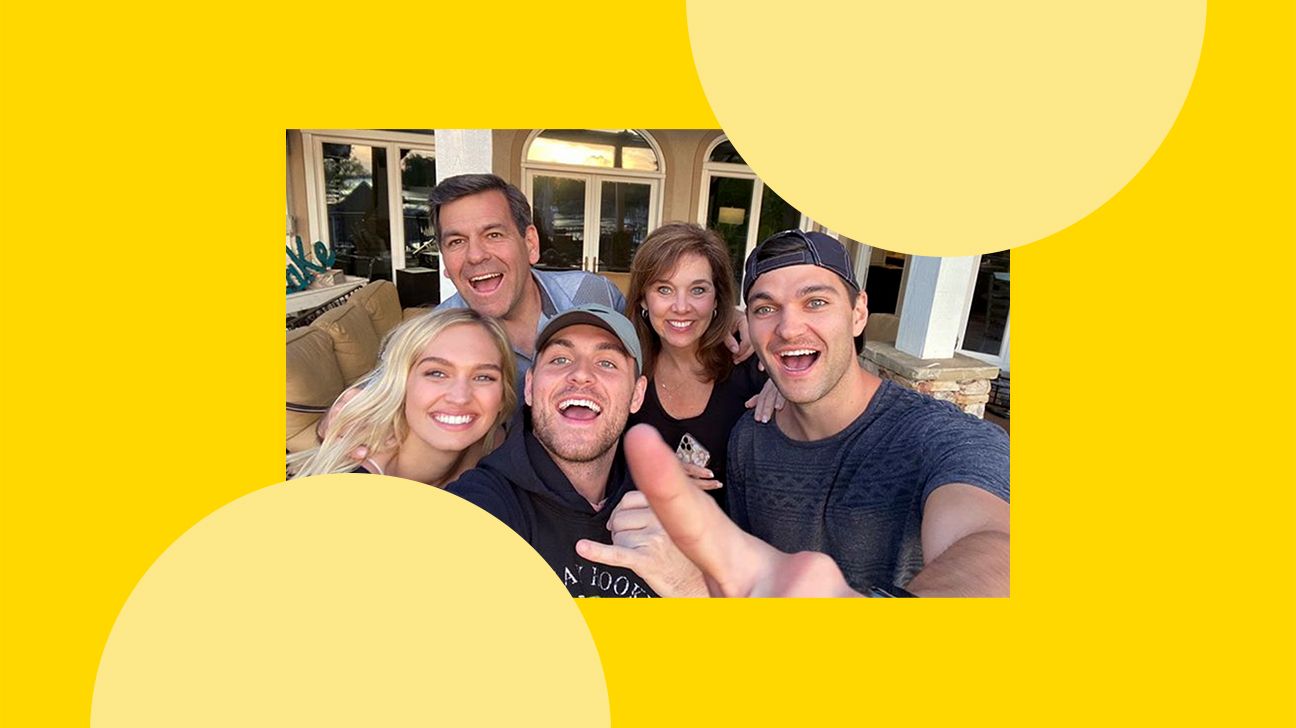 The 2020 Tokyo Olympic Games may not be happening this year, but the Quarantine Olympics are here to fill that void. And sometimes that looks like a knifed-up Roomba inching toward five balloons stuck to the floor.
As the Roomba rolls first toward a red balloon, Zach Presley, 25, screams, "No, NO!" But it's too late: His balloon pops and the Roomba pivots. Next victim? The dark blue balloon, aka dad Lee Presley, 58. Soon the robot vac goes after the pink balloon, which belongs to mom Wendy Presley, 55, and then it hits the green balloon of Alex, Zach's twin brother.
The last balloon standing is light blue, and it belongs to Taylor Sharpe, Alex's 21-year-old girlfriend.
This video, which was posted to TikTok on April 14, has been viewed nearly 4 million times and has more than 2,000 enthusiastic comments. And there have been 21 days and counting of games like this one.
In mid-March, empty nesters Lee and Wendy Presley suddenly had a full house. Their sons, who were both training to become private charter pilots, fled their homes to be with their parents. Sharpe, a model living in Charlotte who didn't want to be stuck alone, came as well.
And since then, the family has stayed home.
"We started out with playing board games and card games," Alex says. "But once you play that three or four days in a row, you start to get bored."
So Alex turned to TikTok. He'd started his account (@alexpresley_) in December, only occasionally posting videos of himself and Sharpe. But since April 1, he's been uploading videos of his family playing creative and ingenious games.
Some of the games the Presleys play aren't entirely new — the Fruit Roll-Up Challenge has hundreds of videos on TikTok — but a fair amount come from the creative mind of Alex, who has also, rightfully, declared himself the "CEO of the Quarantine Olympics." The competitive scoring also gives both viewers and the Presleys a way to stay engaged over time.
You can watch them every night at 10 p.m. EST, for about 60 seconds. A short amount of time for an incredible amount of joy.
Alex says he picked 10 p.m. because he expects most people to have finished dinner and/or started winding down for the night. And so far he's been right. More than 450,000 TikTok followers have begun to regularly tune in to see this North Carolina household play.
Watching the Presleys play is much like being invested in the Olympics: You don't need to be a part of the games to have fun. But unlike the Olympics, part of the excitement is in not knowing what game is next.
"His mind is always going," Sharpe says of Alex. "The Presley family always has ideas and things to do."
On day one of the Quarantine Olympics, Alex posted a video of his family playing what he dubbed the "Straw Challenge."
"I thought it would be funny to post this Straw Challenge video of us just drink-racing the refrigerator water," Alex says. "And it went crazy viral."
In the video, which has nearly 2 million views, each person takes a turn drinking water through a straw as fast as they can from a glass that is actively being refilled. Whoever drinks the longest, without the cup overflowing, wins. While Lee won on day one, he's currently tied with Alex for total points, at 5 each.
There are 21 videos to date, with some set to music and others with the audio of family members cheering each other on. From whipped cream flips to catching money falling from a spinning ceiling fan, the games are endlessly entertaining.
Some are even inspired by pandemic-related precautions. There's the "Quarantine Prep Challenge," with some members stumbling as they pull latex gloves over their fingers. Another game challenges each person to measure out 6 feet on a tape measure without looking at the numbers. It's all too easy to cheer or scream when you see some fall short or estimate many inches too far.
But the family favorite? Blindfolded toilet paper dodgeball — which is exactly what it sounds like.
"It was fun rewatching the video," Alex says.
"You think you're hitting someone and you're not even close," laughs Lee.
A number of their videos feature toilet paper: toilet paper dodgeball, toilet paper bowling, toilet paper basketball, toilet paper ring toss. The family insists they're not stockpilers, though. Wendy says her sons and Sharpe brought toilet paper from their homes when moving in.
These games have also brought more people together, or at least given many something to look forward to every night without fail. And as viewers watch, they also, naturally, take sides.
"#TeamLee," wrote one commenter on a recent video in which the family tries to eat Fruit Roll-Ups as quickly as possible without using their hands. Others bemoaned the luck of Sharpe, who came in last.
"Taylor girl step up your game I was rooting for you," wrote another commenter. Sometimes TikTok-ers tag the family in videos of themselves playing the games or even in videos of new games they've created, urging the family to give them a try.
"It's a lot of the same people," Lee says of the account's active followers, adding that the family's new next-door neighbors even found them on TikTok and used the videos as a way to introduce themselves.
The Presleys also insist the games are designed to be simple enough that other families or households who are staying at home together can easily take part.
This caring, tight-knit relationship the Presleys have developed becomes even more evident when, during our video call, a squirrel jumps into view — first onto a table in front of the family and then onto the camera.
"Oh, no — you're probably seeing something you don't want to see," Alex says, quickly pulling the squirrel away as Zach tries to explain where the squirrel had come from.
"The mother was killed by a car and the baby was all alone, so we nursed her."
Lee and Wendy laugh. "Clearly, it's never a dull moment in our house," Wendy says as the squirrel jumps into her hair.
Squirrel interruption aside, the family wastes no time in asking me if I, too, want ideas for games to play with my boyfriend while we stay at home together.
"Mostly games […] use things that are in every household," Zach says. "Even though it looks kind of dumb sometimes, it's fun and brings out a competitive spirit in everyone."
For games with only two players, Sharpe recommends toilet paper dodgeball, and Lee loves the Fruit Roll-Up Challenge. "[It's] so simple and funny as heck," he says.
Last Thursday night, when the family posted their latest video — toilet paper bowling — Alex let viewers know, via caption, that it was day 21 of the Quarantine Olympics. Five days beyond the length of the regular Olympic Games, which run for only 16 days, the family has no plans to stop any time soon. Alex says they have at least four upcoming games in the works.
"Even when [my sons] were little, they were just doing something," Lee says. "But to do this, together, it has brought us closer."
Wendy says creating the videos gives the family time to put their phones away, turn off the news, and spend time with each other. "Sometimes it's kind of like, 'Oh, we're going to play another game?' But after you're done, the laughter, the energy, the excitement…" She notes that it's all worth it, especially when they get to rewatch all the joy and laughter they've created together.
When I asked how the family expects their Olympics to finally end, there was a pause, and the family looked to Alex for a moment.
"Maybe some kind of big ceremony," Alex says.
"Well, there's no doubt he'll come up with something creative," Wendy replies.
Chelsea Cirruzzo is a health and local news reporter based in Washington, D.C. Follow her on Twitter or Instagram.