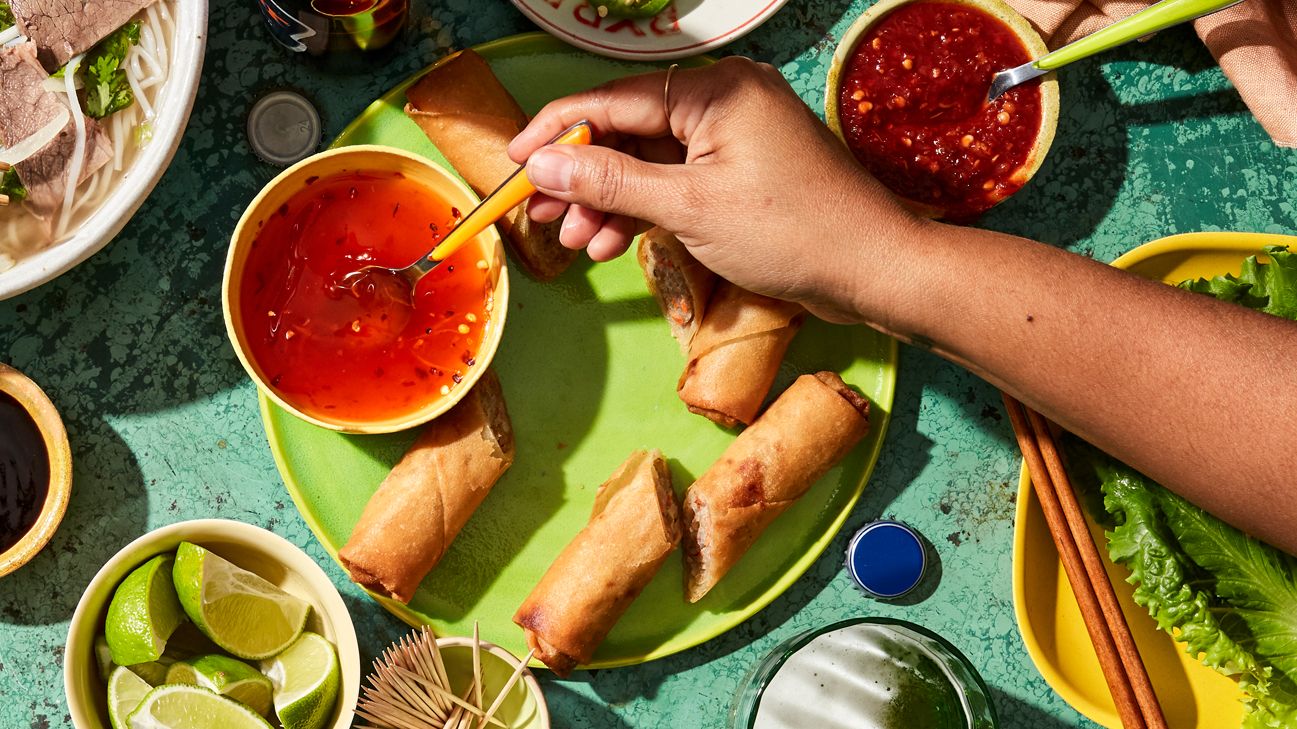 Ever wonder… why these classic Chinese-American treats are called egg rolls?
One possible explanation is that the dough traditionally used to make the wrapper calls for eggs. Even though recipes now often omit the egg, it's possible that the name stuck. Although, to be honest, I have a hard time buying that so many doughs are made with eggs and yet the foods and dishes made from them don't find it necessary to give the ingredient a special title shout-out.
Another interesting theory posits that instead of being an Americanized variation on the Chinese rice paper-wrapped spring roll (allegedly introduced in New York in the early 1930s), the egg roll is actually a riff on a dish called Dan Gun. Featured in a Chinese-American cookbook from 1917, the recipe calls for chicken, ham, sprouts, and mushrooms to be wrapped in a thin egg omelette. So, literally, an egg roll.
Unfortunately, speculation is about as good of an answer as we're going to get on this one—while it may not be satisfying, at least dish still is. Here are nine favorites to try.
Crispy Chinese Egg Rolls
Hey, you there, put down the takeout menu. Once you see how easy it is to make these deep-fried rolls stuffed with ground pork, cabbage, carrots, and shiitake mushrooms, you'll have no excuse not to choose DIY over delivery. Get our Crispy Chinese Egg Rolls recipe.
Crispy Avocado Egg Rolls
Forget toast, the next time you're looking for an inspired way to enjoy your favorite lime zesty, jalapeño, and onion-flecked avocado mash, try wrapping some in egg roll paper. Sure, the crispy, deep-fried finger food doesn't have quite the same good-for-you vibes as the toast, but trust, it's just as addictively delicious (and not to mention a unique egg roll variation for vegetarians). Get the recipe.
Cuban Egg Rolls
The Reuben? Philly cheesesteaks? Sloppy Joes? Yup, all of these iconic sandwiches have been given the egg roll treatment (and rocked the look to boot), but if we have to play favorites, this ham, roast beef, Swiss cheese, and pickle-filled variety really captures the vibe of the beloved Cubano. The only thing missing is a Mojito and a lounge chair on South Beach. Get the recipe.
Freezer-Friendly Shrimp Egg Rolls
Looking for a good make-ahead cooking project? These savory, crunchy shrimp and slaw-stuffed egg rolls can easily be prepped out in large batches and kept frozen until needed (like, say, in the middle of the week when you're working late, haven't had time to go to the store, and don't want to drop cash on takeout). Get the recipe.
Breakfast Egg Rolls
If you're like, literally in the mood for an egg roll, these come stuffed with a mixture of cheesy scrambled egg, bacon, and potato hash. Think breakfast burrito but skinnier, crispier, and deep-fried. Get the recipe.
Crab Rangoon Egg Rolls
If you're a two-for-one special kind of person, there's no way you aren't swooning over this classic Chinese-American appetizer mash-up. Besides, from a more-is-more perspective, how do you not love that these crab and cream cheese-filled rolls are about double the size of the usual crab puff. Get the recipe.
Baked Tofu and Vegetable Egg Rolls
The fact that these are baked instead of fried and teeming with tofu and fresh veggies means that you can feel totally guilt-free about going back for thirds (and fourths), right? Get the recipe.
Egg Roll Soup
If you're looking for a clever way to shake up your egg roll routine—besides simply switching the filling, of course—give this deconstructed soup variation a try. Here, the classic filling ingredients like carrot, cabbage, and ground pork take center stage, but don't worry, the broth-based soup is still garnished with fried egg roll wrapper strips so you still get that satisfying crunch of texture. Get the recipe.
Apple Pie Egg Rolls
The egg roll proves it can play sweet just as well as savory in this creative bite-sized revamp of the iconic dessert. Think of it as a kind of Chinese-American spin on an apple hand pie. Get the recipe.