Not familiar with the Whole30? Well, it's pretty much what it sounds like: For 30 days, you'll eat only whole foods — meat, seafood, veggies, fruits, spices, oils, nuts, and seeds — in hopes of resetting unhealthy cravings and habits.
It comes down to this. Can't pronounce or recognize the ingredients on the package? Don't eat it.
What's off-limits? Sugars, grains, dairy, alcohol, anything processed, and — the tricky part —anything that resembles those foods (no Paleo pancakes, gluten-free oats, or Whole30-approved cupcakes allowed).
Since yogurt, cereal, toast, and even oatmeal are off the table, breakfast tends to be the toughest meal on the program. A few of us here at Greatist HQ completed the Whole30, so we can attest to that. Eggs get old — fast.
Lucky for you, we've gathered 27 creative Whole30 breakfast recipes from bloggers around the web so you can equip yourself for easy and delicious mornings, all month long.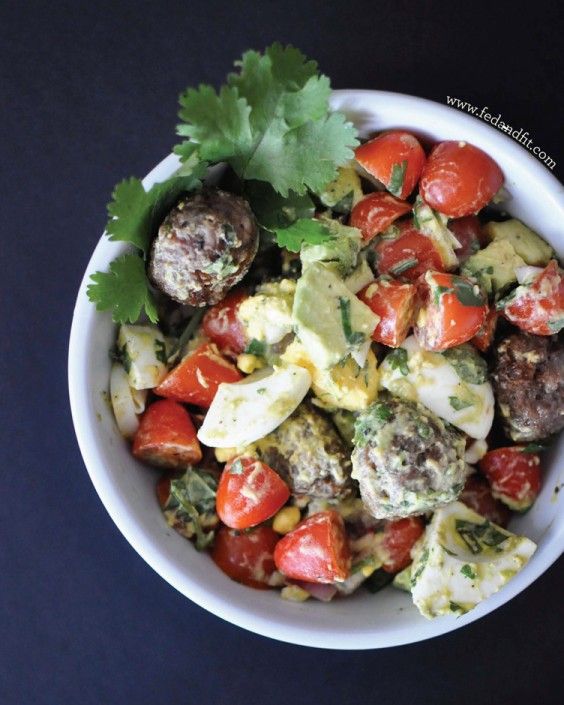 Our mouths are watering for this dish — and we're not usually the type to say that about a salad. Just swap out the breakfast sausage for the Whole30-approved kind. Then add cherry tomatoes, hard-boiled eggs, red onion, avocado, and fresh herbs to make this savory, flavorful treat.
P.S. In case you think it's weird, breakfast salads are a thing.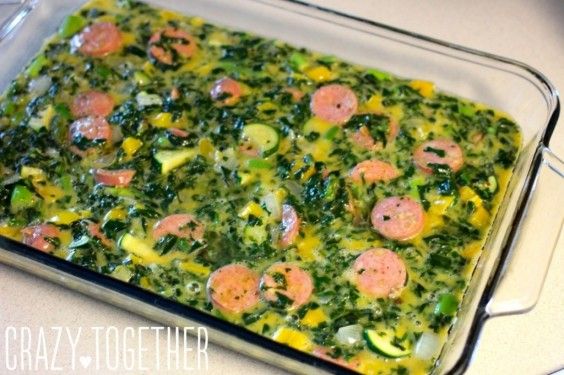 Already sick of scrambled eggs? You're in luck. The recipe creator credits this easy dish with saving her Whole30. And we don't doubt it: The savory scramble can be baked on Sunday and provides five days' worth of filling breakfasts — just cut a slice and heat each morning.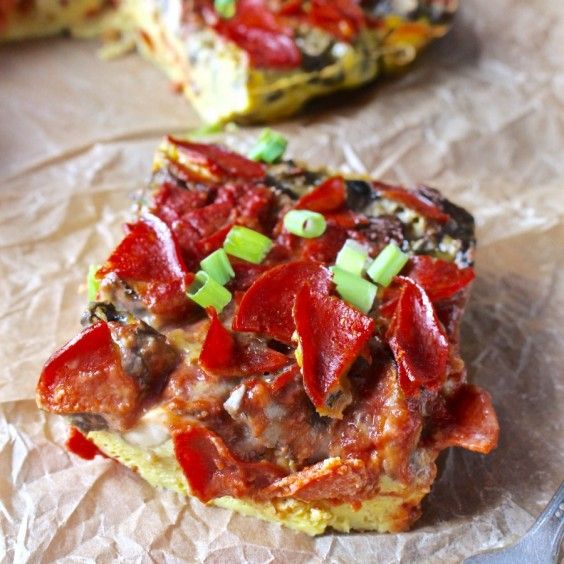 Pizza for breakfast? Well, sort of! Topped with pizza sauce, sausage or prosciutto (that's what we swap out for the recipe's pepperoni), and savory Italian spices, this egg bake is about as close to pizza as you can find on the Whole30.
Just make sure to buy sauce without sugar or sweeteners.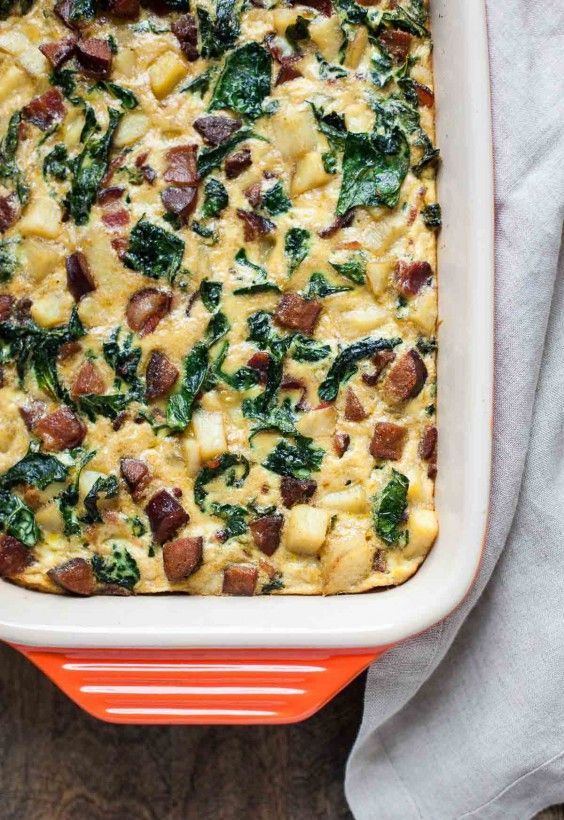 We don't typically think of meatballs as a breakfast food, but they totally can be, right? Throw a fried egg on top, and these guys make for a filling breakfast any day of the week. This version even sneaks some sweet potato into the balls for added nutrients and flavor.
Consider the spud your lifeboat, and fill it with bacon, a fried egg, and sliced avocado for a hearty breakfast that's easy to put together, and super impressive on Instagram. Heads up: The spuds need to bake for about an hour at 425°F (218°C).
You may have seen this gorgeous recipe making the rounds on Pinterest, but if you've been freaked out by the idea of baking an avocado, just try it. Trust us: The combo of an egg and creamy avocado is so delicious that the 15 minutes it takes to bake are way worth it.
And, it'll keep you full till lunchtime.
Pretty enough to present to friends for brunch but easy enough to make any day of the week, this recipe brings salmon and eggs together with fresh dill and chives for a delicious, healthy dish. Garnish with homemade mayo to keep things Whole30 approved.
You'll have to leave out the cheese to make this Whole30. But if you're looking for a fancy brunch dish for other pals on Whole30 or just want to #treatyoself to a week of good mornings, try this tasty veggie dish.
Who decided baked potatoes were just for dinner? This recipe uses sweet potatoes as a naturally sweet bed for a baked egg, seasoned with (Whole30-friendly!) bacon, and onions. Hint: Bake the sweet potatoes the night before for quick next-morning prep.
Ok, technically, this blogger tells us it's not Whole30-compliant. It's faux cereal, and faux is a no-no.
But when you're craving a comforting, filling bowl of oats on a cold morning, this will be the answer to your prayers. A bowl with the creamy and chewy texture of oats, made with ground nuts, banana, coconut flakes, apple, and warming spices like cinnamon and nutmeg.
We call this a banana scramble. Topped with sliced apples, almond butter, coconut flakes, and cinnamon, you might call it oatmeal. Just use an almond butter that doesn't have added sugar.
You won't even taste the zucchini, promise. Think of this as a gluten-free version of Cream of Wheat with more protein, thanks to the naturally sweet combo of mashed banana, egg whites, and ground flaxseed. Top it with almond butter, berries, coconut, and cacao nibs.
Or customize this porridge with whatever Whole30-friendly ingredients tickle your fancy.
Another twist on breakfast oats, this dish is filling, crunchy, naturally sweet, and tastes so close to the real deal you may never go back to your prepackaged oatmeal. And it's quick: Just throw an apple, date, unsweetened coconut, almonds, and chia seeds into the food processor.
We'll admit it: We have a zoodle obsession. And thanks to this colorful breakfast bowl recipe, we now have a reason to eat them all day long. A creamy avocado sauce coats spirals of zucchini noodles. Then, bring on the fried eggs and roasted sweet potatoes.
Talk about an amazingly tasty and filling way to start your day.
This recipe will brighten up even the dreariest morning, and it tastes so good you'd never know its sugar free. And loaded with vitamin A, and high in potassium and fiber. All you need are three ingredients — sweet potato, apples (or applesauce with no added sugars), and sea salt.
Somehow, it tastes even more awesome in a mason jar.
With bacon, ooey-gooey soft-boiled eggs, and a hearty bed of greens, this dish is yummy, nutritious, and gorgeous to look at. Just double-check that the bacon is free of added sugars. so it's compliant with Whole30 standards for bacon.
Try saying that 10 times fast. We promise making this one-pan meal is less complicated than it sounds. Just sauté some sliced brussels, baby spinach, and grated zucchini, and top 'em with eggs for a veggie-filled breakfast that's worthy of an Instagram post.
And an avocado garnish looks and tastes great. Oh, yeah, and it's healthy too.
Healthy fresh asparagus replaces English muffins in this Whole30-approved version of the brunch staple. And yes, you can still make an easy blender hollandaise sauce (it's not eggs Benedict without it, right?).
Just swap in ghee, clarified butter, coconut oil, or olive oil for the butter.
Soup for breakfast? Why not! A warm bowl of soup is always comforting — and filling — no matter what time of chilly day. Crumble some Whole30-compliant bacon on top of the creamy puree of potatoes, onions, coconut meal, and chicken broth. You'd never guess it's dairy-free.
Craving something warm that'll stick to your bones? This egg-free hash is the answer for a fall morning. Made with yams, celery root (celeriac), and a touch of (sugar-free) bacon, it's filling and flavored with smoked paprika.
Latkes aren't only for Hanukkah — they also make a healthy breakfast on their own, or you can top 'em with a fried egg for extra staying power. Crispy on the outside and almost doughy inside, they can also double as a dinner side to accompany any meat main.
Replace the bread with crisp bacon? We're in. Guacamole is the filling in this tasty twist on a breakfast sandwich. Guac takes minutes to make, so no need to worry about prep. You can cut down on time and cleanup by cooking the bacon in the microwave.
Our love of avocado toast is real. And now we don't have to give it up for 30 days, thanks to this Paleo version, which cleverly swaps in a thick slice of pan-roasted sweet potato. It's still topped with the awesomely delicious, mash of avocado, salt, and lime juice.
This Mexican-inspired dish — with zero grains, sugars, or dairy — will energize you for the day ahead. A slice of ham wraps a whole lot of goodness inside: scrambled eggs, chopped veggies, and a dollop of salsa or guac.
These no-bake bars are a homemade — and more delicious — version of Larabars. With dates, toasted walnuts, coconut, and dried cranberries (sweetened with apple juice), these bars are perfect to nibble on busy mornings.
Whole30 suggests you view Larabars as an "emergency food option." No scarfing these babies down, despite the temptation. Remember, dates have a lot of sugar.
Smoothies aren't exactly recommended on the Whole30 program, but as long as all ingredients are compliant, they're technically allowed. For the rare indulgence, we'd recommend this fall-tastic version, made with pumpkin puree, banana, coconut milk, pumpkin pie spice, and ice.
Let's just say this one's Whole30-friendly.
This will take you less than two minutes to prepare and features that sweet-and-savory taste you crave in summer. Just make sure the prosciutto is Whole30-approved (pork and salt should be the only ingredients).
And sure, you can buy the pre-sliced kind, but learning how to peel a mango is supercool, and it will taste fresher because it is fresher!