Bundt or basic? It may seem like a stupid question, but we're not all Martha Stewarts in the kitchen. In fact, most people probably don't own a Bundt pan or even know what it looks like. We're here to break it down for you.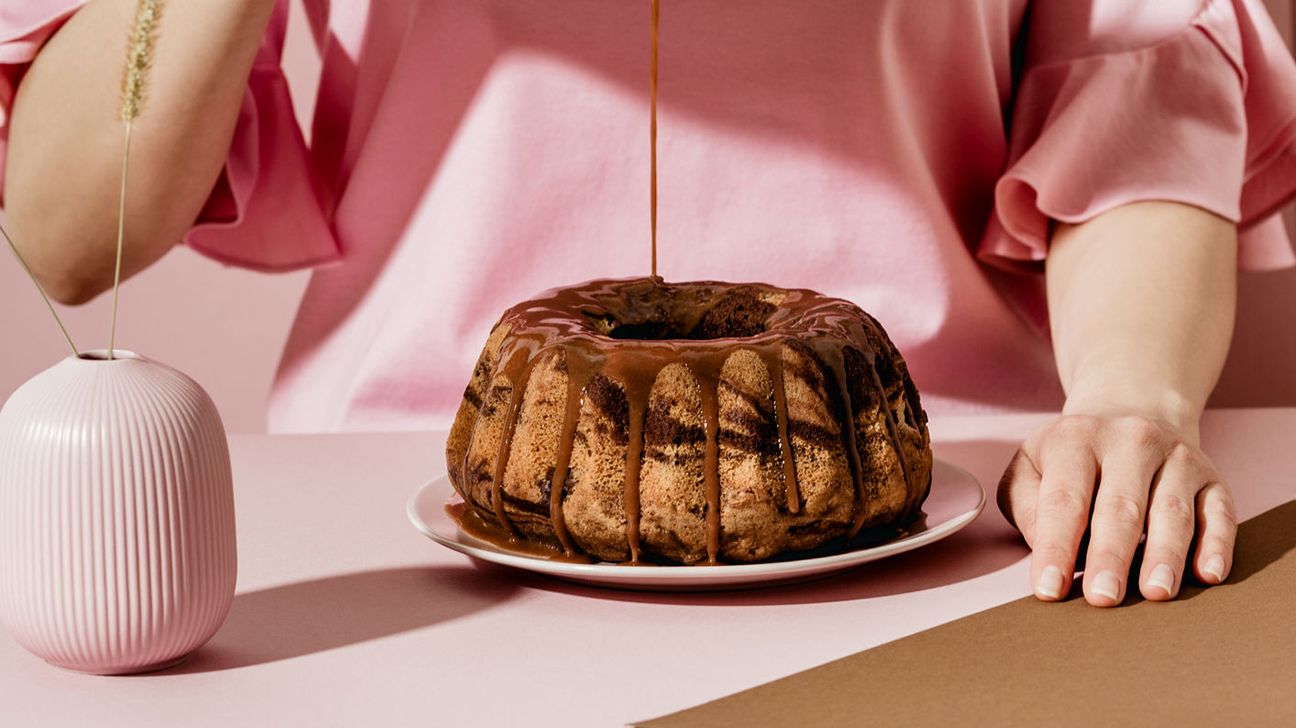 A Bundt cake is any type of cake cooked in a Bundt pan
You may be eye rolling or saying "duh," but there are quite a few differences between a Bundt and regular cake pan. To start, Bundt pans can come in all different shapes, sizes, and designs (though round with grooved edges is certainly the most popular).
Since their middles are hollow, more of the batter will touch the sides and result in a desirably crusty edge that not only tastes delicious, but can easily support the weight and consistency of frosting. This makes it a perfect base for complicated, decoration-heavy recipes.
Because of a Bundt pan's unique shape, recipes must be extremely moist, as plenty of the cake's surface will be exposed to higher temperatures than normal. Bundt pans also require every nook and cranny to be well-greased and floured to make the transferring process easier and to prevent uneven cooking distributions.
We've rounded up seven of our most popular Bundt cake recipes so that you can enjoy the wonders of the unique pan within the comforts of your own kitchen. The true test is whether or not you can limit yourself to just one slice.
We'll take any excuse to put beer in our food, even when it comes to dessert. Run, run as fast you can to get this gingerbread take on a timeless classic. Get our Guinness Gingerbread Bundt Cake recipe.
With summer comes strawberry season and with strawberry season comes delicious desserts. If you're tired of a shortcake, load up your Bundt batter with the sweet fruit to celebrate warmer temperatures. Get our Vanilla Bundt Cake with Strawberries recipe.
A Southern classic gets the Bundt treatment with this cream cheese frosting-heavy concoction. It'll even give Paula Deen a run for her money. Get our Red Velvet Bundt Cake with Cream Cheese Frosting recipe.
Cinnamon and walnut are flavors that we'd absolutely like to wake up to in the morning. Sneak this recipe into the hands of your significant other and pray that it happens sooner rather than later. Get our Cinnamon Walnut Bundt Cake recipe.
It doesn't have to be fall to enjoy this moist and decadent pumpkin variety. Salted caramel is a taste that simply never goes out of style. Get our Pumpkin Spice Bundt Cake with Salted Caramel Sauce recipe.
If you're looking to upgrade your Reese's peanut butter cup, opt for this dense and dreamy dish topped with actual peanuts. Honestly, this recipe had us at peanut butter. Get our Chocolate Peanut Butter Bundt Cake recipe.
Thanks to the wonders of applesauce, this chocolate chip Bundt cake from "Modern Potluck" is one of the moistest you can get your hands on. You'll be enjoying this one for days (if you're amazing at portion control). Get the Applesauce Chocolate Chip Bundt Cake recipe.