We include products we think are useful for our readers. If you buy through links on this page, we may earn a small commission. Here's our process.
Greatist only shows you brands and products that we stand behind.
Our team thoroughly researches and evaluates the recommendations we make on our site. To establish that the product manufacturers addressed safety and efficacy standards, we:
Evaluate ingredients and composition: Do they have the potential to cause harm?
Fact-check all health claims: Do they align with the current body of scientific evidence?
Assess the brand: Does it operate with integrity and adhere to industry best practices?
We do the research so you can find trusted products for your health and wellness.
These coveted cooking tools are a lot alike, so what is the difference between a Dutch oven and a French cocotte, and does it matter which one you use?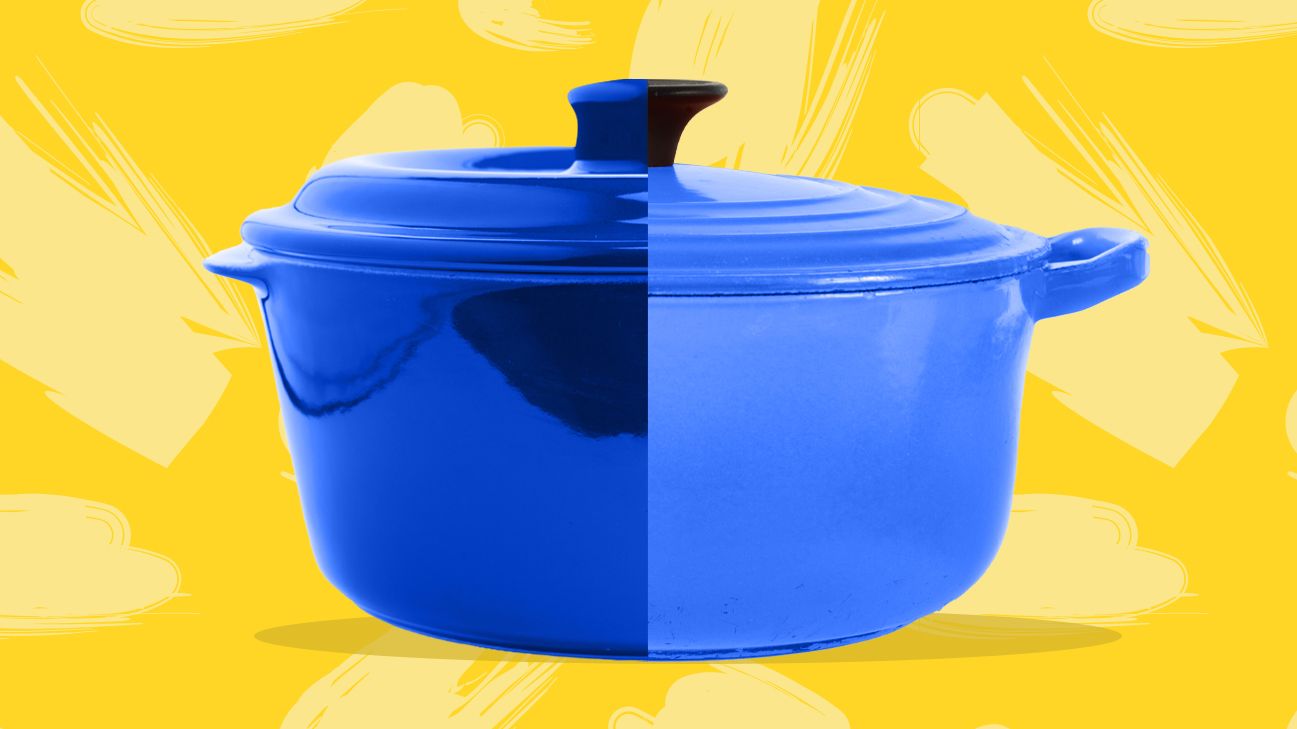 People have been cooking on cast iron for millennia, yet we can't seem to get enough of it. In fact, global sales of cast iron cookware are projected to continue increasing through 2025. This should come as no surprise—cast iron is easy to maintain, retains heat beautifully, and can last for generations. And, unlike copper, aluminum, and non-stick cookware, it doesn't pose a potential health risk.
The cast iron Dutch oven, a kitchenware staple, is useful for everything from braising to searing to stewing to baking. But there's confusion among home cooks and professionals alike as to what this type of cookware should be called. Is it a Dutch oven? A French cocotte? Are they really just the same thing? We asked historians and cookware experts to weigh in.
Food historian and author Sandy Oliver says it's hard to pinpoint when tight-lidded cooking vessels like Dutch ovens were invented. Most likely, they developed over a long period of time. "People figure out that if you just put a tight lid on something, things cook faster," she says. "You don't lose evaporation, you don't lose flavors, and liquids become more intense." This is also the same basic principle behind the North African tagine, which is both a cooking vessel and the dish named after it.
"In American cookery," Oliver continues, "there are two types of cooking vessels we could be talking about here. The first one is a big kettle with a tight lid that you hang over a cooking fire, which could be called a Dutch oven." The second, called a bake kettle, was usually set directly on top of a bed of hot coals. It often had a flat bottom, three legs, and a tight-fitting lid with a lip deep enough to hold a shovelful of hot coals on top. This allowed for more heat control during cooking and baking.
In addition to the bake kettle, the French cocotte is also similar to the Dutch oven. "The difference may only be in name," explains cultural historian and author Shirley Wajda, adding that once French cuisine became popular in the U.S., the word cocotte also referred to the dishes made within the pot by the same name, much like a casserole.
"There is much controversy in the historical community over the use of the word Dutch oven," states Heart to Hearth Cookery's Susan McLellan Plaisted, a self-described experimental archaeologist with historical receipts, methods, and equipment. "It is used almost universally today for the cast iron piece that is most frequently used by Scout troops and [for] outdoor cooking."
At Le Creuset, the five and a half quart size round Dutch oven has long been a bestseller, according to Director of Marketing Communications Nate Collier. Established in 1925, Le Creuset's products are still made at the original foundry in northeastern France, close to the Belgian border. "Since the early 1900s," he points out, "a lot of innovation in the casting and enameling process was happening in that part of the world."
According to Collier, the term "Dutch oven" was coined many years before that. "It was an English name for the Dutch casting process to make those types of cooking vessels, including anything made that way at the time," he explains. Since it's easier to get a lid to fit properly on a round pot, that became the most common shape and is often associated with what we think of as a Dutch oven. However, as distinct cuisines emerged across Europe, it began to evolve. New shapes and sizes emerged by region, with names like cocotte, doufeu, and cassadou.
As mentioned by Wajda, cocotte refers not only to a tight-lidded cooking vessel, but also to the dish cooked within it. Collier adds that it's also the French word for casserole. However, a doufeu (introduced by Le Creuset in the 1930s) sports a recessed lid meant for holding coal to promote even heating during hearth cooking, much like a bake kettle. Some cooks fill the lid with ice, instead, which cools the lid, causes the steam at the top of the pot to condense, and helps the food within retain moisture.
Meanwhile, in the Provence region of France, hunters favored a tightly lidded version called a cassadou, shaped to accommodate large cuts of meat.
To those who love this versatile cooking device, it may seem silly to argue semantics. Really, who cares what you call it? The important thing is to recognize the Dutch oven, and all its iterations, as one of the most versatile and beloved cooking devices in the world.
Here are just a handful more variations that we love:
Lodge Dutch Oven, Walmart
An affordable enameled Dutch oven that's still extremely versatile and high quality. Buy Now
All-Clad d3 Stainless Steel Dutch Oven, Sur La Table
Like cast iron with enamel coating, this stainless model is oven safe and promises even heat distribution. Buy Now
Staub Cast Iron Round Cocotte, Amazon
As with the aforementioned doufeu, you can place ice cubes in the recessed lid to increase the condensation inside this pot. Buy Now
Staub Cast Iron Tomato Cocotte, Amazon
This small 3-quart cocotte is perfect for summer dishes and will be a literal heirloom tomato as you pass it down. Buy Now
Staub Cast Iron Pumpkin Cocotte, Amazon
And here's a petite pumpkin cocotte for fall! Buy Now
Le Creuset Signature Enamled Cast-Iron Oval Dutch Oven, Amazon
The oval shape of this Dutch oven allows you to fit larger pieces of meat (and gives you an excuse to collect even more colors). Buy Now