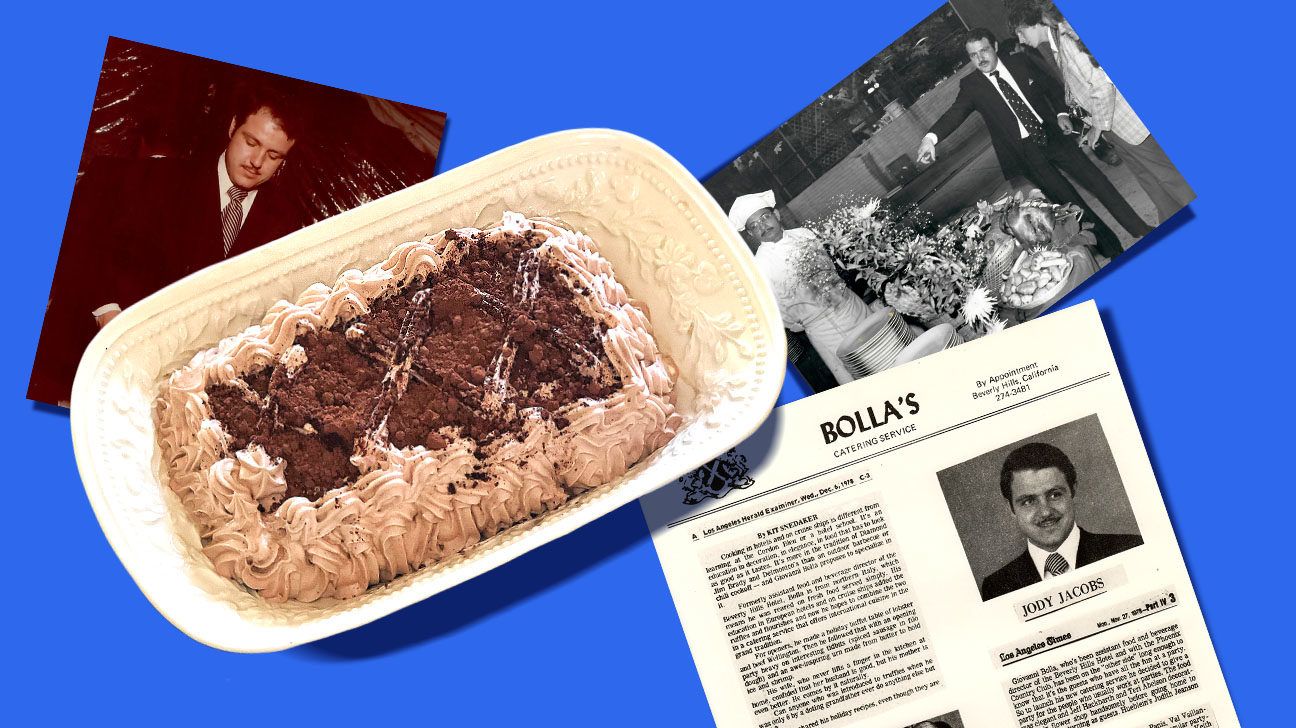 I've eaten dozens of tiramisu slices. Not just because I'm a food blogger and it's my job, but because I am a second-generation Italian who loves tiramisu.
Traditionally, tiramisu is savoiardi (aka ladyfingers, for the non-Italian speakers) dipped in coffee. These soaked-through sponges are layered among a whipped cream made of eggs, sugar, cocoa, and mascarpone. Some cakes are laced with rum or cognac for a little extra kick.
And right now there is a beautiful tiramisu, sitting on the table in front of me. Silky clouds of cocoa-dusted mascarpone have been meticulously piped across hidden ladyfingers. The baker has generously sprinkled more cocoa over the top.
I haven't eaten this particular tiramisu yet, but I already know it's going to be the perfect pick-me-up to get me through my afternoon. Also, for the uninitiated: Tiramisu, named for the way people usually feel when they're eating it, means "pick-me-up" or "cheer-me-up" in Italian.
I'm in his home in Encino with his daughter, Isabelle Moline. They're sorting through beautifully-aged photos and news articles that provide little windows into Giovanni's 45-year career in the food and beverage industry.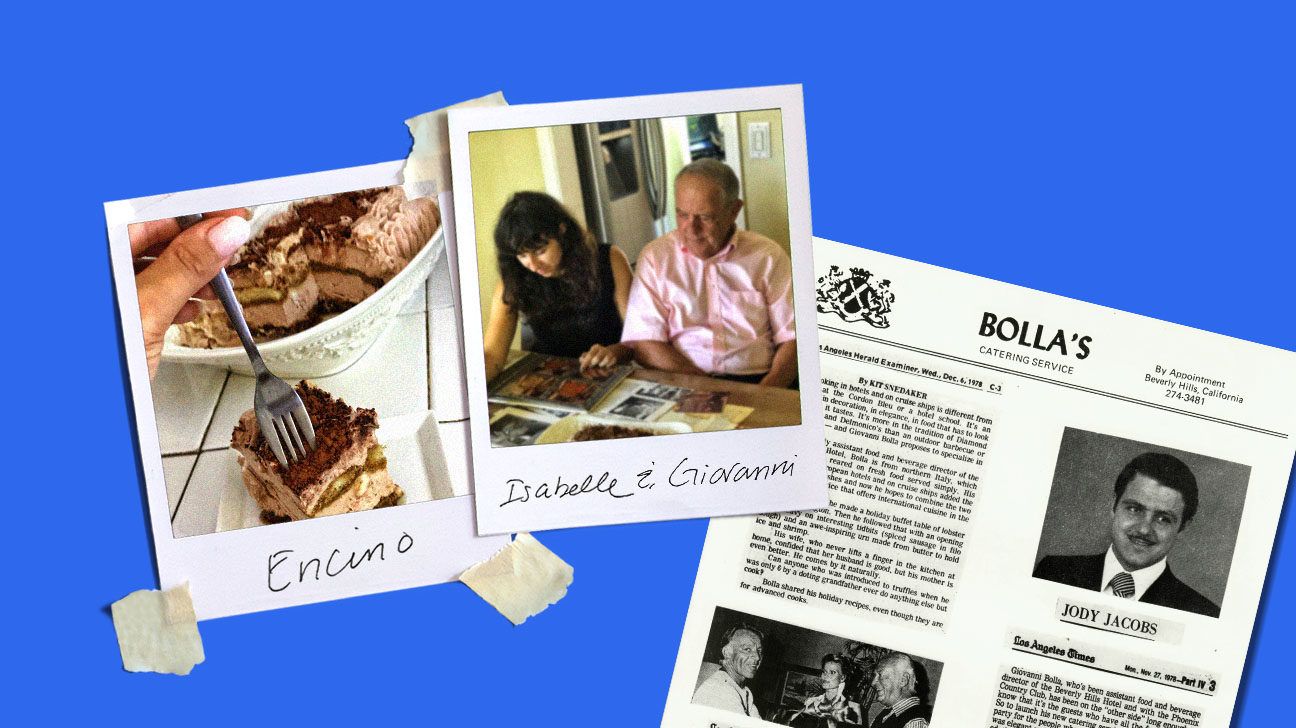 His legacy includes reviews and write-ups from The LA Times and The LA Herald Examiner. Photos of Giovanni with celebrities like Jane Seymour and Tom Bradley to Prince Eduard and The LA Lakers cover the table. Isabelle apologizes for them being so stained, but to me, they look as they should be. These old photos bring up a range of emotions in Giovanni, from laughter to nostalgia.
He looks fondly on his younger self and his accomplishments. "My wife clipped these articles out," he says with tears in his eyes.
I came to know Giovanni because my editor had come across Isabelle's Facebook post in a private group. She told a touching story behind her father's homemade tiramisu and how it brought him joy. The cake post was followed by positive reviews from neighbors and strangers. "I am a foodie and this is the third time I have experienced something this special." "Tiramisu is okay for breakfast, right?"
So I jumped on the chance to taste it myself. I drove all the way to San Diego to try a burrito once. Driving from Hollywood to Encino for some tiramisu on a random Thursday afternoon? Makes perfect sense to me.
Before meeting Giovanni and Isabelle in person, I corresponded with them via email. I couldn't tell you who was more excited: Me, getting to eat the cake, or Giovanni and Isabelle, who couldn't wait to serve it to me. As someone who gets to try new restaurants every day, I was particularly nervous about this tasting. This tiramisu means a lot to Giovanni and Isabelle and in turn, that meant a lot to me.
When I got to the door, Isabelle immediately greeted me with a hug. She went outside to get her father, who was standing nervously next to the small, above-ground pool in the backyard. The house in the suburban neighborhood is simple, which is also just how I had imagined this tiramisu to be. Simple ingredients, but well executed.
My Italian mother always stressed the importance of fresh ingredients in Italian cooking. "If you use cheap wine when you cook, your food is going to taste like cheap wine," she would say.
Same goes for tiramisu. Not that wine is the secret ingredient in tiramisu (it's not, I wouldn't try it), but the best ingredients will always yield the best results. I am peeking inside the kitchen from the living room and spot that some of Giovanni's dry ingredients are imported from Italy. That's a good sign.
We walk over to the kitchen with the cake from the table to snap some more photos and Giovanni proudly holds the dessert in his hands like a baby. Isabelle notices a stain on his shirt, so we take a break for a costume change. Everything has to be perfect, since there was a lot that led them to this moment.
Giovanni was born in a small town called Asti, located in the Piedmont Region of Northern Italy. This region is known primarily for the delightful sparkling wine, Asti Spumonte.
At the age of 13, Giovanni discovered his love of cooking and got his first job working on a cruise ship at the age of 17. After graduating from Le Cordon Bleu in Europe, Giovanni emigrated from Northern Italy to Arizona in 1969, when he was 21 years old. Then he moved to LA in 1971 to begin his culinary career.
Within three days of moving to LA, he became the maître d' of the Beverly Wilshire Hotel, overseeing the restaurant waitstaff, and then became their chef. After this, he went to work as a chef at the prestigious Beverly Hills Hotel.
After a few years of the hotel scene, he moved back to Phoenix, Arizona to work in country clubs and at the age of 44, moved back to LA with his wife, Cira Bolla to start a catering business.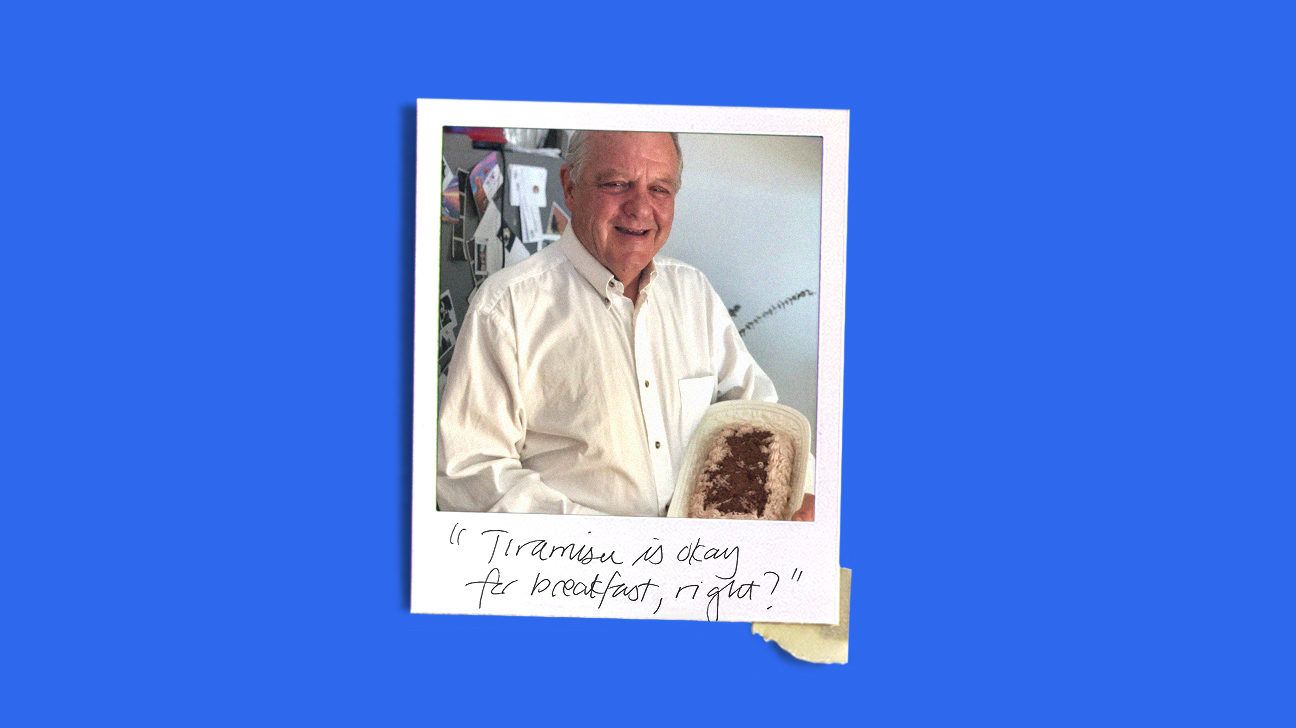 One day, Giovanni saw, on the cover of Voila magazine, a young immigrant in New York who opened a catering company. Inspired, Giovanni thought, "If he could do all this, I could open a catering company tomorrow!" And he did. Literally.
He bought a bunch of catering supplies the next day and opened Bolla's International Catering Company. The company took off and soon, Giovanni was catering parties for Hollywood's elite — the same elite I see in the little bites of photo history spread around the tiramisu.
The tiramisu that I still have not tasted.
"I have been out of the cooking scene for awhile," Giovanni says with watery eyes. "When my wife died, everything fell apart and I never got over it. And then some other things… I was never the same."
With the passing of his wife, Giovanni closed the catering business and went back to work as a chef. He opened two restaurants in LA — Benvenuti and La Cupola — then worked as a freelance chef at various restaurants in LA until eventually retiring in 2013.
While Giovanni eventually remarried, that marriage is currently ending. It has been hard for Giovanni to get work at his age. His daughter Isabelle just moved back to LA from Spain to help out with costs, but they have been struggling to make ends meet. And that's how this tiramisu came, to take center stage in Giovanni's story.
A few weeks ago, Isabelle's husband was celebrating his birthday. His favorite cake happens to be tiramisu, so Giovanni surprised his son-in-law with a homemade cake. They enjoyed the cake at the party and Isabelle took the leftovers to neighbors.
That small act of sharing sparked something in the community. Reviews started pouring in, with friends and strangers saying Giovanni's Tiramisu was the best they'd ever tasted. Many offered to pay for the cake.
So, Giovanni got to work making tiramisu and Isabelle started pushing it on social media to begin hand delivering to hungry folks around the city. The full-size cake is a traditional sheet cake size at $55 and serves up to 16. The half-size cake, pictured above, is $35 and serves 6–8. They even have a gluten-free version by request.
It's just as I suspected: Perfection wrapped in rich layers of espresso-drenched ladyfingers and chocolate infused mascarpone. These flavors make each bite better than the last. I've eaten Tiramisu before, but not like this. This one's different.
I'll never forget the way Giovanni and Isabelle looked at me. It was like everything was riding on this one bite.
And in a way it was. With social media platforms like Instagram playing a huge part in a restaurant's success, restaurants can't rely on food to just be "Insta-worthy." Food has to taste good too. The love Giovanni puts into every cake shows in each bite.
As for future plans? I connected them with a local Burrata shop run by "young cool Italian Immigrants." Giovanni's words, not mine. I thought they'd be a perfect fit, because the tiramisu really lives up to its name. It cheered me up. And now that Giovanni and Isabelle are delivering up to 30 cakes a week, Isabelle told me her father is finally smiling again.
Katie Molinaro is a content creator and comedian living in Los Angeles. She's been chasing new restaurants since she could walk, but only started documenting her food-coma on Instagram since 2018.