Sardines are a big source of vitamins and protein that come in a small package. They also make for some great eating with the right recipes and prep.
Many may wince at the mere mention of sardines, but in our opinion, they get a bit of a bad rap.
Sure, they're not that common in the U.S., and yes, they're known to have an "acquired taste." This is because sardines are a more oily fish than their white-fleshed friends (think: cod, tilapia, and halibut) and have a more prominent flavor.
Since the unpopular sardine carries so many of these preconceived notions, most people write them off without giving them a try. But we're here to say, "not so fast."
As it turns out, sardines have so many amazing health benefits that make them worth considering — which is why popular diets, like the Mediterranean diet, have highlighted them for centuries.
If you're ready to learn more about sardines and even test the waters when it comes to including them in your daily diet, let's dive in.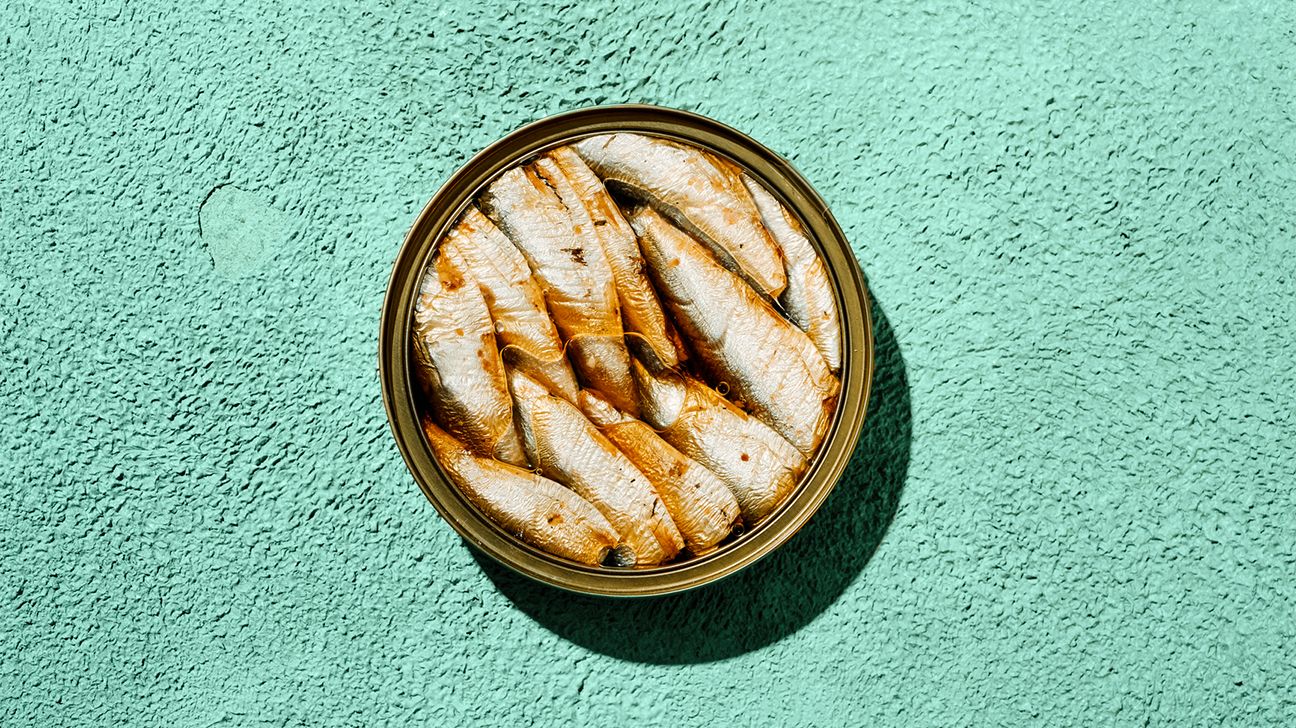 The following notable nutritional facts are for one cup of skinless and boneless sardines packed in water.
| | | |
| --- | --- | --- |
| Nutrient | Amount | Recommended DV (Daily Value) |
| calories | 340 | |
| protein | 38.5 grams (g) | |
| total fat | 19.1 g | |
| carbs | 0 g | |
| fiber | 0 g | |
| vitamin B12 | 16.6 micrograms (mcg) | 276.7 % |
| vitamin B6 | 0.226 | 11.3 % |
| vitamin D | 8.83 mcg | 88.3 % |
| riboflavin | 0.429 milligrams (mg) | 25.2 % |
| niacin | 7.73 mg | 38.7 % |
| calcium | 442 mg | 44.2 % |
| iron | 4.23 mg | 23.5 % |
| phosphorus | 673 mg | 67.3 % |
| magnesium | 62.6 mg | 15.7 % |
| potassium | 627 mg | 18 % |
| selenium | 74.7 mcg | 106.7 % |
Based on the nutritional chart above, we can see that sardines are an excellent source of protein, vitamins (especially B12 and D), calcium, potassium, and selenium. This small but mighty fish also provides heart-healthy omega-3 fatty acids.
"Sardines are really a superfood," notes Shannon Daily from Wild Planet. Shannon explains that sardines are "high in protein and rich in nutrients such as calcium, iron, and omega-3s."
Better yet, sardines can give benefits beyond nutrition. Shannon loves that sardines are "also sustainably caught and low on the food chain so they're low in contaminants such as mercury. [That means] they're good for your body and the planet."
Here's a further breakdown of some of the overall health benefits that sardines can provide:
Lower mercury levels
Because sardines only eat plankton, they have the lowest mercury levels among all fish.
Sardines only have a Mercury Concentration Mean (PPM) of 0.013, much less compared to halibut (0.241 PPM), tuna (up to 0.689 PPM), or swordfish (0.995 PPM). This makes sardines a great choice if you enjoy eating seafood but want to stick to the least contaminated sources of fish.
Supports heart health
Sardines have several nutrients to support heart health, such as a significant amount of omega-3 fatty acids. Omega-3 fatty acids have an anti-inflammatory effect and can help protect the cardiovascular system.
Significant source of protein
Sardines are kind of a big deal when it comes to protein, with 1 cup containing a heaping 38.5 grams.
Canned sardines make adding protein to your diet even more convenient and are an excellent, inexpensive on-the-go option.
High in iron, B vitamins, and vitamin D
Iron, B vitamins, and vitamin D happen to be the top nutrition deficiencies in the United States. Luckily, sardines contain significant amounts of all three.
Sardines have a particularly impressive amount of vitamin B12 (276.7 percent of your daily recommended value), which is crucial for brain health and red blood cell formation.
Supports healthy bones with calcium
Since sardines are consumed whole, including bones, and they are an excellent source of calcium. Combined with vitamin D and phosphorus, sardines contain three vital nutrients that are essential to bone health.
No clue how to cook with sardines? No problem. These simple, inspired recipes are full of flavor and cover everything from breakfast to dinner.
1. Fisherman's eggs
Getting tired of the same egg dishes every day? Revamp your morning breakfast with Fisherman's Eggs — a savory recipe that's perfect with toast and a drizzle of hot sauce.
2. Broiled sardines
One of the easiest sardine recipes around, this customizable and delicious dish takes mere minutes.
3. Sardine club sandwich
Step aside BLT. This "grown-up" club layers bacon, arugula, and sardines with parsley and sun-dried tomato butter that has a welcome kick.
4. Sardine salad
Swap the tuna for sardines in a budget-friendly version of Nicoise salad, tossed with peppery arugula, potatoes, and a quick vinaigrette.
5. Mediterranean sardine salad
The best thing about this colorful salad — besides the fresh flavors and citrusy dressing — is that it takes just 15 minutes to make!
6. Zoodles with sardines and tomatoes
This low carb recipe combines zoodles with sardines, fresh tomatoes, capers, and garlic. Bonus: It's paleo and Whole30-approved.
7. Garlic and herb roasted sardines
If you want to try cooking fresh sardines, this is a great starting place. This recipe takes just 15 minutes and is full of complementing flavors such as garlic, herbs, French mustard, and lemon.
8. Italian crusted sardines
Another fresh sardine dish, this one is a great recipe to warm up to eating sardines. This recipe coats butterflied sardines in an addictive Italian crust and fries them until golden and crispy.
Want to start slow? Wild Planet shares a few of their favorite ways to start eating sardines, which can be "fast, great nutrition, and a way to eat more sustainably."
"There are dozens of ways to eat sardines (other than eating them straight out of the can, of course)," the sustainable seafood company notes. "One of our favorites is to make sardine tacos with ingredients such as guacamole, radishes, purple cabbage, and queso fresco nestled in a tortilla spread with sriracha mayo.
"We also love adding sardines to avocado toast for an extra boost of protein, turning them into a pate, tossing them in a Greek salad, adding them to flatbreads, or rolling them in a piece of bread slathered with mustard and topped with sauerkraut."
Any sardine notes of caution?
Since sardines are high in purines which break down to uric acid, those with gout or kidney problems should avoid sardines.
Additionally, canned sardines can be high in salt, so anyone watching their salt intake should be mindful of that and include sardines with lower salt meals.
The Dietary Guidelines for Americans recommend eating fish as part of a healthy daily diet, including sardines. In fact, sardines have one of the lowest mercury levels among fish and are high in essential vitamins and minerals, protein, and omega-3 fatty acids.
Looking for even more ideas when it comes to superfood sardines? Check out our 15 favorite canned sardine hacks for better snacks.