One silver lining to this pandemic is that human civilization — which, mere months ago, was notoriously resistant to all gluten products — has realized an inescapable fact: Bread is, and always has been, the ultimate comfort food.
While bagels aren't quite as ubiquitous as bread, they're essentially a variation on the same (or very similar) ingredients, with one distinct difference in process: boiling. That's right — you boil bagels!
Whether you're trying to pass the time at home or you're just really in the mood for some bagels, this easy recipe by baker Nate Gualtieri is for you.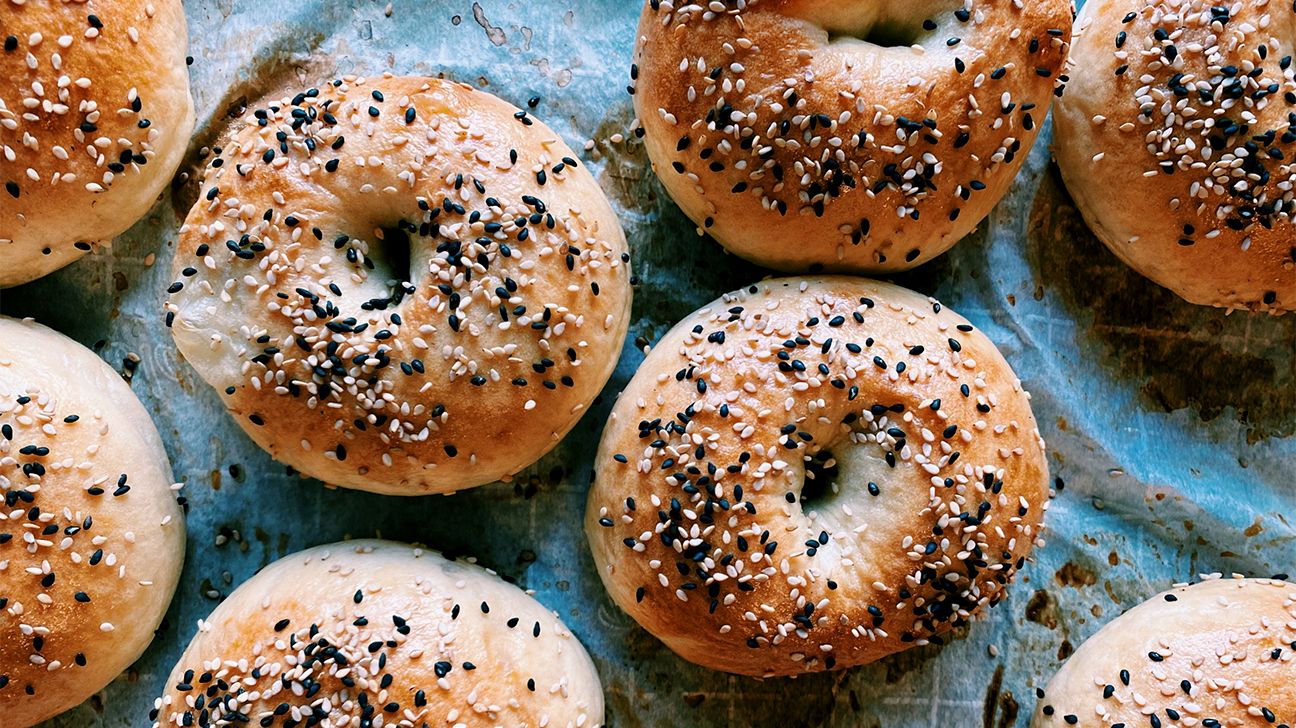 Total time: 2 hours 10 minutes
Active time: 30 minutes
Makes 10 bagels
Ingredients
1 1/3 cups (300 grams) warm water (85–90°F or about 30°C)
1 1/2 tablespoons (23 grams) granulated sugar
1 tablespoon (10 grams) instant dry yeast
3 1/2 cups (500 grams) bread flour, plus extra for counter
1 1/2 teaspoons (8 grams) kosher salt
1 tablespoon (6 grams) olive oil or vegetable oil
Toppings (optional)
Flaky salt
Black and white sesame seeds
Egg wash (1 egg beaten with 1 tablespoon water) or vegan butter
Instructions
Make a shaggy dough
In a medium bowl, combine warm water, sugar, and yeast. Let mixture sit for 10 minutes, until it looks puffy on top.
Meanwhile, in a separate, larger bowl, combine flour and kosher salt.
Add yeast mixture to flour mixture and use your hands or a wooden spoon to combine the two mixtures. Mix until dough looks "shaggy" (as seen at 2:00 in this video).
Knead the dough
Clear and clean about 1 square foot of counter space for kneading (do not flour the counter).
Dump shaggy dough onto the counter and knead it by hand for about 10 minutes, until dough comes together and all the last bits of flour have been absorbed. (After kneading, the dough should be fairly smooth, as seen at 2:47.)
Form dough into a taut ball by tugging the bottom of the dough and tucking it under and then rolling the seam on an unfloured surface. (For a complete tutorial on the kneading process, watch this video.)
Why you shouldn't flour the counter
You want the bottom of the bagel dough to stick to the counter when you're shaping it so the seam can properly close. Bagel dough isn't as sticky as bread dough, so it's not as messy as it sounds.
Let it rise
Coat dough with olive or vegetable oil and place dough seam side down in a large mixing bowl.
Cover with a clean, damp towel or plastic wrap and let rise for 1 hour (after 1 hour, dough should have doubled in size).
Make the balls
Sprinkle extra flour onto a clean counter.
Dump dough onto the counter and divide into 10 equal pieces. (It helps to have a scale — in which case each ball should weigh about 80 grams — but if you don't have one, do the best you can.)
Tuck edges of each dough piece together to form a little ball (as you did earlier when kneading), using your hands to roll seam side down on an unfloured surface until each ball becomes taut.
Place balls 3/4 inch apart (ensure that balls don't touch) on a sheet pan; cover with a clean, damp towel; and let rise for 15 minutes.
Boiling time!
Bring a large pot of water (the bigger, the better) to a boil on the stovetop and preheat oven to 425°F (about 220°C).
To shape balls into bagels, coat your thumb and forefinger in flour and then push them through the center of each dough ball to form a hole.
To enlarge the hole, twist each ball around your fingers. Ensure thickness is even around entire bagel.
Drop bagels into boiling water and reduce heat to a simmer. (They may not all fit in the pot at the same time — in that case, boil in batches.)
Boil bagels for 1–2 minutes (for a chewier exterior, go the full 2 minutes), and then flip them (using a tool so you don't burn yourself) to their other side and cook for another 1–2 minutes.
Using tongs or a fork, remove bagels from water and place back onto lined sheet pan.
Brush tops of bagels with egg wash or melted vegan butter and sprinkle with desired toppings.
Bake bagels for 20 minutes.
Nate Gualtieri is a writer and the home baker behind The Kitchen Queer, a bakery pop-up that operates at venues around Los Angeles. You can find him on Instagram.