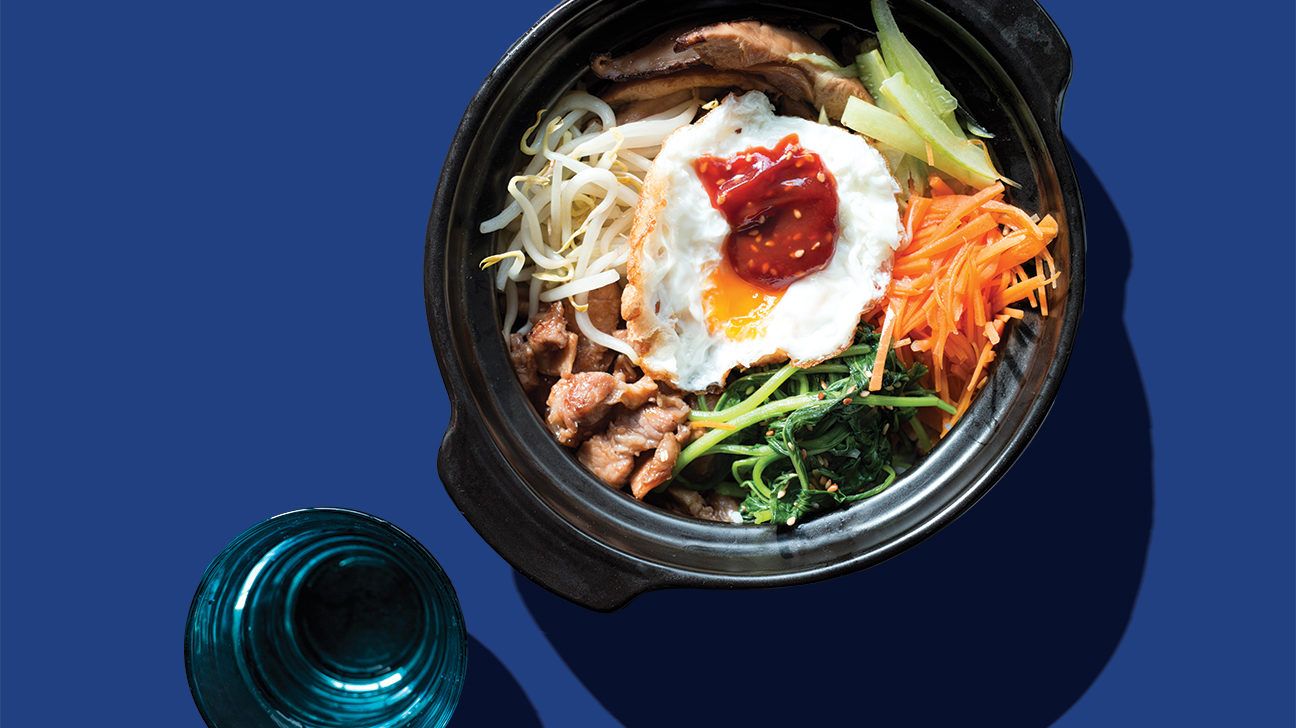 The rice cooker is the kitchen tool we didn't know we needed… until we had one. And now we can't stop using it.
Yes, it makes perfect plain white rice (and its more nutritious sibling, brown rice). And that's important, because making rice isn't easy. Scorched rice, mushy rice, hard rice — we've made them all.
For such a simple food, there's so much to get right: the water-to-rice ratio, the temperature, when the heat needs to be turned down, when it's done (no peeking!).
That's why we love our rice cooker. It helps us easily make our favorite globally inspired one-pot meals and side dishes, from tomato-flecked Spanish rice to saffron-infused biryani.
The world of rice has expanded. There's a lot more on the shelves these days than Uncle Ben's. White, brown, black, long-grain, short-grain, jasmine, basmati, sticky — you'll find them all in the 29 recipes we've gathered. Talk about an easy way to up your cooking game!
To increase the health benefits of these dishes, try replacing the white rice with healthier types.
What's the difference between Spanish and Mexican rice? Actually very little. Some will say Spanish rice has saffron, so go ahead and add a pinch of saffron to this recipe.
You'll need just 5 minutes to dump the ingredients into the rice cooker, and it'll turn out 5 cups of rice flavored with canned tomatoes, chili powder, cumin, and garlic powder. Talk about feeding a crowd with easy pantry standbys.
Long-grain rice absorbs the flavors of tomatoes, onion, and jalapeño as it simmers in chicken broth. Serve this favorite with pinto beans, guacamole, and salsa and you've got dinner.
In this recipe, brown basmati rice is flavored with garlic and onion powders, cumin, and jalapeño. Tomato sauce and vegetable broth keep it vegetarian. Serve with vegan cheese enchiladas.
In this straightforward recipe, white jasmine rice cooks in coconut milk with flakes of dried unsweetened coconut. Sure, it's a great rice to serve with Thai food, but it'll also liven up a simple chicken breast.
Keep in mind that brown jasmine rice is a more nutritious choice than white.
This dish of aromatic brown basmati cooked with coconut milk seasoned with curry and ginger is the perfect base for grilled veggies. Tip: Soak the rice before cooking to leach some starch from the grains.
This is a rice cooker version of a traditional spice-filled vegetarian favorite from southern India. Frozen vegetables are fine here — use whatever you have on hand, such as peas, green beans, or spinach.
The key to the bright flavor is a homemade paste of fresh ginger and green chiles. (Thank you, immersion blender.) You'll want to stock up on cloves, cardamom, cumin, coriander, and curry leaves.
According to these bloggers, if you want perfect jasmine rice, you'll have to get your hands in it. Soaking and then squeezing the rice removes more starch. Letting the "polished" rice rest in water for an hour softens it.
Then, just flip on the rice cooker and set it for 25 minutes. That's how you get floral-scented, soft-textured, slightly sticky jasmine rice. Bonus: It goes with anything.
It's fun to have a few black rice dishes up your sleeve for when you're feeling particularly dramatic or looking for fun Halloween food. Serve up this dark, moody rice (the taste tends to be on the nutty side) with colorful stir-fried veggies or a vibrant carrot soup.
Fun fact: Black rice gets its rich pigment from anthocyanin, a plant compound with substantial antioxidant and anti-inflammatory properties. It also has one of the highest protein contents of any rice.
This blogger gives us her Korean mom's tips for making short-grain Korean rice (short-grain is stickier than long-grain). That includes a special method of measuring the rice that involved her mom's hand. (Spoiler: It's a 1-to-1 ratio of rice to water.)
While the rice soaks, cook probiotic-rich kimchi with pork belly (or bacon) and bean sprouts. Then, add all the ingredients to the rice cooker and season with soy sauce and sesame oil. Press "start." Dinner's almost ready.
This version of the homey Korean favorite is made entirely in the rice cooker — even the initial cooking of the ground beef — proving the rice cooker's awesomeness yet again.
This recipe calls for sushi rice. In the last 5 minutes of cooking, the rice is topped with sweet soy-flavored beef, colorful strips of carrots and zucchini, and the tangy heat of kimchi. Umami? Oooooh, Mommy! (Sorry, couldn't resist.)
The final embellishment is raw egg yolks, but we prefer to use a soft-boiled egg instead.
Fragrant with saffron, garlic, lemon, chiles, fresh mint, and cilantro, this jewel of Indian cuisine can be made in the rice cooker with cooked or raw meat. This is a real crowd-pleaser for your spice-loving, adventurous friends.
This veggie version of biryani is redolent of cinnamon, cloves, cardamom, and mace. Eggs are the protein source here. And — surprise, surprise — they can be made in a rice cooker.
Yes, you really can make a tasty, comforting pot of Chinese-style fried rice at home. And it's actually a great leftovers dish, calling for two kinds of cooked meat (make one of them a ham product for rich, salty flavor).
And sure, you can use frozen peas and carrots. The fresh ginger, garlic, soy sauce, and sesame oil will make the flavors pop. Fold in the scrambled eggs and fresh scallions during the last 10 minutes of cooking.
Your neighborhood takeout spot will be wondering where you've disappeared to.
This is a beautiful way to elevate that perfect leftover jasmine rice you made in your rice cooker. We love the presentation in a carved-out pineapple, and wow, the sweet-sour flavors!
Turmeric gives the rice a golden hue that contrasts with the colorful red pepper and carrot.
We had to include this recipe because, first of all, it's a total umami bomb, with miso and shiitake mushrooms. And second, the rice cooks in beer. Yup — brown ale to be precise. This is a total beer nerd recipe that you can adapt to your rice cooker.
If you've never tried to make sticky rice because you thought it would involve a bunch of complicated steps, you'll be thrilled to hear that the rice cooker makes it easy. It can be served with sweet or savory sauces, which will cling to the rice, true to its name.
Now that you know how to make sticky rice in your rice cooker, this classic Thai dessert is an at-home treat. Honestly, we're usually too full after eating at a Thai restaurant to order dessert, but we're craving it an hour later.
Make this when mangos are in season, juicy and well-priced. You can also cook the rice with pandan for a delicious aroma and an Insta-worthy green hue.
With ground pork, shrimp, sausage, and shiitakes in a ginger-soy sauce, this dish is a flavor explosion. This recipe requires a bit of advance work — the dried shiitakes need to soak in water for 2 hours. But the payoff is worth it.
Yes, it's a thing. Inspired by Chipotle, of course, but so much more satisfying when you make it at home with fresh ingredients. Plus, you can keep an eye on portion size at home more easily than at a fast-food joint.
A healthier version of the Chipotle fave, this recipe uses long-grain brown rice, which cooks with a bay leaf for an extra layer of flavor.
As for the all-important cilantro, remember that the stems are edible and impart good flavor during cooking. Serve the leaves fresh.
Here's a citrusy dish that makes good use of leftover rice. Fresh serrano chiles join spices, crunchy mustard seeds, yellow dal, and peanuts. The rice is gently tossed with ghee for India's version of buttery goodness.
This is total Chinese comfort food, a soft rice porridge topped with peanuts, fried garlic, scallion, pickled ginger, sriracha, and a soft-boiled egg.
This is the recipe for a rainy night in with your bestie. It makes two warm bowls of savory rice porridge, and all you need is one chicken breast and a couple of slices of garlic. The dried scallop, which adds a lot of flavor, is optional. Garnish with fresh scallion.
This is a classic Chinese combo, with the sweet shrimp contrasting with the slight bitterness of greens. Using the technique you've learned above, you can totally adapt this to your rice cooker. You know how to do it.
Brown basmati cooks with red kidney beans, turmeric, thyme, and lots of garlic in this satisfying one-pot meal. Even better, it uses water as a base, letting the nutty, aromatic flavor of the rice come through.
It takes just 10 minutes to put all the ingredients in the rice cooker. Jasmine rice, canned black beans, and red bell pepper simmer with tomato, cumin, and coriander. Who knew lazy could taste so good?
Before you make the rice in the cooker, make the beans. Yup, this blogger shows you how to cook beans in a rice cooker. How cool is that? It's less expensive than buying canned, and you can control the salt content and the flavoring — so throw in a bay leaf.
This coconut rice and beans dish is a favorite on Jamaican tables, and our Jamaican American friends grew up eating it at Thanksgiving along with the turkey.
Pigeon peas are traditionally used, but you can substitute kidney beans. Scotch bonnet peppers provide smoky heat in this dish.
Rice is endlessly versatile and is one of the world's most universal foods. With a rice cooker, it's easy to make a rainbow of globally inspired rice dishes. And to make any of them a bit healthier, try using brown rice.
Move beyond plain old white rice and bring something spicy, colorful, and new to your dinner table!
Elizabeth Keyser writes about food, nutrition, restaurants, and home cooking for websites, magazines, books, and newspapers. She's also a playwright.