Sneaking in a nutritious breakfast can be hard for just about anyone. For those sticking to a Paleo diet, the morning meal might seem even more daunting.
Eggs are always an option for Paleo beginners, but going through multiple cartons per week gets old fast. Besides, no one should have to give up the goodness of waffles, pancakes, and muffins.
Whether you're making an impressive brunch spread or just looking for something quick and Paleo-friendly as you dash out the door, we've done the heavy lifting for you.
These a.m. options range from savory to sweet, refreshing to rich. The only hard part about breakfast now is picking which recipe to make first.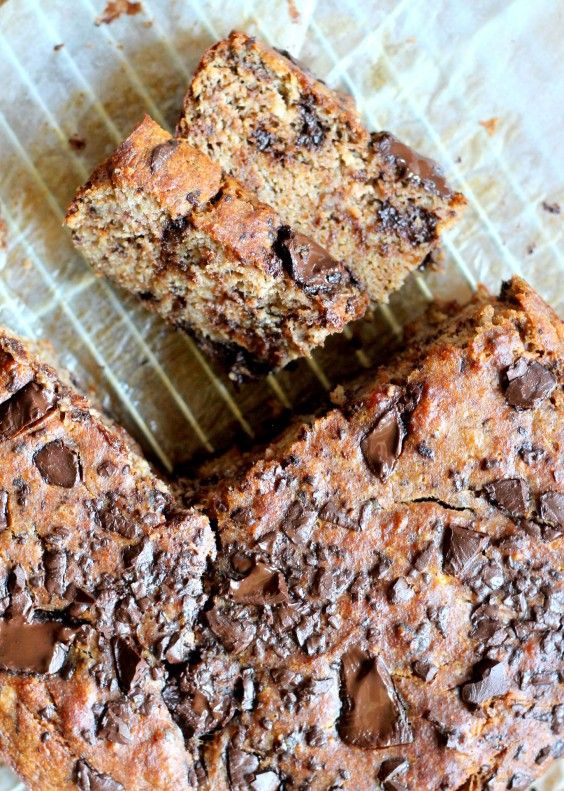 It's hard to improve upon banana bread, but adding chocolate chunks does just that. This Paleo loaf stays nice and moist from plenty of mashed banana.
Just mix the wet ingredients and then add in a coconut flour and cinnamon mixture. Though the recipe calls for letting this goody cool before slicing, it might be even better when those bits of chocolate are still melty.
If you thought going Paleo meant giving up English muffins, think again. The best part about this recipe is that it cooks in the microwave in just 2 minutes, so there's no need to preheat the oven.
They're great with a swipe of nut butter or jam, but they also make a killer eggs Benedict on a leisurely Sunday. As a bonus, brunch at home means getting to wear pajamas well into the afternoon hours.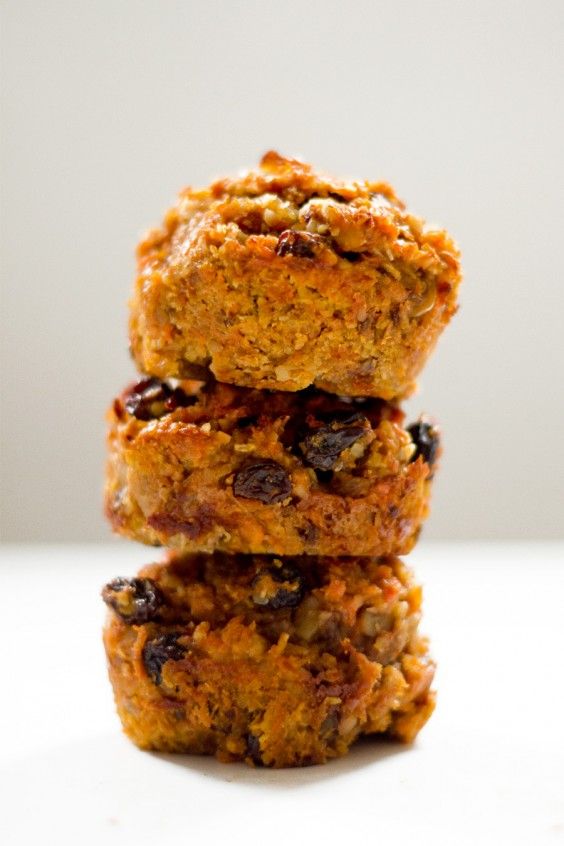 Some muffins are so rich that they're more appropriate for dessert than breakfast. Either way, they're sure to be a hit.
This Paleo version combines the goodness of mashed sweet potato with a base made from apple, coconut, dried figs, and almond flour. They taste just like a fall dessert but are made with nutritious ingredients for a healthy breakfast choice.
Who decided that the best use of pumpkin spice was in a coffee drink? We think these muffins are a tastier (and healthier!) option.
Made from mostly eggs and pumpkin puree, these morning treats pack in fiber and protein. Put down the latte and pick up one of these to get all of that great flavor with a lot more staying power.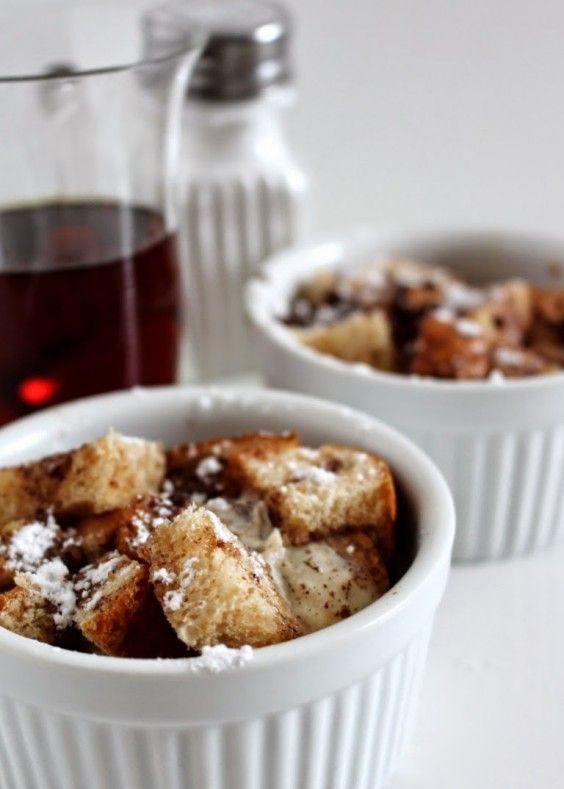 Zucchini bread is a no-no for anyone forgoing grains — unless you make this loaf, which swaps out butter and sugar for coconut flour, pure maple syrup, and all-natural creamy peanut butter.
A quick word about peanut butter: Since it's a legume, it's not technically Paleo-friendly. To make this recipe Paleo, swap out the peanut butter for almond or cashew butter.
This recipe also comes with the option to swap in protein powder instead of coconut flour, which will give this yummy breakfast an added nutritional boost.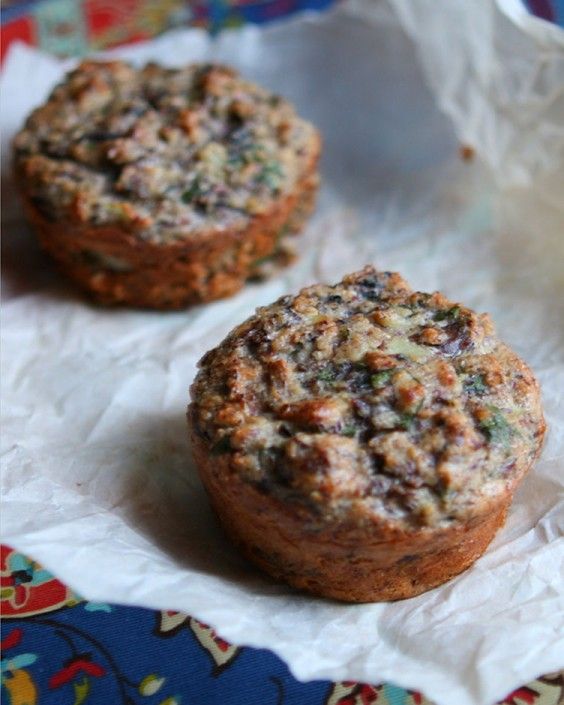 Mushroom muffins? OK, we know what you're thinking, but this muffin recipe turns a traditionally sweet breakfast staple into a savory treat, and it's actually awesome.
The recipe calls for a simple combo of mushrooms, basil, and onions, but feel free to add whatever veggies you have on hand. You can even use the leftovers for upgraded dinner rolls.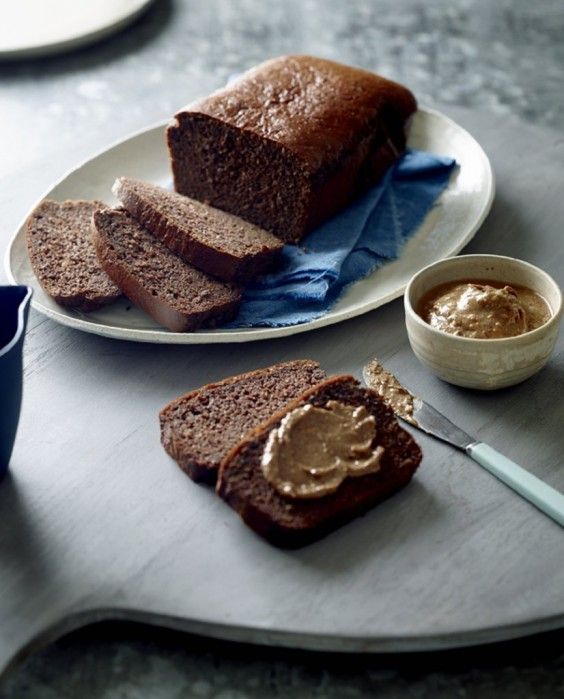 While quick bread gets bonus points for being super easy to prepare, it doesn't typically win any health contests. This Paleo bread recipe is an exception.
It gets fats and protein from nut butter and sweetness from honey. The recipe calls for cinnamon, but play around with different spices to suit your mood. Maybe it's more of a cardamom kind of day. If so, have at it.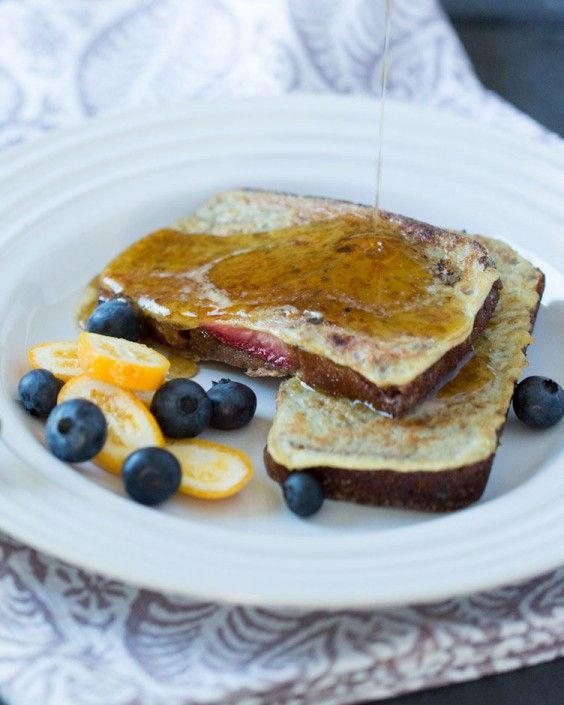 This French toast uses a Paleo banana bread recipe as the base, but you can also use your favorite store-bought Paleo bread if you're in a rush.
Once you have the bread, the recipe is easy: Just beat the eggs, cinnamon, sea salt, and almond (or coconut) milk for that signature French toast coating.
Traditional pancakes are definitely not an option for Paleo converts, so these coconut flour ones are a dream come true.
With a triple dose of coconut — flour, milk, and oil — they're great with any of your favorite toppings, but why not go for it with a sprinkle of toasted, shredded coconut? That's coconut commitment right there.
Chocolate for breakfast usually brings to mind Pop-Tarts or kids' cereal — and a massive sugar crash that leaves you asleep at your desk by midmorning.
That won't happen with these waffles, which get just enough sweetness from raw cacao powder and maple syrup. To give them even more staying power, top with strawberries, bananas, or nut butter.
The crispy edges of a fresh waffle make it one of the best on-the-go options out there, especially when it's a simple 3-ingredient sweet potato waffle: just sweet potato, eggs, coconut flour.
This version tops the waffles with a fried egg, avocado, cilantro, lime, and hot sauce — feel free to top with whatever healthy staples you have!
Two-ingredient banana pancakes are a quick breakfast option, but these ones are a great alternative when you're in the mood for something a little bit different.
Don't worry, they're hardly any more work with just six ingredients and a simple method. They're perfect as is, but a sprinkle of cinnamon makes them taste just like an apple pie. And who doesn't love apple pie?
Any day that begins with a waffle is nearly guaranteed to be awesome. Enjoy the same taste of a classic Belgian waffle with this recipe that's made with almond butter, coconut oil, almond milk, eggs, and coconut flour.
Purists will want to enjoy these alone, but you could also try using them to make a seriously fun breakfast sandwich.
While breakfast strata makes a great weekend treat, it's filled with tons of bread and not much else. Talk about bloat.
This Paleo version gives the typical casserole a whole new look and taste with sweet potatoes, bacon, greens, and sausage. With so much flavor, you won't miss the cheesy topping one bit.
If you thought following a Paleo diet meant no more French toast, think again. Here you can use your favorite Paleo bread and load it up with flavorful blueberries and coconut flakes.
Pro tip: Prep the entire casserole the night before and pop the dish into the fridge, then toss it into the oven for 35 to 40 minutes when you wake up. By the time you're done getting ready, you'll have a meal ready and waiting.
Having some veggies for breakfast starts the day off right by offering up plenty of antioxidants and fiber. That doesn't mean a boring salad is the only option, though.
This hearty casserole gets plenty of flavor from sausage, garlic, green onion, and sweet potato. Cook up the veggies, layer into a dish, then pour a quick egg batter on top before sending it to the oven.
Italians like to use leftover pasta to make all sorts of breakfast dishes, and this spaghetti squash casserole has a similarly hearty texture — minus the wheat, of course.
One of the best things is that it's versatile enough to work with just about any meat or veggie you prefer. We're still amazed at how closely spaghetti squash resembles actual noodles. It's a Paleo pasta lover's dream.
This breakfast casserole takes a classic Paleo combo of meat (this one uses ground turkey), veggies, and spices and loads it into an Instagram-worthy mug.
You can get creative with this one, adding whichever veggies and meats you like, or maybe sticking it in a Mason jar (because you're from Portland). Just make sure to use mitts if you're putting the jar in the oven.
A lot of smoothie shops add all sorts of bizarre ingredients to their drinks. For those who prefer purity, this recipe is 100 percent fruit.
With plenty of vitamin C and a tart flavor, grapefruit is like a seriously sassy version of an orange that works perfectly with the sweetness of banana and raspberries.
Pro tip: Have some protein (like a hard-boiled egg) along with your smoothie so you're not hungry again in 45 minutes.
For those with a sweet tooth, this beverage is one of the best breakfasts out there. It's like a chocolate milkshake, but better.
Bananas and cacao powder means there's no need for added sugar, and almond butter adds a toasty flavor. Puree everything in the blender, pour it into a to-go cup, and breakfast is ready to zoom out the door.
A morning workout can end with a serious craving for something sweet. Instead of heading for a cane sugar-filled coffee drink, whip up this tropical Paleo smoothie.
This recipe has a cool twist on the traditional smoothie. Here you blend two separate mixtures and then combine them together to get that signature "sunrise" color.
Since this recipe is entirely made of fruit, we suggest adding a protein source (like cashew butter) along with it.
Many health gurus swear by waking up with a green juice to get loads of nutrients. Unfortunately, that can leave stomachs grumbling hours before lunch.
This smoothie manages to squeeze in at least one green vegetable with enough fat to keep you fuller for longer: avocado.
Pro tip: Add a cup of spinach to turn this blend bright green and pack in more nutrients. Thanks to the banana, you won't even taste the leaves.
Ever wondered what it would be like to stick a piece of pumpkin pie in the blender? Here's your answer.
This recipe has all the flavors of that fall favorite with a lot fewer calories. As easy as this smoothie is, speed it up even more by replacing all the spices with a rounded quarter teaspoon of pumpkin spice.
To make this truly Paleo, we suggest removing the peanut butter (it's a legume) and replacing it with another nut butter, like cashew or almond.
Orange juice for breakfast is such a yawn. This easy smoothie mixes oranges with peach and raspberry for a tropical twist.
Blend up the fruits (including an avocado), ginger, vanilla extract, and ground turmeric and this drink is ready for sipping. It might taste more like dessert than a healthy morning meal, but that just makes it extra fun.
It's 5 o'clock somewhere, right? Or tiki Tuesday, maybe? This booze-free breakfast version of a cocktail packs loads of nutrients from the spinach, healthy fats from the coconut milk, and lime for all the vacation feels.
All you need now is a few mint leaves on top, and maybe a mini paper umbrella for good measure.
Pro tip: In order to make this smoothie even more filling, consider adding a source of protein in the mix, like nut butter.
Saying no to grains shouldn't mean having to say no to a helping of crunchy granola, and it doesn't have to anymore.
This recipe lets the food processor do most of the work, chopping up a combo of nuts and seeds with some coconut. Full of copper, manganese, and heart-healthy fats,Guasch-Farre M, et al. (2013). Frequency of nut consumption and mortality risk in the PREDIMED nutrition intervention trial. DOI: 10.1186/1741-7015-11-164 nuts make a super nutritious morning meal.
Yogurt made from dairy isn't Paleo-friendly, but that doesn't mean you can't have parfaits! This version uses a mix of chia seeds, nut milk, and honey for the base and packs in lots of colorful berries.
Pro tip: If you're craving something sweet after dinner, too, this works great as a Paleo dessert.
Miss the creamy goodness of yogurt for a morning treat? This recipe purees honey, lemon juice, grass-fed gelatin, coconut milk, and blueberries in the blender to get a luxurious puree that's every bit as good as the dairy stuff.
Save this one for a day when you're feeling adventurous!
It's hard to beat a comforting bowl of oatmeal, but this Paleo version might be even better thanks to the delicious coconut. Just throw the ingredients in your slow cooker and enjoy a perfect breakfast the next morning.
Pro tip: Feel free to add in your favorite nuts and spices. You really can't go wrong!
Most people probably scrunch up their noses at the thought of heading to a Paleo friend's place for weekend brunch, but that doubt will turn to delight if they get one of these gorgeous parfaits.
Alternate layers of a pistachio and date mixture and a creamy avocado puree for a colorful, green masterpiece.
A bowl of something warm and creamy is always a great way to wake up, since it's basically like a hug from the inside.
This dreamy concoction comes together in the blender before a quick blast on the stove. Just note that the nuts need to soak overnight, so plan ahead or else you'll wind up with a chunky mess.
Finding a grain-free cereal in the grocery store is pretty much an impossible mission, so making it at home is the best option.
This twist on Cinnamon Toast Crunch is made with hemp seeds, flax seeds, cinnamon, apple juice, and coconut oil. Storing it in an airtight container also means it'll stay fresh way longer than that boxed stuff.
While there are plenty of great homemade bar options out there, a lot of them take forever to make. Not these sweet treats!
Nuts, fruit, coconut oil, and honey go into a food processor, then the whole mixture gets pressed into a pan. No baking, no fuss, totally tasty, and just fine for your Paleo diet.
Let's face it, we all grab a bar on the go from time to time and wonder what half the ingredients are that we're eating. Eek!
These use only pronounceable ingredients including figs, almond flour, coconut flour, and unsweetened applesauce. With a sweet and nutty taste, they're basically Fig Newtons' sophisticated older sister.
Perfect for post-workout, these bars are made with nuts, cocoa powder, shredded coconut, and chia seeds. They'll satisfy any stubborn sweet tooth while offering up antioxidants and protein.
Pro tip: Add a scoop of your favorite protein powder to the recipe for even more muscle-building, satisfying benefits.
If you're just about ready to ditch Paleo because you're so dang bored, take heart. You can save the eggs and bacon for when you actually want them again, instead of making them every morning by default.
There's so much out there in the Paleo world, thanks to creative bloggers busting out imitation recipes. From veggie-stuffed casseroles to satisfying smoothies, there's a Paleo version ready for whatever it is you're looking for.