After years — no, decades — of being rejected by health circles, fat has finally made its way off the banned foods list. And nowhere is its moment of redemption more apparent than the popular ketogenic diet.
Who would've thought that embracing full-cream dairy, whole eggs, and snacks literally known as fat bombs could come with benefits like weight loss and fat burning, according to a 2012 research review?! Keto isn't for everyone (there are some risks), but it can be healthy and delicious.
If you're at a loss for what to make after spending most of your life being bombarded with "fat = bad" messages, we're here for you.
These mind-blowing keto dinner recipes not only get the low carb, high fat thing right, but they also come together in less than 30 minutes, giving you plenty of time to go out and actually live your best keto life.
1. Chicken tomato zoodles with spiced cashews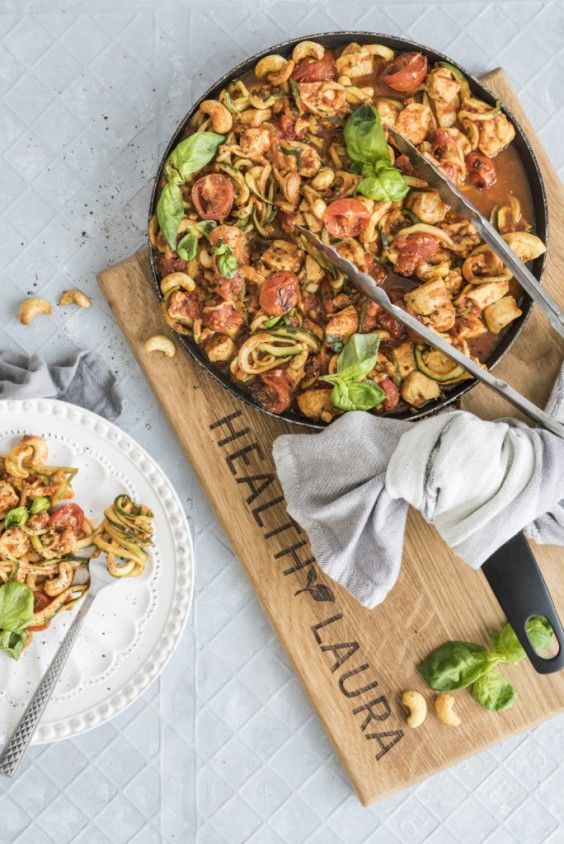 With zucchini noodle recipes becoming commonplace these days, it's all about finding one that really stands out. With fresh flavor from the cherry tomatoes and garlic, plus turmeric-dusted cashews for added texture, this one is especially unique without being difficult, and definitely worth making.
2. Creamy Tuscan garlic chicken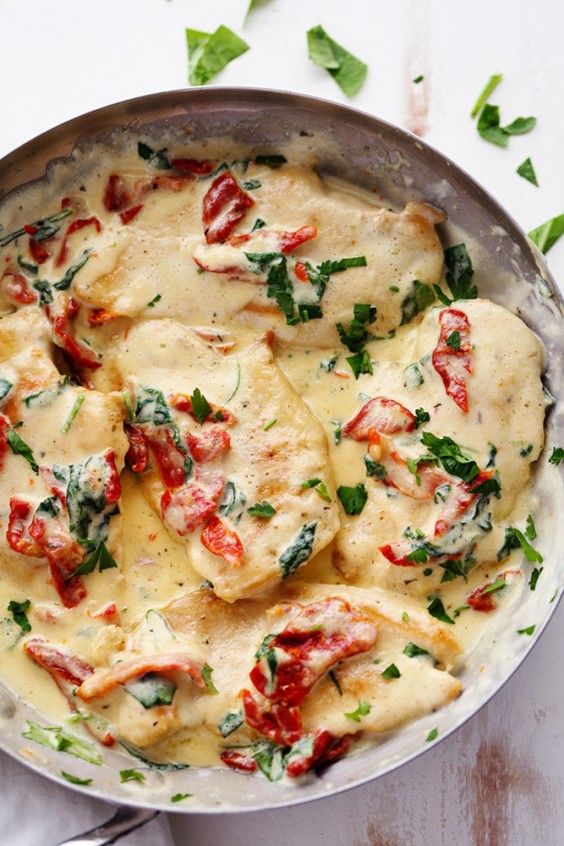 Heavy cream and Parmesan cheese? Don't mind if we do. Full-fat dairy is A-OK on the keto diet, and it makes for the best sauce in this simple Italian-inspired meal, while garlic and sun-dried tomatoes add spicy and tangy kicks to balance the richness.
3. 20-minute low carb turkey and peppers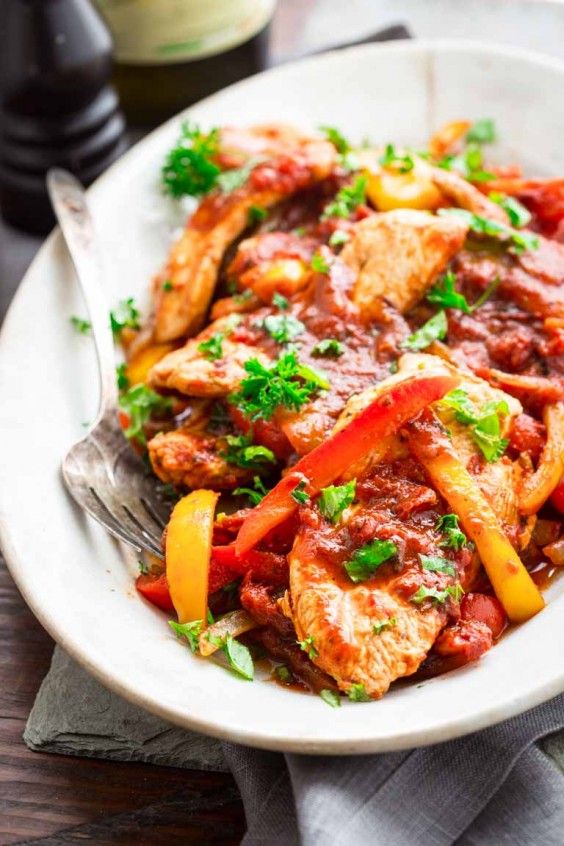 Stir-fries don't need to come with sugary sauces or be served on top of piles of rice. This easy skillet meal relies on herbs, spices, and the natural sweetness of the peppers for plenty of flavor. In fact, there's so much of it that it holds up as a meal all its own, no grains necessary.
4. Keto butter chicken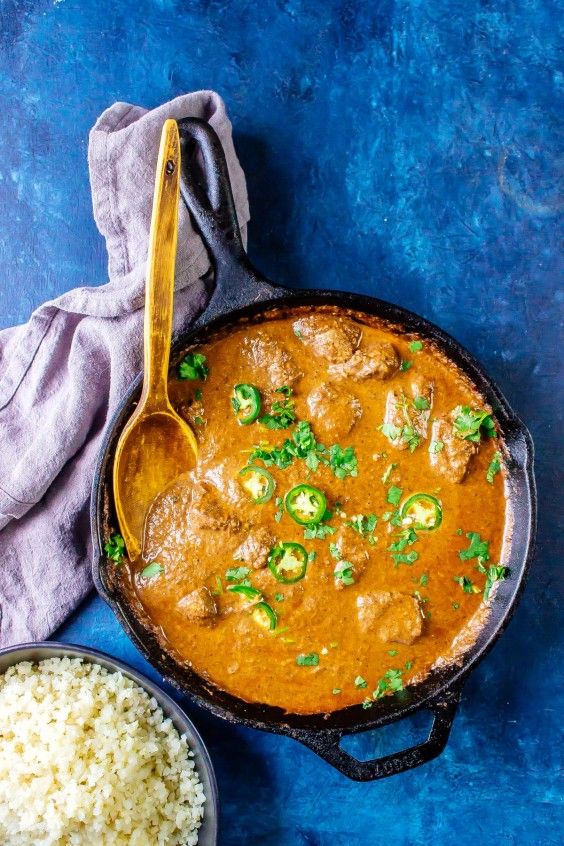 Even among wider circles, saturated fat is no longer an absolute nutritional outcast, but it's especially encouraged on the keto diet. Celebrate with this decadent homemade version of everyone's favorite Indian-inspired dish. Like the most traditional recipes, this one is made with butter's clarified cousin, ghee, which, thanks to its concentrated nutrients, is actually seen as the superior saturated fat.
Start cooking with this recipe.
5. Asparagus-stuffed chicken Parmesan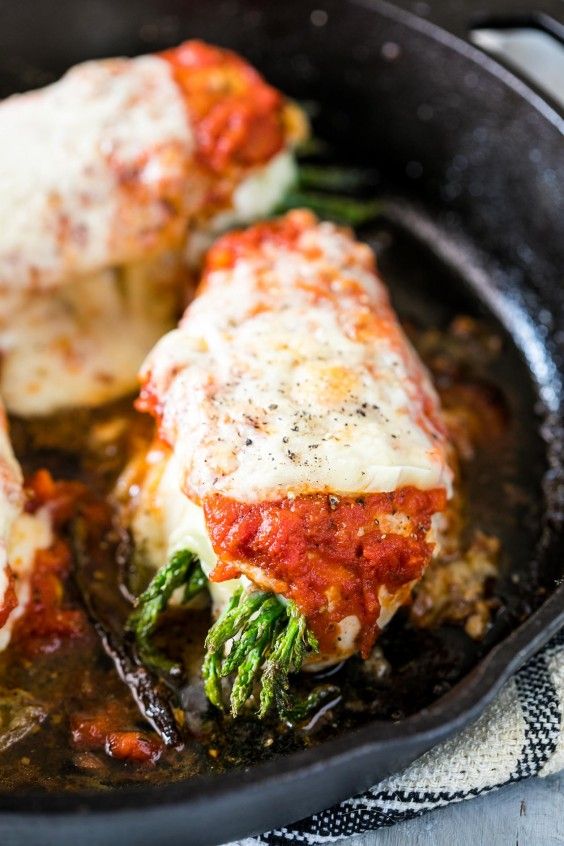 Check that your marinara sauce comes with no added sugars (or just whip up your own) to make sure this meal checks out as totally keto. Stuffing anything might sound finicky, but this recipe simplifies the process so well, you'll be turning to it when you need an easy dinner.
6. Shredded chicken chili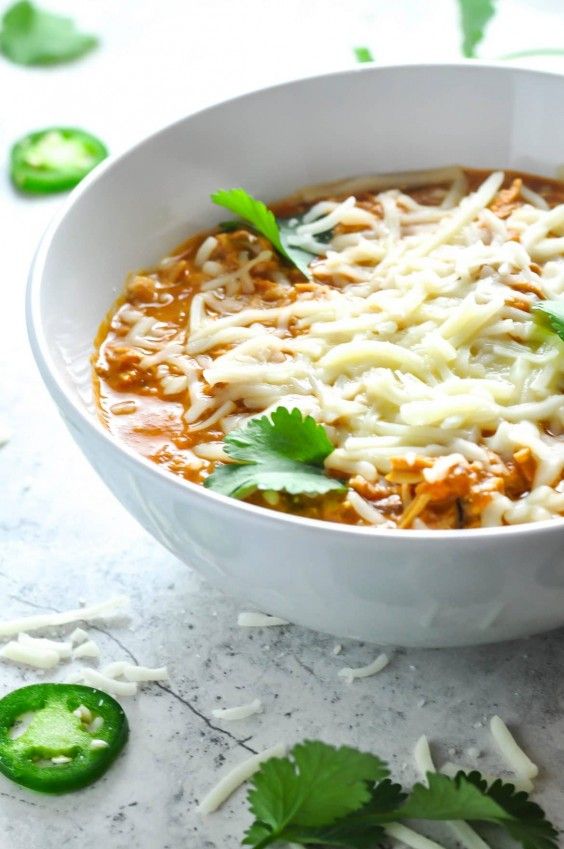 This quick, bean-free bowl still has plenty going for it, thanks to lots of chicken and a tomato base made spicy with jalapeños, and rich with cream cheese stirred in. To cut back even further on cooking time, cook and shred your chicken in advance (shredding chicken is worth it, but can be time-consuming).
7. Taco-stuffed avocados
Usually the topping for tacos, avocado pulls a switcheroo here and acts as the base for the spicy beef and cheese mixture. Not only does the veggie (OK, OK, technically a fruit) offer a lower carb alternative to tortillas, it also makes for a fun presentation.
8. Beef and broccoli bowls with sunshine sauce
It may partly share a name with No. 36 on your takeout menu, but this recipe really does its own thing when it comes to flavor. Instead of sugary condiments, the sauce here relies on bone broth, coconut aminos, and sunflower seed butter for a meal filled with all sorts of keto favorites.
9. Keto fried rice with pork
When you're in doubt about dinner, go for the tried, tested, and totally delicious strategy of using cauliflower granules in place of grains for a simple and satisfying fried rice.
Here, the keto kitchen staple is bulked up with vegetables, made rich with pork belly, and dotted with cooked egg to make it taste almost exactly like the restaurant version.
10. Ground beef and cabbage stir-fry
Want to make a speedy stir-fry come together even faster? Use just seven ingredients and a quick-cooking veggie. This recipe opts for cabbage (pre-shredded as an extra time-saver) alongside the beef, whipped up with a simple sauce in just 15 minutes.
One little note: There is a dash of Sriracha in here, so depending on your keto preferences, you can stick with it or roll with your favorite no-sugar hot sauce.
11. Loaded cauliflower
Reason No. 1 to love eating keto? Sour cream, bacon, butter, and cheese are actually welcomed. The only concession is trading out the potato for lower carb cauliflower. And trust us, once it's mashed, seasoned, and piled with toppings, you won't even see it as a compromise.
12. Keto Chinese pork with Brussels sprouts
Brussels are higher in carbs, but that doesn't mean they're off-limits. Thank goodness, because not only do they come with tons of vitamin C and K, but when paired with pork belly and a garlicky sauce, they're too good to pass up.
13. Easy eggless salmon patties
If you're burnt out on beef burgers, turn to these somewhat lighter salmon patties to get in a bunch of healthy fats without feeling too weighed down afterward. Held together with almond meal and flaxseeds, plus packed with chopped parsley and lime juice, each serving is filling but full of fresh flavor.
14. Curried riced cauliflower with shrimp
Not every cauliflower fried rice recipe has to be about soy sauce and fried eggs. This version gets creative with the ingredients, using curry powder and paprika, and opting for shrimp as the all-important protein component. Let the results be your inspiration to get experimental with pantry spices more often.
15. Salmon gremolata with roasted vegetables
Don't let a fancy word like gremolata intimidate you, but do make sure you say it extra loudly as you're serving this up to friends and family. No harm in letting them think you're a chef extraordinaire, even though this whole delicious dish takes fewer than 10 ingredients and 30 minutes to make.
16. Keto shrimp scampi
So many times, low carb versions of pasta dishes can be disappointments. This is not one of those times. Buttery, lemony, and just spicy enough, this shrimp scampi is so close to the real deal, you may not even notice that the noodles are actually made of vitamins A and C-rich summer squash, not spaghetti.
17. Super simple tuna fish salad
Can't find keto-approved mayo, or simply don't feel like making your own? No problem. This tuna salad doesn't call for it anyway. Instead, the fish is piled onto a bed of greens with tons of other fun ingredients like avocado, olives, and grilled zucchini for a much more refreshing way to get your omega-3s.
18. Herb butter salmon and asparagus foil packs
Taking the "everything is better with butter" concept to heart, this recipe uses 1/2 cup of butter combined with herbs before getting dolloped onto the salmon and veggies. You've never had fish so flavorful and flaky — this is a nutrient-dense meal with the volume turned way up.
19. Mediterranean roasted cabbage steaks with basil pesto and feta
Cabbage isn't known for being a particularly sexy veggie, but dress it up with some pesto, throw in some marinated artichokes, and crumble on some cheese, and it becomes an elegant meal that's totally date night-worthy. With this recipe, the cabbage soup diet is officially a thing of the past.
20. Korean paleo bibimbap
This cauli rice bowl is dairy- and gluten-free, meatless, and keto-friendly, but you don't need to be any of those to enjoy it. With veggies seasoned with sesame oil and a fried egg on top, it's simply a great meal, regardless of the labels.
21. Vegan Thai curry
Tofu or not tofu? Answers may vary on whether this soy product is kosher for keto, but generally, it's acceptable, especially for anyone who's going mostly vegetarian. Make it unforgettable with this rich Thai curry, where coconut milk and almond butter provide the healthy fats that a plant-based keto eater needs.
22. Harissa portobello mushroom "tacos"
Even though these tacos come minus the tortillas, the North African spice harissa adds a little something extra in terms of flavor, while hearty portobello slices lend a bold, meaty texture.
To make these even more filling, top the guacamole with a cashew cream drizzle — remember, more healthy fats are a good thing.
23. Low carb cauliflower mac and cheese
Cauliflower proves itself yet again as the MVP of the low carb kitchen in this recipe, where it graciously becomes the "mac" to a rich cheese.
With cream, butter, and cheddar cheese, the sauce features all sorts of keto heavyweights to guarantee a stick-to-your-ribs kinda meal.