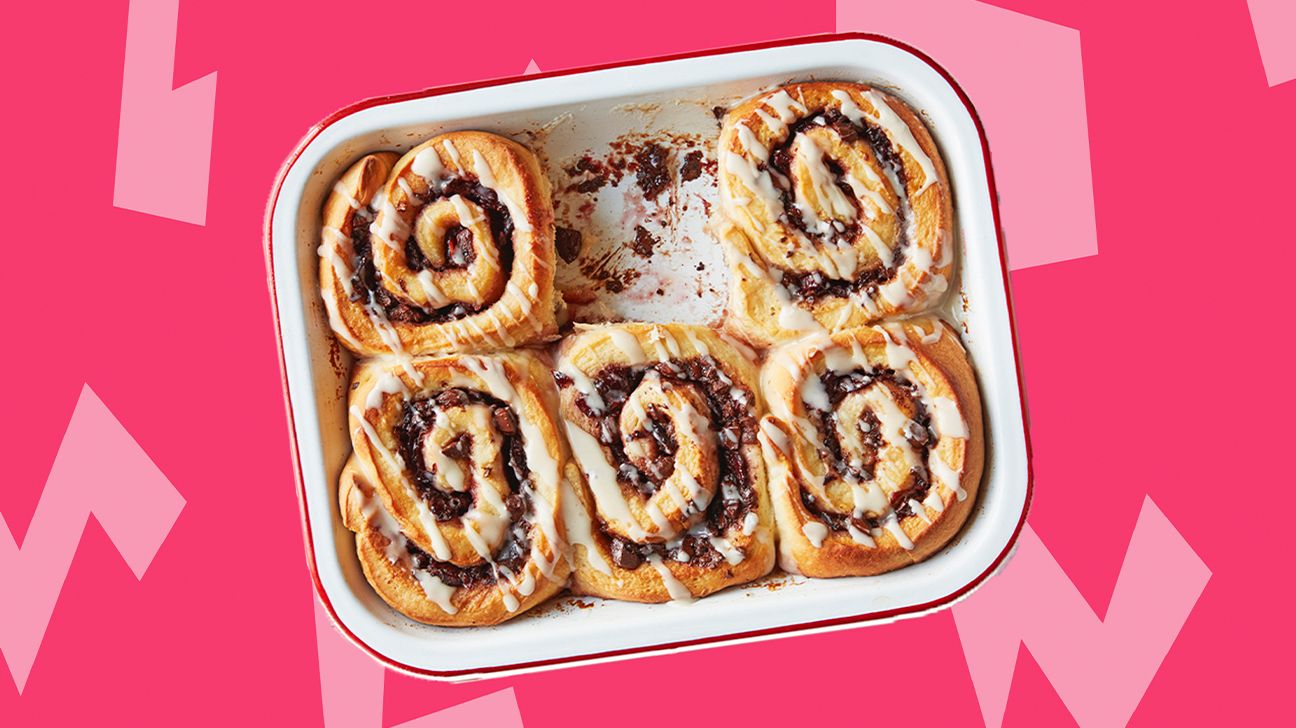 When the craving for hot-from-the-oven cinnamon rolls is insatiable and time is tight, we turn to refrigerated rolls in a tube for an instant fix. But naturally, we don't just bake them up as-is; instead, we jazz up refrigerated cinnamon rolls in easy but delicious ways.
Flavor-wise, there are near infinite variations to make your own mark on a can of cinnamon roll dough, but these four basic techniques can get you started.
The simplest route to distinction is to add something to the top of the buns once you've separated them. Sprinkle ground ginger and grated orange zest or a splash of rose water on before baking, or brush scotch on after baking. Or, make butterscotch pecan rolls: bake the rolls in muffin cups and put a dab of butter, a sprinkle of brown sugar, and some chopped pecans on top of each.
For all fans of salty-sweet, sprinkling crisp bacon on top (or even tucking crumbled bacon between the spirals of dough) is a brilliant move. See our Maple Bacon Sticky Bun recipe for a homemade variation—but know that savory bacon tastes great on the traditional sweet powdered sugar glaze or tangy cream cheese frosting too.
Refrigerated cinnamon rolls are pretty easy to unroll and re-roll, meaning that you can add spices–like more cinnamon, nutmeg, ginger, cardamom, or anything else–and/or other extras to the insides. For simple goodness, try adding chopped nuts or dark chocolate chunks (or both). When you're feeling up to doing it all from scratch, Joy the Baker's Chocolate Brioche Cinnamon Roll recipe is divine.
Another must-try — these cinnamon-almond-chocolate buns: Unroll the dough and brush on almond extract; re-roll and bake. When they come out of the oven, top with toasted almonds and chocolate sprinkles. Allow the chocolate to melt a bit, then very lightly drizzle with the icing that comes with the rolls. (In place of sprinkles, try slivers of chocolate bars, including ones with toffee in them.)
Other nice combinations to roll up inside the cinnamon buns include chopped dates and walnuts, and sauteed apples and walnuts (or pecans), cream cheese, or even bacon.
Another idea we like: Skip the super-sweet icing that comes with the rolls and whip up a quick cream cheese frosting (plain or with a twist, like maple syrup or fresh orange zest). See this Orange Cardamom Cinnamon Roll recipe for inspiration.
Or try slathering your buns with any of these frostings for a change:
Cinnamon buns don't have to stay in their original shape, either: you can turn them into one giant cinnamon bun for a fun, shareable breakfast centerpiece; make them in a waffle iron for crisp outsides before drizzling with icing or maple syrup; or roll small chunks of cinnamon roll dough into monkey bread (just like you can do with regular crescent roll dough).
Combine any of the above techniques for even more wow factor—and revel in how easy it was.