We include products we think are useful for our readers. If you buy through links on this page, we may earn a small commission Here's our process.
Greatist only shows you brands and products that we stand behind.
Our team thoroughly researches and evaluates the recommendations we make on our site. To establish that the product manufacturers addressed safety and efficacy standards, we:
Evaluate ingredients and composition: Do they have the potential to cause harm?
Fact-check all health claims: Do they align with the current body of scientific evidence?
Assess the brand: Does it operate with integrity and adhere to industry best practices?
We do the research so you can find trusted products for your health and wellness.
Is any road trip truly complete without a savory snack such as corn nuts? If you're like me, the answer is a resounding no. There's something utterly delightful about munching your way through a bag of them, imbued with a certain sense of adventure—perhaps even a little danger. They're so satisfyingly crunchy! So simple in all their salty, nutty, bite-sized goodness!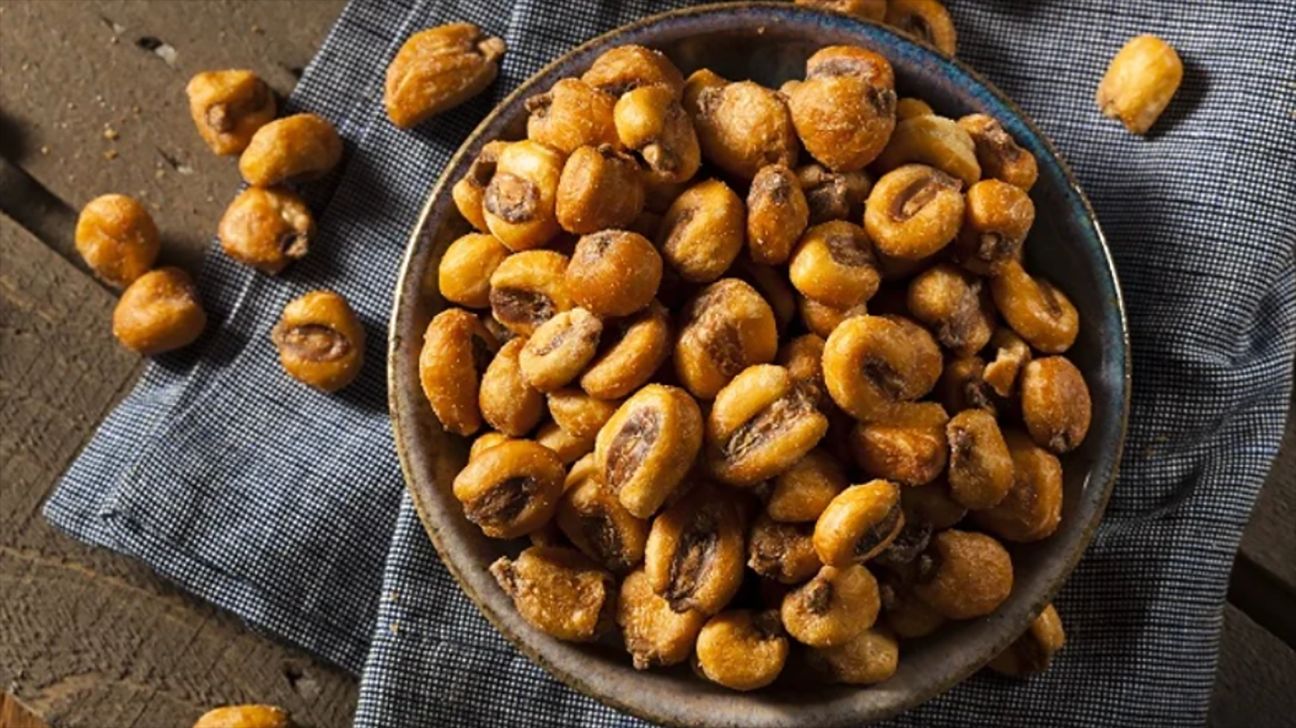 But most of us corn nuts nuts don't make a regular habit of eating them, and for good reason. If you look at the ingredients in commercial store-bought varieties, you'll see they're often made with additives like maltodextrin, and are high in sodium and saturated fat. This includes the fancy organic non-GMO versions sold at places like Whole Foods, too.
But never fear, my fellow corn nuts aficionados! With just a few simple ingredients, you can easily make your own (dare I say healthier?) version of this toasty-tasting treat at home. Here's how.
If using fresh corn, you can either use a dehydrator or your oven to dry it out; in the latter case, you'll also need to use an oven thermometer to ensure the temperature remains consistent throughout the process. Better yet, skip this step, and just buy your corn already dried.
For oven-roasted corn nuts, we recommend using a parchment-lined baking sheet. A silicone mat will also do, but isn't necessarily a better option.
To get the best results for fried corn nuts, use a deep, heavy cast-iron skillet and a frying thermometer. You'll also want to keep paper towel-lined baking sheets on hand for easy draining.
Ideally, you should use dried hominy or another variety of dried large kernel corn. Look for Goya brand giant white corn, also labeled maiz mote pelado, in the specialty foods aisle of your local supermarket.
Opt for a neutral-tasting oil with a high smoke point, such as coconut oil, grapeseed oil, safflower oil, sunflower oil, soybean oil, or canola oil. This applies to recipes for both frying and baking corn nuts. Check out this guide to cooking oil for more on various options.
When it comes to flavorings, the only limit is your imagination. Go wild and have fun! You can choose from the simple (think: sugar, paprika, or fleur de sel) to the more complex, such as Old Bay seasoning, or even try ranch dressing seasoning mix. And in case you were looking for another great way to use Trader Joe's everything bagel seasoning, this could be it!
Rehydrate your dried corn by soaking it in a large bowl in the refrigerator for at least 12 hours. Then, rinse it, drain it and dry it extremely well with paper towels. If you have the time, you can let it air dry for a few hours for good measure.
Whether baking or frying your corn nuts, common sense will help you avoid getting burned. Remove the baking tray from the oven with care, since some kernels may explode in the process (and those babies can travel at high speeds in any direction). The fried version is messier and perhaps more dangerous, but yields more authentic results. Just be sure to work in batches and use a splatter screen to avoid getting burned by the hot oil.
Before eating or storing your homemade corn nuts, let them cool completely.
They can be kept sealed for three to five days at room temperature in a plastic bag or glass jar.
Ready to get nuts? Here are a few recipes to help make your next road trip better than ever!
If you're not sure which way you'd like to make them yet, check out this information-packed blog post. It's full of tips and techniques for avoiding corn nut cooking mishaps, in addition to some great ideas for flavoring them. Get this Easy Homemade Corn Nuts recipe.
This recipe calls for using vegetable oil, which is fine, since it also calls for baking (rather than frying) the corn nuts. If ranch isn't your thing, check out some other dry dressing mix flavors at your local supermarket, such as Italian or garlic and herb. Get this Homemade Smoky Ranch Corn Nuts recipe.
Unlike other takes, this lighter recipe calls for soaking the corn for six hours before simmering it with garlic, onion, herbs and spices until it reaches a chewy texture. It's then dried, baked, and drizzled with olive oil and salt to finish. Get this Baked, Spiced "Corn Nuts" recipe.
This South American version can be made with either cancha or chulpe corn, which is available for purchase online or at Latin grocery stores. It may be eaten as a snack, used as a condiment or sprinkled on top of ceviche to add crunch. Get this Maiz Tostada recipe.
Wanna be truly extra? Make your own corn nuts, and then use them in this sweet recipe for chocolate bark. Sure, it's corny—but it does make for a nice, crispy texture. Get this Toasted Corn Nut Chocolate Bark recipe.