Summer fruit is here aplenty, and these days we're baking everything from raspberries and blueberries to plums and peaches into all our favorite desserts, like blueberry ice cream to mixed berry pies. And while there are an innumerable amount of ways to repurpose summer fruit into dessert concoctions, you are also more than welcome to share the wealth with your savory friends, too.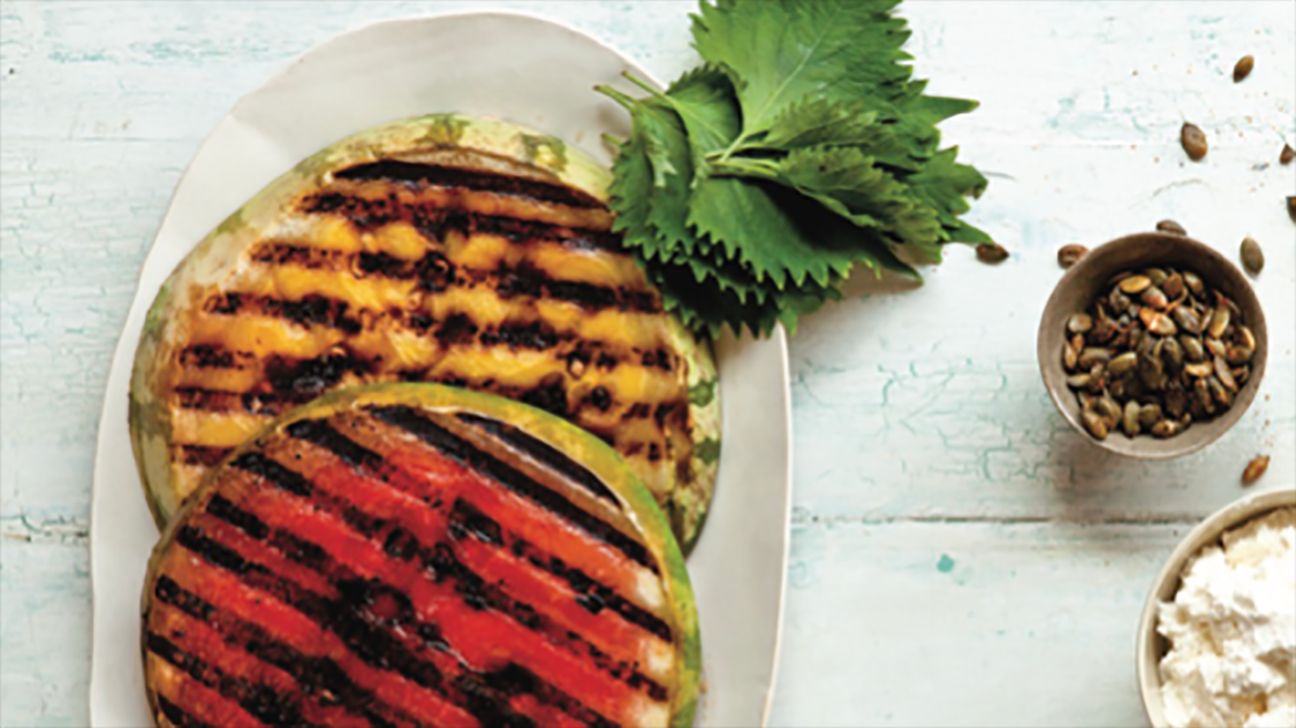 That's where chef JJ Johnson's grilled watermelon salad comes into play, his ode to summers historically spent noshing on wedges of watermelon in Harlem. The recipe stems from his 2018 cookbook "Between Harlem and Heaven: Afro-Asian-American Cooking for Big Nights, Weeknights, and Every Day," written in tandem with Alexander Smalls and Veronica Chambers, which explores the merging of Afro-Asian-American cooking. Flip through the pages and you'll find recipes for delicata squash salad with yuzu buttermilk dressing, Afro-Asian-American gumbo, and pineapple black fried rice.
Between Harlem and Heaven: Afro-Asian-American Cooking for Big Nights, Weeknights, and Every Day, at Bookshop.org Buy Now
The summery grilled watermelon salad is refreshing and smoky, piled high with creamy ricotta or mascarpone cheese. But if you're wondering how to grill watermelon without it falling apart, JJ shares that the key is simply keeping the rind on.
"You want to grill your watermelon with the rind on so it doesn't fall apart," JJ explains. "It all holds together so when you're flipping or turning the rind it holds together really nicely."
Just be sure to get the grill super hot and brush it with plenty of oil before placing the slabs of watermelon over the fire. Once it's on the hot grill, the watermelon should get nice dark grill marks. When the color meets your liking, pull each round off the grill and use it as a vehicle for the rest of the salad: cornbread crumbles, ricotta cheese, and dates, all drizzled with a tart lime mango dressing. It's a piece of Harlem, dropped into your own backyard.
Excerpted Between Harlem & Heaven: Afro-Asian-American Weeknights, Cooking for Big Nights, Weeknights, and Every Day by JJ Johnson and Alexander Smalls with Veronica Chambers. Copyright © 2017 by Oatmeal Juice Inc. and Alexander Smalls. Reprinted with permission from Flatiron Books. All rights reserved. Photography by Beatriz da Costa.
Few things say Harlem in the summertime like fresh watermelon. In 1935, when African-American businessman George Jones opened his classic movie theater, the Harlem, he didn't just serve the usual fare of soft drinks, candy, and popcorn. In between his home (which was next door) and the theater, he opened what he called a "Watermelon Garden" with picnic tables and umbrellas where patrons could gather and socialize before and after the films.
If you're never grilled watermelon in the summertime, then you're in for a treat. Grilling caramelizes the sweetness of the fruit, and the char gives just a hint of smoky flavor. The wood flavor of the girl will come through the watermelon, but it won't be overpowering like the charred tomato or charred vegetables.
Just make sure to slice your watermelon thick enough that it doesn't fall apart while you're turning it on the grill.
Use some stale cornbread from the day before to add texture. It'll be familiar yet wholly different from anything you're used to.
Prep Time: 20 minutes Cook Time: 15 minutes Serves: 6-8
INGREDIENTS
½ seedless watermelon, sliced into 1-inch thick pieces
8 shiso leaves, shredded (can substitute thai basil or mint if needed)
½ cup dates, pitted, and chopped
¼ cup lime mango dressing
½ cup pumpkin seeds
½ teaspoon cayenne pepper
1 teaspoon sugar
2 teaspoons olive oil
One 9-inch pan cornbread (or purchased)
2 tablespoons melted unsalted butter
½ cup ricotta or mascarpone cheese
Kosher salt
Fresh ground pepper
INSTRUCTIONS
Heat a nonstick grill pan over medium-high heat. Drizzle just enough olive oil over watermelon slices to thinly coat and place on the hot grill pan.
Grill each side of the watermelon slices for about 2 minutes or until grill marks appear. Transfer to a plate and season with salt.
Dice the grilled watermelon into large cubes and toss with shiso leaves, dates, and mango dressing in a large bowl.
To make the pumpkin seeds, preheat your oven to 350 degrees F. Toss the pumpkin seeds with cayenne pepper, sugar, and olive oil and place on a 9-inch baking sheet. Roast for 6-10 minutes.