Once upon a time, a titan named quinoa swept across the globe and started dominating all kinds of recipes. We understand why: It's full of protein, fiber, and nine essential amino acids.Navruz-Varli S, et al. (2016). Nutritional and health benefits of quinoa (Chenopodium quinoa Willd.) DOI: 10.1016/j.jcs.2016.05.004 But there's a new super grain in town, and it's here to stay.
Farro has actually been (subtly) on the scene for ages. And what we love most about this ancient strain of wheat is that it's super filling and tastes kind of creamy. It also has more fiber than quinoa.
So next time you're looking to bulk up a meal or are in need of something heart- and belly-warming, try one of these hearty farro recipes. You'll wonder how you've survived so long without it.
Healthier versions of indulgent recipes can sometimes be blah. That's not the case with this heavenly soup.
The recipe opts for just the right amount of substitutions and doesn't sacrifice the good stuff, ensuring it's still as creamy and comforting as its cousin, chicken and rice soup.
It may be tempting to ditch the butter and use olive oil instead, but we say stick to the stick (of butter), and if anything, substitute the whole milk for a lower-fat variety — if you must.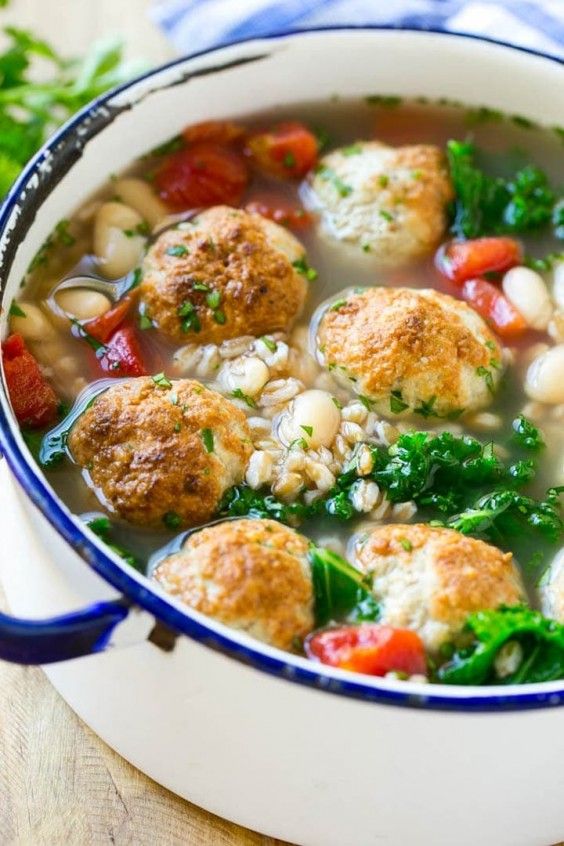 Who needs noodles when you can eat a piping hot bowl of meatball soup?
Made with fiber-filled farro, leafy greens, protein-rich beans, and tart tomatoes, it's a great dish to warm up with on a crisp fall day — or any day, for that matter.
Homemade meatballs definitely yield the best flavor, but feel free to sub frozen meatballs if time doesn't allow for making them from scratch.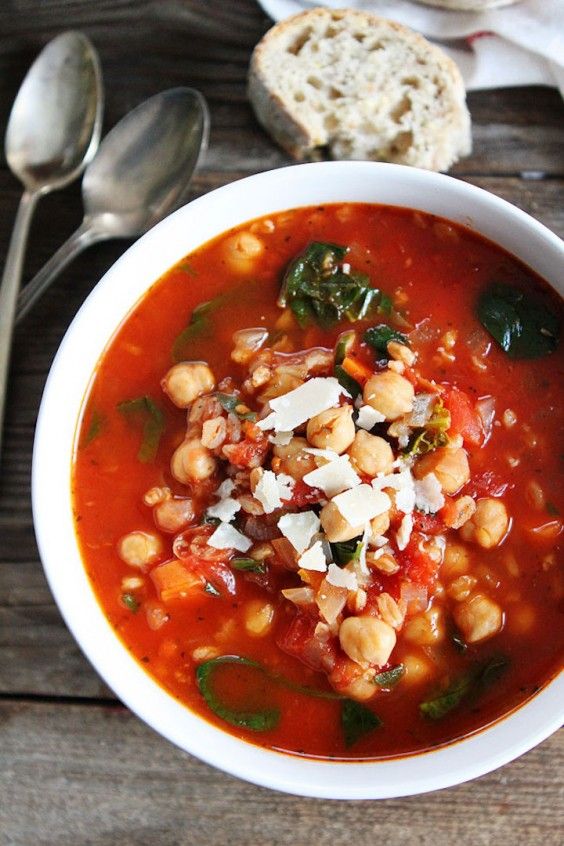 Soups can feel uninspiring. They can also feel like they're more work than they're worth. This soup, however, is worth every minute — and every chop and stir.
Filled with hearty farro, protein-packed chickpeas, veggies and herbs galore, and topped with parmesan cheese, this soup is satisfying, flavorful, healthy, and freezes like a champ.
Serve with a loaf of crusty bread or simple Caesar salad.
Sometimes eating leftovers can feel like a drag, but when you make a recipe that can be altered and transformed in all kinds of ways, leftovers become anything but bland.
This farro, squash, and kale salad tastes great as is, but can also be jazzed up with the likes of sausage and caramelized onions, sun-dried tomatoes and feta, beets and goat cheese, and many more tasty combos.
We're definitely fallin' for this fall comfort dish.
Another amazing thing about farro: It pairs equally as well with savory and sweet. This salad brings the sweet with fresh strawberries and balsamic poppy seed dressing.
Avocado adds creaminess, red onions add crunch, and spinach and feta pull it all together. Feel free to experiment with additional nuts like sliced almonds, hazelnuts, or pine nuts.
A salad that keeps for days? Yes, it exists. This Greek salad is full of textures and flavors, is satisfying, and takes under 30 minutes to make.
Though the arugula will keep its crispness even if you mix it in straight away, we like to combine the rest of the veggies with the farro, and come eating time, toss that with the arugula and dressing.
For extra veggie oomph, add sliced pepperoncini and artichoke hearts.
Farro is one of those grains that tastes good with just about any sauce. Though commonly paired with Italian and Mediterranean flavors, it's equally as good with some Asian inspiration.
This Thai salad has veggies galore — carrots, bell pepper, cabbage — and even some crunch from scallions and chopped peanuts.
The peanut sauce is perfect parts savory and sweet, making it feel like more a treat than a healthy household staple.
This recipe goes the extra mile by cooking the farro in chicken broth, apple cider vinegar, and bay leaves. The result is ultra-savory grains.
They perfectly complement the dried cranberries, pistachios, sweet potato, arugula, parsley, and Dijon dressing.
Pro tip: Double the recipe — it's that good.
This recipe is berry delightful. The strawberries, juicy sun gold tomatoes, and mozzarella pearls combine to create a summery salad that's great for a picnic or potluck. With added protein, it also makes a great main course.
Pro tip: Need to make it in a jiff? Use store-bought pesto.
It's amazing how a few high-quality ingredients can be thrown together in a pinch and taste like hours of effort. This recipe is just that.
The fresh figs, tart goat cheese, lacinato kale (aka Tuscan kale), and farro come together with a light yet sweet balsamic maple mustard dressing, taking a mere 10 minutes to assemble.
Pro tip: For an extra dose of protein, add sliced grilled chicken.
Not sure what to do with all of those leftover grilled or roasted veggies? Why not toss them with some farro, hummus, and tzatziki?
To make the most of this recipe, grill or roast the veggies on the weekend, whip up the tzatziki, and toss together this veggie bowl as a last-minute lunch or dinner.
Pro tip: We love doubling the veggie quantities and using in scrambles and salads throughout the week.
Talk about a one-pot wonder. With only five ingredients, this recipe tops our list of easy and tasty weeknight favorites. Bonus: It tastes even better the next day.
To up the flavor, use a small can of diced tomatoes in place of the fresh grape tomatoes and tomato paste in place of the sauce. It also tastes great with shredded basil if you have it on hand.
The nutty flavor of farro pairs perfectly with the tangy olives and bright veggies in this simple shrimp bowl. Because the marinade is so amazing, we say soak the veggies with it before cooking too.
Feel free to sub feta cheese for the Greek yogurt sauce and any lean protein for the shrimp (salmon tastes pretty darn awesome).
Great for breakfast, lunch, or dinner, this shiitake bowl is all kinds of awesome — and not just because it has a fried egg on it.
The homemade chimichurri sauce marries all of the ingredients and brings out of the best of the savory mushroom and bitter kale and brussels sprouts. Just add sriracha.
Skillet meals are all the rage. And for good reason: They're easy to make, and they minimize dirty dishes.
This casserole is stuffed with turkey sausage, sweet potatoes, kale, and white beans, and topped with fresh parmesan cheese and basil.
Another great dinner party dish or meal for plenty of leftovers. The only downside is how damn good it tastes — meaning those leftovers may not actually be left over.
If we had to choose between hummus and burrata, we simply wouldn't — we'd pick both, and we'd make this recipe.
The tabbouleh is brought to life with grilled asparagus, fresh blueberries, and traditional cucumber and tomatoes, and bulked up with farro in place of bulgur. Serve with warm pita bread or simply dig in with a fork.
Can we talk about how stunning this recipe looks? Easy and crazy-delicious, this roasted carrot dish is the perfect recipe for a date night, a dinner party, or a treat yo'self meal.
For the crispest chickpeas, make sure to pat them completely dry after rinsing. Also, mix them evenly in a bowl with the olive oil and spices before baking.
Pro tip: If spinach isn't your favorite green, feel free to sub kale or layer the farro and carrots on top of a pile of fresh arugula.
Farro's richness gives all recipes a creamy feel, even if there's no added cream. The only "cream" in this recipe is the cheese from pesto — which differs depending on which pesto you choose.
The rest is all veggie, herb, and citrus. Since the flavor is so light, opt for high-quality olive oil and sea salt, as they'll have a significant impact on the taste.
Comforting winter dishes don't always mean a food coma is near. Instead of heavy cream and cups upon cups of cheese, this risotto uses homemade cashew cream to bind all of the ingredients together.
Mixed with tangy tomatoes, button mushrooms, a splash of white wine, and fresh rosemary, this recipe tastes like the holidays without the post-indulgence blues.
As much as we love quinoa, we admit, we get a little bored with it sometimes. So, like freekeh, farro is the latest addition to our list of lovable grains.
Not quite a wheat, and not quite a rice, farro adds a richness and chewiness to dishes that's similar to that of other grains, but lighter. On its own, farro tastes savory with a hint of nuttiness or cinnamon flavor.
Use it anywhere you'd put in quinoa or brown rice, be it soups, stir-frys, or salads. Spend a little time with this versatile grain, and you'll soon see that the options (and taste combinations) are endless.