All the cues for the fall season are here—the crisp breeze, the changing leaves, and the ubiquitous use of pumpkins in every recipe and product. But nothing is better about the season than the indulgent, comfortable lifestyle, properly known as "hygge," the Danish term for "a quality of coziness and comfortable conviviality that engenders a feeling of contentment or well-being." (Pronounced hoo-guh).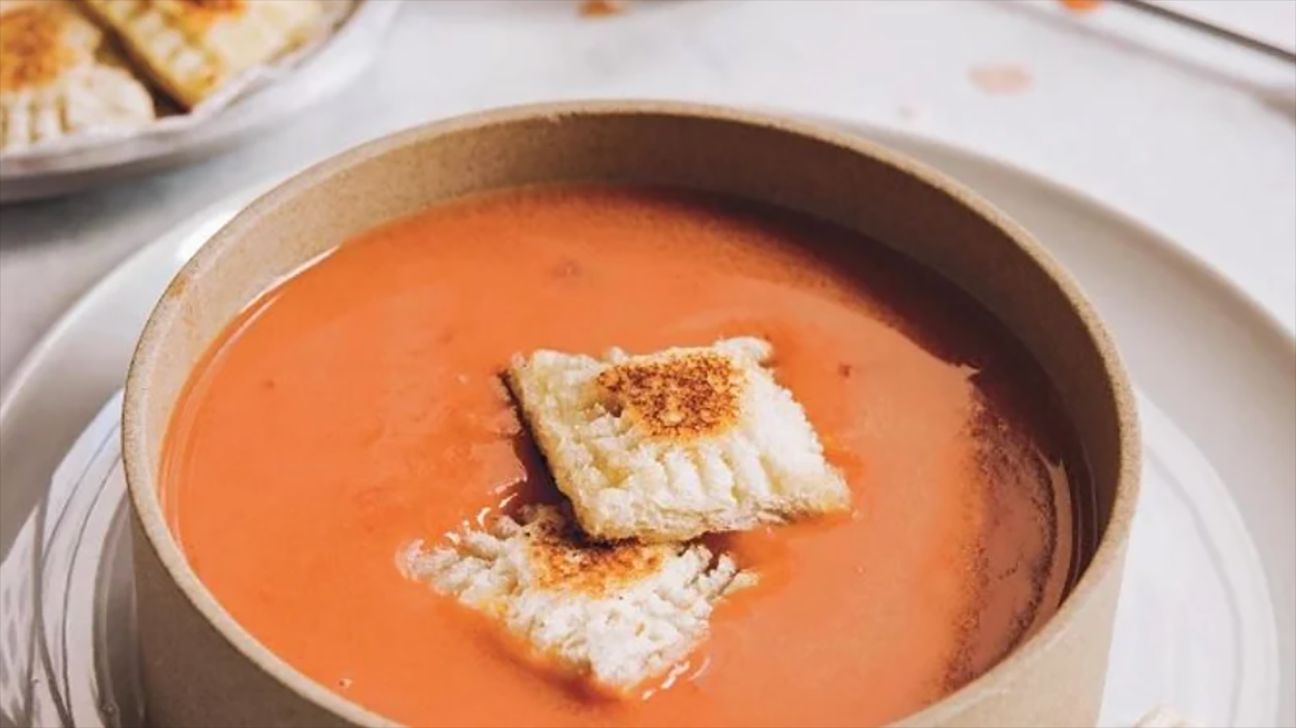 "Hygge" life means treating yourself with whatever makes you feel good inside. If you're aspiring to achieve this level of comfort, a good place to start is by giving yourself a liberal helping of tomato soup, and a rich, substantive side that'll keep you warm and toasty. What's ahead will show how you can make a warm, tangy tomato soup into a full meal (and check out our Creamy Tomato Soup with Grilled-Cheese Sandwich Dumplings recipe, for one more classic pairing in a slightly new format). And don't forget about the parmesan rind trick!
Let's start with the classic tomato soup. Its saltiness and acidity make it good on its own, but you can also break up the uniformity by pairing it with some mozzarella sticks (the same way you might a grilled cheese sandwich). That way you can go back and forth between spoonfuls of tomato soup, and bites of oozing, cheesy goodness. Spice it up with red chile flakes if you want a bit more bite.
Need something heartier and with a little more kick to it? Try a spicier or Mexican-inspired variety of tomato soup, and pair it with a Fried Catfish Po'Boy. This time you get some heat with the addition of some traditional Southern flavor profiles like Tabasco sauce, cayenne peppers, and Cajun seasoning.
Tomatoes, shrimp, avocado, and greens work so well together in this basic but tasty match-up. It's a little more summery as well, but it'll be a refreshing change if you want something that isn't so heavy. For the ceviche, cook the shrimp for about 4 minutes in a pot of boiling water, then throw it into an ice bath so that it doesn't continue to cook. Afterwards, take a large bowl and mix onions, garlic, tomatoes, cilantro, salt, pepper, vinegar, olive oil, jalapeño, clam juice, cumin, and honey, add in the shrimp, and refrigerate it for at least two hours. The longer you let it marinate, the better. Serve the salad with fresh avocado, alongside fire roasted tomato basil soup, and you've got a full meal.
The grilled tuna melt is a comfort food classic, and an essential for American "hygge" living. Dress up the tuna with onions, celery, pickles, mayo, and whatever else you like, then spread over 2 slices of bread with a good melting cheese. Press the 2 halves together and apply liberal amounts of butter or mayo on each side before placing into the frying pan; cook both sides until golden. Both the grilled tuna melt and creamy tomato basil soup are quick to make, and are easily a family favorite.
The BLT will always be an American classic, but that doesn't mean you can't upgrade this traditional lunch recipe. Give your BLT more character by throwing in peppercorn-crusted bacon, pesto, mayo, mustard, and sprouts. You'll get crunch, creamy avocado, juice, and smoke, all in one bite. Pair this with roasted garlic and tomato soup, and you'll have a lunch everyone will be asking about at the office.