We include products we think are useful for our readers. If you buy through links on this page, we may earn a small commission Here's our process.
Greatist only shows you brands and products that we stand behind.
Our team thoroughly researches and evaluates the recommendations we make on our site. To establish that the product manufacturers addressed safety and efficacy standards, we:
Evaluate ingredients and composition: Do they have the potential to cause harm?
Fact-check all health claims: Do they align with the current body of scientific evidence?
Assess the brand: Does it operate with integrity and adhere to industry best practices?
We do the research so you can find trusted products for your health and wellness.
Banana breads and banana cakes are easy, moist, sweet solutions for making use of those three or four bananas on your kitchen counter that are getting mushier by the minute, sprouting brown spots with ripe old age. Yet the difference between the two treats is as fuzzy as the distinction between a muffin and a cupcake.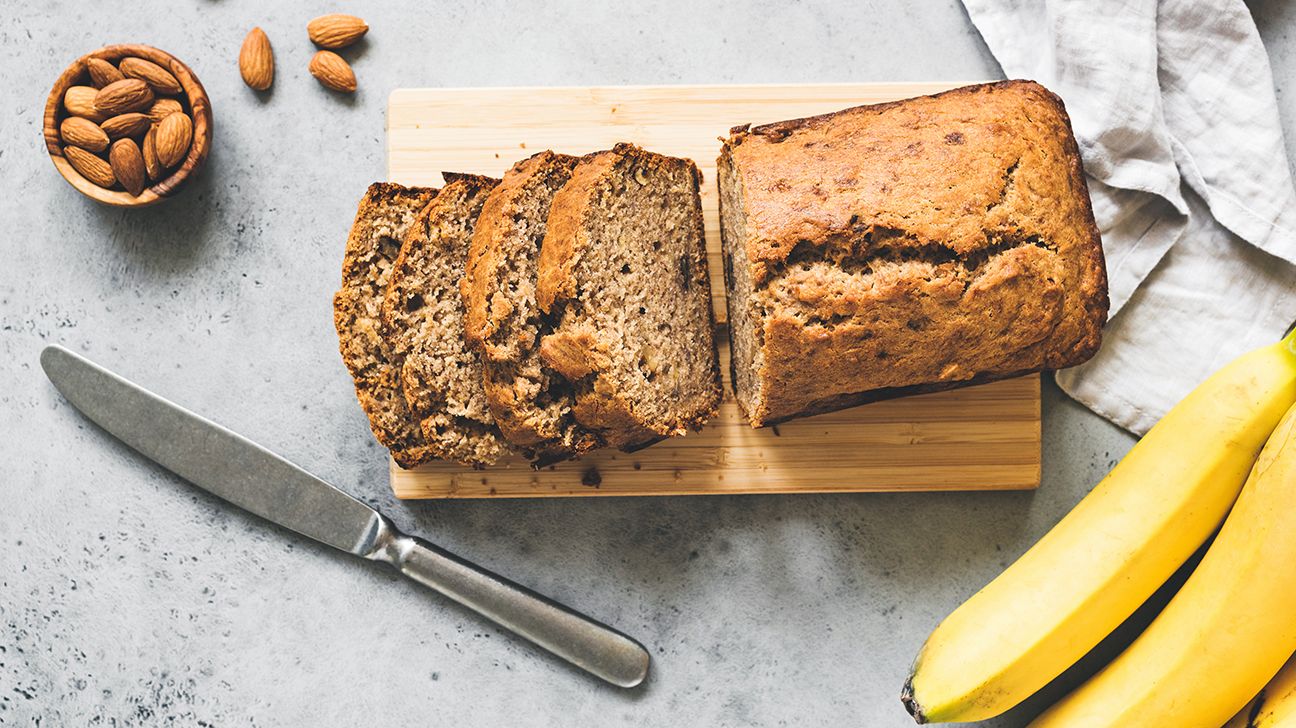 If it's baked in a sheet pan, then that's a pretty clear indication that it's a cake (ditto if it's a multi-tiered affair), but there's still confusion about loaf-shaped banana bread. Slap some icing on it and you might as well call it a cake, but is a naked loaf automatically banana bread? (Pound cake is baked in the same sort of pan and is called cake regardless of its glazed or unglazed status…)
Banana bread is a quick bread already, so like cake (and unlike regular breads), it doesn't need time to rise. It's the baking soda and/or baking powder that makes it rise so quickly while baking in the oven. It is always sort of a hybrid, then?
Even David Lebowitz doesn't know the difference between banana bread and banana cake. And he's an award-winning pastry chef, formerly at Chez Panisse, and author of eight books (both cookbooks and memoirs with recipes), starting with "Room for Dessert" up through "My Paris Kitchen" and "L'Appart."
In the introduction to his banana bread recipe, he admits that he's tried "to come up with an explanation but just can't think of one. Could just be the shape? But we don't call carrot cake baked in a loaf pan carrot bread…do we? But no matter. Everyone loves banana bread – or whatever you call it."
If you really want to mince words here, banana bread can be denser, heavier, and less sweet than its more confectionary brethren, the banana cake. First, the obvious: Bread usually doesn't have icing or frosting like cake often does. Then, the less obvious: Banana bread can incorporate heavier flours, like all-purpose flour and whole wheat flour, while banana cake sometimes calls for pastry flour or cake flour, which is lighter.
A layer cake is one thing, but when it comes to a loaf, the difference is so subjective, it can come down to: When you're eating it, regardless of the time of day, do you feel like you're consuming a nutritious breakfast or an indulgent dessert? Professional, semi-professional, and home bakers alike ponder this question.
Prolific home cook, award-winning blogger, and "Smitten Kitchen" cookbook author Deb Perelman wooed her audience with her jacked-up banana bread in 2006. Six years later however, she wrote "… it's full of white flour and refined sugar and melted butter and it's absolutely, unquestionably wonderful but when it comes to breakfast, I like to pretend that that I'm not feeding us cake but something wholesome and that recipe makes it hard to pull off."
So in 2012, Perelman came up with a crackly banana bread recipe that uses millet, whole wheat flour, coconut oil, 1/3 cup of maple syrup, and 1/3 cup (max) of brown sugar. That version of banana bread felt and tasted more like breakfast to Perelman. Most cakes contain at least 1 1/2 cups of sugar, either white, brown or a mixture, and sometimes even as much as 2 1/2 cups of the sweet stuff.
You can find scores of banana bread recipes online these days, of course, running the gamut from super-healthy (even keto-compliant) to more decadent than your average layer cake. Most of them go by "banana bread"…even when they probably shouldn't.
So don't worry so much about what you call it. Just make it, and savor the 'nanner deliciousness. Try these recipes:
With plenty that blur that fine bottom line.
Anything with Nutella flies right to the top of our list. With half a cup of chocolate-hazelnut spread, this banana bread has some extra sweet in it that can feel as indulgent as cake. Get our Roasted Banana Nutella Quick Bread recipe.
Chunky, all-natural peanut butter and honey add more depth to this banana bread, resulting in a flavor trio that always works. Get our Peanut Butter-Honey Banana Bread recipe.
Toss in some chocolate chips and it's getting closer to banana cake, in our estimation. Anything that adds more sweetness leans toward dessert. Plus, there's that equation of chocolate + almost anything = good. Get our Chocolate Chip Banana Bread recipe.
With oats, whole wheat flour, and no sugar save for the turbinado you sprinkle on top, these muffins fall safely in the bread category. Don't worry about lack of sweetness though: There's honey and maple syrup to sweeten the deal. Get our Healthy Banana Muffins recipe.
The sour cream adds a slight tang to the almost cake-y texture of this version. Get our Sour Cream Banana Bread recipe.
There's no mistaking that this one's a cake—moist, buttery, tender, and crowned with tangy-sweet cream cheese frosting. It's also baked in a big 9-by-13-inch pan, to make the distinction even clearer. Get The Best Banana Cake recipe.
This banana cake is a bit more restrained since there's no frosting—but you won't miss it thanks to the cinnamon-flecked crumb topping, which also makes it totally appropriate for breakfast. Get the Banana Crumb Cake recipe.
If you're a banana pudding fan, a rich and creamy banana cheesecake will win you over in one bite. Get the Banana Cream Cheesecake recipe.
And finally, our nod to an official (cup-size) cake that stars this lovely creamy, tropical fruit. There aren't as many recipes for banana cakes as there are for banana breads, but add some cake flour instead of all-purpose flour, and whip up some icing, and any banana bread will transform into a cake. This recipe doesn't even call for more sugar than any of our other banana bread recipes (except for those healthy muffins). Less, in some cases. But we fix that with the frosting, and the caramelized bananas on top. Get our Banana Cupcakes recipe.