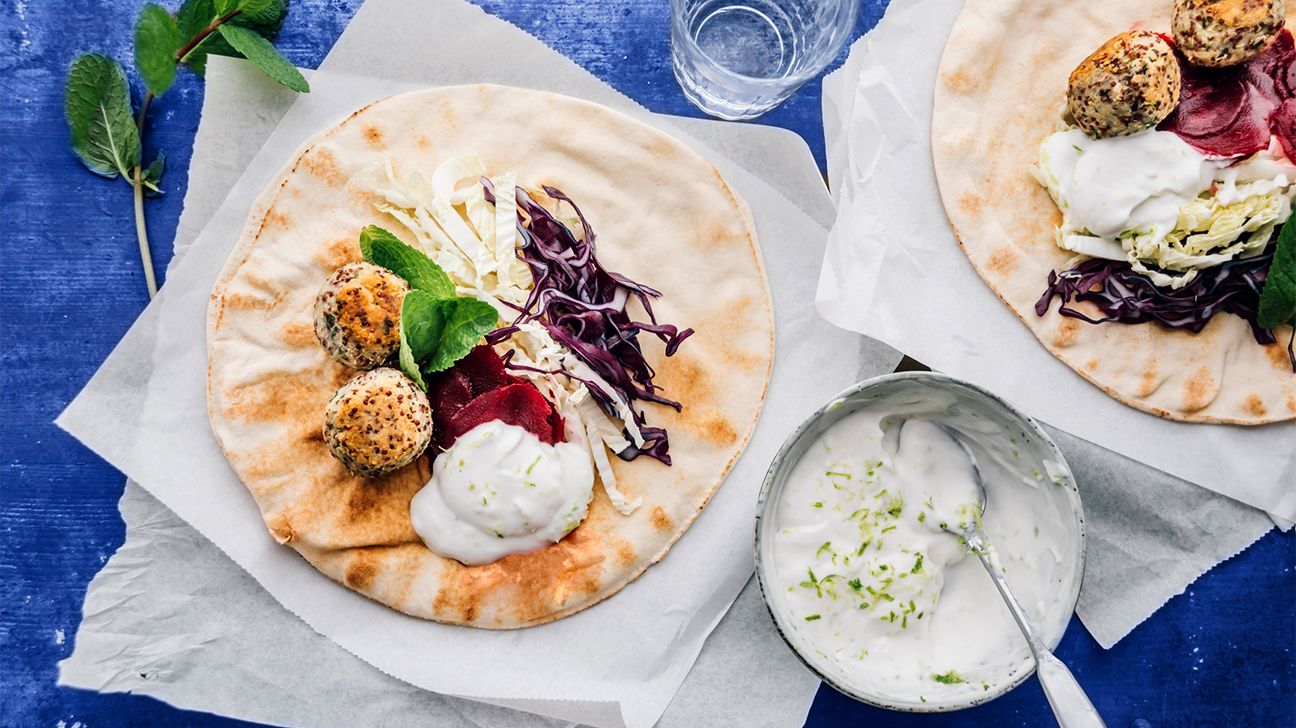 You'll usually see pita bread used as a vehicle for holding falafel, shawarma, or generous slathers of hummus. It's only natural, since the bread has its origins in the Middle East.
We're all for traditions, especially those that end up this tasty. However, it's 2020, and people should no longer be pigeonholding pita into one type of cuisine. There are so many more delicious fillings just waiting for a pita-based hug.
FREE THE PITA!
From Thai-inspired chicken salad to vegan barbecue tofu, this article shows that there's a pita pocket sandwich for everyone. Just click on the name of the recipes for tips on how to make it.
You've got to pita pocket or two.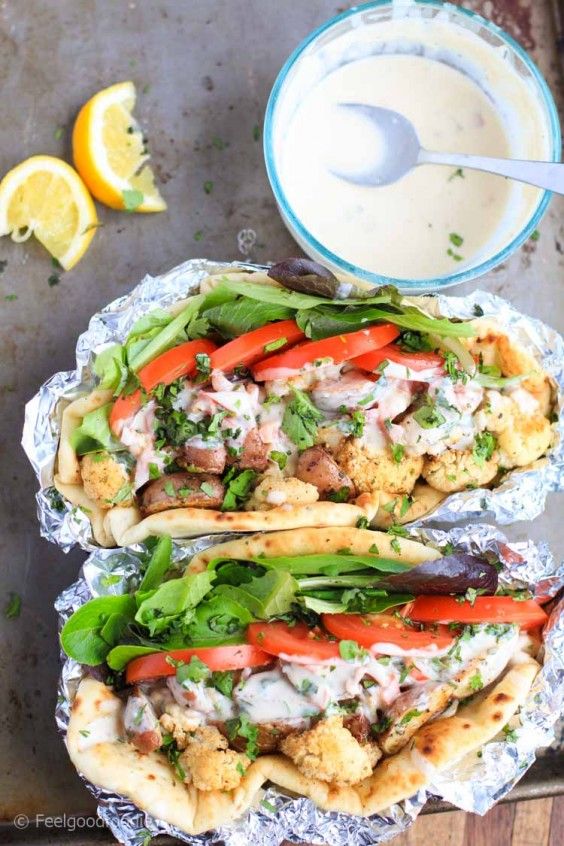 Roasted cauliflower and potatoes are filling and delicious enough without assistance. However, throw in some cumin and coriander, tuck the whole business in a pita, and top it with tahini — then see how much better your day gets.
You've just found your new favorite vegetarian meal.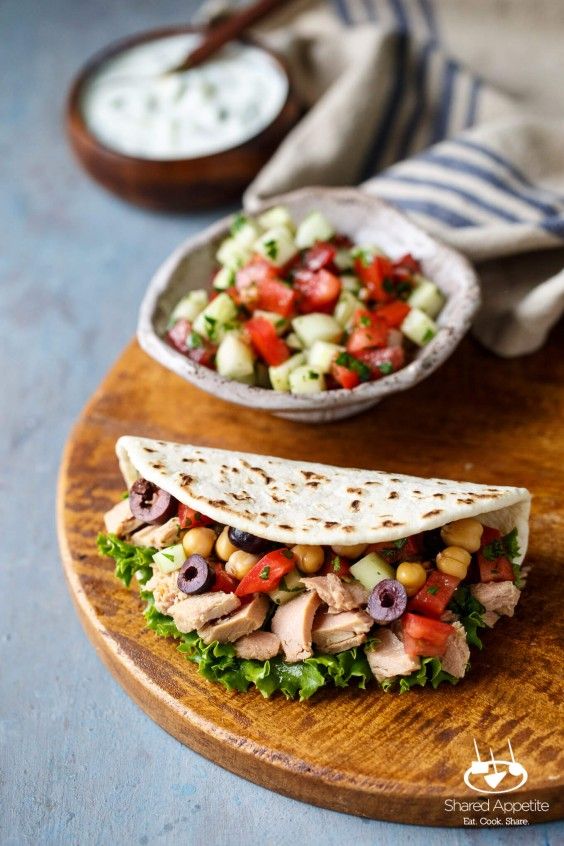 From the oil-packed tuna and the Kalamata olives to the Israeli salad and minty yogurt sauce, everything about these quick sandwiches comes with full-on Mediterranean flavor. Opa!
Using mini pitas that are, naturally, smaller makes it possible to eat just one for a snack or several as a meal.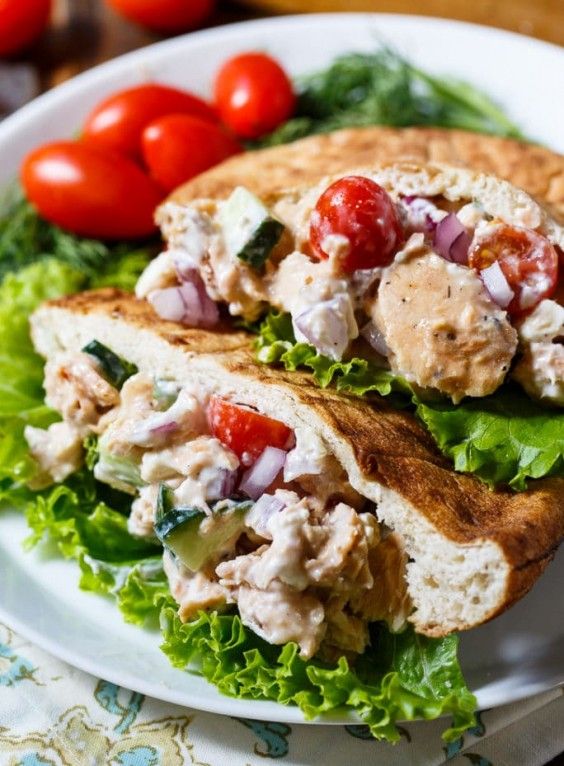 Salmon packed in pouches is a super-convenient way to get in your omega-3 fatty acids without a hefty price tag.
Omega-3 fatty acids are a key nutritional feature of oily fish. The Office of Dietary Supplements (ODS) suggests that they may reduce the risk of heart complications, improve brain development in babies, and have preventive effects against some cancers.
That's one heck of an impact for food that smells like a fish.
Stir in some Greek yogurt, feta, and chopped veggies, then pile the clusterfudge into pita halves. Oh, look, your next 5-minute lunch just showed up.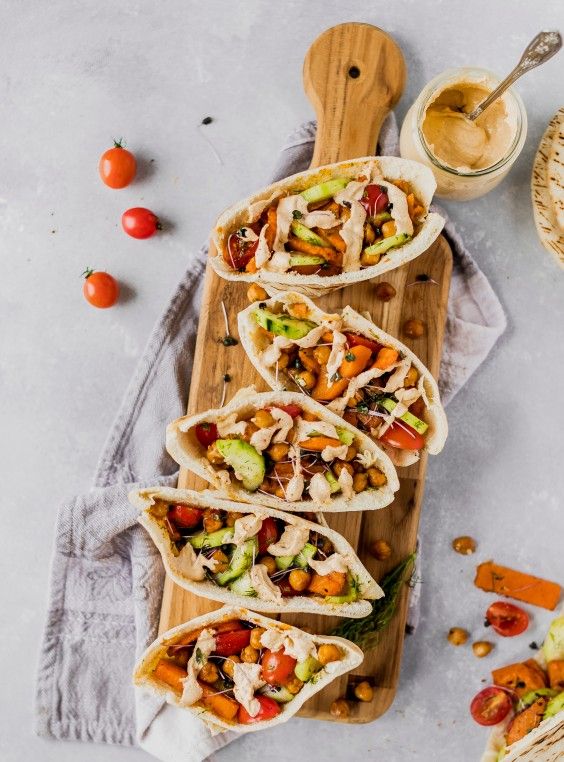 Harissa powder adds a just-spicy-enough touch to the fiber-rich mix of chickpeas and sweet potatoes inside this pita.
Or, adding even more harissa powder is a way to make it unfathomably spicy for those that enjoy streaming eyes and bragging rights.
To stick with the theme, it's all topped with a harissa-enhanced cashew sauce, making the recipe dairy-free for those with lactose intolerance or people who follow a vegan diet.
From the broccoli to the garbanzo beans, there's no shortage of fiber in these pita pockets. However, the nutrition benefits are just the icing on the cake (or the tahini on the mezze salad).
Between the zesty lemon dressing and the mashed avocado spread, this veggie pita masterpiece will show you its true colors based on taste alone.
Between the meaty tempeh, the hearty sweet potato, and the spicy cashew sauce, there's so much texture, flavor, and substance in these pita pockets that you'd never notice the absence of animal protein.
Serve these up to anyone who doesn't believe in meatless Mondays. They won't even lose their tempeh.
While there's a good amount of oil in this recipe, it's the heart-healthy fatty acids in the olive oil that give this pita pocket a nutritional kick in the butt.
A 2018 review of lab studies suggests that plant compounds, including those in olive oil, can perk up your health in many ways. However, they did admit that what happens in the lab may not necessarily happen in the human body.
So, become part of the experiment, and shove this hearty, wholesome pita into your face.
Fill the flavor with Japanese eggplant and wilted (but still crunchy) cabbage. Drizzle a garlicky tahini sauce on the concoction, just because.
Want to pump up your pita with plant based protein?
Stir chickpeas and edamame into Greek yogurt. Now you have a seriously power-packed filling that'll keep you full for hours. A few teaspoons of Sriracha can add a spicy complexity to it all too, like a Rubik's cube made of jalapenos.
We never met a fried falafel we didn't like (apart from one that insulted our hats) but these baked ones are just as tasty. And baking pretty much anything is more healthful than frying it.
This 2014 study on anchovies suggested that baking was the most healthful way to prepare it. Fried anchovies lost the most nutrients out of any cooking method in the study.Uran H., & Gokoglu N. (2014). Effects of cooking methods and temperatures on nutritional and quality characteristics of anchovy (Engraulis encrasicholus). https://www.ncbi.nlm.nih.gov/pmc/articles/PMC3982018/
So you can go all-in on baked falafel without having to feel awful.
You'll get all the flavor of the fresh herbs and the ground spices without the grease. But plenty of Greece.
Tofu tends to adopt whatever flavors it's cooked in. And who doesn't love a BBQ? Those looking for a smoky, meat-free powerhouse of a pita need look no further.
Find an anchovy-free Worcestershire sauce, and these pita sandwiches will be totally vegan.
There's also no added sugar in the barbecue tofu filling — just tangy, tomatoey goodness and a ton of plant based protein.
"Strawberries? In a pita? What is this madness?" You'd be surprised how well strawberries work in a savory option. Plus, they're insanely nutritious and one of the nicest things on the planet to eat.
Don't fear the full-fat dairy — it doesn't have as bad an effect on heart health as you'd think. In fact, a 2019 review suggested that it may even reduce a person's risk of type 2 diabetes cardiovascular disease.Astrup A., et al. (2019). Effects of full-fat and fermented dairy products on cardiometabolic disease: Food is more than the sum of its parts. https://www.ncbi.nlm.nih.gov/pmc/articles/PMC6743821/
So, a little full-fat dairy can go a long way, and the taste can't be beaten! Except with maybe a whisk.
Here, whole milk ricotta and blue cheese are the perfect, dense accompaniments to the lighter strawberry, spinach, and mushroom filling.
Scrambled tofu is a popular way to get protein without going down the meat route. However, stuffing it into whole-wheat pita can help you round out the dish with some healthy carbs.
Whether you're eating it for breakfast or dinner, it's wholesome, balanced, and pretty darn delicious.
Feel healthier with every bite into these easy quinoa and veggie sandwiches. Quinoa is hard to spell but excellent to eat, and it's a nutritional fountain of youth.
An avocado mash on top serves as a simple version of guacamole. The more dedicated pita-heads can follow the recipe for making pita from scratch, but store-bought pitas also totally work here.
Portobellos aren't the only mushrooms that work great as a meat substitute. Chanterelles have the hearty texture for it too, and flavor to match.
Plus, they add so much nutty flavor that you hardly need any more ingredients to turn them into a great pita filling.
A mix of frozen and fresh veggies, some shredded provolone, and a bit of dried thyme — that's all you need for a healthy meal that packs in protein, fiber, and complex carbs.
Think of this as an easy but elevated cross between a grilled cheese and a quesadilla. Seriously, what's not to love?
Greek yogurt instead of mayo makes this chicken salad a bit lighter than the usual, as well as setting the Mediterranean tone of the recipe better than a mandolin solo.
Round it out with other regional inspired ingredients, like parsley, olives, and feta.
For a veggie alternative, why not replace the chicken with halloumi cheese? Yet another gift from Greece.
Those after a meatier experience will find plenty to love in these Middle Eastern beef meatballs. They get their authentic flavor from lemony sumac, earthy turmeric, and lots of parsley.
Tuck them into pita halves, and make them all the more irresistible with the addition of a rich but healthy tahini sauce.
That yellower-than-usual color from the curry powder is the first indication that this isn't your regular shrimp salad. I checked, and there are no shrimps that wear attractive yellow overcoats.
Take a closer look, and you'll see that there are also chopped apples, dried cranberries, and coconut in the mix to make it an extra special, sweet and salty, slightly spicy taste implosion.
Now stop staring at your food and start putting it to good use.
Mix ground beef with parsley, cumin, and cinnamon to pad out this Middle Eastern-inspired take on burgers.
Meanwhile, a yogurt garlic sauce replaces the regular mayo, and you've got pita rounds instead of hamburger buns.
Not to pick sides, but the end result definitely flips the bird at the golden arches.
Yes, we know "pita" really looks like "pizza" and now it's all you can think about. But we've got you covered, don't worry.
This speedy, no-cook recipe can keep any pizza craving at bay. Premade pesto and pita bread with precut pockets score major points for convenience, mozzarella and pepperoni add hearty substance, and fresh tomato and basil brighten everything up.
Pizza who?
Instead of the usual chicken salad recipe, toss the shredded meat in a delicious sweet, savory, and creamy peanut sauce. Unlike store-bought sauces, this one comes with barely any added sugar. So satay away.
Stuffed in a pita with fresh veggies and chopped peanuts, it's both refreshing and satisfying.
For a circular piece of bread, there's a lot you can stuff inside a pita to send it several levels above most food you've ever eaten. Is this an exaggeration? Maybe. But any of these recipes above are pretty damn good regardless.
Anything can make up a pita pocket – your imagination is the only limit, alongside wanting to eat twenty of them and only being able to manage two.