We include products we think are useful for our readers. If you buy through links on this page, we may earn a small commission Here's our process.
Greatist only shows you brands and products that we stand behind.
Our team thoroughly researches and evaluates the recommendations we make on our site. To establish that the product manufacturers addressed safety and efficacy standards, we:
Evaluate ingredients and composition: Do they have the potential to cause harm?
Fact-check all health claims: Do they align with the current body of scientific evidence?
Assess the brand: Does it operate with integrity and adhere to industry best practices?
We do the research so you can find trusted products for your health and wellness.
Ah, yoga — the stretching, bendy, moving meditation workout everyone encourages you to do to de-stress, work your muscles, become more flexible, clear your crowded mind, and strengthen your core. Is there anything yoga can't do?
For beginners, though, getting started with yoga can be daunting, so we vetted the best apps to help you on your journey. If you're already a tried-and-true practitioner of Hatha or Ashtanga, we've got the best apps to help you move your practice forward at your own level and pace, at home.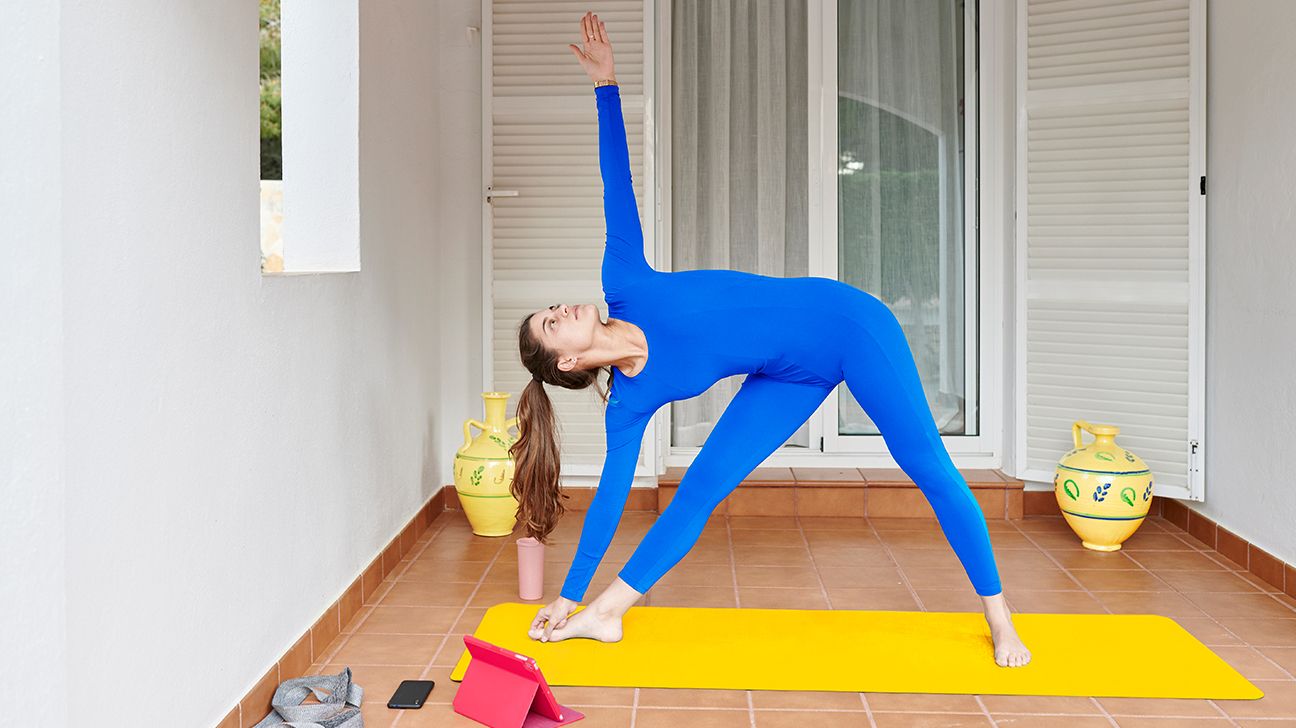 Yoga is an ancient practice originating in India that sequences various postures with breath to create a flow. Why is it so popular? Well, among its many benefits, yoga can help reduce inflammation, boost heart health, and improve sleep. Studies also show that it can decrease anxiety, lessen symptoms of depression, and help reduce pain.
While it's often viewed as a workout, yoga is at its core a way to get in tune with your mind, body, and spirit by breathing and moving your body.
There are many variations — among the most popular are Hatha, Ashtanga, Iyengar, vinyasa, power yoga, and Bikram or Bikram-like "hot" yoga (not for home practice unless your thermostat reads 100 degrees or more!).
Which yoga style is best for you?
Hatha: Slow, gentle Hatha is a good choice for beginners.
Vinyasa: Faster-paced and fluid, Vinyasa offers constant movement and a more challenging get-your-heart-rate-up workout. It's a popular pick for HIIT fans.
Iyengar: Iyengar is focused on body work and can be a good choice for those with mild sports injuries or lower back pain.
Ashtanga: A good pick for serious strengthening and core work, Ashtanga repeats a set series of sequences.
Power: For those who feel fit but want a more amped-up workout, power yoga is athletic and sometimes uses weights.
Hot yoga: A love-it-or-hate-it yoga style that some believe can help sweat out toxins — science has yet to back up the benefits.
Kundalini: A more meditative form of yoga, Kundalini focuses on breath work and typically incorporates chants.
While all these types are typically available in studio settings, the COVID-19 pandemic has forced most of us to practice yoga at home — which is where the wonderful world of yoga apps comes in. Choose one based on skill level and customize to your liking.
These apps can help you learn the basics, work on specific challenges, strengthen your muscles, perfect your poses, and more. Many are free, some have fee levels, and others are more of an investment. There's something for everyone, regardless of experience, aspirations, or budget.
All these apps earned 4- to 5-star ratings and rave reviews from users. All are available for iOS and Android. Some have additional compatibility with Apple Watch, iPad, Amazon Fire, or Roku.
Some are free, while others involve fees. If you're new to yoga, try a free beginner app before plunking down money for a membership or subscription you may not use.
Yoga for Beginners | Down Dog
Yoga for Beginners is a free app that allows you to pick the type of yoga you want to learn. Style options include Vinyasa (a fast-paced practice where cardio meets strength training), Hatha (a slower flow that focuses on the fundamentals), and restorative yoga (which helps stretch tight and tired muscles that may be overworked or achy).
In addition to the type of yoga, the app allows you to customize the length of your practice, the voice of the teacher, and the background music playing. Once you start, the teacher will guide you through your flow while a student on-screen demonstrates the poses to help you learn proper alignment and body placement.
Yoga for Beginners | Mind + Body
This free app features every type of yoga practice you can imagine. You can create sequences and flows to focus on particular muscle groups — such as your abs or glutes — or specific fitness goals. Sandwiched between practices for bedtime yoga and butt-toning workouts is Beginner Yoga, a sequence of 12 exercises that takes 10 minutes.
In the app settings, you can also choose how many reps you'd like to do in a yoga class to make it a yoga HIIT (high-intensity interval training) or a core blast to keep your tummy tight.
The Underbelly
The Underbelly is the app created by Instagram yoga sensation Jessamyn Stanley. It comes with a 3-day free trial before the $9.99/month subscription fee kicks in. In a podcast interview with writer Luvvie Ajayi Jones in late 2019, Stanley described the app offerings in detail.
Stanley teaches every class in the app. She is body-positive, Black, queer, and inclusive. With 100 classes and counting, The Underbelly features three yoga learning tracks: Air, Earth, and Fire.
The "Air" track focuses on breathing. Stanley says this is the most important part of yoga: connecting breath to movement. The second level is the "Earth" track, which is meant to give you an introduction to postures common in Vinyasa yoga.
The third level is the "Fire" track, which (as the name suggests) features classes to light your body from the inside out. Of this level Stanley says, "The sequencing builds up and you're able to understand that you're way stronger and more capable than you could have ever imagined and that breathing is what got you there."
Yoga | Down Dog
This app expands on Down Dog's beginner app to give you a full practice at your level that is fully customizable. Customization includes the teacher's voice, background music, and pace of the class — a faster pace is more of a cardio vinyasa flow, whereas a slower flow maximizes potential flexibility and requires more control.
You can also customize the kind of instruction. If you need more explanation, there's an option for that, or you can choose less explanation, with the instructor only calling the pose. This app also gives you an option to add "boosts" to choose which areas of your practice you'd like to focus on, be it backbends or breathing.
You can choose from 11 yoga styles, including a chair yoga you can do right at your home office desk between Zoom meetings. Classes range from 4 minutes to 90 minutes, giving you as much or as little yoga as you need to help you get through your day.
Glo – Yoga and Meditation
Glo touts itself as "your blueprint to strength, mind, body, and heart." The app where "yoga, Pilates, and meditation meet to meet you where you are as you are." Before you begin practicing with Glo, you have to answer a few questions on what kind of yoga you're looking for. Options include back care, prenatal, focus and productivity, and more.
You can also choose a specific style such as Ashtanga, Iyengar, or partner yoga in addition to various Pilates and meditation offerings. Glo gives you the option to pick the teacher who best suits your needs, from playful to challenging or even nontraditional (the kind of teacher who calls Happy Baby Pose "First Date").
Glo lets you determine your skill level by asking how many classes you've taken and works with the health tracker on your phone to give you a full picture of your health and fitness journey.
This app requires a membership of $199.99 a year or $22.99 a month after the free trial. It's much cheaper than a traditional yoga studio membership, but the cost is something to consider when there are good free options out there.
Find What Feels Good
We, along with millions of other people (more than 7 million!), got hooked on Adriene Mishler through her YouTube channel. Her low-key vibe, gentle delivery, and adorable canine sidekick, Benji, make her yoga sessions enjoyable and inspiring.
For those who want more of Adriene, her app, Find What Feels Good, offers access to more than 700 videos in different formats, from daily practices to targeted workshops. Search by need or mood, save favorites, use the built-in calendar to schedule workouts, and more. Try a 7-day free trial before committing to the monthly fee.
One reviewer wrote: "In her classes, making your body go into the right pretzel shape like the 20-year-old on the front of the yoga magazine who took 100 pictures to get that picture perfect pose… that is NOT her focus. She focuses on increasing YOUR awareness of YOUR body and YOUR breathing in and out of poses."
Yoga Studio: Mind & Body
Yoga Studio is another membership-based app. For $69.99 per year or $9.99 per month, you get access to more than 150 instructional yoga videos, a library of guided meditations, and the opportunity to create and customize your own practice.
And if you ever have a question about what a pose looks like or if you're doing it right, Yoga Studio offers a 280-pose reference guide.
Asana Rebel
You may have seen Asana Rebel's ads, featuring fit and tanned people crunching and doing mountain climbers, while scrolling through your Instagram feed. This app is goal-focused and gets in your business real quick. Age, weight, goal weight, goals — Asana Rebel asks it all within the first three swipes.
From there, Asana customizes a workout and nutrition plan based on your selections that requires a membership fee to access. The yearly fee is $69.99, whereas the quarterly fee is $59.99 every 3 months. Clearly, the yearly option is the better buy.
This app is not one for those who are just trying out yoga. It's a commitment. It includes recipes, workouts, guided meditations, and sleep sounds for those who plan to use the app to its fullest to get the most out of their health and fitness journey.
Pocket Yoga
A terrific choice for beginners, Pocket Yoga is focused on step-by-step instruction. The app is $2.99 to download but doesn't include any other in-app purchases.
For your investment you get 27 different sessions, varying in duration and difficulty. Pocket Yoga also comes with a pose dictionary and detailed explanations of correct posture and alignment.
Daily Yoga
With 70+ yoga programs, 500+ guided yoga classes, and 500+ asanas, plus meditation sessions and more, Daily Yoga ensures there's something for every level and every goal — and you'll never get bored.
If you can't figure out which class to do, the Smart Coach will help. Just choose one of six goals or targets, and Smart Coach will pick a session for you every day for 30 days.
Each workout comes with step-by-step details and different intensity options. For those who want to track their progress, Daily Yoga keeps an eye on calories burned and total time spent getting your yoga on.
The only "essential" tool to start a home yoga practice is a mat, and you can find them at different price points and thicknesses to suit your needs. Expect to pay $19 or more for a well-reviewed non-slip mat.
If you continue your practice, there are a few other items that can help you get the most out of your sessions:
There are many health benefits to yoga, an ancient practice originating in India that sequences various postures with breath to create a flow. Yoga can help reduce inflammation, boost heart health, improve sleep, decrease anxiety, and reduce pain.
Yoga apps are a great and affordable way to start a yoga practice at home or take your practice to an intermediate or advanced level.