We include products we think are useful for our readers. If you buy through links on this page, we may earn a small commission Here's our process.
Greatist only shows you brands and products that we stand behind.
Our team thoroughly researches and evaluates the recommendations we make on our site. To establish that the product manufacturers addressed safety and efficacy standards, we:
Evaluate ingredients and composition: Do they have the potential to cause harm?
Fact-check all health claims: Do they align with the current body of scientific evidence?
Assess the brand: Does it operate with integrity and adhere to industry best practices?
We do the research so you can find trusted products for your health and wellness.
Finding professional emotional support is an important way to support your mental health. But face-to-face counseling isn't an option for a lot of folks, especially during a pandemic.
That's where teletherapy comes in. BetterHelp, one of the most popular platforms on the online therapy market, could be right for you.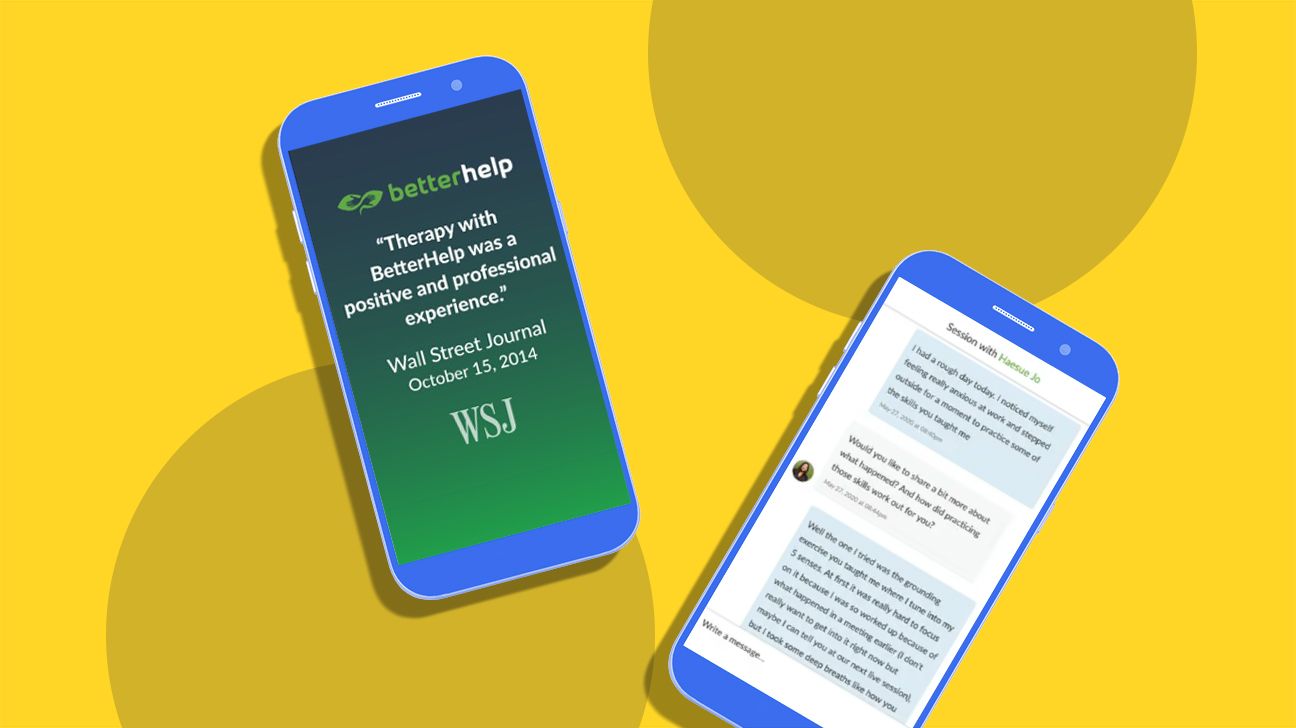 BetterHelp offers virtual, relatively affordable access to licensed counselors. Users can choose between options like live chat, messages, phone convos, and video conferencing. The aim is to find a therapy structure that works for your needs and schedule.
Perks of BetterHelp
1. You're totally anonymous
Seeking help for your mental health is a big deal (go, you!) but it can also feel super vulnerable.
BetterHelp won't reveal your full name or contact information. You get to pick a nickname for identification within the system and anything else you share is completely your choice.
2. You could pay less for BetterHelp than in-person therapy
BetterHelp typically costs around $60 to 80 per week, depending on the payment plan you choose. If you're one of the Americans who are used to paying up to $250 per hour for in-person therapy, this could feel like a steal.
3. You'll get support any time, anywhere
Unlike in-person counseling, BetterHelp is available to you anytime. There's no travel necessary. And there's no minimum or maximum number of sessions booked, so you can tend to your mental well-being as often as you choose.
4. All of the counselors are trained and licensed
The counselors on BetterHelp are licensed, trained, experienced, and accredited mental health professionals. They've all got either a master's degree or doctorate in their field.
Drawbacks of BetterHelp
1. You'll probably pay out of pocket
The services on BetterHelp aren't generally covered by health insurance, Medicare, or Medicaid. This doesn't necessarily mean you'll pay more than you would through copays visiting a regular therapist, but it's something to consider.
2. It won't help if you need a diagnosis
The licensed therapists at BetterHelp can't formally diagnose you with a mental health condition. They also can't fulfill a court order or prescribe medication.
Why? Like telemedicine, virtual therapy just isn't a perfect substitute for face-to-face therapy in every case.
3. You won't get immediate help
BetterHelp isn't for crisis situations. You won't be immediately matched with a counselor. According to the platform, the onboarding process can take a few hours or days, depending on counselor availability.
If you're experiencing a mental health emergency, grab the phone and call a crisis hotline now.
4. It's no substitute for psychiatric care
BetterHelp isn't the right form of help folks with with severe mental illness diagnoses. It's no substitute for psychological supervision or psychiatric care — that sort of specialized support should be given face-to-face.
A lot! The platform can match you with a therapist to help you with everything from the quarantine blues to ongoing mental health issues.
The short list of BetterHelp's areas of expertise:
relationship issues
parenting
Different counselors have different approaches, so if you're not vibing with your first match, don't worry. You can swap therapists at any time.
Remember, the BetterHelp counselors can't offer you a diagnosis. But they *can* provide professional care and support that goes beyond just listening. One study found that BetterHelp users experienced fewer symptoms of depression after using the site.
A review of six more studies suggests that online therapy in general has a significant positive effect on mental health.
BetterHelp's rates can vary from $45 to $120 per week, but you can typically expect to pay $60 to $80 per week. Your rate will depend on your location, billing frequency, and therapist availability. Keep in mind that you can cancel anytime.
Insurance isn't generally compatible with the platform. But even if your plan doesn't cover it, BetterHelp could still be cheaper than the co-pay you'd pay an in-person therapist in your network. To find out, check with your insurance company directly.
BetterHelp takes confidentiality seriously.
Remember, you don't have to identify yourself by your full name and everything you tell your counselor is protected by strict federal and state laws. You can even remove sent messages so they no longer appear in your account.
The only form of nonprivate information BetterHelp keeps is an emergency contact. This is to keep you safe and they'll only be contacted if your counselor thinks you might be in danger.
The matching process at BetterHelp is easy-breezy.
Immediately after joining BetterHelp, you'll be asked a few questions to help the platform figure out:
what kind of therapy you want
your mental health history
your day-to-day routine and challenges
your preferred method of communication
This detailed questionnaire helps BetterHelp match you with a counselor who can meet your needs.
BetterHelp is a great option if you want a therapy option that's flexible, affordable, and available anywhere from your couch to kitchen table.
If you need support and guidance through stress, relationships probs, or a general mental health boost, BetterHelp has your back.
It's *not* an appropriate service if you:
have been diagnosed with severe mental illness
require psychiatric care
need mental health medication or monitoring
have thoughts of hurting yourself or others
don't have a device that can connect to the internet
BetterHelp is a legitimate and supportive service for anyone looking to improve their mental wellness or seek support for specific emotional issues.
This confidential service offers access to licensed counselors whenever and wherever you need them.