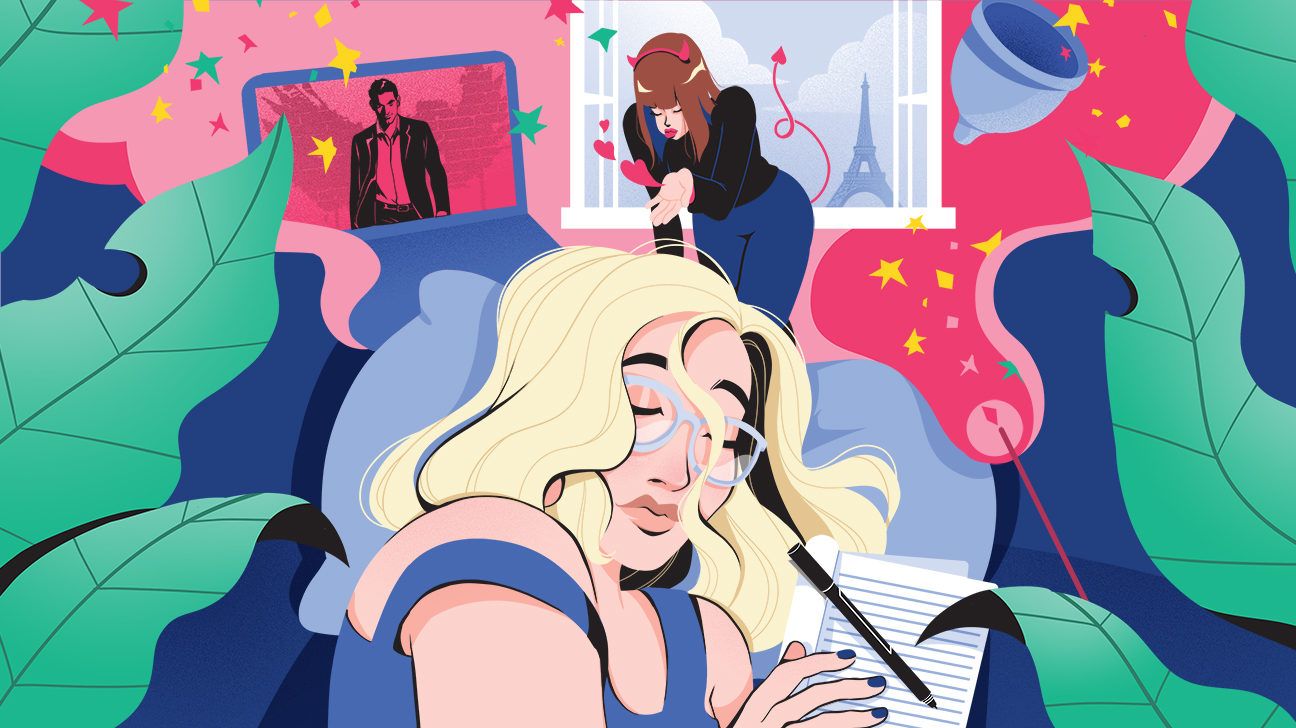 Content note: This piece contains descriptions of sex, depression, and alcohol use.
We'd been drinking absinthe in a secret vampire bar above a tavern at the end of the street when I, absolutely blasted, begged the group to take me to a strip club so I could get my first lap dance. They, also blasted, happily obliged.
One guy in our group had a great attitude about my shyness around beautiful women and showed me how to respectfully give tips and buy a dance.
By the end of that muggy September evening in New Orleans, it was clear the two of us had more chemistry than mutual acquaintances had any right to. Our group stumbled out of the club, and because we had rented an Airbnb together, it's not hard to guess what happened next. It was giddy and wild in the best of ways.
I didn't know it then — forgoing sex wasn't an intentional decision at first. For a while I was focused on scoring a higher-paying job and renting my own place.
By February, months had slipped by without sex or a single date. I barely noticed. The lack of romance caught my attention only when I started to connect the dots that less time spent searching for a partner meant more time preparing for interviews and creating friendships. I replaced sex with working on career and personal goals, and the benefits were impossible to ignore.
Eventually, I made the conscious decision to stop having sex altogether.
Don't mistake these 13 months for prudishness or judgment of sexual freedom. My year without sex was not devoid of intimacy. This was not celibacy or a philosophy prohibiting sex and masturbation. I wasn't withholding. I didn't want any other body but my own, and I had made this agreement with myself. I was focusing on self-care, discovery, and healing.
And yet, despite not craving, missing, or desiring sex at all, I realized I was heartachingly lonely.
I needed more friends. I joined Facebook groups and met new people, one of whom recently told me I'm part of her family. I started writing more, and I felt like I was making up for the years I'd spent stuck in unhappy, heteronormative relationships. I was incubating.
During this time, both my new and longtime friends were supportive. There was no pressure for double dates or awkward questions. I didn't tell my parents, who despise premarital sex and are extremely homophobic.
Instead, I talked to my therapist.
During our sessions, he was gentle and frank. Initially, he would ask if I was seeing anyone or say, "I'd like to talk more about your relationships." I never knew how to answer — I stared at my hands or deflected with a joke.
Despite the night in New Orleans, I struggled with painful sex for a long time, having been diagnosed with vaginismus, which is often caused by trauma and abuse. (Both played significant roles in my past.)
Vaginismus is a common thread in many of my therapy sessions because there's so much to unpack about previous abusive boyfriends, including one who assaulted me multiple times, as well as having grown up in a strict family that shamed displays of sexuality and anything that strayed from heteronormativity.
I started watching "Lucifer" over the summer, binging on long, hot nights and crawling to my desk in the mornings exhausted. I watched men and women have sex with other men and women, neither, and both. The same characters kicked ass, defeating demons and bad guys.
I was turned on for the first time in months, yet I still did not crave sex.
Around the same time, I bought a menstrual cup. As I mentioned, penetrative sex can be incredibly painful, and inserting a plastic cup designed to catch menstrual blood was no better. I battled my body, and my first attempt at removing it ended in tears.
Slowly, though, I improved. When I learned to gently navigate my fingers and remove the cup, I felt victorious. I did not, however, expect it to make masturbation possible.
I started talking to my therapist about "Lucifer" and menstrual cups. We spent sessions discussing how even though I'd always known I was queer and mostly attracted to women, I'd repressed it. We celebrated my first painless masturbation session after the cup taught me to care for and trust myself.
I felt more connected than ever to my body and sexuality, and I started to recognize how my ideas about relationships and sex were limited. I began to crave adventure, and I started thinking about hooking up with someone new.
In October 2019, I traveled to Paris alone. I'd never been to Europe and my French is pretty dismal, but I'd always wanted to go and had saved up for months.
I stayed in a tiny Airbnb and went sightseeing, but at night I set out on a self-guided gay bar tour. One night I visited La Mutinerie, a famous LGBTQ haunt. When a beautiful brunette wandered in and asked to sit next to me, I was happy to agree.
At 4:00 in the morning I stumbled out of a different Parisian bar, having been kissed by that same brunette. It was like New Orleans 2.0. The energy was similar, but there were key differences: I felt gayer than I ever had in my life, and I went back to my Airbnb alone. No sex that night.
The sparks I'd felt while rediscovering my sexuality were officially blazing. I talked to friends about how it would feel to welcome new partners into my life. My therapist and I high-fived when I told him I'd kissed a girl in October, and our sessions since have focused on other topics.
However, this week, I gushed about one particularly hot news item. After just passing the 13-month hiatus mark, I hooked up with a guy. I was open and honest about only wanting casual sex, no strings attached. I also have a date with a cute girl this weekend.
Though much has changed since my New Orleans excursion, I've only grown more resolute in my desire to have fun and remain single. Commitment isn't on my list of priorities right now.
I cannot stress enough how much my therapist helped me navigate this experience. Without those sessions, I could not have uncovered the depths of my queerness or androgyny or explored what kinds of sex I should be having.
There's so much to learn and discover about yourself, even when you think you already have the answers. I would strongly recommend a hiatus from sex for anyone who is currently single and has experienced past trauma. I recommend this even more for cisgender women who have predominantly dated men or been in relationships for most of their adult life. You need time to incubate.
It was never about a lack of something, but rather adding more to my life. I created space to grow stronger, develop new skills, learn more about my personality, and work toward my goals. There's no doubt in my mind that I wouldn't be a freelancer, I wouldn't be more open-minded, and I would not be the person I am today without this transformative season of my life.
I'm glad the hiatus is over now. I feel ready to rejoin dating apps, but it will be on my own terms. I've learned there's more than one right way to enjoy sex. I just couldn't see the trees until I'd taken a break from the forest.
Abby Lee Hood is a queer Nashville-based writer who cares deeply about animal welfare, female empowerment, and LGBTQ issues. She lives with her three-legged cat and albino hedgehog and is working on her debut novel. Follow her on Instagram or via her website.