We include products we think are useful for our readers. If you buy through links on this page, we may earn a small commission. Here's our process.
Greatist only shows you brands and products that we stand behind.
Our team thoroughly researches and evaluates the recommendations we make on our site. To establish that the product manufacturers addressed safety and efficacy standards, we:
Evaluate ingredients and composition: Do they have the potential to cause harm?
Fact-check all health claims: Do they align with the current body of scientific evidence?
Assess the brand: Does it operate with integrity and adhere to industry best practices?
We do the research so you can find trusted products for your health and wellness.
Wrapping up for sex with a condom or other barrier method is important, but there's a mind-boggling array of different condoms to choose from. What's the difference between a French tickler and a rubber johnny?
What different types of condoms are there? The short answer
Condoms are big business — the industry was worth $9.2 billion in 2020. Considering the average condom costs about a dollar, that's a lot of latex (and hypoallergenic nonlatex alternative, obvs).
There's also incredible variety within that marketplace, with different products tailored to different needs.
The best condoms for enhanced sensation
For your own pleasure, pick an ultra-thin condom for a more natural feel.
For your partner's (or partners'), try ribbed, textured, and dotted condoms.
The best condoms for people with allergies (usually to latex)
Nonlatex condoms are available, like those made using polyurethane, polyisoprene, and lambskin.
The best to support lifestyle choices
Organic, vegan, and chemical-free condoms are available for people holding themselves to these ethical standards.
The best for extra comfort
You can buy reservoir-tip or looser-fitting condoms.
The best condoms for climax control
Quick to the finish line? Try climax-delaying or numbing condoms.
The best condoms for penises of different sizes
Magnum, standard, and snug-fit condoms are available to help your penis feel like a (member) of the club no matter what the height requirement.
While it can feel overwhelming, don't worry. If you're trying to find the best condom for you and your partner(s), here's everything you need to know.
Before we start, it's important to note that we'll be focusing squarely on external condoms (those that you'd put on a penis or sex toy, rather than inside a vagina, like a dental dam).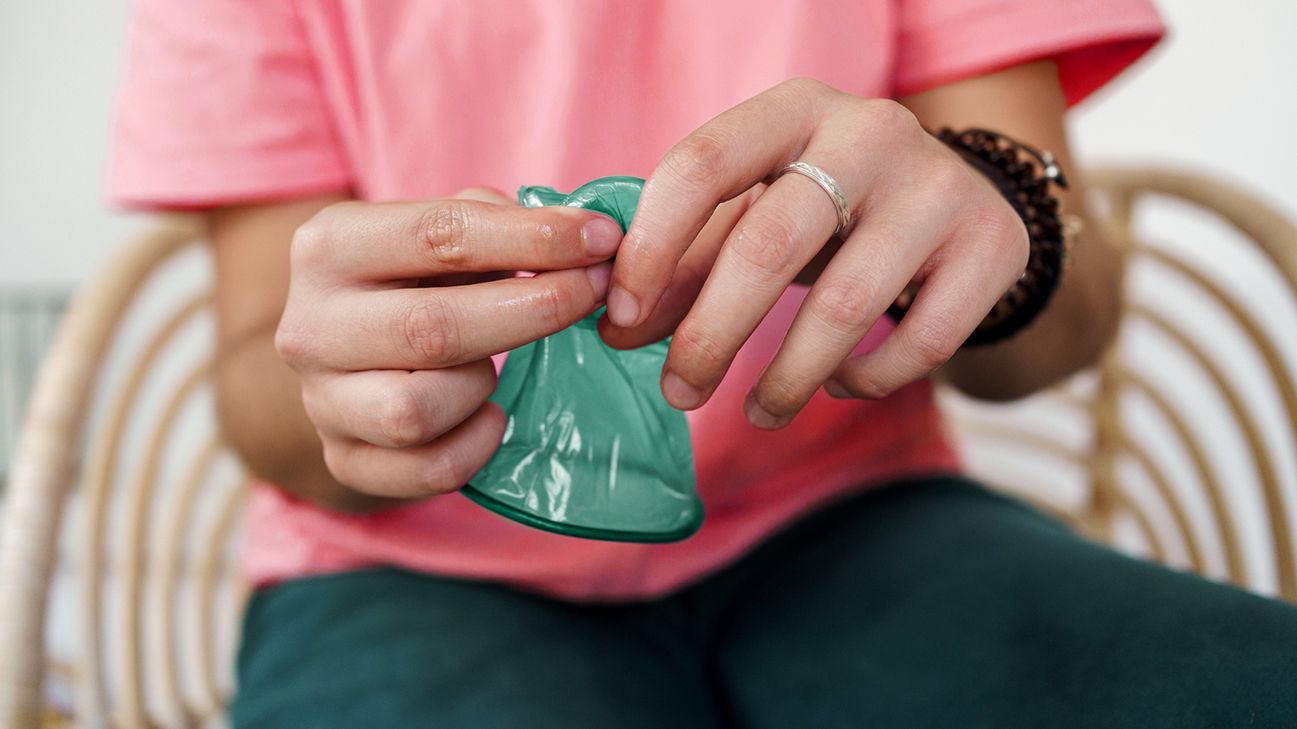 For your partner(s): Ribbed, textured, and dotted condoms
It's a common myth that females have difficulty reaching orgasm from regular penis friction alone. In fact, a whole bunch of physical and psychological factors may play a role. But adding that extra tactile stimulation rarely makes things worse.
This is probably the widest category in terms of the sheer array of options available to you. Aside from the additional textures and sensations provided by ribbing and dotting, you can also buy options that come with added, tingly lube.
Talk with your partner(s) and see what kind of extra feeling they enjoy most. Warmth? Coolness? Tingliness? There'll definitely be something on the market to help you out. And why restrict pleasure to one sense? A huge range of flavored condoms is available to make oral sex with a condom that much tastier for the one giving it.
If worse comes to worst, go for a variety pack and have fun making the choice together. That's one heck of a Tuesday.
If you're curious about what's available and don't know what's around, here's our breakdown of the best specific condoms for each type in this article.
A common complaint is that condoms don't feel as good as raw, condomless sex. This is hard to argue with when an encounter gets steamy, but it's important to consider your options carefully and reduce the chance of sexually transmitted infections (STIs) where you can.
Ultra-thin condoms are, yes, thinner than regular ones. That means you can feel more of what's going on without sacrificing protection. Depending on the materials used, these might even be as strong as condoms of regular thickness — so you face little extra chance of breakage.
Nonlatex condoms
Latex-made condoms dominate the market. That's because it's resilient to breaking from friction, even when you use it in a thin layer. But an estimated 4.3 percent of the world's population is allergic to the stuff. If that includes you, it might be reassuring to know other options are out there.
Nonlatex condoms are just for folks with a latex allergy. It's not the best material for heat transfer, so you lose out on some of that pleasurable feeling. In most cases, however, it's allergies that have people investigating alternatives.
The most popular of these include:
Synthetic condoms. Polyurethane condoms are available. A 2003 study found that polyurethane is thinner and better at transferring heat than latex, but may break more easily.
Lambskin condoms. Made from part of a lamb's intestines, these are good for preventing pregnancy, but the Centers for Disease Control and Prevention (CDC) don't recommend them as protection from STIs, including HIV. This is because a natural membrane makes up the outer layer, and viruses like HIV can still penetrate the tiny holes in the lambskin.
Our various moral and political beliefs sometimes lead us to make lifestyle choices like going vegan or choosing organic products wherever possible. Condoms are no different — they can fit your moral code like they fit your penis.
Organic condoms
These are made without synthetic ingredients. As of now, there's no official body that oversees certifying condoms as organic. Instead, look for Fair Trade certification from brands like Fair Squared.
Vegan condoms
Manufacturers make these with no animal byproducts. It surprises a lot of people to learn that regular condoms might not be vegan, but they're sometimes dipped in casein (a byproduct of milk). This would go against the vegan lifestyle.
Brands like Glyde and Condomi produce contraceptives that are free from animal products. Latex still takes a long time to degrade, though, so these condoms might not actually be better for the planet. But they might fit as part of a wider vegan lifestyle.
Chemical-free condoms
These ditch the various man-made compounds in regular condoms. These most often include:
These ingredients are safe for the overwhelming majority of people. However, it's good to know you've got options if you'd prefer a more natural experience.
Condoms aren't always the nicest-feeling things to have on your penis. The sensation that you've stuffed your junk into a sausage casing can seriously put you off your game. If you find that regular condoms are interfering with your enjoyment of sex, don't ditch them altogether — go for an alternative.
Reservoir tip condoms
Some are designed with larger reservoir tips at the end, making it easier on your glans. They also provide an extra element of protection — they may reduce the chance of semen leaking around the sides of your condom.
Looser-fit condoms
There are also condoms designed for a looser fit, while still offering protection against STIs and preventing pregnancy.
Climax-delaying and numbing condoms
Condoms that come pre-lubed with anesthetics like lidocaine and benzocaine can help delay orgasm.
They create a numbing sensation on your penis, and also for your partner. This helps you control your orgasm and delay it until you're both at peak enjoyment. People with penises also use this type of condom to manage premature ejaculation.
While it's best to consult a medical professional if you think there might be something affecting the time you take to climax, these generally help in terms of staying power.
Magnum, standard, and snug-fit condoms
Different brands sell condoms in different sizes. In general, those will fit into one of three groups that generally use girth instead of length as a guide:
The snuggest condoms. These are most suitable for penises that measure less than 4.7 inches (119 millimeters) in girth. These are usually under 2 in. (50.8 mm) wide.
Regular condoms. These account for girths between roughly 4.7 and 5.1 in. (199 to 130 mm). These typically measure between 2.05 to 2.13 in. (52 to 58 mm) wide.
Larger condoms. These are often the best fit for penises over 5.1 in. (130 mm) in girth. These generally measure more than 2.13 in. (54 mm) in width.
We've provided a full breakdown of condom sizes here.
The average length of an erect penis is about 5.1 to 5.5 in, while the average width (or girth) is roughly 4.7 in. As with everything about being human, there's a lot of diversity in terms of penis size, and it's important to wear the best condom for your needs.
Why is wearing the right size of condom important?
Wearing the wrong size can cause problems with delayed or unsatisfactory orgasms (according to a case study of one person who saw a doctor about this complaint). Regardless, if a condom is too big or small, it may get between you and your sexual pleasure — or, even worse, cause active discomfort.
Alternatively, condoms risk splitting or slipping off if they're too small or big, respectively. It's a good idea to buy ones that fit you and your wiener.
Condoms have come a long way. The earliest descriptions we have come from a 16th century Italian anatomist called Gabriele Falloppio. He describes linen sheaths soaked in chemicals and dried before being worn and held on with a ribbon. Thankfully, things are easier nowadays.
Current research is looking into making condoms even more effective, particularly against the transmission of STIs in developing countries. A promising research review examined the use of nanoparticles on condoms to increase resiliency and reduce breaking.
To put on a condom correctly (and quickly, let's be honest about our priorities here), follow these steps.
How to put on a condom
Wait til your little soldier is standing at full attention.
Check the condom wrapper for any tears or defects.
Opening the wrapper from the corner, carefully take out the condom.
Unroll it roughly half an inch.
If you're uncircumcised, roll back your foreskin.
Place the condom over the head of your penis.
Pinch the air out of the condom tip.
Roll the condom down to the base.
How to take off a condom
Once you're done (high five!), you'll want to remove the condom. To do this:
Pull your penis out of the chosen orifice while it's still hard (or just skip to step 2 if you've climaxed after manual or oral stimulation).
Grip the base of the condom and hold it on as you pull out.
Remove the condom by pulling it from the tip.
Once it's off, you might want to tie the condom at the base.
To dispose of it, throw it in the trash. Don't flush it down the toilet.
Condoms are one of the most effective things you can use to avoid pregnancies and STIs, including HIV. A research review found that they're 98 percent effective at blocking sperm from fertilizing an egg.
That 2 percent fail rate is mostly down to condoms breaking during sex, so lube up for extra peace of mind. You or your partner might also be using other forms of contraception to make extra sure. These include:
injections
contraceptive rings
diaphragms
the emergency 'morning after' pill
The correct use of condoms can also cut the transmission rate of STIs by 80 percent. Again, that 20 percent is usually a result of condom breakage or tearing.
Taking the time to put one on the right way (and using lube) can give you the best possible protection.
Are condoms less effective for anal sex?
Condoms are just as effective for anal sex as they are for vaginal, oral, or earhole sex. The idea that they tear more frequently during rougher action is a myth.
In fact, a study observed a higher fail rate in condoms used during vaginal sex. That's because people who engaged in anal sex were more likely to use lube.
Condoms are fairly straightforward. The whole point of them is their ease of use in the heat of the moment, when you might not be operating with surgical care and precision. However, there are some simple pointers that can improve their safety and effectiveness.
Check the expiry date
It's a very positive habit to carry a condom with you in your wallet, bag, or briefcase. However, you might optimistically slip one in with your credit card — then forget about it for a very long time.
Condoms expire, so make sure yours is still within its use-by date before you slip it on. That date should be clearly visible on the packet. If you've stashed it in a cool, dry place, a condom *might* be OK after the expiry date — but do you really wanna play that game of Russian roulette?
Get it the right way first time
If your condom isn't rolling down easily once you've got it on the head of your penis, that's likely because you've put it on the wrong way around. You want to put it on so that the rolled-up side is facing outward.
If this happens, don't just turn it around and try it the right way — it's not a reversible jacket. It's best to throw the condom away and use a new one. The outer side has touched your penis and could offer less protection against STIs.
Know what's in your lube
Some lubricants are oil-based. This makes them slippery, but the ingredients can weaken latex condoms and cause them to break.
Since latex is the most common condom material, you're ideally after a water- or silicone-based lubricant.
Avoid doubling up
You might be forgiven for thinking, "If one condom is 98 percent effective, why not use two? Surely that'd be 196 percent effective?" But neither condoms nor math work like that.
Layering one condom over another causes friction between layers. This actually makes both more likely to break.
This is also true with internal, female condoms. Don't use an external, male condom with its internal, female counterpart. One or the other is fine. No need to double-bag your goods.
Use the right size
It's important to use the right-sized condom. Too small and it might break. Too big and it might slip off. You might think walking around with a magnum in your wallet might look impressive (although size isn't everything). But be sure you're using the appropriate-sized condom for your penis.
Cover up your dildos
If you're using sex toys in the bedroom, we're sure you're having a great time. But also be sure to use condoms on those toys, too. Anything that makes contact with the genitals can potentially transmit STIs, so don't neglect your poor dildo.
You can buy condoms to enhance pleasure or numb it for both you and your partner. You can find those that take your allergy to latex or your ethical choices into account. And you can purchase them in any imaginable size (but be sure to buy one that actually fits).
As long as you're putting it on safely, a condom can prevent pregnancy and reduce your chance of STIs without meaning that you sacrifice your sexual pleasure.
With so many condoms to choose from, you're certain to find something that delights both you and your partner (or partners). Practice makes perfect, so get into the habit of using your favorite contraceptives for a safer, naughtier experience.