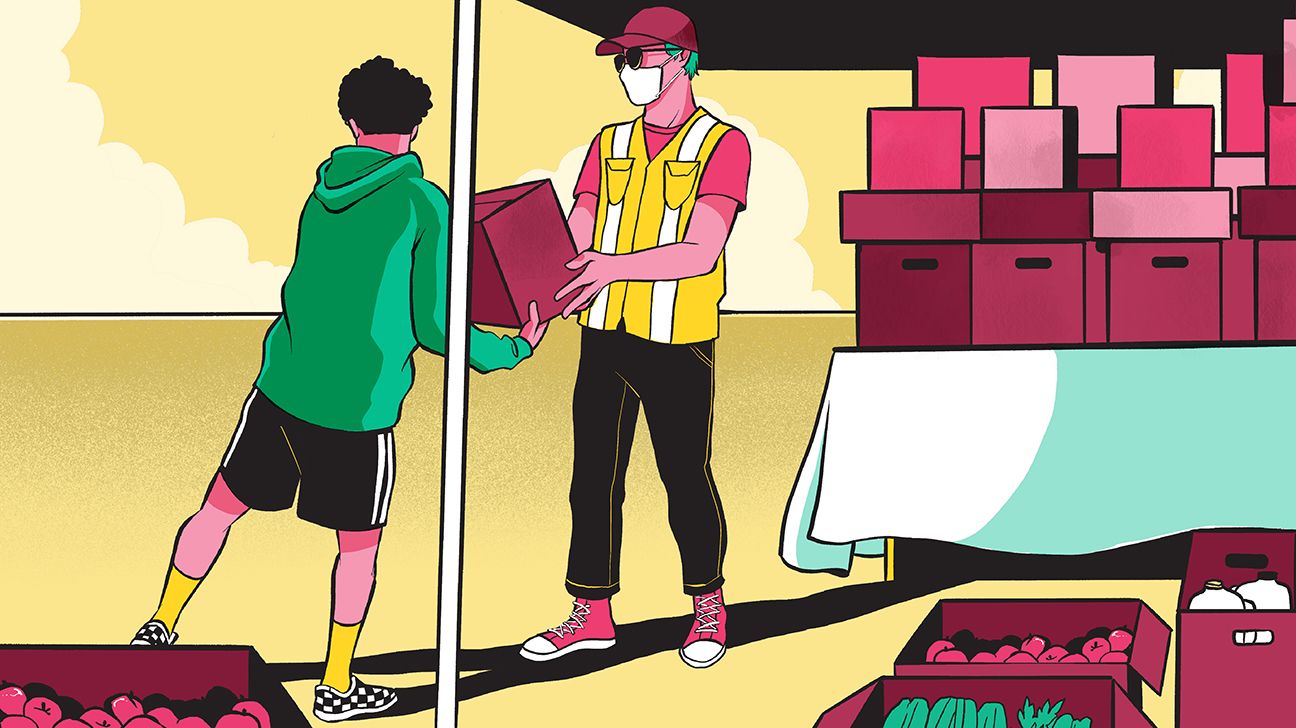 The novel coronavirus (COVID-19) hasn't just changed the world as we know it. It's also exposed some gaps in our system, like how ready we are to provide care to struggling individuals.
The Washington Post reports that unemployment rates have reached levels not seen since the Great Depression. Only one stimulus check has touched our banks, leaving many searching for security. The Public Broadcast Station reports that as eviction rates rise, basic needs like clothing, food, and shelter are often more difficult to come by for struggling individuals. The pandemic has exacerbated the challenges that exist for America's hungry.
Over the past few months, the number of people visiting food banks has increased to historic levels. According to Feeding America, from the beginning of March through the end of June this year, food banks distributed more than 1.9 billion meals to people facing hunger in the United States. When the shutdowns began in March alone, food banks gave out 20 percent more food than an average month. Feeding America estimates that 1 in 6 Americans could face hunger as a result of the pandemic.
The stats are daunting, but not final. As we approach the holidays, which will certainly look a bit different this year, the opportunities to get involved with helping others have perhaps never been so obvious and needed.
If you're apart from family this holiday season and looking for a way to help others, supporting Americans in need of food may be the way to bring in — and give — some needed holiday cheer.
Greatist spoke to Oakland Community Kitchens, the Houston Food Bank, and St. John's Bread & Life to understand the unique challenges posed by the pandemic and what you can do to help.
What's the difference between a food pantry, food bank, and community kitchen?
Food pantries, food banks, and community kitchens all work to get food to individuals and families, but how they do it varies.
Food banks are designed to secure large donations of surplus food, sort the food into categories, and distribute it to various partners, including food pantries. Typically run and operated by paid staff, food banks often host volunteering events and rely on volunteers and some paid staff to pack and distribute food to others.
Food pantries are typically run and operated by volunteers rather than paid staff. They're often associated with religious institutions, schools, or healthcare centers engaged in specific communities. They receive food from larger organizations like food banks, are open for a certain number of days and hours throughout the week, and distribute food directly to individuals. Some food pantries are larger and have paid staff.
Community kitchens can look different depending on who operates them. But they're typically feeding sites where people can come and eat a meal on-site — kind of like a cafeteria. Organizers, sometimes restaurants, religious institutions, or other local institutions, work together to share the cost, plan, and prepare healthy meals for people who are in need.
Food banks, food pantries, and community kitchens have all been impacted by the pandemic.
Before COVID-19 affected New York City, St. John's Bread & Life executive director Sister Caroline Tweedy typically worked with the Brooklyn and Queens boroughs of New York City. Now, her nonprofit serves about 25 communities throughout NYC's five boroughs.
"We typically have what we call in-house dining," says Sister Caroline. Noting that most people would consider their activities a "soup kitchen," Sister Caroline rejects that term because of the negative connotations.
St. John's in-house dining came to a halt in March with the pandemic, she says "because we felt that there is so much more of a greater need for folks for basic stable items." They are also currently serving hot breakfast and lunch as grab-and-go options.
Chef Maria Alderete, co-owner of Luka's Lounge in Oakland, California founded a Community Kitchens program, which focuses on reaching out to the unhoused community, a task which has become increasingly difficult.
"We're trying to just provide people with lower cost meals," says Alderete. "We never closed our doors at our restaurant, and we immediately went to a to-go and pick-up model. We're providing our basic menu at affordable prices. But still, with all the restrictions in place, we're probably running at about 50 percent capacity."
Amy Ragan, the chief development officer of the Houston Food Bank, also shifted gears during the pandemic, which completely decimated the Houston Food Bank's typical amount of labor — from about 500 to 1,000 volunteers per shift to about 150 volunteers per shift for safety precautions.
Now, the food bank has worked with Harris County (the county in which Houston sits) to obtain funding, allowing the food bank to hire laid-off restaurant and hospitality workers, thereby hindering the prospect of unemployment and eviction for these workers that could lead to food insecurity.
"We screen them and go through all the essential safety precautions, but it's been a nice way to help supplement some of our labor needs," Ragan says. "Plus, we're able to help people who have been depending on a restaurant to work to come in and get paid for shifts."
Every year around Thanksgiving, the Houston Food Bank makes sure families have the food they need ahead of time. The food bank helps distribute turkeys and holiday ingredients to organizations that supply them to the community. The Houston Food Bank also distributes backpacks with additional food to children who rely on school meals, so they're fed throughout the holidays. This year, the need is even greater.
"We're going to make sure that all those people have food for Thanksgiving, but it's going to be at an elevated level to make sure we're meeting the increased needs of people in the community."
Sister Caroline has also pivoted to contactless and low contact methods to ensure her NYC community's needs are met.
"We're implementing the pass through windows, like you have in fast food restaurants. We've got drivers, so that it'll be a faster process for people who are doing an online bank reserve with a designated time so that people don't have to wait in line. If they need social services, they can use technology to ask for help through FaceTime, Zoom, and text. We've been open every day to serve the people. We've been following the protocols and— thank God — we haven't had anyone sick."
Talking about collective action is one thing, but actually knowing what you can do to help is another. We'll get into some of your options below, but just remember — if you aren't sure what you can do, you can always call or email your local organization and ask them what they need most.
Volunteer
Before the pandemic, many holiday food bank and pantry volunteers were older adults 65 years and older. Because it's not safe for them to work in such close parameters during the pandemic, food banks and pantries need support to distribute food. This means that the Houston Food Bank, St. John's Bread & Life, and organizations like them across the country are still in need of labor.
"Around the holidays, we do a big Thanksgiving dinner, and we distribute, in-house, about 1,500 meals," says Sister Caroline. "This year, we're going to do what we call a grab and go."
Since July, Sister Caroline says St. John's Bread & Life has distributed 1.4 million pounds of food and approximately 1 million meals. They're trying to keep that momentum going well into the holiday season. They need volunteers to help with meal prep, sorting, repackaging food for their grab and go bags, and responding to client needs through technology services like FaceTime and Zoom.
"We are going to keep the pantry open so folks can shop and get their pantry items."
If you don't live in Houston or NYC, check out your city's food bank, food pantry, or community kitchen website for opportunities, and make sure to review their COVID-19 precaution guidelines before you show up.
Check in with your local restaurants
In Oakland, Alderete's community kitchen works with about 40 local restaurants to feed the local unhoused community and put local restaurant workers back to work. By working with many vulnerable communities, Alderete's organization provides low cost meals and paying jobs to those in need.
Like many community kitchens, Alderete's is structured around the needs of the community. The needs currently revolve around feeding unhoused individuals, and making sure that restaurant workers of color can keep their jobs during a pandemic that's heavily impacted a vulnerable industry.
Having already served more than 15,000 meals, Alderete is still accepting financial donations to provide affordable meals to unhoused individuals. It's also important to support smaller restaurants in your neighborhood owned by Black, Indigenous, and people of color (BIPOC). Many of them cook for community kitchens to support local unhoused individuals, including people of color disproportionately at risk of food insecurity.
Ordering take-out and delivery from local restaurants helps restaurants directly. But community kitchens have separate networks for funding, and they need separate support to continue operating.
Oakland Community Kitchens is accepting donations. You can check out most of your favorite local restaurants' homepages to find out if they're participating in community kitchen programs and, if so, how you can support those efforts.
"We've been blessed by so many diverse mom-and-pop shops who were left without PPP loans. Our program was really important to them. We focused on expanding into our Latino neighborhood, Chinatown, which got hit hard, and our Vietnamese community. All these restaurants have been here forever and are so important to me as well. So, that's why we continue to reach out to them," says Alderete.
Donate
Around the holidays — food organizations don't just donate food — many, like St. John's Bread & Life, also provide toys for local families. This year, they want to give families the opportunity to make holiday gift choices for themselves. They're providing meals and a $50 gift card so that families can purchase toys and items they need.
But to do this, they need monetary donations.
"If you have some disposable income, you can support a family for the holiday," says Sister Caroline. "We're flipping the script this year, and financial support really helps us."
Pandemic or not, cash and financial donations are always appreciated because they give organizations the flexibility to direct the money where it's most needed as situations change.
Apply for work
If you're one of the thousands of food and hospitality workers who were laid off earlier this year, your services are particularly valuable to these organizations. Check their job boards to see if your skills are a match for any open positions.
You may find local food donation organizations — like the Houston Food Bank — that are hiring people with food and hospitality backgrounds to help ease the burden of COVID-19 unemployment and cover their increased labor needs this year.
While the holidays are a wonderful time to get involved, food insecurity as a result of inequality is an ongoing issue, and organizations need your help to fight it.
"Housing insecurity is a big issue in the Bay Area, and it's going to only be a growing issue," says Alderete. "There are so many meals that need to be provided in our community, and those meals are still going to be needed after the pandemic is gone."
While these issues are ongoing and the extent of need can be overwhelming, the people who've already showed up have given Ragan a key feeling ahead of the holiday season and beyond: hope.
"I just want to extend a thank you to all the people that are helping us and all the people that want to do something because we couldn't do it without the community supporting us."
Kayla Stewart is a freelance food and travel writer based in Harlem with roots in Houston, Texas.