I don't really like Thanksgiving dinner. Blasphemous, anti-American—call it what you will, but I don't. Fat slices of turkey kind of gross me out; the color of gravy is nauseating; and stuffing sounds like the material inside my favorite teddy bear.
While it can sometimes seem like I'm the only one smothering my food in a heap of marshmallow-sweet-potatoes on my plate, turns out Thanksgiving dinner is actually pretty stressful for a lot of people. Gluten intolerance, vegetarianism, nut allergies, or another type of dietary restriction can make it difficult to be a guest at someone's holiday celebration without inviting tons of questions about why we're not eating this cranberry sauce or that piece of pie.
That's why Greatist is here to help. We've put together a stress-free plan for navigating the Thanksgiving table for pretty much any diet. The guide includes instructions for how to handle traditional Thanksgiving dishes for gluten-free, vegetarian/vegan, and no-nut folks—we know those are hardly the only diets out there, but everyone can modify these guidelines to suit their own particular eating habits.
Celebrate Good Times: Pro Tips
For those dining at a restaurant or at someone else's house, it's almost impossible to be too prepared. Before Thanksgiving Day, buy or prepare some dishes you know you can eat (see below for specific suggestions). That way you'll know for sure you can eat something and you can introduce other guests to your particular eating habits.
If possible, let the host know about your dietary restrictions beforehand so he/she won't be insulted when you pass up Aunt Martha's famous mashed potatoes. Especially in the case of a food allergy or intolerance, consider asking the host to save the labels on any processed ingredients (more details below).
If (really, when) someone offers you something you can't eat, just say"No, thanks." There's no need for an explanation or a rebuke.
Tackle Turkey Day: Navigating the Table
Get that game face on—it's time to step up to the table. Check out the guidelines below to find out which foods to avoid and which to dive into, depending on personal eating restrictions.
Dinner Rolls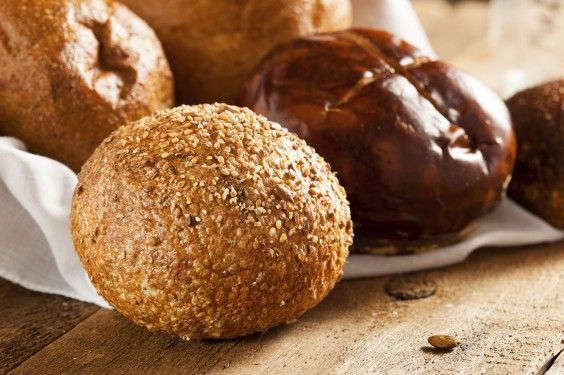 Gluten-free: This one's pretty obvious. Unless those dinner rolls are specifically gluten-free, they probably contain flour, so steer clear. If feeling especially gracious, offer to bring a bready appetizer of your own, like this gluten-free cornbread.
Vegan: Homemade or store-bought, most dinner roll recipes (like this one) contain milk, so they're probably not suitable for vegans. For vegan-friendly bread, try the gluten-free recipe above and switch out the yogurt and milk with dairy-free versions.
Nut-free: Homemade dinner rolls rarely contain any kind of nuts, so you should be okay. But the store-bought kind might have come into contact with nuts in the processing plant, so be sure to read labels extra-carefully.
Mashed and Sweet Potatoes
Gluten-free: Raw potatoes are naturally gluten-free, but processed taters are another story, so as usual, check the label. The same goes for butter and margarine, which might contain gluten. And here's the kicker: If a dish contains marshmallows, check the label on that package, too, since some contain a starch derived from wheat. If all that reading is tiring you out, just go with this guaranteed-gluten-free bacon mashed potato dish.
Vegetarian/vegan: Potato dishes should be vegetarian, unless there's meat in it (like the bacon mashed potatoes above). It's also possible that sweet potatoes might be topped with gelatin-y marshmallows, so read the label on the packaging to be sure. Or let these photos convince you (and your guests) why vegan and vegetarian mashed potatoes are just the better options.
Nut-free: By now you know the drill: Check the label on anything processed. But even the homemade stuff isn't all meat 'n potatoes. Some mashed potato recipes contain walnuts, pine nuts, or other varieties, so ask the host about any surprise ingredients.
Gravy
Gluten-free: Keep it plain and simple on Thanksgiving Day. Gravy usually contains flour, which is pure kryptonite for gluten-free folks. Looking for a gluten-free gravy alternative? Check out this recipe that's just dripping with deliciousness. Or stick to the traditional recipe and substitute potato starch for flour.
Vegetarian/vegan: No laughing at the gluten-free guys—vegetarians have to sit this one out, too. It's best to avoid the gravy, unless the host is certain it doesn't include chicken or turkey stock. But here's a vegan gravy recipe that'll make even the carnivores at the table salivate.
Nut-free: Most dishes of gravy don't come with floating peanut chunks, but beware. Processed gravy often contains or has come into contact with peanuts, so be sure to read the label before drizzling.
Turkey
Gluten-free: Fresh turkey is naturally gluten-free. But a lot of people serve processed meat, so it's really important to check the label for any signs of gluten. Check out this handy list of gluten-free brands of meat; or, to be extra-careful, check a few company websites beforehand to find out if their products include the g-word. It's probably best to avoid pre-stuffed turkeys, since those usually contain gluten. Or solve the problem another way and just ask the host to prepare the stuffing separate from the turkey. For those serving a gluten-free Thanksgiving dinner at home, there's no need to fret: Try this fancy turkey recipe.
Vegetarian/vegan: Well, turkey is clearly off-limits. The good news is there's a whole range of (tasty!) turkey alternatives that vegetarians can bring to someone else's house or serve at home, like Tofurkey or Gardein's holiday roast or stuffed "turk'y". Or try a slight variation on taste and texture with oven-baked tempeh.
Nut-free: If you don't know the specific ingredients in the stuffing, consider asking the host to prepare the stuffing separate from the turkey, since stuffing often contains nuts (see below). As for fried and basted turkeys, ask the host if he/she used peanut oil in the recipe.
Stuffing
Gluten-free: Conventional stuffing usually (read: is guaranteed to) contain wheat product. But if the host knows about your dietary restrictions, he/she might want to prepare the stuffing with gluten-free bread, rice, or other gluten-free grains. (Check this list of lesser-known grains for some ideas.) Another option, as always, is to just bring a homemade gluten-free stuffing—the rest of the crowd will never know the difference! If cooking just isn't your forte, check out the local supermarket: During the holiday season, many grocery stores (such as Whole Foods) also carry gluten-free stuffing mix.
Vegetarian/vegan: Stuffing often contains chicken broth or another kind of meat, so consider asking the host to prepare the classic recipe with vegetarian stock. If that's not possible, either don't stuff yourself or try your hand at a vegetarian or vegan stuffing recipe. Chowing on store-bought stuffing? Be sure to inspect the label, since many conventional stuffing mixes (like Pepperidge Farm) contain meat-derived products.
Nut-free: Thanksgiving stuffing is a sneaky source of nuts: Some of the most delicious-looking recipes contain walnuts or other varieties. So if it's the host's creation, be sure to ask him/her about the ingredients. On the other hand, store-bought stuffing may have been processed in a plant that produces nuts, so be sure to check the allergen information on the label. Check out this awesome allergy-free stuffing—free of dairy, wheat, and nuts.
Cranberry Sauce
Gluten-free: Fresh cranberries are naturally gluten-free, so if the host's just returned from the bog, we're okay. Dried and frozen cranberries (like the Ocean Spray variety) are usually gluten-free, but it's important to check the label just to be sure. Same goes for processed cranberry sauce: You never know when a little wheat might sneak in there, so check the label carefully. Fortunately, homemade GF cranberry sauce is pretty easy to prepare.
Vegetarian/vegan: Cranberry sauce often contains gelatin, so it might not be suitable for some types of vegetarians. Instead try this Greatist-approved vegan cranberry sauce recipe and see how it turns out.
Nut-free: For some, fruit and nuts are the perfect combination and cranberry sauce can be chock-full of little demons like walnuts and pecans. The nuts in a homemade cranberry confection are usually pretty easy to spot, but check the label on any processed sauce for allergen info.
Green Bean Casserole
Gluten-free: Green beans: They're good for your heart… and they're naturally free of gluten! The issue is that lots of green bean casserole recipes use canned soups, which often contain gluten. So it's important to check that label or, for the really generous folk, offer to bring your own GF soup for the host to use in the recipe. Fried onions are another danger-zone—if you see those hangin' out on top of the casserole, steer clear. Here's a casserole recipe that everyone can enjoy.
Vegetarian: Don't be fooled by the green—this recipe is usually made with a meat broth, meaning it isn't vegetarian. Consider bringing a vegetarian broth to go in the recipe and enjoying worry-free.
Vegan: Got milk? The casserole usually does, so go with this vegan recipe instead.
Nut-free: Who knew? Walnuts and macadamia nuts are just two potential offenders in green bean casseroles. They're usually pretty easy to spot, but be sure to ask the host for the recipe deets and review the label on any processed ingredients.
Pecan Pie
Gluten-free: Like pumpkin pie, pecan pie usually contains flour, so double that nut crust recipe from above and use it here, too!
Vegan: Pumpkin or pecan, there's usually milk or butter hiding somewhere in these pies, so look for that pareve label again. Or go all Betty Crocker and try this marvelous maple pecan pie recipe.
Nut-free: Hello, Captain Obvious: Pecans are nuts. Luckily, for those willing to spare a few minutes in the kitchen, it's possible to fool those taste buds with a "faux" pecan pie. Sweet.
Just remember: We're not sure what any particular host includes in a recipe, so always be sure to ask, especially in the case of an allergy or another medical issue. Now put on that holiday sweater and get gobbling!
Pumpkin Pie
Gluten-free: Yes, it looks tempting, but that crust is usually wheat 'n wild. So unless you're certain the crust is GF, avoid that pie like the plague. Luckily dessert's usually an easy dish to bring, so purchase a GF pie or go nuts and make your own delicious nut crust pie. Also check out this gluten-free vegan pumpkin pie recipe—talk about a holiday miracle.
Vegan: Vegans, on the other hand, should beware, since pies usually contain milk or butter. Look for a "P" on the label (which means it's pareve, and doesn't contain dairy) when dining out. Or check out this vegan pumpkin pie recipe and the one above.
Nut-free: It's the gluten-free folks that'll do you in here with their sneaky nut crusts. Actually, even wheat crusts may contain or have come into contact with nuts, so ask the host about ingredients and do a thorough job inspecting the label on anything store-bought.
Originally posted November 2012, updated November 2014.