We include products we think are useful for our readers. If you buy through links on this page, we may earn a small commission Here's our process.
Greatist only shows you brands and products that we stand behind.
Our team thoroughly researches and evaluates the recommendations we make on our site. To establish that the product manufacturers addressed safety and efficacy standards, we:
Evaluate ingredients and composition: Do they have the potential to cause harm?
Fact-check all health claims: Do they align with the current body of scientific evidence?
Assess the brand: Does it operate with integrity and adhere to industry best practices?
We do the research so you can find trusted products for your health and wellness.
Ever wonder why we continue the cycle of buying box after box after box of tampons and pads? You might be thinking, "There's no other way!" But wait — yes, there is. It's called a menstrual cup, and it's the best dang thing to happen to periods in a looong time.
This reusable alternative to tampons and pads has gotten super popular in recent years — and for plenty of good reasons.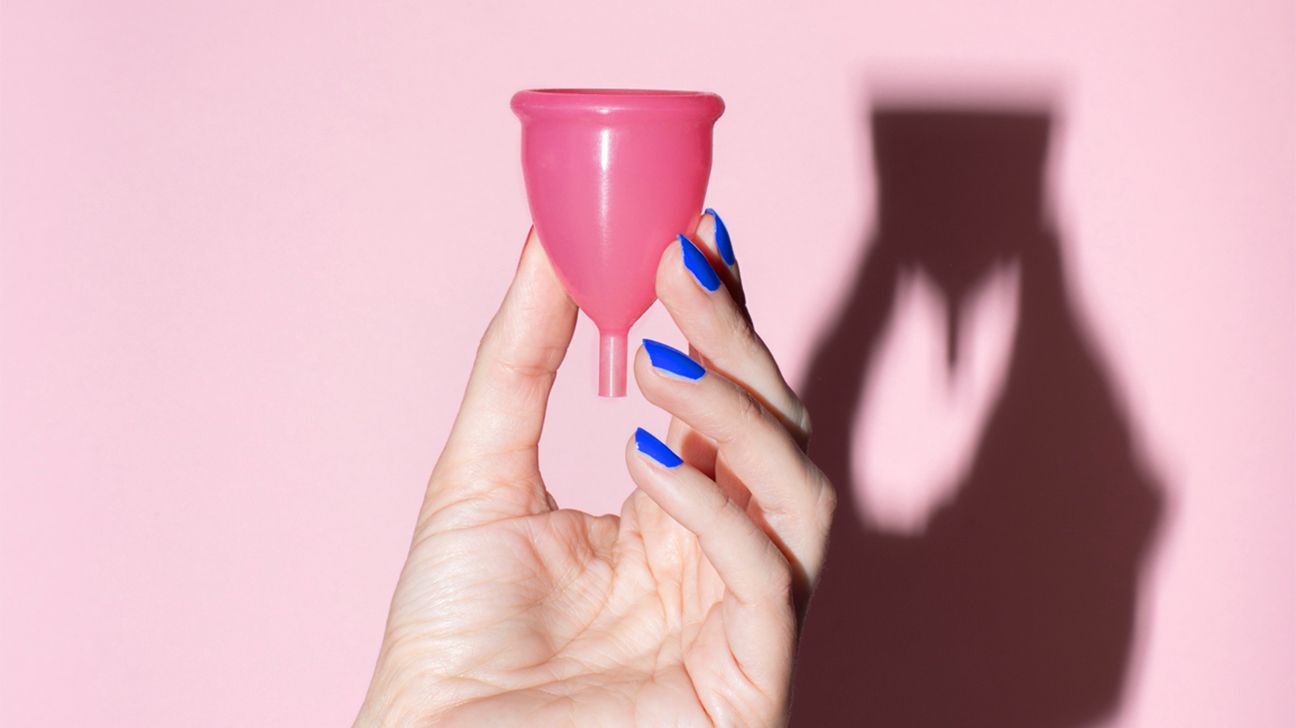 So why do so many ladies love menstrual cups, and is it worth trying one yourself? We've got answers to all your burning menstrual cup questions. Plus, we rounded up the best cups to try. Let's begin.
A menstrual cup is a reusable alternative to pads or tampons. The cup, typically made of flexible, hypoallergenic rubber or silicone, sits in your vagina and captures blood during your period. Once properly inserted, the cup forms a suction-like seal that keeps it from getting loose or leaking.
Unlike a pad or tampon, a menstrual cup doesn't absorb fluid. It just captures fluid, pretty much the same way a drinking glass captures water from a faucet.
Depending on how heavy your flow is, you can leave the cup in place for up to 12 hours. When it's time to take it out, you empty it, wash it off, and reinsert it.
Why would a woman opt to use a menstrual cup? Turns out there are actually a ton of big benefits. Read on!
It can be left in for up to 12 hours at a time. A menstrual cup can catch a lot of fluid and doesn't pose the risk of toxic shock syndrome. So you can deal with it a lot less often throughout the day compared to a tampon or pad.
You don't have to worry about running out of tampons or pads. A single cup is all you need.
It might leak less than pads or tampons. When inserted properly, a menstrual cup forms a suction-like seal designed to keep blood or fluid from spilling out. A menstrual cup can also hold up to an ounce of liquid, about three times as much as a regular tampon. That can mean less annoying leakage.
It's easier on the planet. The average woman uses close to 10,000 tampons in her life. But a single menstrual cup can last for up to 10 years. That's a lot of saved trash.
It can be worn with an IUD. There have been some claims that a menstrual cup could dislodge an intrauterine device, but research has mostly debunked that myth. According to pros, while it is technically possible to accidentally snag the IUD string during cup removal, it's very unlikely. If you've got any menstrual cup-IUD concerns, just chat with your doc!
A menstrual cup is a safe alternative to tampons or pads, so it doesn't come with any significant health risks. Still, there are a few potential drawbacks to consider:
There's a small learning curve. Inserting a menstrual cup takes only a few seconds once you get the hang of it. But it might take a few tries before you feel like you've got it right and the cup is sitting comfortably in your vagina.
Emptying the cup can be a little messy. You might get a little blood or fluid on your hands when you take the cup out to empty and clean it.
Cleaning the cup in a public restroom can be tricky. It's recommended that you clean your cup with soapy water after emptying it, before reinserting it. But that can be hard to do in a public bathroom stall without a sink. Some users get around this by just cleaning the cup with a damp or dry piece of toilet paper and doing a more thorough cleaning once they get home.
There's a little bit of monthly upkeep. You should sterilize your cup in boiling water at the end of each cycle so it's clean and ready to go for next month.
Menstrual cups differ a little from one brand to the next, and most manufacturers have their own instructions for how their cup should be inserted. But in general, here's how the whole thing works:
Wash your hands well with soap and water.
Sit on the toilet or stand with one leg up on the toilet.
Fold your cup in half vertically to make a U shape.
Separate the folds of your labia and gently insert the folded cup.
Grip the base of the cup and turn it to create a seal. (You should hear a little suction noise or feel the suction "locking" it into place.)
Then go do your thing! You might feel the cup inside your vagina right after inserting it, but you should stop noticing it after a minute or two. If you can still feel it after that, it might not be placed correctly, so try taking it out and reinserting it.
Keeping your cup clean is a cinch. You'll definitely want to sterilize the cup in boiling water before using it for the first time. Check the instructions that come with it to confirm.
Always wash your hands before removing your cup (which you should do at least twice a day).
Once the cup is out and emptied, simply use your hands to clean it with warm, soapy water, making sure to get all the rims and holes. Then pat it dry and reinsert it. Again, if you're in a public restroom and can't do a thorough cleaning, pat your cup clean with a piece of toilet paper and wash it when you get home.
And when your period ends, sterilize the cup in boiling water so it's squeaky clean for next time. For storage, tuck it in the little bag or container it came with until you're ready to use it again (but really, any clean container is fine).
There are a lot of options out there — so which ones are worth trying? Here are some top-rated picks to consider:
DivaCup
One of the OG menstrual cups on the market, this silicone cup has racked up more than 13,300 reviews and a nearly 5-star rating on Amazon.
Get it via Amazon. ($26.00)
Saalt Soft Menstrual Cup
Clear or translucent cups can discolor over time, even with regular cleaning. Saalt solved that problem by making a gray cup that helps hide stains.
Get it via Amazon. ($28.99)
Intimina Lily Cup
The slanted design and hooded rim are designed to help prevent spills when emptying, which can be helpful if your cup is very full.
Get it via INTIMINA. ($26.94)
Softcup Softdisc Menstrual Disc
Like the idea of a cup but don't want to deal with the cleaning? Here's a disposable option that works the same way as a reusable cup but gets tossed after a single use.
Get it via Amazon. ($23.98)