Want to strip your hair down there, but not sure if you're team bikini or Brazilian wax? The main difference between a bikini and Brazilian wax is the amount of hair removed from your bits and butt, which can affect the shape and ouch factor.
We talked with licensed esthetician Monina Wright of Moderne Beauty about the hairy details (sorry, not sorry) of getting a professional bikini versus Brazilian wax.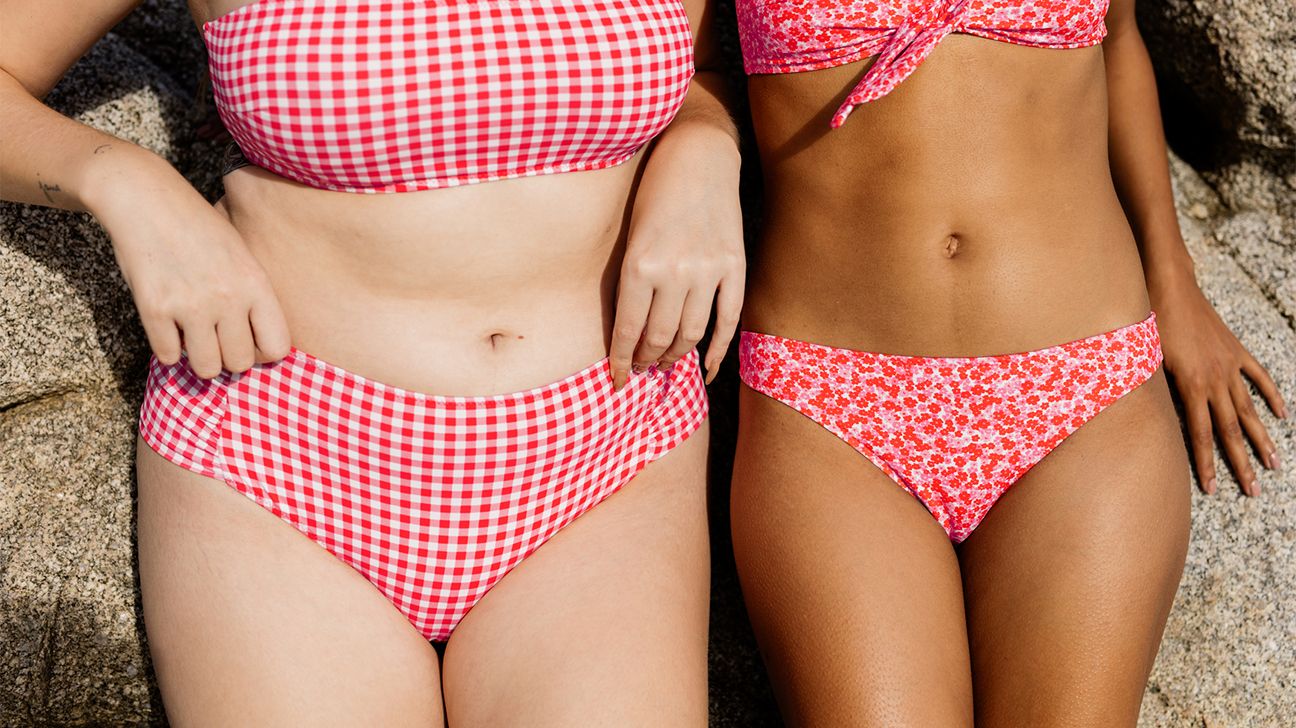 A standard bikini wax will remove hair just outside your bikini area where pubic hair pokes out (aka the bikini line), while a Brazilian wax removes hair from your bikini line, labia, pubic bone, and butt, often leaving you hairless.
Wright puts it simply: "Once you start to remove hair from the labia or butt areas, it is officially a Brazilian wax."
But there are also different types of bikini and Brazilian waxes that remove more or less hair.
| | | |
| --- | --- | --- |
| | Bikini | Brazilian |
| What it is | hair removal from just outside the bikini area | hair removal from bikini line + pubic bone/labia, butt or beyond |
| Type of wax used | either soft or hard (Wright recommends hard) | either soft or hard (Wright recommends hard) |
| Varieties offered | bikini line (just the bikini line/upper thigh area) or full bikini (including some frontal action) | the Hollywood (removes all hair around pubic bone, labia, upper thighs, and butt), French (everything but the butt) |
| Ouch factor | can be pretty painful (but less painful when you pick hard wax) | more painful! (but less painful when you pick hard wax) |
| Cost | can vary widely, but about 30%–60% of the cost of a Brazilian wax | can vary widely, but about 30%–60% more than a bikini |
Bikini line
Just want to remove what could be seen when you wear your bikini, no more, no less?
Enter: The bikini line wax. This will remove hair from your upper thighs along the bikini line, so you can sport a pube-free look in your swimsuit or undies. It sometimes also takes a little off the top of your pubic hair, so there's nothing peaking out.
Full bikini
A full bikini is typically an add-on to a traditional bikini wax, and basically removes more hair from the bikini line. This could mean bare skin on the frontal area, or a small triangle or landing strip there.
But even though the name makes it sound like it takes it all off, it doesn't — that's what the Brazilian is all about.
"[A full bikini] is where hair is removed from the frontal area but not in the labial or butt areas," Wright adds.
Hollywood wax
Nicknamed the "full Brazilian" or "honeymoon wax," the Hollywood wax takes it one step further than the standard Brazilian by removing every bit of hair — no landing strips or little triangles in sight.
That means it removes all the hair around the pubic bone, labia, upper thighs, and butt.
Supposedly, it gets its name because it's popular in Hollywood — but TBH, we're not claiming to know exactly what's under people's clothes.
French wax
If you want to be a little more laissez-faire with your backside, the French wax could be for you.
A French wax strips hair from your labia, pubic bone, and upper thighs, but nothing from the butt area. It might mean leaving a little rectangular strip, triangle, or even a heart on the frontal part, too. Up to you!
The two most popular types of waxes are hard and soft wax. Like the names suggest, one is soft, and the other is hard. (Logic!)
Hard wax
Hard wax sticks to your hair, not your skin. This is intended to help with the pain — so the wax rips off mostly hair — and doesn't take your skin with it. Within a couple secs of applying, it hardens onto the hair, so the aesthetician can remove it, Wright explains.
"I much prefer hard wax," she says, noting the ease of application. "Hard wax is designed to shrink wrap around the hair, so you get a much cleaner finish and less painful experience because you are not pulling or lifting the skin like with soft wax."
"Because the hard wax is less painful and more efficient in removing hair, I will always recommend hard wax for [both] Brazilians [and] bikinis," Wright says.
Soft wax
Even though it's called soft wax — it's actually harder to handle.
When you picture hair coming off with a strip and a yelp (or a scream) — that's soft wax. These days, it's kind of considered old school, but it's still used. Soft wax sticks to your skin, as well as your hair, which is where the ouch factor comes in.
"With soft wax, the wax remains sticky," Wright explains. "So, you need to use gauze or muslin strips to remove hair and the wax. Firm pressure is required to apply the wax and strip onto the skin. So, if the wax is too hot or if the skin is thinned out due to certain skin care ingredients, lifting or bruising can occur when pulling the wax off."
You can technically do both a Brazilian or bikini with soft wax, but Wright always recommends hard wax. Especially since the Brazilian wax area can be super sensitive, you'll prob def want to opt for hard wax for more extensive landscaping.
Regular wax-goers and aestheticians alike agree: Soft wax hurts more than hard wax, and Brazilians hurt more than bikinis.
"A majority of my first-time clients will start with either a bikini line or a full bikini," Wright explains. But once folks build up their tolerance, she says they usually book a Brazilian.
Since there are more nerves around your tender genital area, you'll def be feelin' it a little more with the Brazilian. Since soft wax is considered a lot more painful, pros like Wright recommend going with the hard stuff.
Since some find that waxing can feel a little more tender around your period, you might want to schedule your wax at another time of the month. Wright also recommends taking ibuprofen beforehand if you've never had a wax or have a lower pain tolerance.
This one's truly up to you. Some major factors will be how much hair you want removed and the pain level of the actual wax.
Still not sure? A practitioner can also help you decide what's right for you.
"If you have never had hair removed in the bikini area, I always advise my first-time clients to start with either a bikini line or full bikini before diving into a Brazilian," Wright says.
"If they just want to be bikini-weather ready, then a bikini line is sufficient," she adds. "But if they are tired of shaving their entire front area, then a Brazilian is a much better option."
"A majority of my first-time clients will start with either a bikini line or a full bikini," Wright explains. But once folks build up their tolerance, she says they usually book a Brazilian.
Ready to strip down and get smooth? Wright has some tips for waxing first-timers:
Consider taking ibuprofen. "If you have a low pain tolerance, or never had a bikini wax, we always suggest taking an ibuprofen 30 minutes prior to your wax appointment."
Let your practitioner know about any allergies. Whether you're allergic to lanolin or beeswax, let your aesthetician know about any allergies before your appointment, Wright advises.
Break out the scissors and get trim. Even though you'll get waxed, take time to trim those babies beforehand for a gentler experience. "Trimming makes the waxing experience much less painful," Wright says. The American Academy of Dermatology (AADA) recommends that the pubic hair be one-fourth to three-fourths of an inch before you head to your waxing appointment. And if you usually shave, let your pubes grow out about 2 weeks.
Rub-a-dub and wash up. Clean the area with a gentle soap so it's primed for your appointment, Wright suggests. (That does not include cleaning out your vagina with soap!) Many pros advise against exfoliating, though, which can make your skin more sensitive and tender.
Remember to research the salon ahead of time to make sure it's clean and hygienic. Also, before you let anyone get near your goodies, ensure your aesthetician is licensed to practice in your area.
It's best to talk with your aesthetician about what to expect at your actual appointment, since individual salon practices may slightly vary. But in general, you can expect your first appointment to take about 30 minutes to an hour.
During and after your wax, you might feel a whole lotta pain, or just a little — it really depends on your pain tolerance and whether you decide to take an over-the-counter (OTC) pain relief med beforehand. Thankfully, the pain should subside within a couple of hours.
To speed up the recovery process, the AADA recommends you do the following in the post-wax (24 to 48) hours:
Avoid strenuous activities like working out.
Avoid hot baths or showers (lukewarm FTW).
Wear loose, comfy clothes.
Use a gentle, fragrance-free moisturizer with something soothing like cica or aloe.
Use a cold pack if you're still feelin' the burn.
Take OTC pain relief meds.
Avoid sex.
Wear sunscreen if the area will be exposed to the sun.
Following these tips should help reduce the risk of ingrown hairs and ease any discomfort. If you notice any open cuts or sores, talk with your doc. Managing it right away can help prevent an infection.
Experts also recommend staying away from shaving between waxes to make sure the hair's easier to strip come next appointment.
When you book your next appointment will depend on how fast your hair grows (and whether you're down for more). Most people come in about every 4 to 5 weeks for a bikini or Brazilian wax.
A Brazilian wax involves removing hair from the vulva and the butt area. A bikini wax means removing hair from the areas typically seen in a bikini-style swimsuit or underwear.
Which one's best for you depends on your unique wishes! But for newbies, Wright recommends starting with a bikini wax and working your way up to the more full-frontal (and butt) stuff.