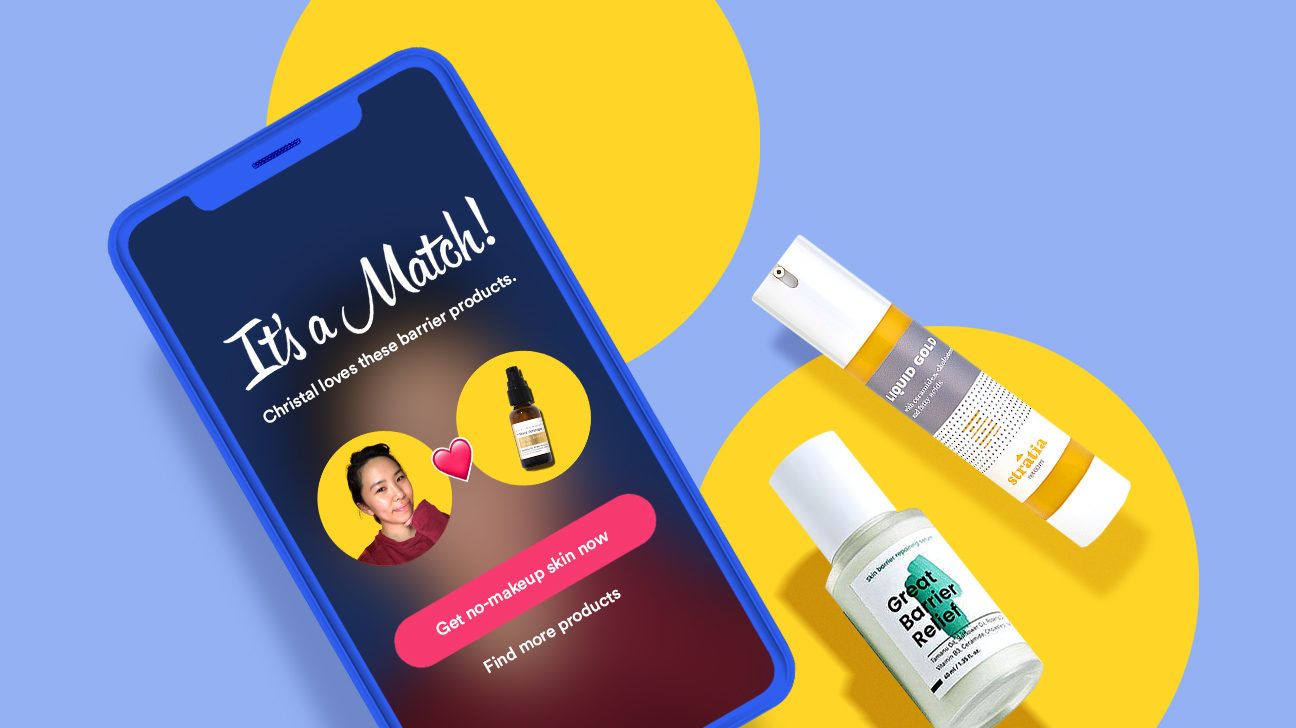 We include products we think are useful for our readers. If you buy through links on this page, we may earn a small commission. Here's our process.
Greatist only shows you brands and products that we stand behind.
Our team thoroughly researches and evaluates the recommendations we make on our site. To establish that the product manufacturers addressed safety and efficacy standards, we:
Evaluate ingredients and composition: Do they have the potential to cause harm?
Fact-check all health claims: Do they align with the current body of scientific evidence?
Assess the brand: Does it operate with integrity and adhere to industry best practices?
We do the research so you can find trusted products for your health and wellness.
Most days, my skin is average — except, for the sake of my credentials as a beauty editor, I will admit my average is above average — and I owe this consistency to embracing barrier serums and ditching stinging acids as status quo.
Stinging is never a good sign, folks. You want your skin to tingle, a kind of ooo feeling, not a surprise sssttt moment like you threw jalapeños on an open wound. I didn't realize that when I first ventured into skin care, copying acid and essence routines from r/SkincareAddiction. So when a barrier breakdown, which can take a long time and was triggered by a stress-induced full-body hive breakout, finally happened, I was lost.
My skin turned against me. I developed dry patches on my forehead, over my left eyebrow, and on my upper lip that stung whenever I did my routine.
And, like the overly confident doofus I was (because skin care = self-care, right?), I powered through the stinging. Six months later, I got bangs to cover the worst of it. Until the worst of it wouldn't heal.
In desperation, I made a Hail Mary appointment with Kristina Holey, a holistic esthetician (whom I discovered only because Glossier's editorial director, Emily Ferber, name-dropped her at an event).
Holey immediately told me my reddit routine was making my skin worse. First, I had oily, dehydrated skin — not dry skin, as online quizzes and self-assessment had scored me — and piling on too many acids and actives was depleting my skin's healing abilities, leaving the barrier sensitized and vulnerable.
To restore my skin, Holey recommended a product she developed with a local California skin care manufacturer. (Product recommendations often annoy me, but Holey didn't actually recommend the product so much as gently provide a link via email. Her reputation for illuminating skin is completely word-of-mouth, so I was inclined to trust her.)
Still I didn't buy it. Not immediately.
I held off until I got a second opinion from a derm who prescribed a $220 steroid cream. With that as an alternative, I dropped my acids and bought Holey's serum instead.
Since then, I've bought that serum three times, and my patches, which were diagnosed as contact dermatitis, have never come back.
A year and a half later, I don't use acids, Vitamin C, or retinol anymore ("too young," she said of my skin!). It's just hydration serums, oils, and barrier serums — and my skin is more resilient and comfortable to be in. On my best days, my skin is ridiculously unreal, in the "let me misspell everything" / "take a look at my no-makeup face!" way.
So here are my favorite barrier serums, tested (for at least 3 months) and ranked.
FYI: My skin type is oily and dehydrated, and my current routine consists of double cleansing, toner, hyaluronic lotion, niacinamide, fatty acid oils, barrier serum, and oils. While I currently get facials once a month for exfoliation and decongestion, I didn't when I first started using the Barrier Restore Serum.
Simply put, this product will go to bat for your skin while training it to fend for itself. The serum is light and melts, leaving results that last long enough for that 5 p.m. selfie without any of the midday grease. Over time, I can feel my skin get thicker as if it's been exercising.
More importantly, with this product, I can take a 5 p.m. selfie and not feel like my morning glow has faded away. The improvement is literally visible and tangible. The only downside? The pump doesn't get all the product, so I have to use a Q-tip to scoop it out.
Get it via Marie Veronique ($110)
Creamy in texture and so yellow (it can potentially stain, so be careful), this product is my backup when the bank needs a break. Its ingredients are most similar to Marie Veronique's, and it lasts twice as long (~6 months).
With this, my skin isn't quite the Renaissance vision it can be, but I still leave the house feeling confident — like "simplify my routine and skip the queen of hydration, aka hyaluronic acid" confident.
And it does packaging better than other serums: With the clear, airtight pump, you can really suction out all the product, down to the last penny.
Get it via Stratia ($27)
Having seen it touted by some of my skin care faves, I purchased this lightweight cream about 2 months ago.
It's further away from Marie and Stratia but still contains ceramides, which are crucial to replenishing my skin barrier. However, compared with the other serums, when using this one, I still have to rely on my other products to do some heavy lifting.
I also didn't see noticeable success until I mixed it with Stratia's Fortify oil blend ($21), which is full of fatty acids. The result is a bit greasy, as this product is supposed to be able to be a moisturizer on its own. But by itself, Great Barrier Relief doesn't give my skin the extra moisturizing boost that makes me want to pull out the selfie cam.
Get it via Krave ($28)
This serum was gifted to me by the brand almost 3 months ago for a test run, and it's pretty similar to Krave Beauty's Great Barrier Relief — except not greasy at all and with a very pleasant, fresh baby smell. I'd recommend this as a starter serum for people with sensitive skin.
Likely because of the sensitivity match, the results aren't as potent as I'd like them to be. The serum seemed to maintain my skin's balance at the time, wherever it was, without rocking the boat. My skin didn't change for the worse, nor did it heal faster or scar less, and pimples would come and go (albeit smaller than usual). Perfect status quo.
Get it via Bejbi ($31)
Maybe none of these serums agree with you — that's OK! If you're hunting for your own skin win, look for ceramides.
Ceramides are like dupes in the natural moisturizing system game. They're proven to improve your skin's barrier and water-holding capacity so your skin can focus on protecting and healing.
But to make sure your ceramide product is working for your skin, check the ingredient list.
Research shows that many products list ceramides for marketing purposes but don't have enough or the right ratio of cholesterol, fatty acids, and glycerin to actually improve barrier function (in fact, they might even deteriorate it). A true barrier-boosting product should combine ceramides with cholesterol, fatty acids, and glycerin.
Christal Yuen is an editor at Greatist, covering all things beauty. Find her musing about wellness on Twitter.