We include products we think are useful for our readers. If you buy through links on this page, we may earn a small commission Here's our process.
Greatist only shows you brands and products that we stand behind.
Our team thoroughly researches and evaluates the recommendations we make on our site. To establish that the product manufacturers addressed safety and efficacy standards, we:
Evaluate ingredients and composition: Do they have the potential to cause harm?
Fact-check all health claims: Do they align with the current body of scientific evidence?
Assess the brand: Does it operate with integrity and adhere to industry best practices?
We do the research so you can find trusted products for your health and wellness.
Activated charcoal has taken TikTok by storm. The cool kids claim it can give you a full face glow-up — that means cleaner, softer, and all around better looking skin.
But let's be real… is activated charcoal actually legit? Here's the deets.
Activated charcoal might:
improve acne
remove toxins
treat insect bites
provide gentle exfoliation
minimize the appearance of pores
Bonus: It also has antibacterial and antifungal properties.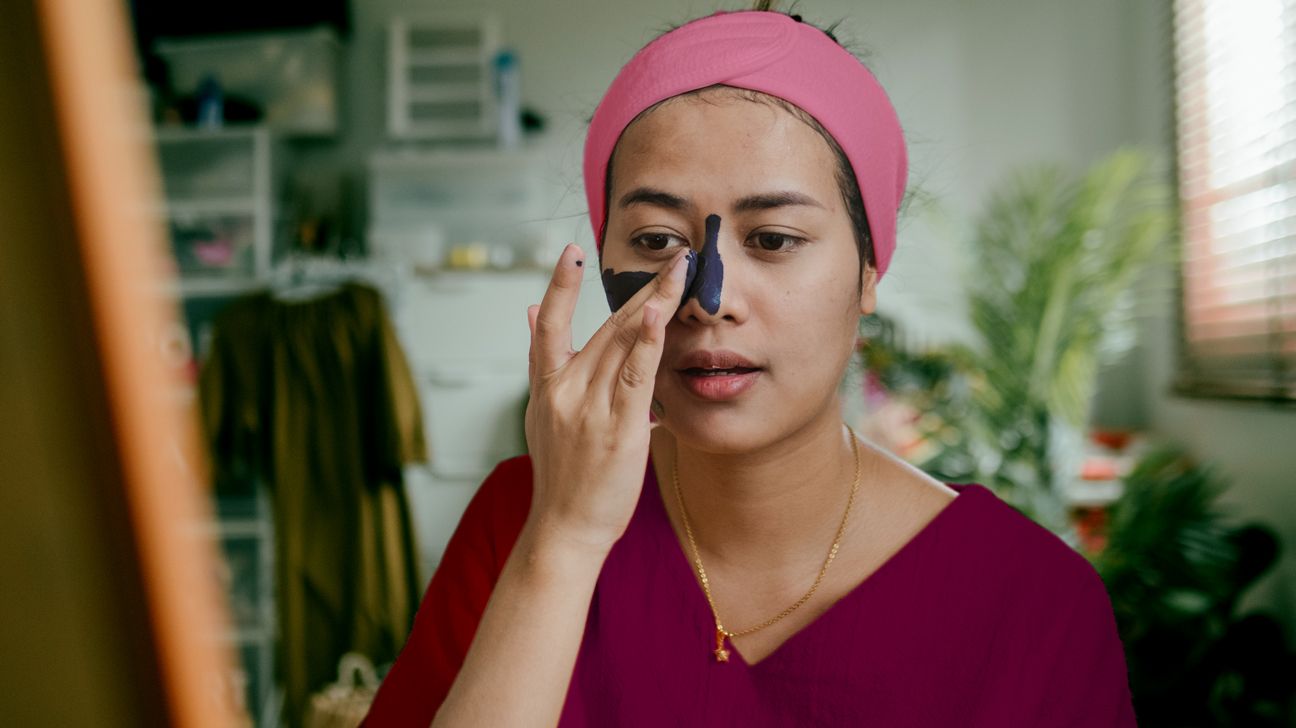 When regular charcoal is exposed to high heat, it produces a fine black powder, aka activated charcoal. So don't worry, it's not the same as what you grill with 😉.
The powder is porous and highly absorbent which can help suck up gunk. This might leave you with clearer maybe-they're-born-with-it skin.
FYI: Activated charcoal is good for most skin types, but it might benefit peeps with oily skin the most.
Some anecdotal evidence supports activated charcoal's skin benefits. But TBH, more hard evidence is needed to prove that it actually works.
Here's what it might do.
Improve acne
Ah, acne. The lovely result of oil, bacteria, and dead skin cells building up in our pores. It can lead to painful redness, swelling, irritation, and scarring.
The good news: There are plenty of ways to zap your zits and activated charcoal is one of them.
The antibacterial and porous properties of activated charcoal might be able to draw out bacteria trapped in your pores. This can improve your overall complexion.
Remove toxins
Some skin experts think that activated charcoal masks can help remove impurities from your skin. That's because it acts like a magnet, absorbing bacteria and toxins 🧲. This might leave you with a clearer complexion.
Treat insect bites
Bug bites are the WORST. Thankfully, activated charcoal can help you ditch the itch. It might be able to help neutralize the toxins in insect venom, soothing the sting.
Minimize pores
Thanks to its oil-absorbing superpowers, activated charcoal may be able to unclog your pores. This leaves them free and clear of the nasty impurities that can lead to whiteheads and those stubborn AF blackheads.
You might also notice that your pores appear smaller over time (though pore size can't actually shrink), but there's little to no real science to support this.
Treat skin conditions
Activated charcoal's antibacterial and antifungal properties can help heal damaged skin. It may also soothe symptoms of skin conditions like eczema or psoriasis. But keep in mind, very little research is available in this area.
Gently exfoliate
Because of its gritty yet soft texture, activated charcoal serves as a natural exfoliant. It can slough off dead skin cells to reveal the healthy glow of the fresh new skin underneath.
Activated charcoal isn't hella harsh so it prob won't hurt your skin. But as with any skin care product, overuse can lead to dryness, redness, or itching.
Patch PSA: Do a patch test before lathering your new product all over your beautiful face. Just apply a little of the product to the inside of your elbow. If you don't see any irritation after a few hours, you should be good to go.
Make sure your product is legit
While we all love a great online deal, beware of charcoal goods sold by unregulated vendors.
The law doesn't require cosmetic products and ingredients, other than color additives, to have FDA approval before they go on the market. Always opt for products that have been through third-party testing
You can use an activated charcoal mask while you're getting ready in the morning or as part of your bedtime routine. There are many kinds of masks that contain charcoal. Here's the gist depending on the product you choose.
Applying a charcoal mask is as easy as 1-2-3 (4-5)!
Wash your face before applying. This helps the mask penetrate deeper into your pores.
Apply the mask evenly all over your face. You can use your fingertips, a brush, or mask spatula to spread it on. Be sure to avoid the eyes 👀.
Grab a book or scroll through the 'gram as you let the mask dry for about 15 minutes.
For a clay mask, rinse it off with warm water. For a peel-off mask, gently peel it off then rinse your face with cool water.
Pat your face dry and follow up with your favorite serums or moisturizers.
So, how often should you use an activated charcoal mask?
Once or twice each week is best — less often if you have sensitive skin or notice dryness.
There are lots of options to choose from when looking for your perfect mask. Here are the best products for your individual skin care needs.
Best activated charcoal mask for dry skin
Tip: Look for charcoal masks with hydrating ingredients like jojoba oil, olive oil, or hyaluronic acid.
This powerful sheet mask boasts natural charcoal, honey, and glycerin. It should leave your skin feeling squeaky clean and hydrated. It may even help prevent future breakouts.
Buy Burt's Bees Detoxifying Charcoal Sheet Mask online.
Best activated charcoal mask for oily skin
Tip: If looking to help absorb excess oil, opt for a mask the contains clay.
This kaolin clay-infused mask draws out impurities while micro-exfoliating the skin. Bonus: It comes in a convenient stick form which can prevent a nasty mask mess.
Buy Olay Pore Detox Black Charcoal Clay Face Mask Stick online.
Best activated charcoal mask for sensitive skin
Tip: Avoid masks that have dyes, fragrances, parabens, or other harsh chemicals.
This mask is both gentle and effective. Bamboo charcoal detoxifies as fermented honey soothes and nourishes your skin. It's good for all types of sensitive skin.
Buy ORIGINS Clear Improvement Charcoal Honey Mask online.
This wonder ingredient is also sometimes used to treat other conditions like:
Activated charcoal is all the rage in the beauty world, rumored to promote clearer, healthier skin. Even though there's little research available to back it up, it can't hurt to try.