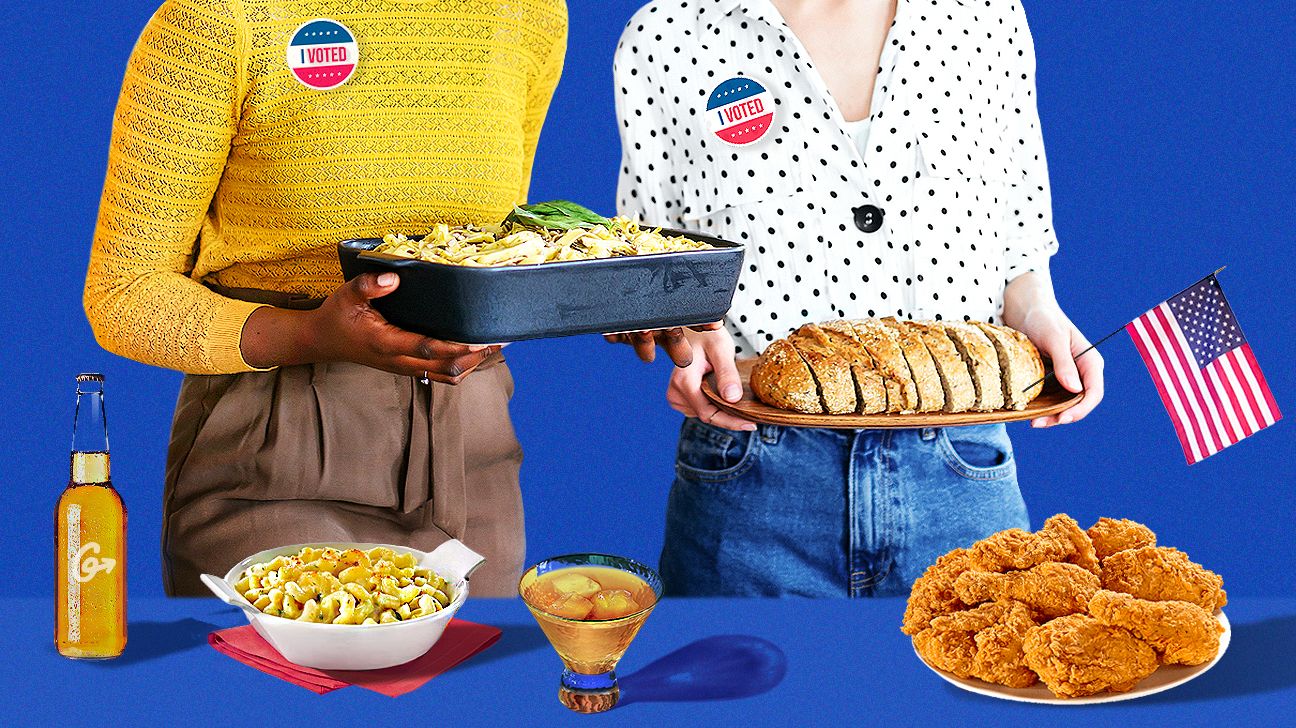 I'm at a loss for words as to how to describe the 2020 election cycle — or 2020 in general, for that matter. So I will direct you to this video of "two lynx having an intense conversation." Or you can consider it actual footage of the first presidential debate. It's your call.
The 2020 election has been intense. And that's not a surprise, because so much is at stake. But it has also been absurd. (Kanye was on my MF-ing ballot, y'all.)
Obviously, we don't know how the election will turn out, or if we'll even have a bona fide decision on November 3… or the next day… or the next… The magic eight ball says, "Reply hazy, try again."
What we do know is that Election Day and that evening will be a wild ride. So buckle up! But don't worry — we've put together this survival guide to help you get through it.
No one can really answer this question for you — except you. You have to decide what's best for your well-being.
Keep in mind that by the time Election Day has rolled around and you've cast your vote, you can't do anything else to change the course of the election. No amount of refreshing your news or social feed will alter the end result. So give yourself permission to relax.
Remember that you've performed your civic duty with your ballot and done your part. And every vote matters! Maybe you've even donated cash — every dollar counts — to a campaign you feel strongly about or sent postcards or called others to encourage them to vote for a particular candidate. The point is that the work is done.
Also, you can't do Election Day wrong, whether you watch the news or bury your face in your dog's fur at 5 p.m. But it can be helpful to decide your Election Day personality ahead of time. Take your middle name, the first street you lived on, and divide it by the square root of a litter of kittens. Kidding! This is more about how you plan to tackle election night information.
Choose your own adventure
Frantic feed refresher. You'll be channel surfing through the networks, watching the returns and switching between all your socials for any info. No sleep until president.
Namaste away from it. You're going to be on your mat, mostly in Child's Pose, probably until Inauguration Day.
Peek-a-boo in on the exit polls. You'll finally watch "The Haunting of Bly Manor" on Netflix while occasionally checking in on the other horror show that is the 2020 election.
However you choose to dive in to the Election Day news cycle, remember to take breaks early and often. Check in on your Animal Crossing pals. Scratch and sniff your "I voted" sticker. "Home Edit" your pantry by eating snacks in rainbow order.
Just be sure to step away from the screens for a bit. And if you must stay glued, remember that "The Daily Show" on Comedy Central will have its own live election coverage, called "Votegasm 2020: What Could Go Wrong? (Again)."
You might be tempted to doomscroll. Or root out posts that have fake news. Or comment on other people's posts to set them straight. But like you, others have already cast their votes and made up their minds by Election Day. So chances are any energy spent trying to change someone's mind is wasted energy — and shaming someone for their actions or beliefs won't lead to change anyway.
That doesn't mean you can't engage with social media. Just keep it in check. Like your friends' "I voted" selfies, post your own, and engage in online convos that encourage you to be the change you wish to see in the world. If you have to, you can always sit on your thumbs.
Let's be real: You can eat whatever suits your fancy on election night — or any night, obviously. I'll probably superstitiously consume all the marshmallows in a box of Lucky Charms. #AddsToGroceryOrder
Election night, though, likely calls for some good old-fashioned comfort food to keep you sated, carbed-up, and calm while you watch what happens with the fraught electoral college.
What is comfort food? It can be anything, really. What's your go-to when you don't feel so great? I'm a sucker for grilled cheese and tomato soup. What's a food you always asked your parents to make when you were little? My dad used to melt my ice cream in the microwave. We called it Sloopy-Sloppy. But you can call 2020 that if you want to. Need some ideas? We've got you!
Comfort food recipes with a grown-up Greatist take:
Obviously, not everyone drinks, so please skip this section if it's not appropriate for your election night plan.
Personally, I admit I will have red wine lips while I cheer or holler at the map of battleground states on my TV, though I might switch to a cocktail if the mood strikes.
I've curated some old favorites for you and given them election-y names just for the absurdity of it all. As always, remember to drink in moderation, and absolutely do not drink and drive.
The election is almost over. Just hang in there. I know that in the months leading up to it — and even before that — you've probably asked yourself what David asked himself after that fateful dentist trip: "Is this real life?" It is indeed real life. And we will get through it. And we will tackle whatever comes afterward.
Obviously, I've made jokes throughout this piece to bring some levity to the situation. But the truth of the matter is that we do have a lot at stake.
If you're feeling a ton of anxiety over the election — who isn't? — try to remember that the Oval Office isn't the only one to keep your eye on. Every candidate elected has the power to effect change. So celebrate the victories at the state level, too, folks! Because there will be victories. And we will take them as they come.
Jennifer Chesak is a Nashville-based freelance book editor and writing instructor. She's also an adventure travel, fitness, and health writer for several national publications. She earned her Master of Science in journalism from Northwestern's Medill and is working on her first fiction novel, set in her native state of North Dakota.